We arrived at the Batu Caves, just on the outskirts of Kuala Lumpur excited to see monkeys. I wanted to run to the caves, but I restrained myself as there are some lovely shrines as you walk towards the caves from the train that Alex was interested in actually taking in. We managed to see a couple of monkeys along the way before a monsoon started just as we arrived at the foot of the caves and holy shrine. Barring getting drenched, there was nothing else to do but sit patiently along with many others and wait out the rain. At least the kids didn't seem to mind, as they were happy to play in the down pour.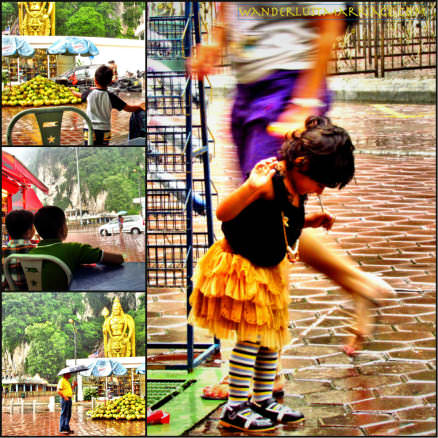 Finally the rain passed and we walked up past the 140 foot (42.7m) statue of Lord Murugan, the Hindu god of breaking code. And started climbing the 272 steps to the caves, but unfortunately the monkeys were still hanging out in their homes, and none were seen on the way up. The Temple Cave, 100 meters up, is massive, with a high mountain ceiling and partly open to the sky. Throughout the Batu Caves are ornate hindu shrines, statues, worshippers and music.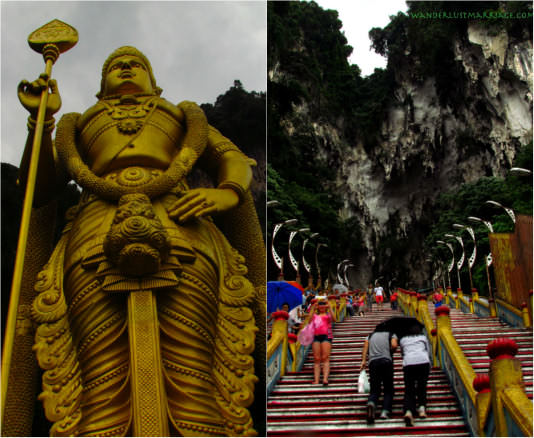 After walking around the caves, which are really amazing for both size and spirituality, we ventured out and it was lightly raining again, and still no monkeys were to be seen. I started fretting as I'd been excited months before we left Dublin to see the macaque monkeys here. On the day we decided to head to the caves, I'd already driven Alex mad by saying the word monkey at least 100 times!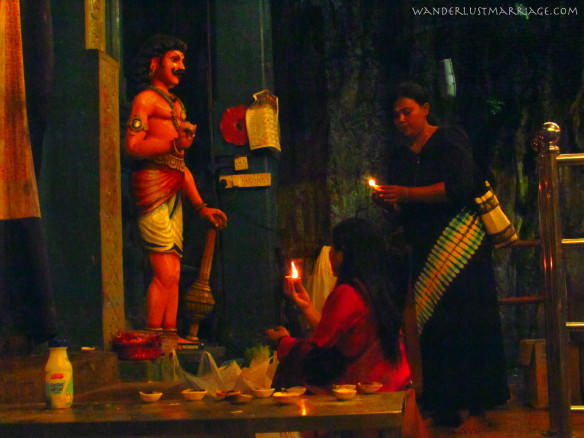 But then, all of a sudden a lone macaque monkey appeared and began mingling with the crowd, and then they all flooded in from the surrounding trees in the mountain. They knew the rain had subsibed and it was time to harass unsuspecting visitors for food and fight over it! I was delighted and the monkeys did not disappoint with their cheeky antics!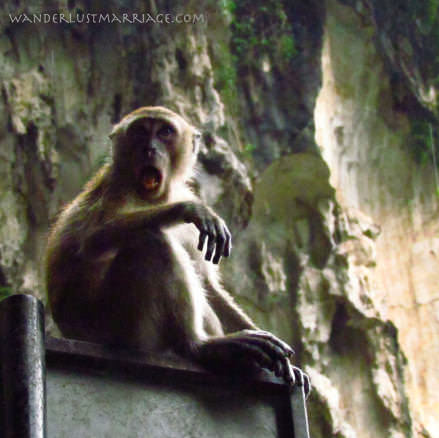 Hundreds of monkeys hang out around the caves, and one gave me a solid fright as I peered over the railing to take a look at where the monkey had disappeared to…it turned out he was just hiding behind the railing and as I peered over he leaped back up at me! They do seem to enjoy playing with the humans and drawing a bit of fright at times.
In all honesty, if you are new to monkey antics, there are hours of entertainment to be had. I could have spent half the day watching them, and hopefully we will be back in Kuala Lumpur later this year and I'd more then happily spend another afternoon watching the monkeys play.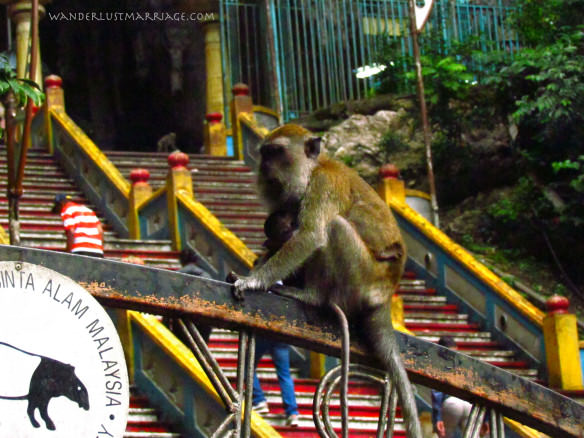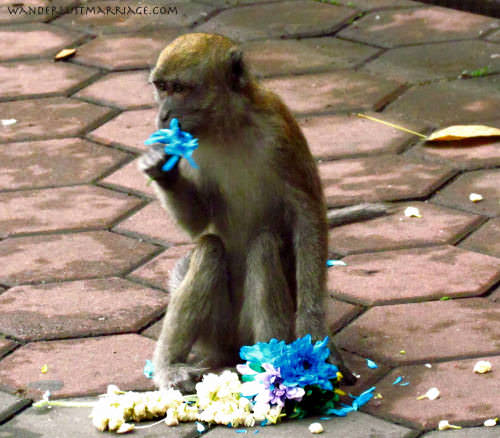 I know not everyone is a fan of the urban Macaque monkeys, as they can be quite cheeky if you're not paying attention. They are prone to snatching food, cameras or whatever you're not paying attention to. But as long as you go prepared you'll be fine. A great piece of advice, given to us by Notes of Nomads, was to not take any plastic bags with us. The monkeys associate that rustling sound with food. We actually saw a couple of girls in plastic rain ponchos get chased down by some monkeys, and had their ponchos briefly tugged at, drawing shrieks from these girls. So no rain ponchos either, unless you want to draw special monkey attention. Also keep your camera strapped to yourself and take no food up the steps. If you follow all these tips you will not be harassed. They mostly just want food and are constantly prowling the crowds in search of someone who has a treat to snatch!!
[youtube=http://www.youtube.com/watch?v=EaofbbnJYR0]
Getting there: From KL central train station, you can conveniently catch the KTM train to Batu Caves (it's the last stop). The train ride takes around 45minutes and costs around $2 return and entry to the caves and holy shrine is free. Once there, just head towards the cliffs and follow the path and before you know it you will be there and enjoying monkey antics!
One more thing, if you visit in January or February, check the dates for the  Thaipusam festival which occurs around the full moon. This festival has been known to attract over 1 million spiritual visitors. This could be a great or disastrous event for you!
And if you're wondering where the sex in the title comes from, watch our first ever YouTube video!