One of the most iconic images of Scotland's beautiful capital rests atop an extinct volcano in the center of town. Edinburgh features a diverse choice of attractions, along with picturesque Arthur's Seat. There's a lot of history to experience and you can even drink whisky at Edinburgh Castle!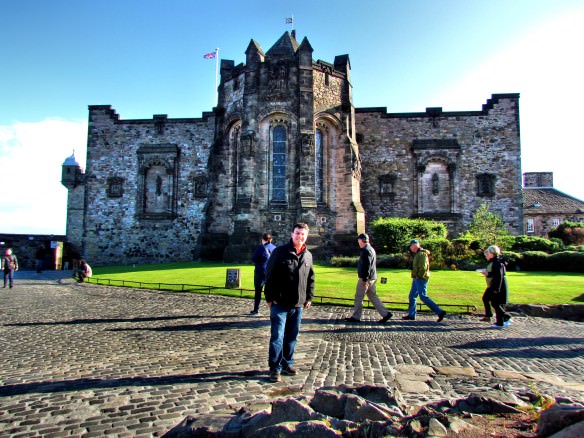 Despite the blue skies depicted in the photos here, on the morning we visited Edinburgh Castle we woke to the sound of intense wind and rain lashing on the bedroom window of our bed and breakfast.  But by the time we ate breakfast and got ready, the sun was precariously beginning to break through the heavy grey storm clouds. We were relieved we could go outside without taking an unwanted outdoor bath.
History of Edinburgh Castle
The history of Edinburgh Castle is actually a little complicated. It dates back to the 12th Century, when King David I erected a chapel and gathered an assembly of nobility and clergymen. Subsequent years saw additions to the castle and fortress as it changed hands back and forth through many wars and battles between the Scots and English (Cue Mel Gibson). The 'Union of Crowns' in 1603 saw the first Scottish King, James VI ascend to the throne of Britain following the death of Elizabeth I. These days Edinburgh Castle is no longer an official residence of the British monarchy, as Queen Elizabeth II resides at the Palace of Holyrood during official visits to Edinburgh. The House of Windsor also has another official residence in Scotland, at Balmoral Palace in the Highlands, in Cairngorms National Park…Not a bad life!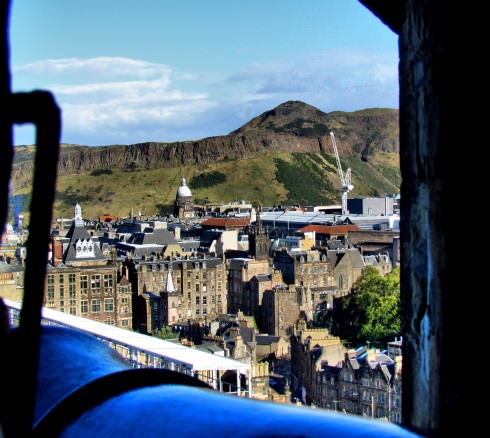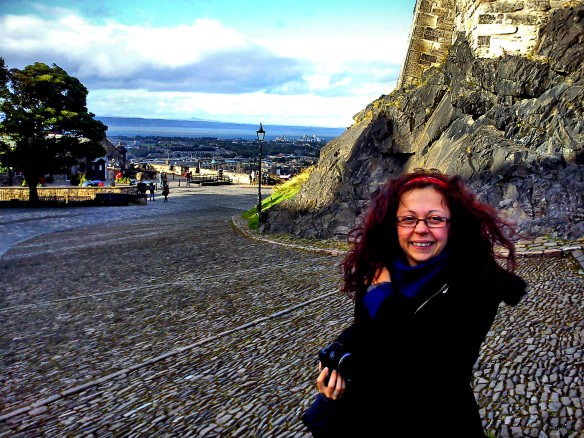 Highlights of Edinburgh Castle
Edinburgh Castle is one the most popular tourist sites in Scotland. Along with great views of town, highlights of the castle include the former Royal Palace (which still houses the Scottish crown jewels), War Museum and Scottish National War Memorial, among several key and interesting buildings. Also within the castle walls, tiny St. Margaret's Chapel is the oldest building in Edinburgh still standing, dating back to the 12th century. Religious services continue to take place and you can even get married there! Though we would advise enquiring about this well ahead of time, and consider stocking up your parents with aspirin if they are footing the bill.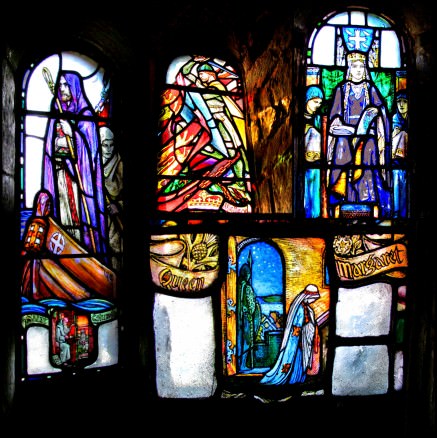 Edinburgh Castle Whisky Shop
As previously mentioned, there are several opportunities to continue drinking whisky! Edinburgh Castle has its own whisky shop that is very well stocked and apparently sometimes gives free samples, though we missed that. We enjoyed a lot of whisky during our visit to the nearby Scotch Whisky Experience.
Edinburgh Castle Tea Room
There is also the tea room where we sat for a coffee and tea in quite an elegant atmosphere, for about the same as what you'd spend at Starbucks. While we took a break from whisky, you don't have to! The Edinburgh Castle Tea Room has a nice selection from various distilleries around Scotland. There is also a cafeteria called the Red Coat cafe which offers seating with beautiful views of town. We only popped in to have a look, as we ate before arriving at the castle. Scotland was quite the haggis and whisky feast for us!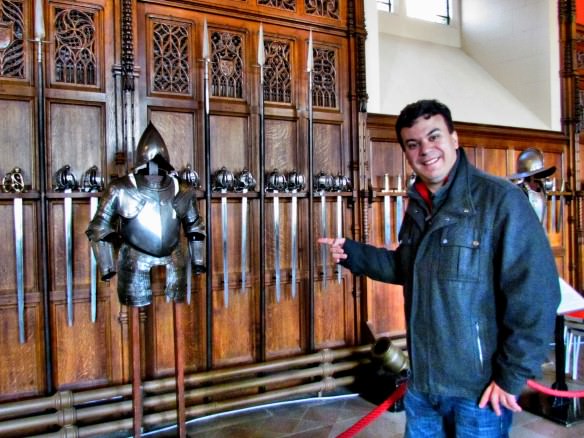 At 1pm each day a single cannon shot is fired
.
This used to signal the time for ships that arrived in the Harbour of Leith, now it's just for show. While we missed this, it apparently draws a good sized crowd. We particularly found
the history on "The American War of Independence"
to be fascinating. Prisoners were housed at the castle and kept in good condition so that they could be traded for prisoners on their side. Touring the old prison quarters with a recreation of their bedding is definitely worthwhile to any American with an interesting in the founding of the United States.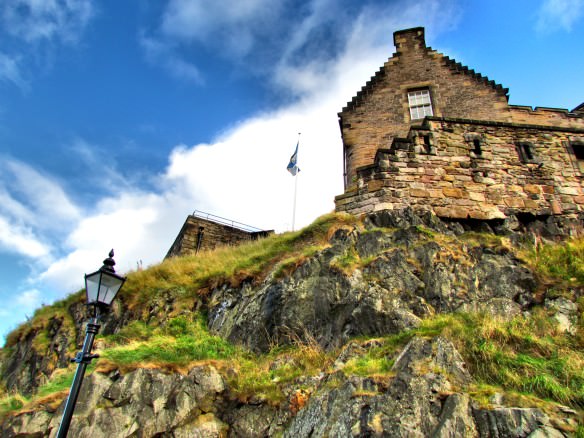 Castle Tours
The Edinburgh Castle tour guide was an absolute gem. Along with being informative and enthusiastic, she was funny and really added to the experience of being in Scotland. She loved bringing up how "frugal" Scots are and how some visitors ask if the land across the bay is Norway or other random countries… nope, still Edinburgh. When she pointed out the cemetery for regimental mascots and soldiers dogs, she told us when visiting as a child this was her favorite part of the castle. Living in Ireland we know the Irish are great story tellers, and we discovered that the Scots are also great in that arena too.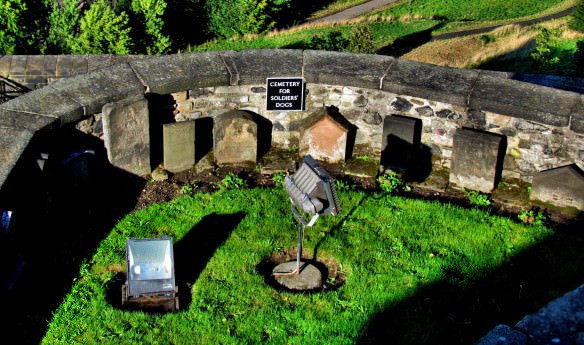 Edinburgh Castle Admission
In the summer it's a good idea to purchase tickets online  rather then stand in a long queue. While regular admission doesn't include the audio guide (additional £3.50), it does include a free 30 minute guided tour that runs frequently. Bell and I did not do the audio tour and instead opted for the free tour, included in the regular price of admission.
Admission to Edinburgh Castle starts at £17 for adults (around $22.50 USD).
Concession for those over 60 years old: £13.60
Children: £10.20
Opening Times:
Summer
9:30am – 6pm
(1 Apr – 30 Sep)
Winter
9:30am – 5pm
(1 Oct – 31 Mar)
Last entry is 1 hour before closing time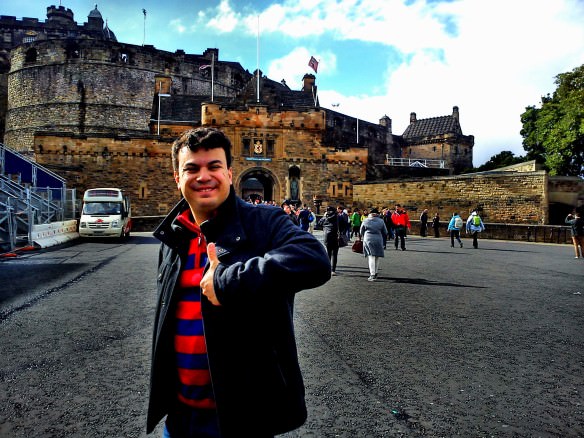 Where to Stay in Edinburgh?
Hotel prices in Edinburgh can vary wildly. Weekends in summer months and during holidays will be more expensive. Visit in the offseason to save money. It depends on your budget, but you'll often find the best hotel deals on booking.com. Book a room in advance with free cancellation!
Families especially will find the best value on short term apartment rentals. If you've never used Airbnb, sign up here and receive $55 credit off your first stay! Just be sure to only book places with consistently good reviews.
Disclosure: We received regular admission to Edinburgh Castle free of charge, thanks to VisitScotland, who provided us with passes to better highlight their beautiful country. However, the photos and opinions are solely ours and this hasn't influenced this review. Also, this article contains some affiliate links, where we earn a small commission from bookings.