By Alex Kallimanis: Bogota has much to offer visitors and generally offers great value. Highlights include the historic Candeleria, epic views of the city and Andes Mountains from Monserrate and a tasty culinary scene. We celebrated our 13 year wedding anniversary in Bogota and the nearby coffee region of Salento. It was a fun trip, but some travelers may feel uncomfortable at times. If you visit the country independently like we did, there are some things to keep in mind. Here are the pros and cons to visiting Bogota, Colombia.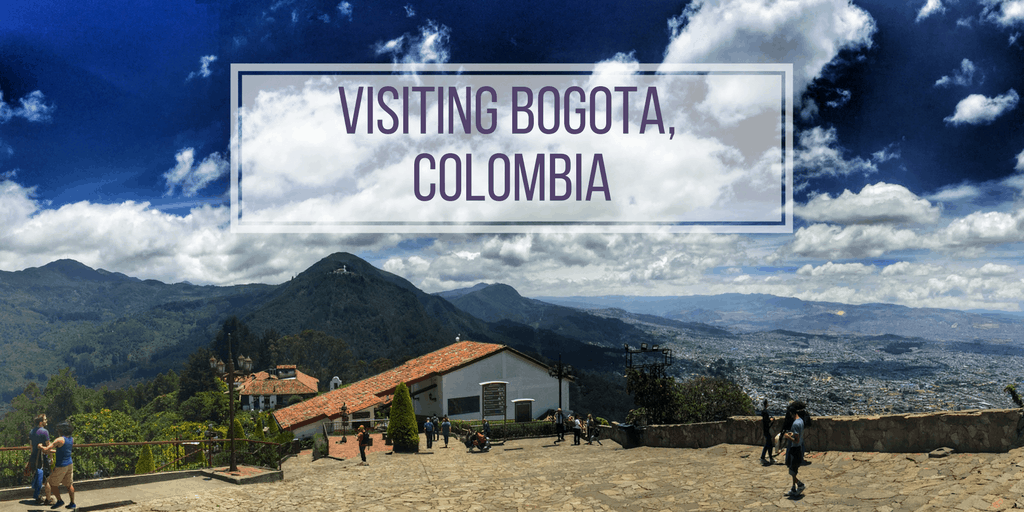 The great news is that the drug and political violence that plagued Colombia for years has greatly diminished due to the political deals made with FARC and measures to curb cocaine production. We're sure you're not, but if you travel to Colombia looking to buy cocaine understand two things. 1) Cocaine is illegal in Colombia. 2) Average Colombians do not think highly of visitors asking about a substance that tragically affected their country for decades.
Bogota Hotels
We stayed in three well appointed hotels in the city. As we started and ended our trip to Colombia in Bogota, we had the opportunity to check out a few places to give a firsthand comparison. Consider booking accommodation with free cancellation in advance.
Bioxury Hotel
We loved our three night stay during our 13 year wedding anniversary at the Bioxury Hotel (pictured below). It's very modern, comfortable and well priced compared to what you would pay for similar quality in other countries. The complimentary breakfast buffet is also really good.
The location in Zona Rosa is ideal as it's close to a lot of good restaurants. The Zona Rosa area is safer to walk around at night compared to the historic center of Candelaria. So consider staying there and using Uber to visit the historic center.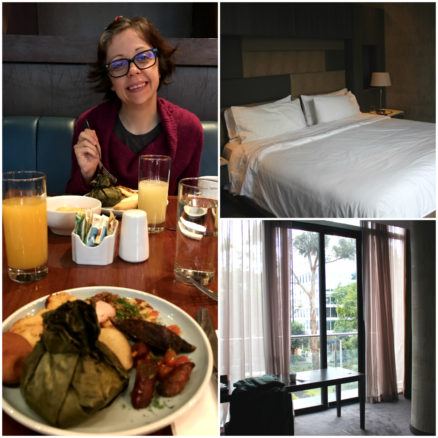 Hotel Habitel
As we arrived in Bogota late from the United States, we booked our first night at the Hotel Habitel near El Dorado Airport. Hotel Habitel has a free 24-hour airport shuttle and a delicious buffet breakfast is included in the price of all rooms. The following day we used Uber to move to the Bioxury.
Courtyard by Marriott Bogota Airport
At the end of our trip, we had to depart Bogota early and traffic can be heavy. So we booked the final night at Courtyard by Marriot Bogota Airport. This is a new hotel and we liked the huge wall map of Bogota above the bed. That made it feel like we weren't just staying in a chain hotel anywhere.
For airport stays, the rooms at Marriott are a little more stylish than Hotel Habitel. But Hotel Habitel has a nice courtyard to enjoy breakfast outside in the garden. Their shuttle service also runs more frequently than Marriot's. Keep that in mind if you have an early flight out of EL Dorado Airport.
Tours in Bogota
Take at least one tour in Bogota. On our first day, we took the free walking tour with Beyond Colombia. Angelica was a knowledgable guide. She taught us a lot about the history of Colombia and gave insight into the best places to eat and drink in the city. She made a special point to tell us not to believe everything in the Netflix hit series Narcos, about notorious Colombian drug lord Pablo Escobar. The suggested tip for the free tour is the equivalent of around $10 US, which we both gladly gave at the end of three hours. But we saw some give a little less, and the guide warmly thanked everyone the same.
The Pros of Traveling to Bogota
Impressive Architecture in Candelaria
Bolivar Square, which houses the Colombian parliament, is as picturesque as major European squares. We even pet a cute llama with the Colombian Parliament building in the backdrop. And a street vendor selling "big ass ants" to eat, is a quirk you generally won't find in European squares.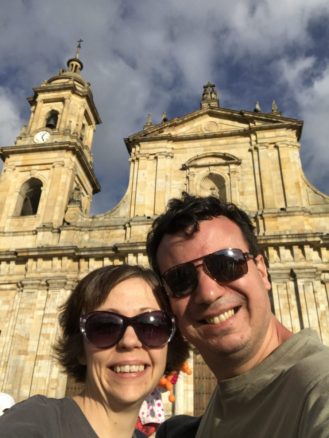 Monserrate: A Highlight of Bogota
The views of Bogota and the lush Andes Mountains from Monserrate are dramatically beautiful. It was our first time seeing the Andes Mountains, which surround Bogota, and we were awestruck with how green they are. A cable car or funicular train takes visitors to the top, where there's a church that dates back to the 17th century, along with biblical sculptures around the grounds. Along with the stunning vista, it's also a pilgrimage spot and some visitors hike to the top (we took the cable car). The top of Monserrate has several cafes, shops and a lovely fine dining restaurant named Casa San Isidro.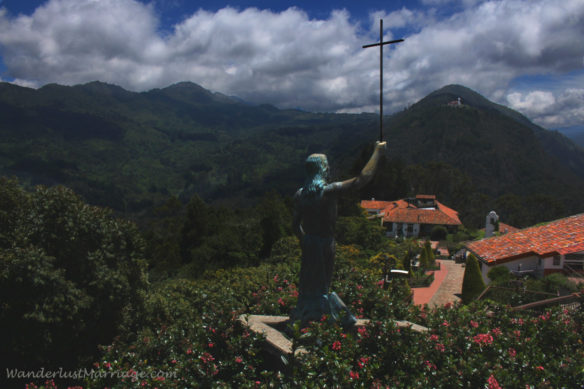 Great Value in Bogota, Colombia
Food, shopping and accommodation are significantly cheaper than what you'll pay in the United States. Even the trendy restaurants in the Zona Rosa, which are considered expensive, are not nearly as expensive as the equivalent in New York, San Francisco, Boston or Washington, DC. We loved our stay at the beautiful Bioxury hotel, which is ultra modern, comfortable and lined with green foliage in the lobby.
As Colombia is one of the world's largest producers of coffee, Bogota also has excellent cafes. Our favorite is the beautifully named Arte y Passion Cafe in Bogota, where servers draw pictures in coffees table side.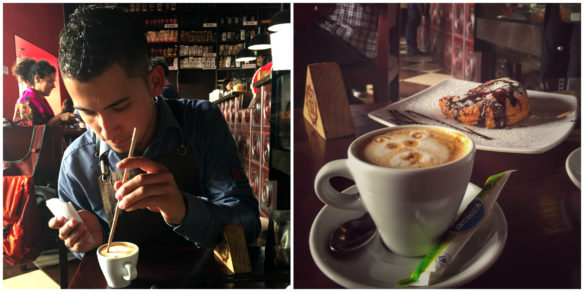 Great Bogota Museums
Bogota has a variety of good museums. Here are three museums to consider visiting. They range from art museums to museums focusing on Colombia's trade in gold and emeralds.
Botero Museum
Fernando Botero is like the Pablo Picasso or Salvador Dali of Colombia. In 2000, Botero donated an art collection of 208 pieces to Banco de la República. The Botero Museum is located in the historic La Candelaria neighborhood, in a colonial house that previously served as the office of the archbishop until 1955.
The Botero Museum a beautiful and free art museum that includes the work of Colombia's most iconic painter, Fernando Botero. It also features an impressive collection of works by European masters. Museo Botero was our favorite museum in Bogota.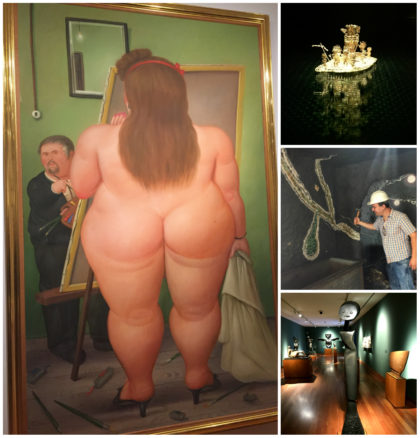 Gold Museum
The Gold Museum (Museo Del Oro) is another must. Admission is only 4,000 Colombian pesos (around $1.50 US). The collection features a lot of intricate and primitive gold pieces. You'll also learn a lot about the history of the region, pre and post Spanish Conquistadors.
Emerald Museum
We also visited the Emerald Museum (Museo De La Esmerelda) on the 23rd floor of the Avianca Building, the oldest skyscraper in South America. This was our least favorite museum and is mostly a showcase to sell emeralds at the end of the tour. But the sales pitch was no pressure. The highlight of this museum for us were the wonderful views of downtown Bogota. If you're shopping for emeralds in Bogota, the Emerald Museum is a good place to include in your search.
Delicious Colombian Food
During our trip, we debated whether Colombian or Mexican food was better. The fact that we were even having that discussion is a testament to Colombia's culinary scene because Mexicans generally rock at cooking. Some of the steaks we ate in Bogota rivaled ones we ate in Buenos Aires and Montevideo – two of the best cities in the world for quality steaks.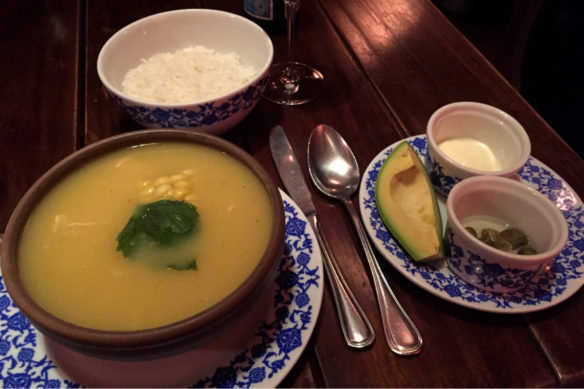 Great Shopping in the Historic Center (Candelaria)
We both did some shopping in the Candelaria area of Bogota. We picked up some high quality items at great prices. The highlights for me are a beautiful leather messenger bag for the equivalent of around $32 US. We both bought some stylish new clothes for a fraction of what we would pay in the US or Western Europe. We also bought some beautiful handmade art work for 4,000 Colombian pesos (around $1.50). That was his asking price and we wish we had bought more of his pieces.
Gateway to Other Beautiful Parts of Colombia
Bogota's El Dorado Airport is very modern and has frequent domestic flights around the country, along with being well connected internationally. After spending a few days in Bogota, we flew to Pereira and then traveled 45 minutes to Salento via Uber, a charming and safe town in the "zona cafeteria," or coffee zone of Colombia. This is an incredibly beautiful area, and the Quindio palm trees in the Cocora Valley (Valle de Cocora) are the tallest in the world, growing up to 60 meters (196 feet) high. We also toured the delicious Ocaso coffee plantation, which is extremely picturesque.
The Cons of Traveling to Bogota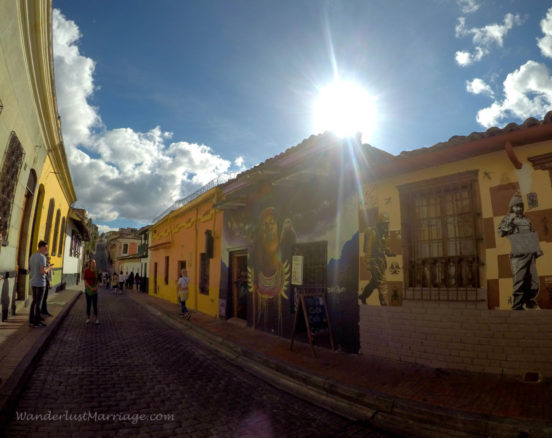 Possible Safety Issues
We did not have any issues in 5 days, but we were careful.
"Be careful. The areas around the Candeleria (old town) are safe during the day. But just outside it, may not be safe (even during the day)." – Our Uber driver in Bogota
"Only use Uber at Monserrate. Do not take a taxi." Said the same Uber driver.
We had read the warnings about Bogota. Only take taxis from the official taxi stand at El Dorado Airport and don't randomly hail cabs off the street. Or use Uber, which we did throughout our stay in Colombia. We used Uber Black in Bogota, which is comparable to Uber X in the United States.
We initially used Uber X in Bogota and while the driver took us to our destination safely, there were issues with his navigation because he had to turn off his device to save on mobile phone fees. As we had just arrived in Bogota, it was not comfortable to be driven in a couple semi circles. Read the many reasons why you should use Uber abroad, or another ride sharing app.
Uber Black Service
We recommend paying a little more and using the Uber Black service. We also only got in cars with drivers with good ratings. If the driver did not have a good rating, we canceled the ride before he arrived. We prefer to use services like Uber over taxis because we can see the drivers rating, there is a record of our ride, we know what the price will be, and do not have to trade cash with drivers. All of our Uber Black experiences in Bogota were positive ones. Some drivers spoke English, but the majority did not.
Candelaria is Not Safe At Night
Bogota generally shuts down early. After 8pm, there aren't that many people walking around most places. And it's not considered safe to walk around the Candelaria (historic center) after dark unless you're in a group. So we stayed in the upscale Zona Rosa neighborhood, but even there it's best not to walk around too late at night solo or as a couple.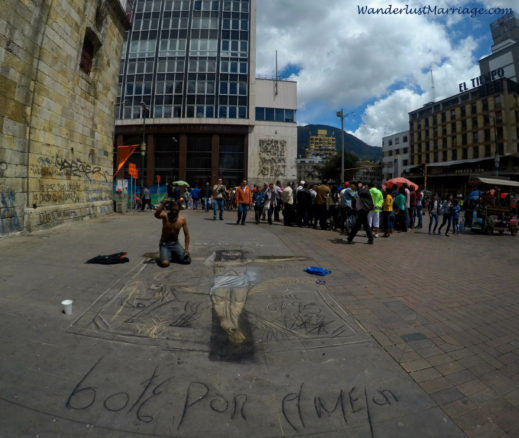 Understand that safety issues in Bogota are generally related to theft. And issues around theft generally stem from large disparities in wealth. There are extremely wealthy and extremely poor people in the city. If you visit Bogota, DO NOT be flashy with money or jewelry.
Frequent Language Barriers with Broken Spanish
Traveling independently in Colombia can be challenging if your Spanish is not very good. I speak a little bit of Spanish, which is really helpful. If you're Spanish is not good (and ultimately mine is not), it's best to stay in international hotels or with an Airbnb host that speaks some English.
High Elevation
The elevation can be a problem for some. I struggled with headaches and fatigue the first 36 hours in Bogota while my body adjusted to the elevation. After taking the cable car up to Monserrate, which lies at an elevation of 3,100 meters (around 10,000 feet), I immediately had to sit down while my body adjusted to the altitude. But Monserrate is absolutely stunning – one of the most dramatically beautiful places we've seen in any city worldwide.
Cool Weather Year Round (With a Constant Risk of Sunburn)
Bogota gets a fair amount of precipitation. And when it rains, it is not warm. Pack a sweater and a rain jacket. We were pretty lucky and generally found the weather during the day to be pleasant. It was usually low 20's Celcius (low 70's Fahrenheit). Warm when it was sunny and cool when the wind blew. We frequently took our sweaters on and off.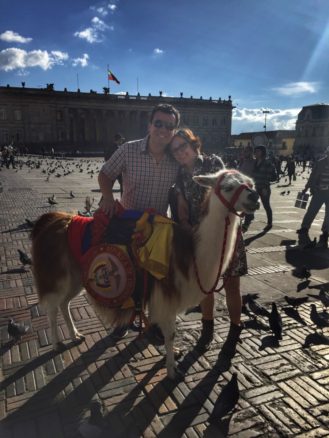 Also, pack sunscreen. Being at high elevation means a greater risk of sunburn. We learned the hard way, but thankfully we didn't get burned too badly.
During winter in North America, you'll find significantly warmer weather in Bogota. As it is close to the equator, average temperatures are the same year round. The weather in Bogota might be a plus for some, just know that it is not tropical weather like Cartagena.
Should You Visit Bogota, Colombia?
While we enjoyed Bogota and think it is a worthwhile destination, it is not for everyone. The small town of Salento was much more laid-back and generally safer to walk around at night. The receptionist at our hotel in Salento said "nowhere in Bogota is safe to walk around at night" with a slight chuckle.
For travelers looking for warmth and beaches, choose Cartagena over Bogota. Check out this article by our fellow DC blogging friends Backpacking with the Bonds for tips on traveling to Cartagena.
Want to travel to Bogota, Colombia for Cheap?
Play the credit card points game to earn free flights with everyday spending. We often take advantage of credit card bonus sign ups for practically free international flights. We used points for two direct roundtrip tickets from Washington, DC to Bogota. Have questions? Feel free to email us and subscribe to receive money saving updates!
Why Colombia for a Wedding Anniversary Trip?
We chose to celebrate in Colombia because we could fly directly from Washington, DC to Bogota on Avianca Airlines. The flight was only 5 and 1/2 hours, the same as flying direct to San Francisco and not much further than Las Vegas. We cashed in credit card points for free plane tickets, so traveling to Colombia cost us the same as traveling down the road. Our good friend, Brianne Miers, of A Traveling Life previously visited Colombia twice and has published great content on the country. Seth Kugel who used to write The Frugal Traveller column for The NY Times Travel section called Colombia the best value destination in South America.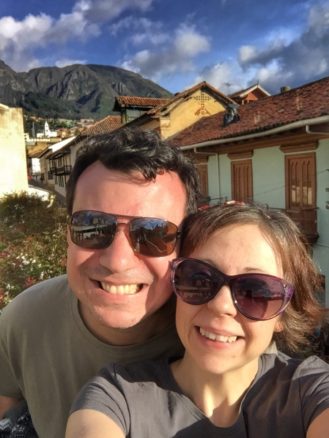 We considered celebrating in Iceland, a country much colder and significantly more expensive than Colombia. We left Colombia happy with our choice. There was a lot we loved, including our stays at the beautiful Bioxury Hotel in Bogota as well as the Reserva Monarca in the "zona cafeteria" (coffee region) near Salento, with an incredible view of the Andes Mountains.
Why We Chose Bogota Over Cartagena
A couple people told us to visit Cartagena over Bogota. Cartagena, Colombia is a tropical destination on the Caribbean, with warm weather year round. Bogota is the capital and sits at a high elevation of 2,600 meters (8,600 feet), so the weather is more unpredictable and it generally gets cold at night. But last year we visited Mexico City and really enjoyed it, so we had a hunch we'd feel similarly about Bogota. Cartagena is more touristy than Bogota, which is a pro for some, and a con for others.
Have questions on planning a trip? Leave a comment or email me at [email protected] and I can assist!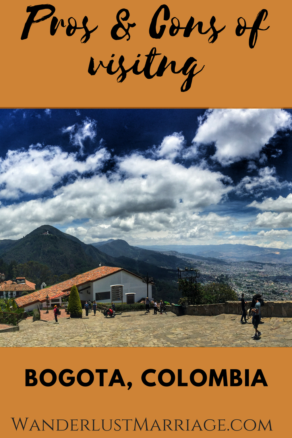 Disclosure: This article contains some affiliate links. We receive a small commission when you book or sign up through certain links and it costs you nothing extra. Thanks for using them to help maintain this website!