Climb the mountains and get their good tidings. Nature's peace will flow into you as sunshine flows into trees. The winds will blow their own freshness into you, and the storms their energy, while cares will drop away from you like the leaves of Autumn. – John Muir
"Nature's peace" is exactly the feeling that washes over me when on a hike, but I have come to especially love hiking in rainforests. They are damp and dirty but teeming with life and interesting things to look at. I fell in love with rainforests years ago in Queensland, Australia. Alex's step-sister bought us plane tickets from Melbourne to Brisbane as an engagement present and we decided to add on a trip up to the Daintree Rainforest. It was my first time in a rainforest, and on our first day we were continuously bitten by flies and it was muddier than we expected. Despite this, I walked away in love with exploring these lush green spaces. Alex less so. But he is a great sport and has accompanied me on many rainforest hikes around the world!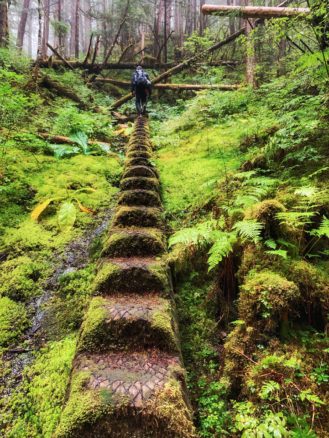 Cocora Valley, Colombia
The Andes Mountains equal WOW! Nestled just outside the small town of Salento lies the Cocora Valley. This cloud forest is home to the world's tallest palm trees, the Quindío wax palm. Wax palms are also Colombia's national tree.
What is a cloud forest? It is a rainforest at a much higher elevation. The Cocora Valley sits between 2409 and 7904 feet (1500 and 2400 meters) above sea level. Because of this elevation, the temperatures are cooler and it often feels like you are in the clouds. This rainforest hike should take somewhere between 4 and 5 hours. To get there you take one of the jeeps from the main square of Salento and it's a 30-minute ride.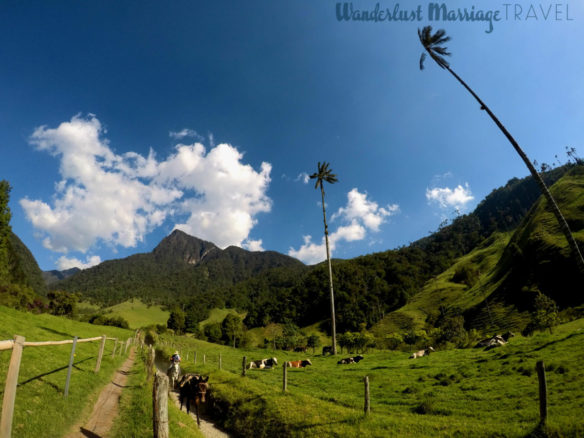 Asides from being a gorgeous part of the world, Salento is a wonderful place to spend a few days. Shops are colorfully painted, the restaurant selection is delicious and plentiful, and very importantly, there is a coffee plantation nearby. We spent a lovely afternoon touring the plantation and drinking coffee overlooking the mountains. Before arriving in Salento, we had visited hectic Bogota, so the laid-back vibe of the Cocora Valley was welcomed.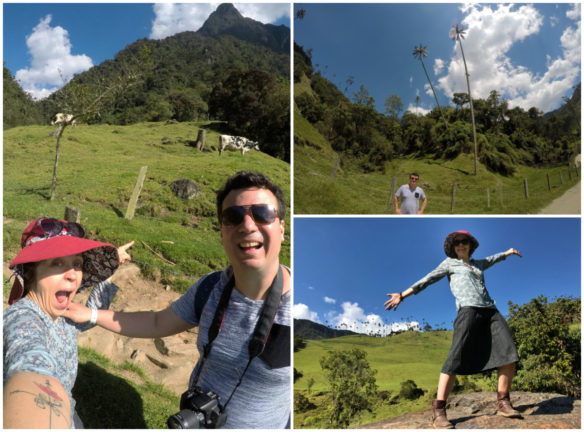 Where to stay
We chose to spend two nights just outside Salento at the beautiful Reserva Monarca. The views of the Andes Mountains and Salento off in the distance from the balcony of our room and at breakfast were stunningly beautiful. This is also an ideal hotel for a romantic few nights as the property also has a jacuzzi, sauna, massage room and private gazebo bar.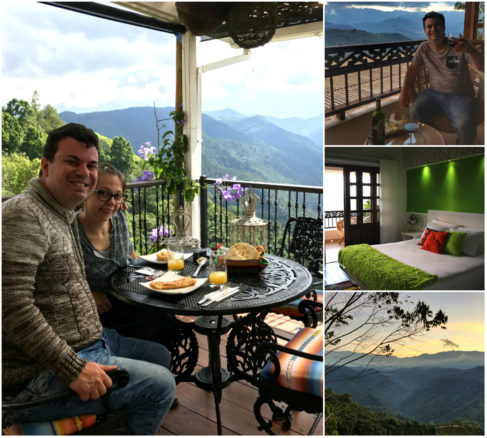 Sometimes we enjoy staying in a hostel for old times sake (we met while traveling solo in a hostel in 2002). The Coffee Tree Boutique Hostel describes itself as a "luxury hostel." The staff is really friendly and the hostel is nice, but it's still a hostel. The property also has an excellent view of the Andes Mountains and Salento. It's conveniently located so that you can walk into the center of town.
Tongass National Forest, Alaska USA
Tongass National Forest is the world's biggest temperate rainforest. This one isn't the easiest place to get to. We went on this rainforest hike during our UnCruise small ship Alaska adventure cruise. Exploring this rainforest is magical. Maybe I had this feeling after learning about the fairy barf lichen, a kind of moss and more formally known as icmadophila ericetorus, or just feeling engulfed by huge spruce and hemlock trees, or a bit of both.
In Alaska, you get the chance to disconnect. There is no cell service in Tongass, so you can fully take pleasure in the almost untouched wilderness. The Tongass has 19 designated wilderness areas, more than any other national forest. These areas are protected against man-made intrusive artifacts. That means no roads, paved trails, buildings, etc. The Wilderness Act was signed into law in 1964 by President Johnson.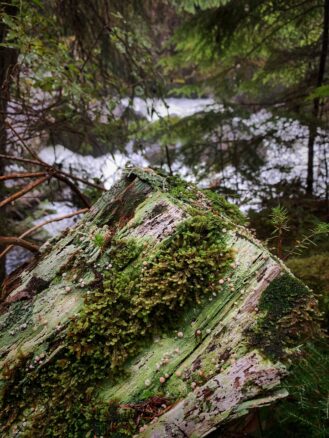 "If future generations are to remember us with gratitude rather than contempt, we must leave them a glimpse of the world as it was in the beginning, not just after we got through with it."
– US President Lyndon B. Johnson
Sailing through Southeast Alaska
Small ship sailing in Southeast Alaska allows you access to dramatic scenery and a personalized experience that large cruise ships cannot offer. We loved exploring this unique part of the world where eagles soar above you, bears roam the forest hunting salmon in the rivers and whales and sea lions swim beneath you. It is a special place on the planet.
The hike was one of the optional activities for the day. Only a small group of us set off on this moderately difficult hike. But our guide was awesome at pointing out edible berries and other fauna. We didn't see a lot of wildlife, but I enjoyed taking in the small details.
UnCruise offers an intimate experience with the Alaska landscape and highly knowledgeable and enthusiastic staff. Every day there were varying levels of adventure excursions to sign up for. For the all-day hike, the staff let people know the longer hike was not for everyone. They offered a much easier hike in the wilderness as well as kayaking that day. All your meals and drinks are included. If you have a food allergy, just let them know, they will make delicious alternatives for you.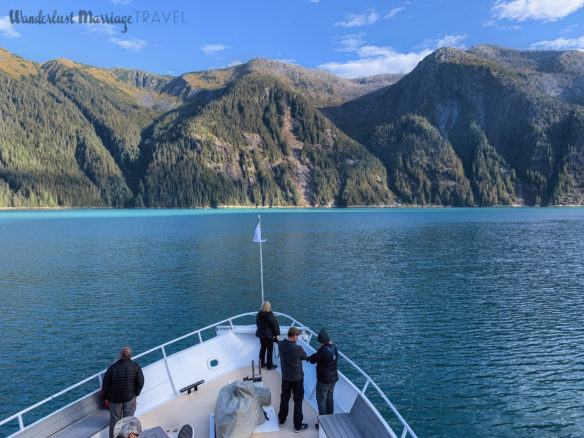 Where to Stay in Ketchikan, Alaska
Ketchikan is a popular cruise ship stop near Misty Fjords. It's where many small ship Alaska cruises begin and conclude. Ketchikan is known as the "salmon capital of the world." And we've never seen as many salmon as we did in Ketchikan's waterways. Ketchikan is also a great destination for Native American and gold rush history.
Plan to spend an extra day in Ketchikan before or after an Alaska cruise. We stayed at the Inn at Creek Street, located in the center of Ketchikan. Many of the rooms have scenic views of the harbor. Rooms are comfortable, with plush beds, large flat screen TV's and coffee makers. Their on-site New York Cafe serves gourmet coffees and craft beers that pair well with breakfast or another meal.
La India Dormida, Anton Valley, Panama
Panama is known for its famous canal, towering Panama City skyline and sun-kissed beaches. But its picturesque landscape and diversity of wildlife are really quite amazing. Just a 2-hour drive from Panama City is Valle de Anton (the Anton Valley).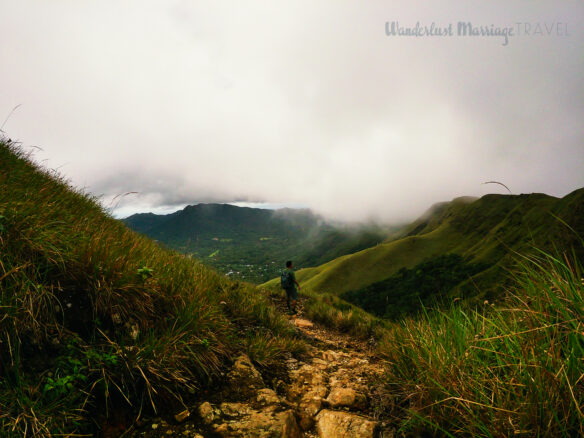 If you love hiking, Valle de Anton is the place for you. Even if you don't, it is a special place because it's one of only a few towns in the world built inside a dormant volcano crater. This means the temperatures in the Anton Valley are moderate, or if you are Panamanian…cold! That is compared to Panama City and the coastal beaches. The topography of Valle de Anton is ideal for a cloud forest.
Alex and I hiked the La India Dormida trail. We followed the waterfall all the way to the top, it was beautiful but also very… cloudy! As we walked, the monkeys in the trees were chatting out of view.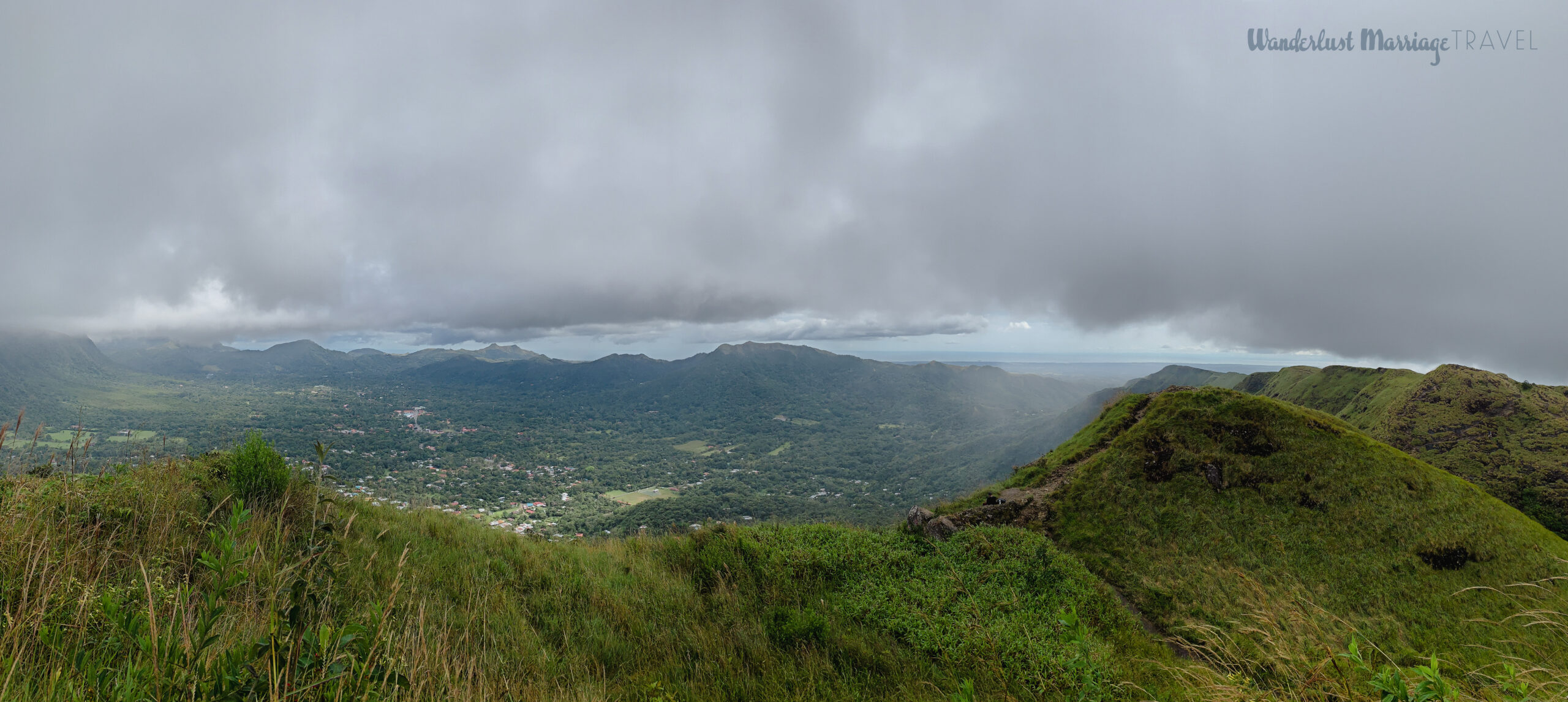 We didn't find the rim of the volcano on our first try. We initially hiked the wrong path. As we were heading back down, we noticed an arrow pointing in a different direction – the trail to the top of the volcano rim. This was a solid reminder to enjoy the journey! We decided it was worth continuing our adventure and took the "right" trail. The trail to the top of the volcano is steep. But it is well worth it as we were greeted with amazing views of Valle de Anton below.
The trail gets its name as the hills create a silhouette of a sleeping girl. Of course, there is a local legend too!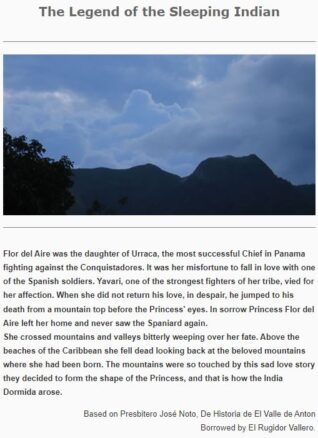 Where to stay in Valle de Anton
We enjoyed a lovely and relaxing stay at the Golden Frog Inn. If you are looking for a quiet place to work remotely, we highly recommend this hotel. Our room included a small kitchenette, and we had a spacious private balcony that came with a friendly kitty. A delicious breakfast is included. You can also have dinner on the property, and we enjoyed all our meals. Alex especially loved their delicious pina coladas made with fresh coconut!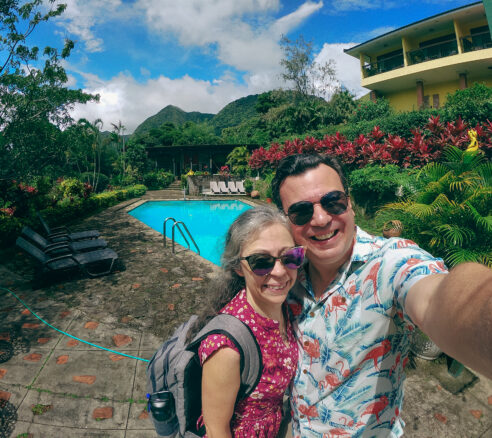 We also spent a night in a private room at the Bodhi Hostel. The hostel is right in the center of Valle de Anton. We only stayed a night there and were happy about that as it's very budget. As we met in a hostel, we often have a sentimental spot for reliving our beginning.
What to Wear on Rainforest Hikes
So you are probably going to end up wet, accept this! After you accept this truism, it doesn't mean you want to be wet in the first 10 minutes either. A light pair of rain pants will hold for a good while, but the seams will eventually start letting water in. My biggest struggle with hiking is balancing hydration. This is because it is wet and so are your undies, which means I find peeing hard and therefore don't drink enough.
My advice is to have a hydration drink before and after the hike so you can limit your fluids, and minimize pee stops! A rain jacket is also a must. Look for a raincoat that has an inside pocket. This will come in handy for storing your phone. Pack some fruit, like bananas and berries, to replenish your energy.
For shoes, especially in Alaska, you need good old rain boots. Rain boots aren't for comfort but they do keep your feet dry. I don't own a pair of fancy hiking boots. I've worn my Doc Martins and a pair of old running shoes. My advice is to wear something comfortable, that you won't mind getting muddy and possibly throwing away. A small waterproof backpack is also important for storing snacks.
Great Rainforest Hikes Recap
Rainforest hikes offer scenic adventures. They also offer tranquil reprieves to disconnect from the hustle and bustle of modernity and pinging cell phones. Be sure to pack the proper gear for optimal comfort. Enjoy the journey!
Are any of these destinations on your travel list? Where are some of your favorite places to hike around the world?