A week's vacation in London, Brussels, and Amsterdam is a great idea, especially for beginners to European travel. London is the world's grandest English speaking city. Brussels is the capital of the European Union, and offers one of Europe's best culinary scenes. Amsterdam's beautiful historic center is a UNESCO World Heritage Site. Dotted with canals, the world's most bicycle friendly city is the most charming of the three. We previously lived in Amsterdam for 3 and 1/2 years and know these European cities well. So here's how to spend a week in London, Brussels, and Amsterdam!
Start the journey in either London or Amsterdam, whichever the flight is most convenient or affordable for you to fly into. London and Amsterdam are both great first stops for fellow English speakers to orientate themselves with European travel. Even though Dutch is the official language of Holland, almost everyone in Amsterdam speaks English (around 50% of the residents of Amsterdam are non-Dutch too).
Topics include:
London
Since London is English speaking, it's a great place to start your trip. London is home to the political, entertainment, and media hubs of the United Kingdom, so you can't possibly get bored there. Imagine if New York City, Washington, DC and Los Angeles were combined – that's essentially what London is.
Day 1 in London:
The British Museum houses a vast collection of impressive works from around the world. Some of the most famous pieces include the controversial Parthenon sculptures ("Elgin marbles") and the Rosetta Stone. Before visiting, head to the British Museum website to book a timed reservation for free. There is a suggested donation of £5 per visit, but that's up to you.
National Portrait Gallery is another world-class free museum that's home to one of the best collections of paintings on Earth. Highlights here include magnificent pieces from the Italian Renaissance like Venus and Mars by Botticelli. You'll also find works by Michelangelo, Da Vinci, Raphael, Caravaggio, and Rembrandt along with the impressionist masters. Note: The National Portrait Gallery is currently closed until 2023 for major renovations.
Dinner and Drinks in an old Dominican Friar
The Blackfriar takes drinking to a spiritual level, as it was built in 1875 on the site of a Dominican friary. The pub is filled with sculptures, mosaics, and reliefs of friars. It's a unique place to enjoy tasty drinks and dinner. Fish & chips or steak and ale pie are solid British staples.
London Hotels
Luxury
The world-famous Savoy Hotel has been operating since 1889. It rests on the banks of the Thames and is less than a 5-minute walk from The British Museum and The Royal Opera House. The Savoy's 195 guest rooms and 73 suites are decorated in either Edwardian or Art Deco style. They feature elegant marble bathrooms. Sir Winston Churchill, Frank Sinatra and Katherine Hepburn have been guests there.
Langham London is a great luxury option, often with cheaper prices compared to similar options like Savoy and Ritz Carlton. It opened in 1865 as Europe's first grand hotel. Since then it has accommodated royalty, foreign dignitaries and celebrities in luxury for over 150 years. Guests can enjoy the property's Chuan Body + Soul Spa and Health Club. It features a 50 feet swimming pool, sauna, steam rooms, fully equipped gym and treatment rooms.
Mid-Range
CitizenM London Bankside is a great mid-range hotel in London. CitizenM's brand offers a comfortable stay in an ultra-modern 21st-century hotel that includes a great entertainment selection like free on-demand movies. Features like mood lighting can be controlled via a tablet device in the room. There's also a citizenM Tower of London.
Budget/Backpacker Hotels
Stays at Generator Hostel London include a basic breakfast and facilities are clean. While there's a pub in the hostel, it isn't overrun with crazy party goers. So it offers a nice balance of opportunities to meet fellow travelers, without raging all night parties. I enjoyed my stay there during my younger days of travel.
Palmers Lodge Swiss Cottage is a great choice for backpackers looking to stay in a smaller hostel from the Victorian era. Guests can socialize in the common room or grab a drink at the on-site Chapel Bar. The conservatory has a flat-screen TV and amenities include laundry facilities.
Apartment Rentals
Families and groups of friends may find the best value booking short stay apartments in Europe. We prefer booking apartments through sites like booking.com over Airbnb as we generally find it's more professionally ran that way. Airbnb listings often include cleaning fees and owners still ask guests to clean, take out trash, etc. Search for properties with consistently good reviews for the best experience.
Day 2 in London:
Buckingham Palace is the the Queen of England's London residence. Watch the changing of the guard that takes place at 11 am every morning. Tours of Buckingham Palace aren't possible, but it's worth visiting to get an iconic photo outside the gates.
Westminster Abbey
Westminster Abbey is an impressive Gothic abbey that dates back to the 9th century. Along with St. Paul's Cathedral, this is where the English monarchy is coronated, and also where many of the nation's biggest weddings and funerals take place. Isaac Newton, Charles Darwin, and many English royals are buried here.
Adult admission to Westminster Abbey costs £25 ($29 USD). But it's free to attend Sunday service. Check the Westminster Abbey website for service times if you want to save the pricy entrance fee.
Tower of London
Highlights of a visit to the famous Tower of London include the Crown Jewels. Here you'll find a castle, fortress, and infamous prison right in the middle of London. Adult admission costs £29.90 ($35 USD).
The Tower of the London entrance includes The Crown Jewels, The White Tower, Chapel of St Peter ad Vincula, Battlements, Medieval Palace, Bloody Tower, Torture at the Tower exhibition, Fusiliers Museum and Royal Mint exhibition.
London Eye
The London Eye was the world's tallest Ferris wheel when it opened in 2000 and stands 135 meters (443 feet high). It's still the tallest Ferris wheel in Europe and offers stunning views of London's iconic attractions. Standard tickets cost from £32.50 ($37 USD).
Ye Olde Chesire Cheese
If you only visit one London pub, head to Ye Olde Chesire Cheese. Little has changed there since it was rebuilt after a fire in 1666 and it's one of the most historic pubs in the city. This was an old stomping grounds for Charles Dickens and Sir Arthur Conan Doyle. Sam Smiths owns the pub today, meaning it's inexpensive by London standards, with a good beer selection.
These are some of the highlights for two days in London, but it depends on your interests. For a lot more recommendations, check out my article How to Spend a Long Weekend in London. And this is a cool First Timer's Guide to Eating in London.
A couple of fantastic travel bloggers who live in London and are excellent resources on the city are The Travel Tester and Finding the Universe.
Brussels
Day 3: Brussels
Catch the Train from London to Brussels
Catch the Eurostar high-speed train from London to Brussels. The train takes around 2 hours and you'll save money booking your tickets in advance, rather than showing up and purchasing your tickets at the station shortly before you depart. One way advance purchase tickets from London to Brussels start at $64. You can check train schedules, compare prices and buy tickets on the Rail Europe site.
The Grand Place (Grote Markt)
The Grand Place (Grote Markt), is a UNESCO World Heritage Site. The intricate neo-Gothic architecture of the town hall and guild houses make this one of Europe's grandest squares. The restaurants and cafes of the Grand Place are very touristy, so I don't recommend eating lunch here, but have a drink in the square when the weather is nice. Visit again at night, when the buildings are lit up, for an even more romantic experience.
Cantillon Brewery
Beer lovers should visit the Cantillon Brewery. It's the last remaining lambic brewery in Brussels and one of the best of its kind in the world. Many Americans breweries have been inspired by Cantillon. Read all about the experience of touring this brewery in my article Cantillon Brewery, a throwback to 1900.
EU Parliament
Political buffs should plan to visit the European Parliament in Brussels. It's free of charge and you can have a tour in one of the 24 official languages of the European Union.
Royal Palace (Palais Royal de Bruxelles)
The Royal Palace of Brussels is adjacent to Brussels Park. Like Buckingham Palace in London, tours aren't possible. But it's worth swinging by to see the home of the Belgian monarchy and to snap a few photos.
Chocolates and Patisseries in Brussels
Parallel to the Grand Place, along Rue Marche aux Herbes Grasmarkt, there's a ton of chocolate and pastry shops to suit various budgets. An alternative to chocolate is top notch fresh meringue from the patisseries. And you should definitely plan to have a fresh made Belgian waffle from one of the street vendors!
Dinner and Drinks in Brussels
To cap off the perfect day in Brussels, go to a charming bistro like Fin De Siecle or La Villete for dinner. Fin De Siecle translates to "end of the century" and serves fantastic great Belgian food in a quaint setting. La Villette is simultaneously lively and laid back, with red and white checkered cloth tables and a rustic feel, it's quintessential Belgium. You can't go wrong with ordering mussels, steak, beef stew or rabbit simmered in lambic beer sauce at either restaurant. For more restaurant recommendations in Brussels, read this article on The 10 Best Restaurants in Brussels.
After dinner, you could head to the Delirium Cafe, which holds the world record for the largest beer selection, with over 2,000 choices. But Poechenellekelder is more laid back, quirky has a fantastic Belgian beer selection. It's right across the street from the famous Mannequin Pis statue (the little boy peeing that is strangely the symbol of Brussels).
Brussels Hotels
Luxury Hotels in Brussels
Steigenberger Wiltcher's is a truly elegant hotel right off Avenue Louise, which has many of Brussels finest shops. Marble bathrooms are fitted with a shower and a separate bathtub. Amenities include a spa and swimming pool.
Brussels Marriott Hotel Grand Place offers great amenities and a wonderful central location. The hotel is within a 5-minute walk of Grand Place and Manneken Pis and a 10-minute walk to Brussels Central Train Station. Amenities include satellite TV, air-conditioned rooms and a fitness center.
Mid Range Stay in Brussels
Hotel Park Inn by Radisson Brussels Midi has great rooms and a good location near Brussels Midi international train station. If you have an early international train to catch, this is a great option location wise as it's near the train station where you catch Eurostar and Thalys trains.
Budget Hotels in Brussels
Ibis City Centre has a fantastic location, just a couple minutes walk from the incredible Grand Place. Rooms are very basic but clean, and you can't beat the location.
Motel One Brussels has slightly better rooms than Ibis but it's a little further from the Grand Place. The breakfast buffet here is really good and well priced.
Day 4: Brugge (Bruges), Belgium
You should visit more than just the capital cities and a great day trip to make part of your week in London, Brussels and Amsterdam is Brugge. Brugge is one of Europe's best preserved medieval cities. You can catch the train from Brussels Centraal, Brussels Nord or Brussels Midi train stations to Brugge and it takes around 1 hour and 20 minutes each way.
Local Tours of Brugge
Take a Bruges Highlights tour led by locals! You'll tour the towns most famous sites while learning about its history. Your guide will also help you out with some pointers on where to go afterwards. You should also take a canal boat tour of Bruges that will take you through the waterways of one of Europe's most beautiful and charming towns.
Indulge in Brugge's Chocolate Shops
Brugge is chocolate lovers heaven, with around 80 chocolate shops around town. Stroll around and savor the experience, grabbing free samples and buying goodies to enjoy later. Definitely have a hot chocolate, as it will be one of the best you've ever tried. There's even a chocolate museum called Choco Story which we found to be worthwhile. Their life-size chocolate replica of President Obama was a little tacky, but entertaining too.
De Halve Maan Brewery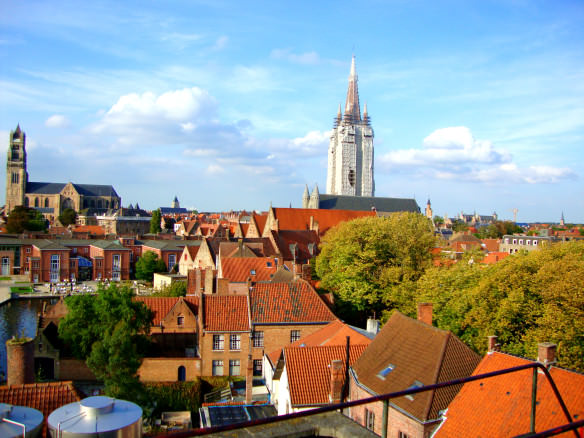 We've been to some great breweries and De Halve Maan (which translates to "the half moon") is one of our favorites. The brewery is in the historic center of town and features a fun tour through their tasty operations. One of the highlights of the tour is the amazing view of Brugge from their rooftop. Their blonde and dark ales are very tasty too. I much prefer their Brugse Zot over a mass-produced Leffe, which is now owned by Anheuser–Busch InBev (hence Leffe's place on many American grocery store shelves).
Brugge Hotels
Romantic Bed and Breakfast
B&B Jane is a lovely bed and bed and breakfast featuring three uniquely themed rooms. Centrally located about a 6 minute walk from the market square, this stylish B&B is housed in a heritage-listed building dating to 1673. We've stayed in their African room, which featured tribal adornments and even antique rifles mounted to the wall!
Backpacker & Budget
St. Christopher's Inn Hostel at the Bauhaus holds a special place in our hearts. It's where Bell and I first met as solo travelers backpacking Europe after college! Their pub features around 17 Belgian beers on taps and even some locals hang out here. Maybe you'll meet your future spouse here too.
Day 5: Amsterdam
Catch a train from Belgium to Amsterdam
Catch the train from either Brussels or Brugge to Amsterdam. The high-speed Thalys train takes around 1 hour and 50 minutes from Brussels to Amsterdam. The regional trains from either Brugge or Brussels will take around 2 hours and 40 minutes. You can check the train schedule, compare prices and buy tickets from Brussels to Amsterdam on Rail Europe.
Tour Amsterdam By Boat
There's a lot of tour boats conveniently located near Amsterdam Centraal train station. The tours usually last one hour and they're a good way to learn about the city. For a more luxurious experience, book an Amsterdam evening canal cruise with 4-course dinner and drinks.
Check out the Red Light District
The Red Light District is one of the biggest spectacles of a visit to Amsterdam. You'll see throngs of people walking around at night, including many couples. Scantily clad prostitutes dressed in lingerie or bikinis aim to lure mostly guys (and sometimes also women) in for some sexy fun.
There are bars and cafes close to the windows where you can watch the women strut their stuff over a drink. This was a favorite place of ours to take visitors from out of town who were interested in checking out the Red Light District. If you are traveling with kids, you may want to avoid it!
The number of tourists, along with police presence, keeps the area generally safe. Just be wary of pickpocketing like you should in any busy place filled with tourists.
Amsterdam Canal-side Dinner
If you eat one meal out in a Dutch restaurant (et' cafe) it should be kip sate, which is chicken cooked in a mildly spicy Indonesian influenced peanut sauce, typically served with Flemish fries (Vlaamse Frites). Our favorite restaurant for kip sate is De Haven van Texel because the food is good, in addition to its wonderful canal side terrace. Sitting on the canal is wonderful when the weather is good. In winter, their inside dining room is "gezellig," which is Dutch for a cozy and comfortable place that friends and loved ones can enjoy together.
Amsterdam Hotels
Hotel prices in Amsterdam vary depending on the time of year and availability. Try and book something with free cancellation well in advance when you can, especially for summer and the holidays!
Luxury:
It doesn't get more luxurious than the 5 star Waldorf Astoria Amsterdam. Set along the UNESCO World Heritage-listed Herengracht canal, the hotel is made up of six monumental 17th-century canal palaces. The 2-Michelin star restaurant Librije's Zusje Amsterdam is perfect for an on-site gastronomic experience.
Pulitzer Amsterdam is a great luxury choice located within 25 interlinked 17th and 18th-century canal houses, between the famous Prinsengracht and Keizersgracht canals. Combining traditional and modern Dutch design, the hotel has 225 unique guest rooms and suites. It's walking distance from major attractions, but on a quieter end of the picturesque western canal belt.
Radisson Blu is one of the best value luxury stays in the center of Amsterdam. Spacious rooms are decorated according to colorful themes. Their on-site restaurant serves international meals and an extensive breakfast buffet.
Mid Range:
Citizen M is a comfortable and ultra-modern hotel in Amsterdam. Every room at citizenM Amsterdam has wall to wall windows and large beds with luxurious linens. Guests can modify room color, temperature, control the smart TV and also adapt the blackout curtains all from an Ipad mini.
We also recommend Motel One Amsterdam and Motel One Waterlooplein as they're good bang for you buck, with a great breakfast buffet featuring delicious higher end bakery quality breads, pastries and croissants. All rooms have a private bathroom, air conditioning and flat screen TV.
Lloyd Hotel offers unique rooms in a transformed historic building. Within 10 minutes you can reach Amsterdam Central Station by tram. Rooms come in different shapes and sizes, so this is a good stay for travelers who get freaked out by cookie-cutter hotels.
Budget and Backpacker:
Backpackers can consider fun options like the popular Flying Pig Downtown and Flying Pig Uptown. The properties are 420 friendly hostels. If that is not your bag, choose the StayOK, by Hosteling International. It is close to Vondelpark and Leidseplein. Leidseplein is home to several of Amsterdam's music venues and lots of happening bars and clubs. So these are good choices for younger travelers.
Amsterdam Apartments
You'll generally find the best value booking short stay apartments in the Netherlands, especially in Amsterdam's historic center during summer and popular holidays like New Year's and King's Day. Book apartments and homes with consistently great reviews for the best experience.
Day 6 in Amsterdam
The Van Gogh and Rijksmuseum
Amsterdam's two most famous art museums are the Van Gogh Museum and the Rijksmuseum, the Dutch modern art museum. As these museums are pretty close together, you can plan to visit both on the same day. If you only visit one of them, you should probably choose the Rijksmuseum. Rembrandt's The Night Watch painting is the size of an entire room and one of the most impressive paintings you'll see. Unless you're a huge fan of Van Gogh or impressionist art, then visit the Van Gogh Museum.
Amsterdam Flower Market and Adjacent Cheese Shops
Amsterdam was the world's wealthiest city in the 1600's, in part thanks to a spike in world demand for tulips. The Netherlands is still one of the world's biggest exporters of tulips. Peruse the Amsterdam Flower Market (Bloemenmarkt) and be sure to only buy bulb bags that are suitable for entry back into the United States (if you're an American tourist planning on doing this). Swing into the nearby cheese shops for an abundance of quality free samples. Holland produces some of the world's best cheese.
Dinner in Amsterdam
Another favorite "gezellig" restaurant in Amsterdam is De Struisvogel, which translates to "the Ostrich." This is a fantastic little restaurant that serves a delicious ostrich steak. For an upscale dinner where you can sit in a room with authentic Rembrandt etchings, D' Vijff Vlieghen is an unforgettable dining experience. For more high-end dining tips, check out Amsterdam Foodie's article on the 10 Best Restaurants in Amsterdam.
We lived in Amsterdam for 3 and 1/2 years and have also visited several times as a tourist. Amsterdam gets especially crowded during weekends in the warmer months, so book accommodation well in advance. If you leave your hotel until the last minute, you could plan to stay somewhere a short train ride away from Amsterdam, somewhere like Haarlem, Leiden, or Utrecht. Read our article on 10 Awesome Day Trips from Amsterdam for great ideas if you want to spend more time in the Netherlands. We've also previously written on How to Spend One Day in Amsterdam.
Save Big Money on Travel to London, Brussels and Amsterdam
Earn free flights and hotels with your everyday purchases. We take advantage of credit card bonus sign-ups to save thousands on travel each year. Read our tips on travel hacks and get in touch if you have questions! I even earned 120,000 Delta miles in 2020 during the pandemic, without even flying Delta! That's enough miles for two free roundtrip tickets from the United States to London, Brussels or Amsterdam!
Have questions about planning a trip to London, Brussels, and Amsterdam? Leave a comment or email me at alex(at)wanderlustmarriage.com and I can assist you!
About the Writer and this Website
Alex Kallimanis is a UCF graduate who grew up in the Orlando, Florida area before living in destinations like Australia, the Netherlands and Ireland. As a travel journalist and travel consultant, I enjoy assisting readers with getting amazing experiences and value from their trips. I've visited over 60+ countries and counting.
We spent 3 and 1/2 years living in Amsterdam. The city consistently ranks as one of the world's 20 best destinations to live for overall quality of life. Over the years we've enjoyed re-visiting friends and seeing what's changed in the Venice of Northern Europe. It's still one of our favorite destinations.
I'm also a Greek citizen that has made 10+ trips to Greece. My wife of nearly 17 years, Bell, is an Australian scientist working in cancer research. We first met in a hostel in Brugge, Belgium while backpacking Europe solo after college. You can read more on that story in our about page if you're interested.
I encourage you to browse some of the other destinations we've covered for helpful tips. I also share advice in our resources page that could save you thousands on travel costs!
Disclosure: This article contains some affiliate links. If you book through them, we receive a small commission at no extra cost to you. Thanks for using them to support the free content you've just read!