At a distant glance, modern Athens resembles an outgrown concrete jungle. Greece is one of the most visited countries in the world, yet many skip Athens and fly straight to one of the islands. Yet Athens is one of the few capital cities where you can catch a tram to the beach. The 2004 Olympics cast a spotlight on the country. And while the subsequent economic crisis brought hardship, it also modernized and reinvented the city. Along with being American, the Alex half of this website is also a Greek citizen. I've been traveling to Athens for decades. Here's 5 great reasons that make Athens worth visiting!
1) The Acropolis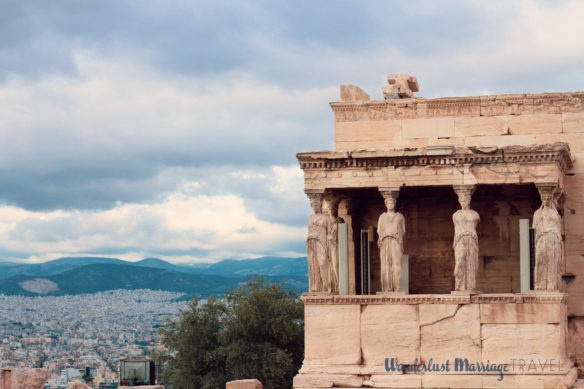 The Acropolis is reason alone to make Athens worth visiting. Some mistake the Acropolis for just the Parthenon, but the ancient "city on a hill" has much more to offer than simply the temple to Athena. You can spend an entire day roaming the ancient agora (marketplace) and other monuments around the hill.
The archeological museum is packed with Greek antiquities. And great restaurants and cafes are in abundance in the nearby Plaka, Monasteraki, Psyri and Koukaki neighborhoods. Greeks still love to philosophize on life's greatest questions and concerns like government and justice.
The aura of Athens can make you feel like throwing on a toga and chatting up some tables, Socrates style. Consider pondering even a simple question like 'what makes a great meal?' as you dine al fresco at one of the many restaurants that line the Acropolis in the wonderful Monastiraki, Psyri and Plaka neighborhoods. Enjoy the present as you savor the past!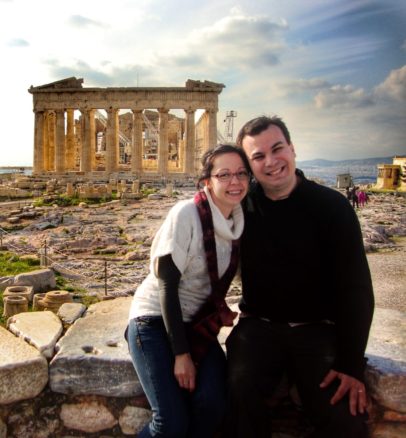 2) Stunning Panoramic Views Around Athens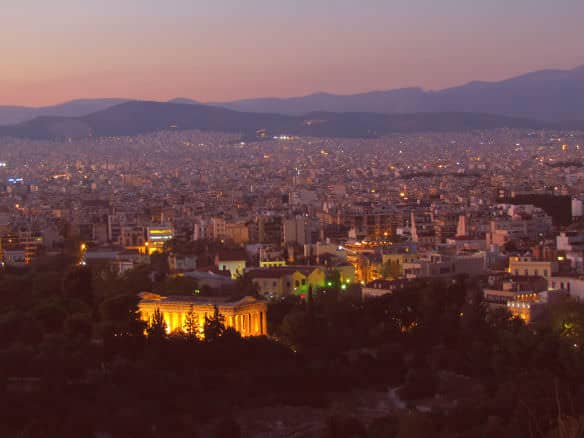 Greece is surrounded by mountains and has two mountains within the city center. Along with the Acropolis there is also Mount Lykavitos, which arguably offers an even better view because you can see the entire Acropolis. There are several restaurants and cafes on Mount Lykavitos that offer wonderful vistas.
There's are many hotels and restaurants offering amazing views of the Acropolis from rooftop terraces. Perfect for enjoying great food, drinks and traditional live music and dancing. Athens is encircled by three mountains, the largest being Mount Parnitha. Mt. Parthina stands at 1,413 meters (4,635 feet) high and even has a casino called Regency offering a stunning panoramic view of Athens if rolling the dice is your thing.
3) Athens History and Archeological Sites
Greeks are extremely proud that their ancestors contributed so much to western civilization, as the birthplace of democracy made forever lasting contributions to science, architecture, art, theatre, sports and math. For fellow Olympics fans, it's a must to visit the world's only all marble stadium, Panathenaic, which hosted the first modern Olympic Games, held in Athens in 1896. Panathenaic Stadium was utilized when Athens hosted the 2004 Olympics for two events. It hosted archery and the conclusion of the marathon.
Many Greeks are upset that so many of their antiquities have wound up in foreign museums in London, Paris and elsewhere around the world. Throughout the centuries, dubious sales and looting during foreign occupations contributed to the plundering of antiquities. But the Athens Archaeological Museum is truly world-class. It's a must for anybody interested in ancient sculptures and history.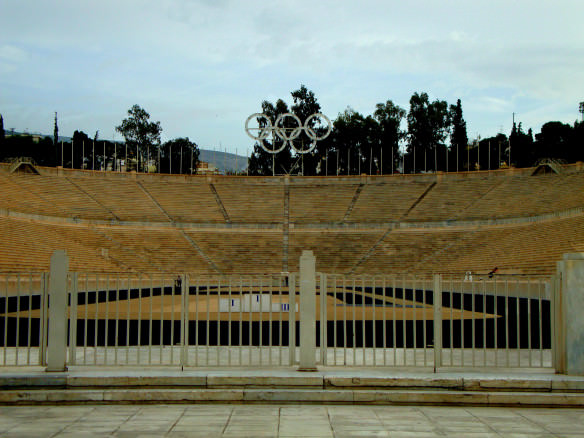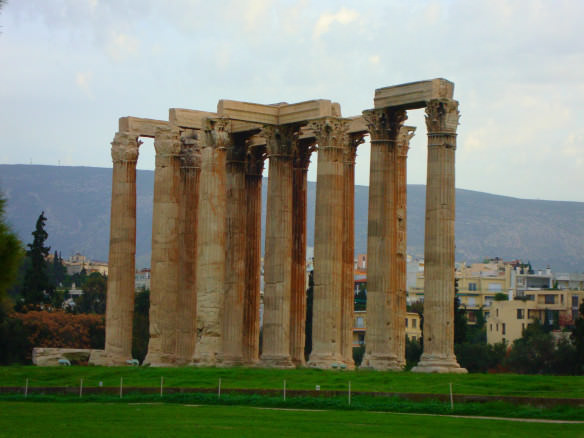 4) Delicious Greek Food Makes Athens Worth Visiting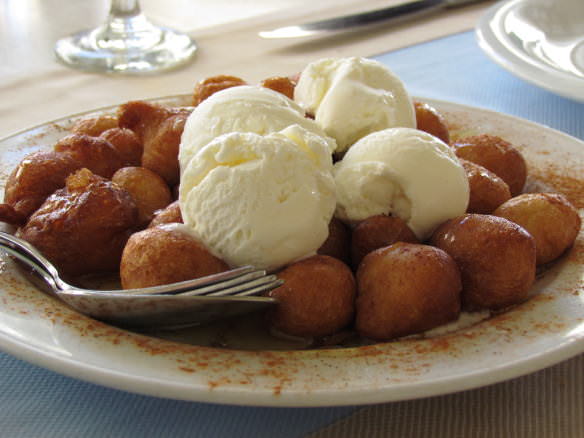 Athens is the capital so you'll find everything here, from the very best to the very worst Greek food has to offer. A must-eat is a traditional souvlaki. Souvlakis consist of succulently seasoned pork meat with oregano and lemon stuffed in pita bread with fries, onion and tzatziki yogurt sauce. My mouth is watering just typing this! Athens many markets are great for fresh quality food.
A unique experience is the massive Athens Central Food Market. Vendors sell a wide variety of fresh meat, seafood, herbs, spices and vegetables. For many tourists, popular items to buy include olives, oregano and honey. They're among the best anywhere in the world. The market is also lined with some delicious seafood taverna that are ideal for lunch.
Be forewarned that if you don't like the image of severed lamb and pig heads and carcasses, you might take issue with the Athens Central Food Market. But if you eat meat, you may want to get more in tune with what you're putting into your body. The Athens Central Market is the perfect place to do that. For tourists po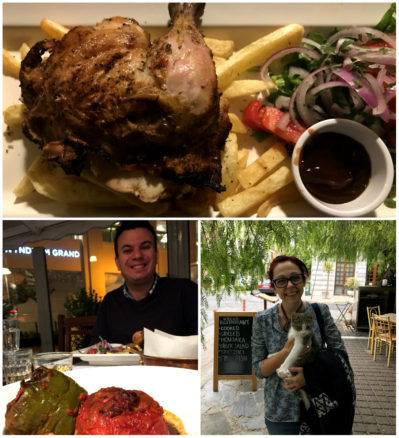 5) A Base to Explore Incredible Sites in Mainland Greece and Nearby Greek Islands
Ancient sites like Delphi, Epidauraus, Korinthos and the old Venetian city of Nafplio are just a few of the incredible places you can explore on a day trip. Depending on the ancient site, you could either rent a car, catch a train and utilize a local taxi or walk, or use a tour company. You can even take an Athens One Day Cruise to visit 3 islands. That cruises visits the Saronic Islands of Hydra, Poros and Aegina.
Athens is well connected internationally and domestically via Athens International Airport (Eleftherios Venizelos). The modern international airport was completed prior to the 2004 Olympics. It's a good idea to fly to far off islands like Rhodes, Santorini and Crete. Ferry rides for Athens to those islands are long. Visiting them on a cruise ship is also worthwhile and convenient.
Athens modern subway system conveniently and comfortably connects the airport with the city. You can also catch the subway from Athens to the port of Piraeaus. It's one of the largest ports in the world. Its marina is a charming place to enjoy a meal before islands hopping the Aegean Sea!
We can most definitely recommend a visit to the gorgeous Cyclades island chain, featuring the likes of famous Mykonos, Naxos and the island chain's capital of Syros.
Read this guide on 25 of the best Greek islands to visit. It's a collaboration article with popular bloggers who wrote on a favorite Greek island. Whether you want to visit a popular party island, or quiet hidden gem destination, that guide covers both!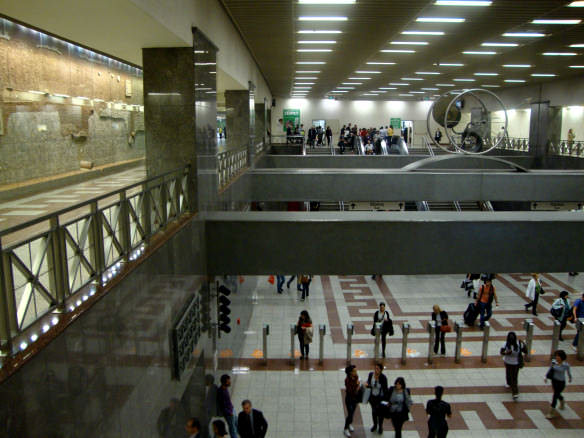 Athens Hotels
It's a good idea to book well reviewed accommodation with free cancellation in advance for travel to Athens. Especially during busy summer months. Then if plans change, you can always cancel your booking! Read my previous article on the Best Hotels in Athens, Greece for all budgets.
Luxury
The Grand Bretagne is a historic 5 star hotel in Athens with history dating over a century. Rooms have marble bathrooms and some have balconies facing the Acropolis and the daily changing of the guard at the Parliament. From their Roof Garden Restaurant you can see the original Olympic Stadium and Acropolis.
The Grande Bretagne Spa offers a thermal suite, complete with herbal bath, grotto, ice fountain, couples retreat and indoor pool. Guests can even pamper themselves with ouzo oil massages.
Mid Range
The Artist Athens
On a recent visit, I stayed at The Artist Athens. It's one of my favorite hotels in the city. The Artist Athens recently opened in summer 2018 so everything is brand new. The bedding is plush and comfortable. If you book a suite on an upper floor you'll have a view of the Acropolis. Many of the lower floor rooms offer charming views of a lovely 17th century Orthodox Church next door.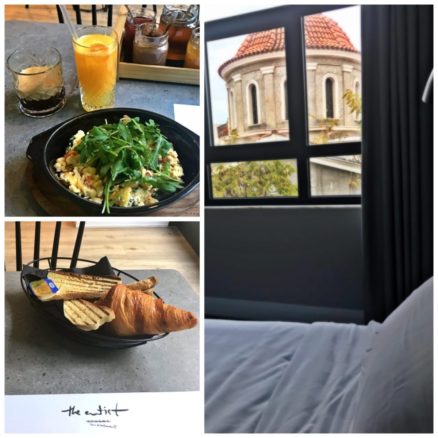 Athenaeum Grand Hotel is a modern hotel offering a comfortable stay at a good price. Rooms and suites are equiped with hardwood floors, lovely furnishings and a modern bathroom. All rooms include use of a tablet that's programmed with a guide to Athens. It's available to use while touring the city. Beds are really comfortable and the breakfast buffet is truly delicious. My dad and I enjoyed our stay there.
Budget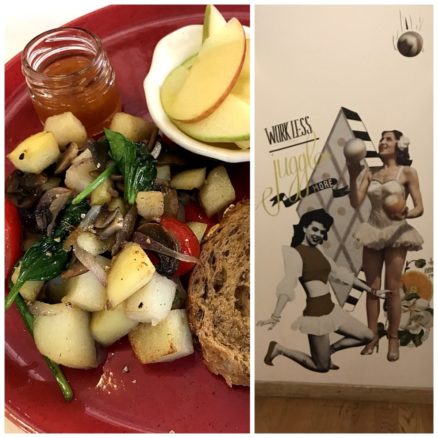 City Circus Athens is a great place to stay for solo travelers and backpackers. They offer dorm rooms and private rooms. Their on-site restaurant, Zampano, is a charming place to eat and caters well to vegetarians. They have nightly happy hours and organize local pub crawls that brings travelers together. The downside is that rooms don't have TV's or phones. But they do have complimentary WiFi.
Delphi Art Hotel is a nice budget choice housed in a neoclassical building dating back to 1930. Some rooms even have balconies overlooking the lovely National Theatre of Greece!
Faliro and Glyfada Beach Hotels
Athens is one of the few capitals in Europe to have beaches. You can even catch the Athens coastal tram to the beaches from Syntagma Square (home of the Greek parliament) going towards the seaside town of Voula. If you want to stay on the beach in Athens, consider the Poseidon Hotel in nearby Faliro Beach or London Hotel in Glyfada Beach. It's also not so far of an Uber or taxi ride to go into Athens to visit the Acropolis and other attractions from the beaches, especially from Faliro, which is closer to the center of Athens compared to Glyfada.
Apartments in Athens
Budget travelers and families should consider renting an apartment. Book apartments with consistently great reviews for the best experience. Neighborhoods like Plaka and Psyri are centrally located a short walk from the Acropolis, with great restaurants and fun nightlife nearby.
You can also rent an apartment along the beach, in nearby towns like Glyfada, Voula and Faliro. The Athens coastal tram connects those beach towns with the city.
Sites like booking.com also offer apartment listings. We prefer it over other sites because the booking listings are often more professionally ran.
So is Athens Worth Visiting? Absolutely and Opa!
Around half of Greece's 10.7 million people reside in Athens, making it the beating heart of the country. Sit down at a taverna in Plaka and Pysri to listen to live rembetika music (Greek blues) over excellent seafood and tasty wine. They are the most lively neighborhoods of the country, and the music personifies the passion of the Greek spirit.
Enjoy the views of the Saronic Gulf on the Athens coastal tram from Syntagma to Voula. Spend a few hours on the beach and enjoy expertly grilled fresh octopus over an ouzo or raki. Contemplate the birthplace of western democracy after visiting the Acropolis. That should be on every travelers bucket list!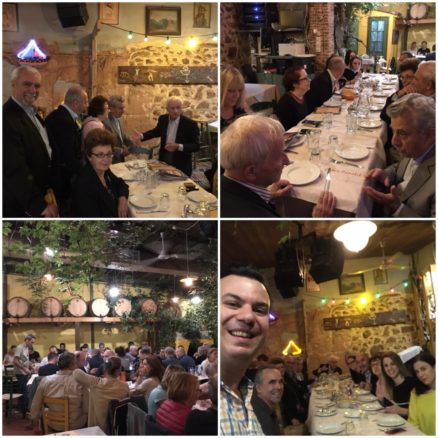 Our recent family trip was my 89 year old father's final planned trip to the his birthplace. As we were traveling around the country, we were in and out of Athens several times. We stayed in a combination of apartments and hotels in Athens and the nearby port of Piraeus. For more tips, read my article on how to spend the perfect week in Greece!
Have questions or comments on planning a trip to Athens? Email alex(at)wanderlustmarriage.com and I can assist you!
Disclosure: This article contains some affiliate links. We receive a small commission when you book or sign up through certain links and it costs you nothing extra. Thanks for using them and supporting this site!