By Alex Kallimanis: Still referred to as Constantinople in Greece, Istanbul is a bustling city packed with layers of history. We recently visited Istanbul on our return from Tanzania. It was part of a celebratory trip and for scheduling reasons, we flew from Kilimanjaro Airport to Istanbul on my 40th birthday. Part ultra modern, part old world, Istanbul divides Europe and Asia. But due to regional conflicts, many travelers have been apprehensive to visit. It was a fun and interesting stopover, and it was my second time in Istanbul as I spent a week there in 2002. Here are some tips for visiting Istanbul. 


Stay in Sultanahmet: Tips for Visiting Istanbul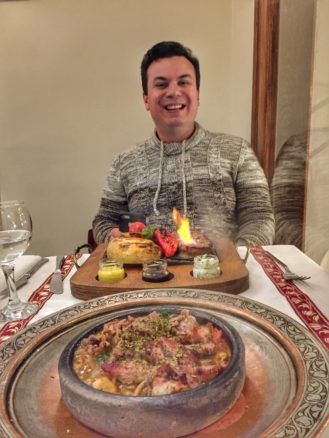 Sultanahmet is the historic quarter of Istanbul. There you'll find most of the biggest attractions in the city, like the Hagia Sofia, Topkapi Palace, Blue Mosque and the underground Basilica Cistern. For most, this is the best area to stay in the city so you can be walking distance from these attractions. There are a lot of good hotels and restaurants in Sultanahmet, and you can easily spend a few days just in this area. 
We stayed at GLK Premier Acropol Suites and Spa. It's just a 7-minute walk from the famous Hagia Sofia and Blue Mosque. The street is lined with restaurants and cafes meaning that there are a lot of options on your doorstep. We ate right next door at Magnaura Cafe & Restaurant and highly recommend eating there, as the food is excellent. GLK Premier Acropolis Suites has a Hammam bath on site and includes a breakfast buffet. Our room was really comfortable and we had a balcony overlooking the Hagia Sofia and Blue Mosque – which was a fantastic way to celebrate turning 40!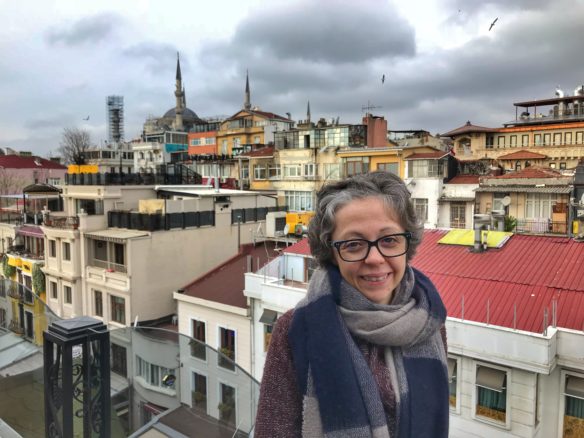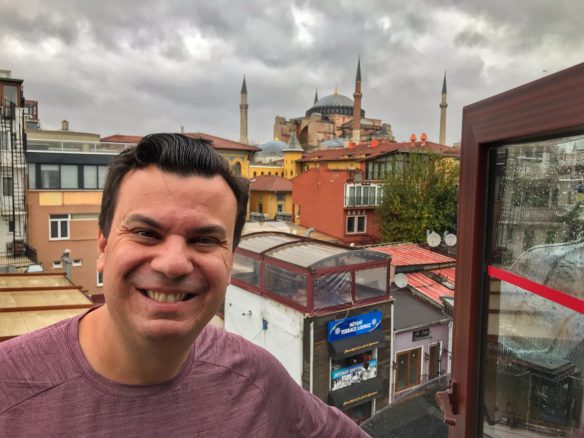 Consider a Dinner Cruise on the Bosphorus for a Special Occasion
As Istanbul divides Europe and Asia, a Bosphorus dinner cruise is a great way to celebrate a special occasion. But if it's a special occasion, ask your hotel if they can reserve a seat next to the dance floor for you. Our table was right next to the dance floor but had we been further back, we would not have enjoyed the show as much. The food on TurnaTour is not amazing, but the whole fish entree is pretty good, as is the entertainment. During the winter months, they offer the option of dinner with unlimited alcohol for 50 euro (70 euro during the warmer months). That's a good deal for a dinner cruise with unlimited drinks, entertainment and round trip transfer from your hotel.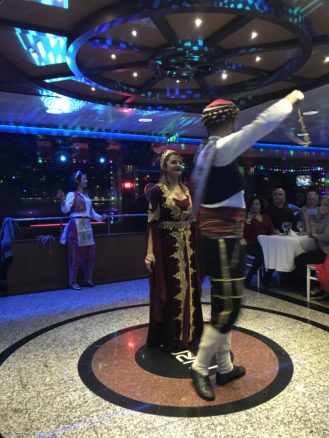 The receptionist at our hotel, who doubled as concierge, suggested the tour with TurnaTour and Bell had already thought this was a good way to celebrate my 40th. So she organized it with the receptionist at GLK Premier Acropolis Suites. You can also book your All Inclusive Bosphorus Dinner Cruise with Turkish Night Show in advance Viator. The price is $63.92 without alcohol and $87.16 with alcohol. It's a good idea to book in advance for summer and holidays. The show includes traditional dancing like a Dervish show, Henna Ceremony, Belly Dance, Anatolian Dance Show, Drum Show and live DJ performance. 

Haggle at the Grand Bazaar: 
The Grand Bazaar is one of the world's oldest shopping malls. There are a staggering 4,000 shops over 61 covered streets. The Grand Bazaar attracts between 250,000 – 400,000 daily visitors, making it one of the world's most visited places. Visit the Grand Bazaar to buy things like ornate and inexpensive souvenirs, Turkish rugs, jackets and more.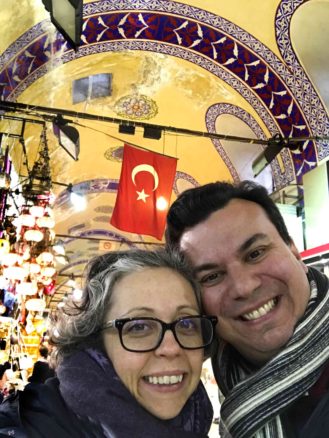 The "Canada Goose" jackets for the equivalent of around $110 US (cheapest you can score them from my firsthand bargaining experience) were tempting to buy, but ultimately I didn't. For many of the lower priced items, you don't really need to negotiate. But negotiating for the higher priced items can be tricky. For almost everything, there are multiple shops selling the same items. So don't buy a high priced item from the first merchant you negotiate with. See what price they'll come down to and say you'll think about it. Then visit another shop or two selling the item, and negotiate with them. See who gives the best price for the same or equivalent high priced item and buy from them.
I'm not even going to get into negotiating for Turkish rugs because we didn't buy anything we couldn't take with us. Here are more tips on how to bargain like a pro in Istanbul. 
Some of Istanbul's Most Famous Sites
Hagia Sofia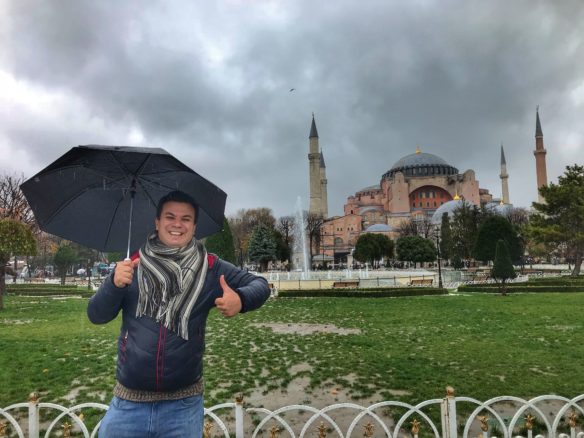 The Hagia Sofia, built in 537, is steeped in nearly 1,500 years of history. Previously the seat of the Byzantine Church, it was converted to a mosque after Ottoman occupation in 1453. Since 1935 the Hagia Sofia has been a museum. Even in the low season, expect to wait in lines over 30 minutes to enter. But you can book licensed tours to skip the queue, right from the line. If you show some interest and hesitate, they may even come down in price.  
Topkapi Palace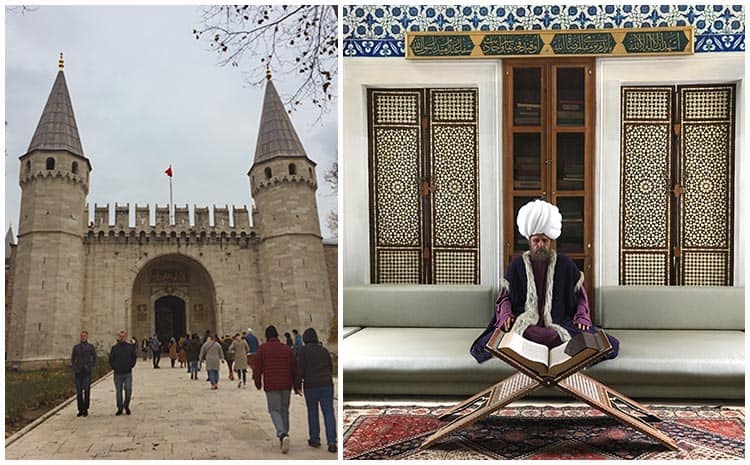 Topkapi Palace was the main residence and administrative headquarters of the Ottoman sultans during the 15th century. Following the end of the Ottoman Empire in 1923, Topkapi was converted into a museum in 1924. The palace complex is huge and one of the highlights is the staff of Moses. You also get lovely views of the Bosphorus, Golden Horn and the Istanbul cityscape. 
It was very cold on the day we visited. While there are many chambers to see, you'll spend a long time outside moving from building to building, so be aware of that. Fortunately, there are vendors selling coffee, tea and hot chocolate to warm up if it's cold. It was busy even on a cold Saturday, so in summer, expect huge crowds, especially on weekends. 
Basilica Cistern 
The Basilica Cistern is the largest of several hundred ancient cisterns below Istanbul. Consider booking a guided 30-minute group tour of Basilica Cistern in advance for just $9.88 and skip the huge line! The subterranean cistern, was built during the 6th century under the reign of Emperor Justinian. It was located under a large public square on the First Hill of Constantinople, the Stoa Basilica. Centuries-old Corinthian columns and Medusa heads await visitors there. 
Fun fact: The Basilica Cistern was one of the filming locations for the 1963 James Bond film From Russia with Love. In the film, the cistern is located below the Soviet embassy. 
Spice Bazaar
The Spice Bazaar is Istanbul's second largest market, after the Grand Bazaar. Near the Galata Bridge and New Mosque, the market was constructed in 1660. It's home to vendors selling colorful spices, dried herbs, honey, nuts and local delicacies like lokum (Turkish delight). Be on the lookout for free samples and try before you buy.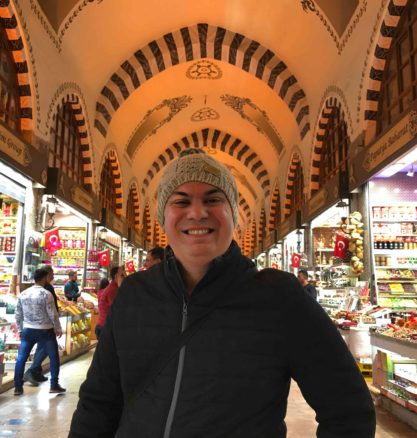 The market's Turkish name, the Mısır Çarşısı (Egyptian Market), means the building was initially endowed with taxes levied on goods imported from Egypt.
Turkish Food to Try on an Istanbul Stopover
Istanbul is a fantastic city to eat, from cheap fast food like shwarma to high-end dining, it hits the spot. Turkish cuisine is similar to Greek, so expect items like flavorful olives and honey at breakfast and pistachio encrusted deserts. Here are a few things you need to try in Istanbul. 
Lahmacun
Lahmacun outside Turkey is often called "Turkish pizza." It's made up of thinly-rolled dough with a layer of minced meat, tomato, onion, lettuce and herbs like cayenne pepper and cumin. The finished product more closely resembles a Turkish burrito rather than a pizza. 
Iskender
Iskender kebab is one of the most famous dishes in northwest Turkey. The dish consists of pita topped with tomato sauce and thinly sliced lamb, covered in melted sheep's butter. It's accompanied by a scoop of yogurt (ayran). The yogurt is worth trying in its own right.  
Lavash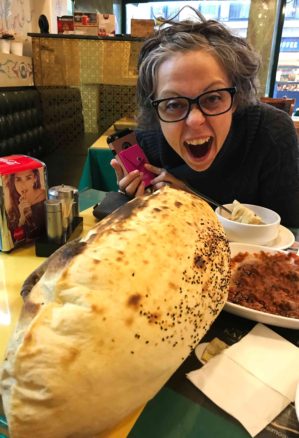 This bread comes to your table filled with warm fragrant hot air. Best consumed warm with a dip like hummus, ezme or haydari. This bread is eaten across much of the middle east and consists simply of flour, salt and water.   
Turkish Coffee
Turkish coffee is made using finely ground coffee beans and remains in the cup as you drink the warm and sweet coffee from the top. When ordering let your server know if you'd like it sweet, medium sweet or just a little sweet as sugar is added when brewing. If you don't want sugar you may get a strange look (but that's ok)! Bell doesn't love sweetened coffee, but has come around to have it lightly sweetened. A good cup will have an excellent separation between the liquid and grounds. You will find this isn't always the case, but they are usually cheap, so if your first cup isn't so great, try again!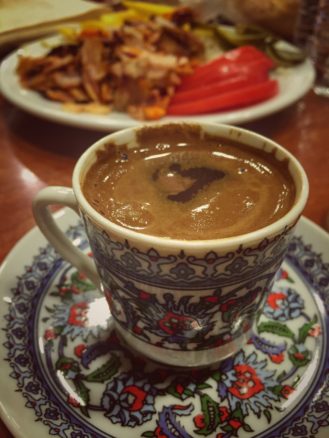 Istanbul Cats and Dogs
There are thousands of free-roaming cats and dogs in Istanbul. Many dogs you will encounter are tagged, which means they have been neutered and vaccinated. It appears many of the locals enjoy the presence of these street animals and many of the dogs and cats are friendly. That being said, there are limited resources to get to all animals and rabbis is present in the city. So if you are like Bell, who will pet stray animals, just watch out for their behavior before you stick your hand out. Or maybe just get a rabies vaccine.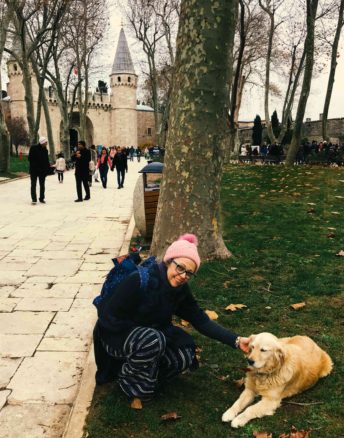 Exercise Caution Accepting Tours from Strangers 
Strangers may offer to take you to a great bar they know. Especially in the touristy area of Sultanahmet, there's a good chance this is a scam. At best, you're likely to get stuck with an overpriced bill for drinks and food at the end of the experience. So stick with properly vetted tours, either licensed or with lots of good online reviews by reputable sources. During my 2002 visit to Istanbul, I was traveling solo and a kebab vendor told me to return that night and he'd take me somewhere great for drinks. So it's pretty common that this gets offered to visitors, even budget backpackers like I was. 
You may also be offered an unofficial tour, from even hotel staff, that circumvent the concierge or organized tours. This was offered to me during my 1 day layover by the front desk attendant that checked me in. It's probably best to play it safe and stick with verified licensed tour operators. You can find plenty of verified Istanbul tours on the Viator site.
Flying Turkish Airlines to Europe
Turkish Airlines frequently offers the best fares to other European destinations too. Bordering Turkey is Greece, which we often visit and have covered pretty extensively. If you fly Turkish Airlines to Greece via Istanbul, check out our article on How to Spend the Perfect Week in Greece. We previously lived in Dublin and our article How to Spend the Perfect Week in Ireland has been helpful to many. We also previously lived in Amsterdam and another popular article is London, Brussels, Amsterdam: One Week Itinerary. You may also find some inspiration from our article Great Off the Radar European Towns. 
You can use Credit Card Points for a FREE or VERY CHEAP Flight on Turkish Airlines and Schedule a Stop in Istanbul! 
Turkish Airlines now flies to more destinations worldwide than any other airline. They fly to a whopping 52 destinations in Africa. I won a ticket to Africa at a Travel Massive DC event back in April. Had I paid for the ticket, the price was around $800 from Washington, DC to Tanzania, with a scheduled stopover in Istanbul. That's very reasonable, especially since Turkish Airlines often wins European Airline of the Year because of their quality service.  
Bell cashed in Chase points and Chase's rewards agent made sure we were seated together on Bell's request. All we paid for the flights was the taxes. It's not easy to win a plane ticket, but it is easy to earn reward points for free flights. Consider signing up for a Chase Preferred card, as Chase is one of the most popular cards for travel hackers. When you cash in points, you can often even earn airline miles with free flights! And Chase has a lot of airline partners to transfer points to if you want. 
You can read all about our safari in Tanzania in our previous article.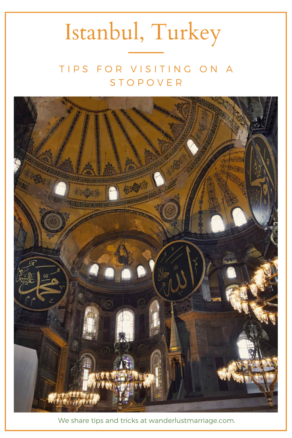 Disclosure: This article contains some affiliate links. We receive a small commission when you book or sign up through these links and it costs you nothing extra. Thank you for using them!