In honor of Valentine's Day, we're proud to feature couples from around the world who love to travel. Stories here include entries by journalists, a U.S. Marine, writers, bloggers, doctors, IT workers and people from other walks of life. These wonderful couples share travel tips for romance on the road, inspiring us with tales of amazing destinations that leave us daydreaming of where to visit next.
We asked 10 couples three questions regarding travel and their relationships.
1) What has been the most significant destination in your relationship?
2) How do you add romance to your vacations?
3) If you could visit one romantic destination you haven't been to, where would it be?
Marijke and Mickey: Netherlands & Alabama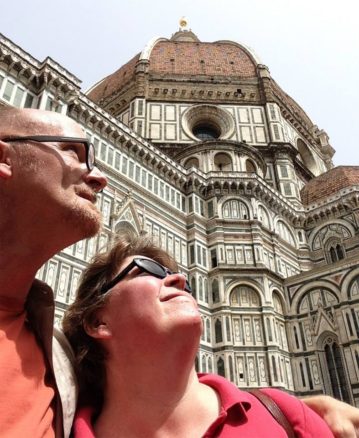 Dutch and American Couple
Mickey and I have been in a long distance relationship for about 9 years now. I visit him in Montgomery, Alabama for 2 months a year. He travels to Rotterdam, Netherlands for our yearly summer vacation. Mickey clicked with France the first time he crossed the border. Most people will probably have Paris as their dream destination for Valentine's Day, but it's our least favorite town in France. We loved Dijon, Avignon and Rouen.
The Destinations are Romantic Enough
We never add romance to our vacations. That would be like adding bubbles to champagne. The sights, the meals, a cold beer or carafe of wine after a hot day of sight seeing on the terrace of a small restaurant, with a menu we can't read.
Greece is on the Wish List
We hope to get around to visiting Greece next year. Combining a few days in Athens with a week or two of island life.
Greece
has been on top of our wish list for awhile, but it hasn't happened yet. This year we found Mickey a good deal on a ticket that has him flying home from Lisbon, so we arranged vacation plans accordingly. That may sound unromantic as a system, but Lisbon is awesome.
Mickey is a longtime photojournalist for the Montgomery Examiner. His blog, Wish I Was There, covers some amazing European destinations. Marijke loves to dabble in writing and social media involving travel. 
Jean and "Zombie": Australia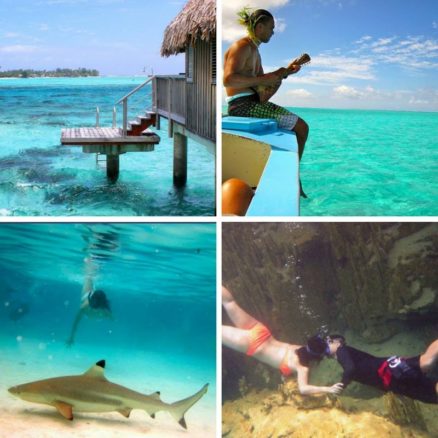 Tahiti Tops Romantic Destinations for this Australian Couple
We've been to quite a few 'romantic' places but Tahiti was the one that really did it for us. It wasn't our honeymoon, and there was nothing quintessentially romantic that happened like a proposal (we'd been married about 5 years into this trip). But it was in Tahiti that we found our element – finding joy being underwater and learning a destination's culture through locals.
We went to Moorea and Bora Bora and spent most of our days snorkelling and scuba diving where we saw magnificent marine life. Manta rays and sharks of all kinds, and coral reefs were so alive. We don't speak French or Tahitian, but managed to go deepwater fishing at night with locals. It was a combination of all these experiences and also the natural beauty of the place that made us so in love with it, and with each other more.
Opposites Attract
We have extremely opposite interests and personalities so when we go on holidays, we try to engage in activities involving the very few common interests we have. We go outdoors, scuba diving or snorkelling, and then also throw in some kind of relaxation at the end of the day like a couples massage or an intimate dinner. These common interests, as few as they may be, are quite essential to us as it gets us connected again and ready to face the real world. We find that 'romancing a place' this way is the best way to maintain the burning fire in our relationship.
The Caribbean definitely! Living in Australia, the islands of the Caribbean are quite far away but it's always in our list of romantic getaways to visit.
Jean covers incredible destinations on her website Holy Smithereens, which is "a luxury travel blog with a penchant for adventure."
Jennifer and Scott: Americans Living in Dublin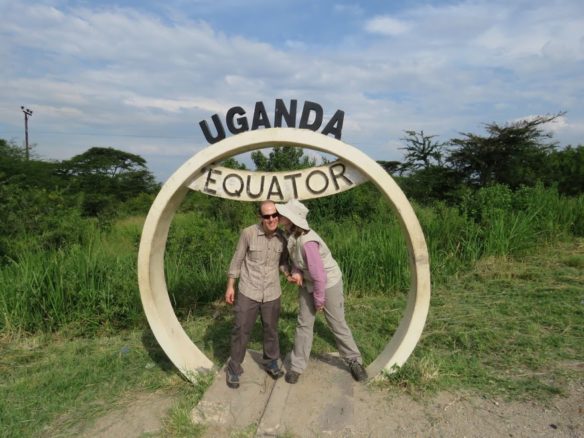 American Expats That Got Married in Maui
We got married on Maui (Mauied?) so this romantic island in Hawaii will always have a special place in our hearts. Our wedding was a travel adventure and definitely set the stage for the travel-rich life we enjoy today. We took a helicopter and landed in an oasis in the rainforest and said our vows in romantic solitude. We returned back to our resort hotel to start our honeymoon immediately and spent the next week exploring the island before flying to Buffalo in winter to celebrate with family. Eloping in a tropical destination is how we roll!
Just Being Together is Romantic
Just being together and traveling together is romantic to us. Whether it's walking hand-in-hand while exploring a new city in Europe, splitting a sweet treat we picked up at a bakery (it's easier on the waistline too), or sipping a glass of wine at a sidewalk cafe, for us, sharing new travel experiences is as romantic as it gets.
Traveling in the Off-Season offers Romantic and Quieter Destinations
By traveling offseason we have oftentimes been fortunate to experience "private" tours at group rates (because no one else booked that day) including horseback riding, gorilla trekking, and a ferry across an Italian lake. We also seek out destinations like the Wild Atlantic Way of Ireland, Portugal, and Western Australia that have fantastic sunset opportunities to embrace the day's end together.
Celebrating 20 Years of Marriage in Uganda
We recently celebrated our 20th wedding anniversary in Uganda, so we've definitely thought a lot about this question. Bora Bora is at the top on our romantic destination bucket list. Just thinking of the beautiful thatched cabins overlooking a deep blue sea makes us want to book a romantic getaway there right now.
Jennifer covers amazing destinations around the world on her blog, Sidewalk Safari. Scott covers work life balance and optimizing vacation time on his site, VacationCounts. 
Jennifer and PJ: Florida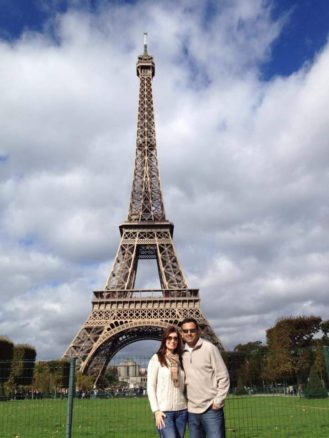 Paris Tops the List for this American Couple
It sounds cliché, but our trip to Paris will be difficult to ever beat. It was fall, chilly and electric! We fell in love with the beauty and romance of the city. We'd sip wine at cafes holding hands across the table, cuddle on a bench overlooking the Siene, kiss in the morning fog! Each morning he'd go next door to the patisserie and bring me a hot croissant and coffee in bed. Truly the city of love!
We make time for the small stuff. Since we're not on a schedule it's okay if he wants to hear one more song or I want another glass of wine. We also make a point to dial back distractions like phones, computers, etc. More time to talk and for intimacy.
Prague looks amazingly romantic to me!
Jennifer and PJ love to travel when they're not working. They've been to amazing destinations like China, Japan, Europe and beyond.
Drew and Will: Americans living in Budapest, Hungary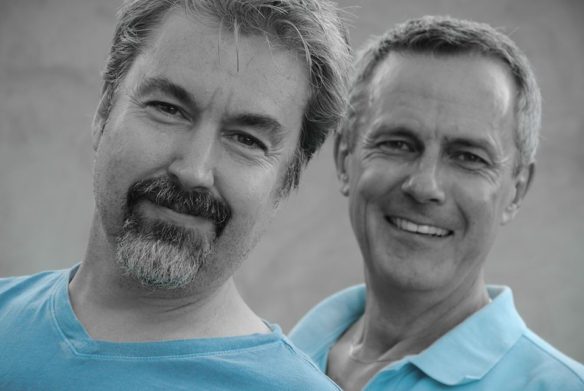 Budapest Changed Their Lives
We would have to say Budapest as it has changed our lives and how we look at the world. When we first moved here we had to totally depend on each other as we figured out how to do things in a new way in a new place.
Simply the element of surprise. We will each completely plan a trip, not telling the other anything about it until a few days before, then to pack and be ready at this time. We usually have no idea where we are going until we arrive. Each day during the trip is a complete surprise as to what is planned, however we do leave some free time just to enjoy each other and where ever we are.
We have two places: Bali being one for its quiet beauty, beaches and culture. The other is Africa, as it has been a dream to go on a photographic safari. Ever since seeing the movie Out Of Africa, the beauty and romance of Africa has been calling.
Drew and Will are Global Nomads who write on travel and other musings at DestinationAha. Drew also co-founded Wasabi Publicity, with his business partner Michelle 10 years ago.
Bianca and Tim: Melbourne, Australia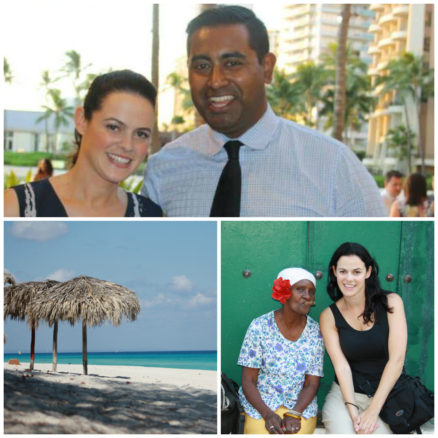 Dreams of Cuba
Definitely Cuba! We travelled there in 2009. It was in Havana that my husband finally caught the travel bug and began to understand my obsession with travelling. We fell in love with the faded beauty of the Spanish colonial architecture which has changed so little over time. There's also the classic cars still driving the streets, the lively culture of street musicians and dance, isolated beaches with white sand and turquoise water, and of course the best mojitos in the world!
Travel Itself is Romantic
I guess romance means different things to different people. While we love a romantic dinner for two on a beach somewhere exotic, we also love the romance of adventure, the thrill of the unknown. For us the act of travelling itself is romantic – bringing with it the promise of new experiences and the chance to make long lasting memories together. Corny but true.
Australians Love the Outdoors
As Aussies we both love sunshine and beaches. But Tim and I disagree on this one. Tim wants to go to Bora Bora, a small Pacific island and popular luxury resort destination with over water bungalows. I'd rather to go to Mauritius in the Indian Ocean, known for its palm-fringed beaches, reefs and rare wildlife. However, I'm more than willing to compromise and visit both!
Bianca has been a journalist for more than 15 years and Tim works in IT. Since being together they've travelled to more than 20 countries and counting.
Max and Carolyn: American & Aussie currently stationed in Japan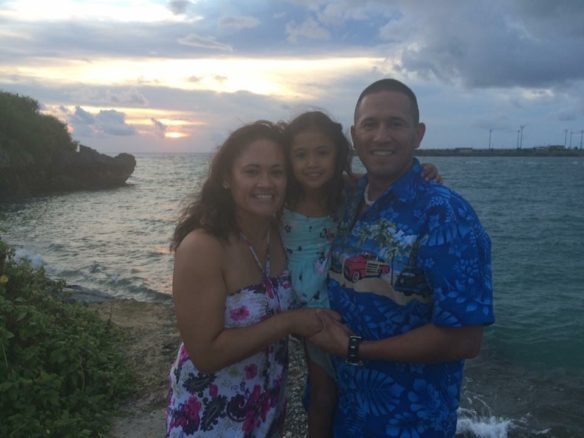 Most Significant Destination? Sydney
The most significant destination for my wife Carolyn and I is by far, Sydney, Australia, where we met for the first time!  I was on the way back from the initial invasion of Iraq in 2003. I flew to Australia, but ended up on USS Cleveland when we stopped in Sydney. Carolyn is from a suburb named Camden and was working in the city when we met at the Golden Sheath pub in Double Bay.
An Iraqi Taxi Driver Helps an Iraqi War Veteran Find Romance in Australia
Our relationship almost didn't happen because I mistakenly gave a taxi driver named "Robert" the only business card Carolyn gave me and I forgot to ask for it back. "Robert" was the coolest taxi driver!  He was from Baghdad and totally stoked to drive around 3 Marines that just liberated his country.  He even joined us at the bar later. I always wanted to locate "Robert" and tell him his recommendation of the Golden Sheath led me to my soul mate.
Romantic Tips While Traveling with Children
For romance while traveling with our daughter, Coralyn, our routine is always the same. After sightseeing, when our gal is off to sleep, we crack open a bottle of wine and cheese (preferably on balconies).  We also sit on the same side of the table at restaurants right across from each other. We rarely allow our daughter to watch television, but headphones with iPod movies allow us to enjoy even a 5 star meal. But our favorite place is Hard Rock, for the most iconic tourist shirts in the world.
Cruises to South America, and Antartica are on the vision board for upcoming romantic destinations since we have visited all other continents. We've now visited over 60 countries.
Max and Carolyn recently celebrated their 10 year wedding anniversary. Max is approaching 23 years of service as a U.S. Marine.  
Kelly and Antonio: Massachusetts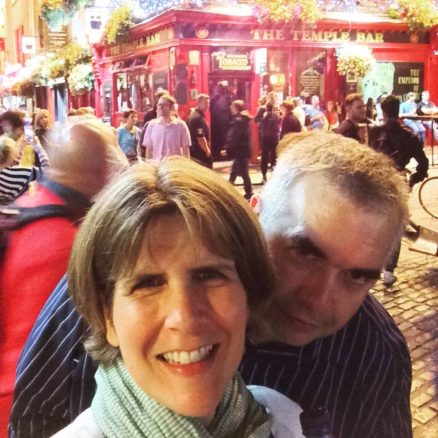 It's a cliche, but Paris probably will always be the most significant destination to our relationship. It's where we were engaged. We both love Paris; it's a place we could live. We never tire of wandering new neighborhoods, hand in hand, stopping for a cafe au lait and a croissant or macaron. It's our city of love.
In the same way we add romance to our daily life, we hold hands, limit our screen time, make physical intimacy a priority, and be present.
We'll go anywhere. Any place can be romantic; it's the strength of the relationship that generates the romance.
Mathew and Karla: Calgary, Alberta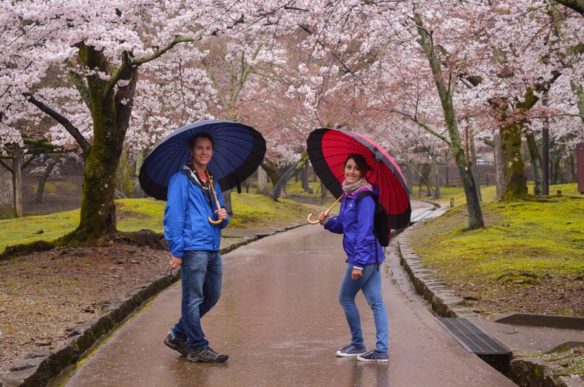 Asia Offers Endless Enchantment
I can't think of one specific destination but I'd have to say Asia as a continent. Our first big trip was spending one year in Southeast Asia and it was incredible. There's just something about tropical paradise, great food, scuba diving, and nature that makes us tick.
Since a lot of our trips are on a low budget, we always try to squeeze in a couple of nice hotels where we can really relax and unwind. In addition, we always try to find a romantic place to eat or a beautiful lookout point where we can spend time together admiring the view.
I would like to either bring my wife to a small town in Spain or France, away from the crowds but infused with the local culture. That or a romantic destination under the Northern Lights…
Lucia and Nunzio: Italy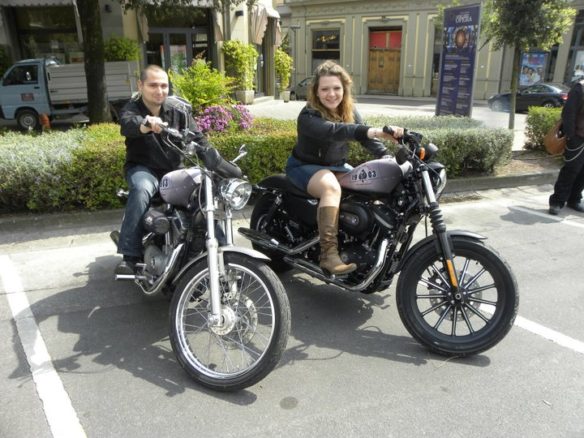 An Incredible Route 66 Road Trip Across the USA
Last summer we got married and realized the trip of our dreams: a road trip along Route 66. One month riding a Harley from
Chicago
to Los Angeles, also going by Las Vegas, Grand Canyon and a short detour to Eureka Springs in Arkansas. It has been the best trip of our life! We dreamt it for years (especially Nunzio… this was his dream since he was a little boy!). And it has been better than we expected!
We don't do anything special to add romance to our travels. Every minute we spend together feels romantic. Travel often offers romantic moments by themselves: a sunset, a candlelight dinner, a romantic beach… or sometimes all it takes is walking hand in hand. We believe romance finds the couple, everywhere in the world.
The romantic destination of our dream is Aruba… It seems to be the perfect island for a couple, even on the road!
Lucia and Nunzio's  first date was a coast to coast trip in Italy and from that time they never stopped travelling.
They love adventures to lesser known destinations on Harley Davidsons. Their website is 
viaggideimesupi
, and you can also follow them on 
Facebook
, 
Twitter
 & 
Instagram
.
Alex and Bell: American and Aussie, currently in Florida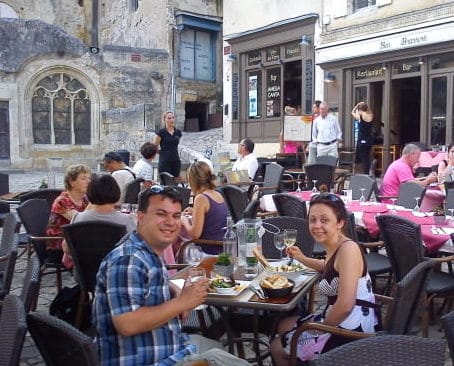 Brugge, Belgium is definitely the most significant romantic place to us. Bell and I met at the Bauhaus hostel in Brugge in 2002, while we were both backpacking through Europe after college. We were staying in the same €10 a night co-ed dorm room and both happened to be heading to Amsterdam next. We hit it off over delicious Belgian beers, foosball and jenga in a dive pub called The Crash.
We're about to celebrate our 12 year wedding anniversary and we've returned to Brugge twice since we first met. It gets ridiculously crowded on weekends during the warmer months, so try and visit during the week if you can. There's around 80 chocolate shops in Brugge, so don't blow your wad in any one shop! Winter can be romantic too as it's far less crowded. Bell and I met there end of January, when it was freezing.
We've previously written on Finding Romance and Indulgence in Brugge. Belgium is one of the most romantic destinations in the world to us. Check out our article on the most romantic day trips from Brussels.
Traveling in itself is romantic to us (outside flying, buses and the occasional squat toilet). It's how we met, and it's still a passion we both share. While we often take a lot of photos and use technology when we travel, we also unplug to just enjoy each other's company. Sitting on a restaurant terrace with delicious food and wine, especially in any Mediterranean country, is romantic and fun for both of us. We also love scenic drives in the mountains and along beautiful coastal roads.
Tahiti would be amazing, it looks so exotic and far away from everywhere outside French Polynesia. Bell would love to see the Northern Lights, preferably over the fjords of Norway, while staying in a log cabin. That's completely different, so luckily we're both flexible with what we enjoy. These are our favorite romantic destinations around the world we've visited so far!
Bell is a PhD scientist who loves photography, and editing photos for Wanderlust Marriage. Alex is a writer and travel consultant. We've lived together in Australia, Florida, Dublin, Amsterdam and Boston, and have traveled to 60 countries. Along with this website, we're on Facebook Twitter and two instagram accounts, Wanderlust Marriage & Travel Guide Alex. 
A huge thanks to all the wonderful couples who shared their awesome stories and tips! Have thoughts to share or need tips planning a romantic getaway? Leave a comment or email [email protected]