By Alex Kallimanis: "The only man I envy is the man who has not yet been to Africa, because he has so much to look forward to" – Richard Mullin. Children somersaulting into the Indian Ocean in Zanzibar City, a lion stalking its prey, admiring Mount Kilimanjaro for the first time, the incredibly diverse wildlife of Ngorongoro Crater, are just a few incredible moments you can expect while traveling in Tanzania! Below is a great itinerary for a luxury 4 day private Tanzania safari tour that also includes a stay at a well appointed Maasai Lodge, that even has a sauna and pool!
Planning a Trip in Tanzania that Includes Zanzibar
On our recent 12 day trip to Tanzania we spent six days on the tropical island of Zanzibar, aka "Spice Island." We spent three days overlooking the Indian Ocean in Zanzibar City (Stone Town) at Tembo House Hotel and three days on the beautiful white sand beaches of the east coast at Bellevue Guesthouse. We then flew from Zanzibar City to Arusha on Precision Air to begin a safari with Caracal Tours & Safaris Tanzania. Our private four-day safari took us to Lake Manyara, Ngorongoro Crater and Tarangire National Park. We also spent a night at an amazing Maasai Lodge with a majestic view of Mount Kilimanjaro. Here is a great itinerary to consider for your Tanzania safari!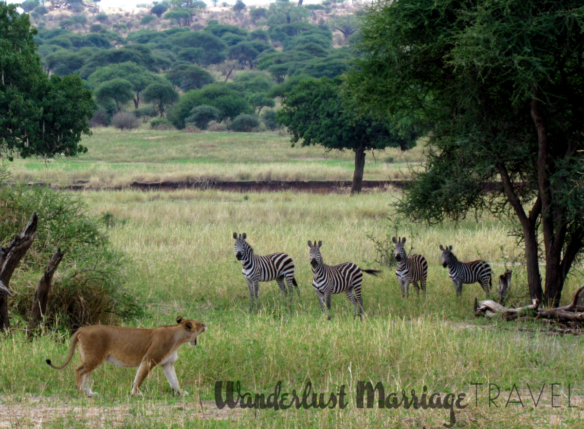 Tips on Planning a Luxury Tanzania Safari
If you're planning to visit Tanzania, you will also want to read our article on What to Pack for a Tanzania Safari. We cover everything from clothing, medications to some tips on camera equipment (the battery in our Canon Rebel camera died in Zanzibar's humidity and we had to use our Canon Powershot because we did not bring a backup battery). Tanzania is an epic trip, but be prepared when traveling there.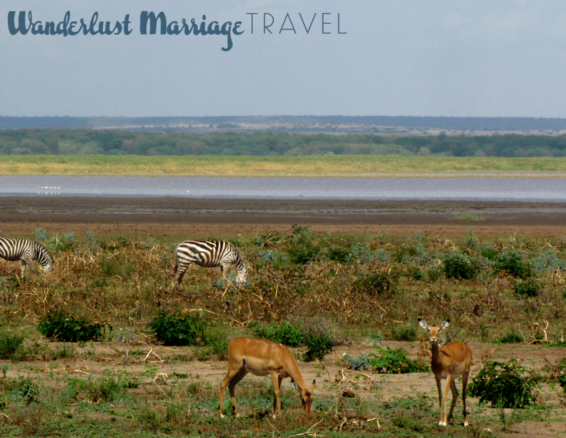 Part of the reason a safari holiday in Tanzania is expensive is because the park fees are very high. We don't recommend renting a car in Tanzania and saw very few people doing this. It's not even permitted to visit the Ngorongoro Conservation Area without an all-terrain vehicle. You can visit Tarangire National Park in a rental car – but if you do, do not feed the animals. There's also a lot of roadside checkpoints in Tanzania, so expect to be pulled over and questioned if you're in a rental car.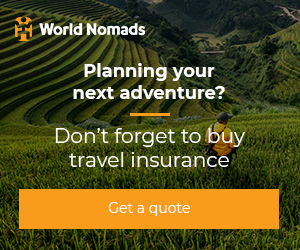 Safari Pickup in Arusha or Moshi
We spent a night in Arusha at The Researchers Rest. We recommend staying here for a quiet and peaceful night's sleep before your safari. They have a really good small kitchen that will accommodate allergies too. You can email them in advance to organize a pickup from Arusha Airport to the guest house for a cost of $20 US.
The following day Ben from Caracal Tours and Safaris picked us up from Researcher's Rest for a private 3-day safari. While we were only two, the jeep had two more seats in the back if you're a group of four. Ben is from Arusha and gave us background on the city as we left town. One of the highlights of driving through mainland Tanzanian towns is watching women carry bulky things on their heads. We saw women carrying bundles of bananas, firewood and even a 5 gallon container of water, just with their head. It's a skill that girls learn at a young age. Interestingly, we didn't see any women doing that in Zanzibar.
Lake Manyara National Park
The first stop on our safari holiday was Lake Manyara, which is around 2 and 1/2 hours drive from Arusha. Lake Manyara is home to tree-climbing lions, which are unusual because lions do not typically climb trees. Unfortunately, we didn't see the tree climbing lions. Ben told us he's only seen them a handful of times and it is not a common sight. We saw a lot of other animals though. We viewed giraffes, elephants, buffalo, zebras, a hippo, impalas, baboons, colorful birds and more.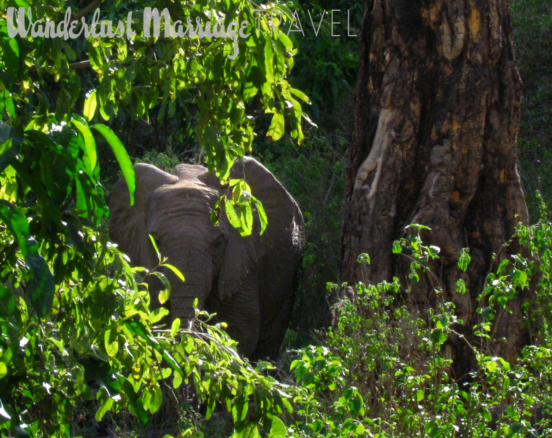 A family of baboons greeted us shortly after entering the park. Baboons typically live in groups of 15-20 and are very social creatures. Ben stopped the jeep so we could view them playing and preening right alongside the road. The babies are especially cute, and you will always see some babies among baboon packs.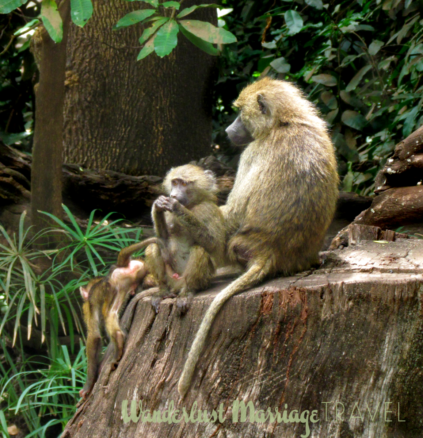 The picnic spot in Lake Manyara is very picturesque. Safari lunches typically always involve a sizable boxed lunch. If you're vegetarian or have some other dietary restriction, let the safari company know. And once you arrive at a lodge, you can choose from different options to have included in your boxed lunch for that day.
Seeing our first giraffes in the wild was among the highlights of Lake Manyara National Park. We also came across a dying hippo, with a bird eating from a sizable gash in his belly. Ben told us the hippo was probably mortally wounded in battle. Like many animal packs, only the alpha male hippo can breed, and occasionally other hippos will challenge his status. Watching the hippo slowly open and close his eyes, in his final moments, was a good reminder of how precious life is.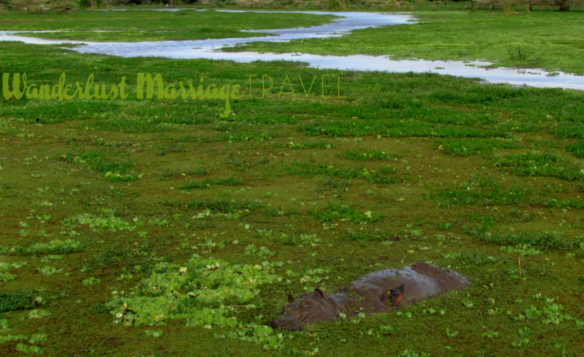 Ngorongoro Farmhouse
The first night of our safari holiday we stayed at the beautiful and relaxing Ngorongoro Farmhouse. At check-in, staff welcome visitors with fresh juice and cookies. The lodge has a swimming pool, a gorgeous garden and very comfortable and sizable rooms. It is also a coffee plantation that offers coffee tours.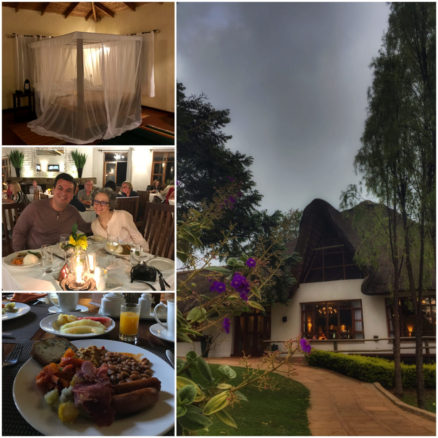 The porter who took our bags to our room invited us to see him and his wife and a couple of other people from their nearby village perform traditional music. Bell and I were both invited up to dance and sing along too.
The dining room at Ngorongoro Farmhouse is elegant. Meals are served atop white table clothes, making it an ideal stay for an adventurous honeymoon, anniversary trip or another special occasion.
Ngorongoro Conservation Area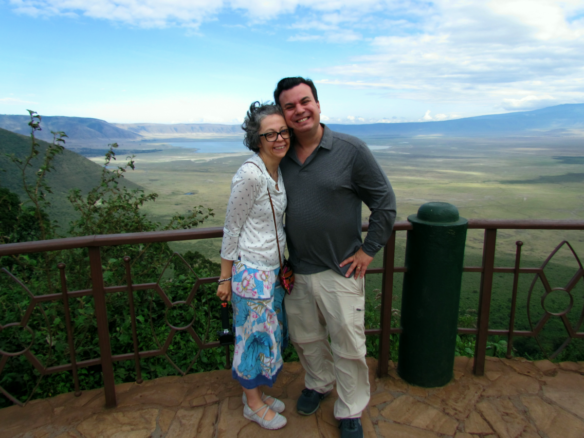 The Ngorongoro Conservation Area, which borders Serengeti National Park, is dramatically beautiful and the only protected area that allows some tribes to reside within its boundaries. The main feature of the Ngorongoro Conservation Area is the Ngorongoro Crater, the world's largest inactive volcanic caldera. The crater formed when a large volcano exploded and collapsed 2-3 million years ago. It is 610 meters (2,000 feet) deep and its floor covers 260 square kilometers (100 square miles).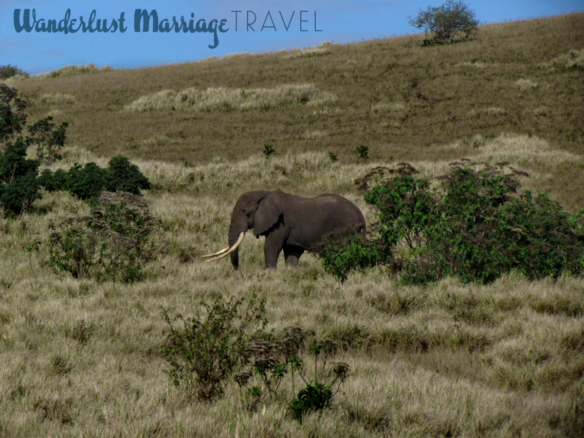 The diversity of wildlife in the Ngorongoro Conservation area is phenomenal. We saw hundreds of zebras and wildebeest, as well as lions, rhinoceros, giraffes, hippopotamus, ostrich, jackals, hyenas, waterbucks, warthogs and so much more. This is where we saw our first lions in the wild.
The picnic spot we ate lunch overlooked a lake filled with hippopotamuses. As hippos generally are not aggressive to people when they're in the water, lots of people were just hanging out by the lake watching the hippos nearby. Be careful with your food there as a cheeky little bird came in the jeep and ate our muffin after we left it unattended.
Maramboi Tented Lodge: An Epic Stay During a Tanzania Safari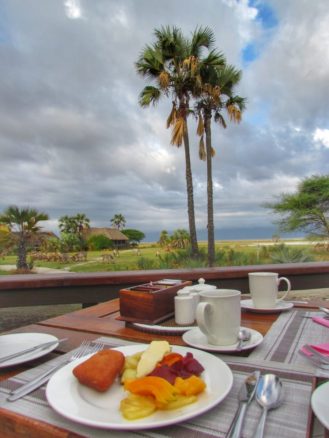 When we arrived at Maramboi Tented Lodge at sunset, we were greeted by giraffes on the property! Ben stopped the jeep and we watched them cross the setting sun in front of palm trees. That was one of the most magical travel moments we've experienced. Maramboi Tented Lodge is a dramatically beautiful property that overlooks the ecosystem of lake Manyara from the pool deck. It's absolutely incredible to watch zebra and wildebeest grazing over sunset drinks and breakfast by the pool. It's an epic place to make part of your safari holiday.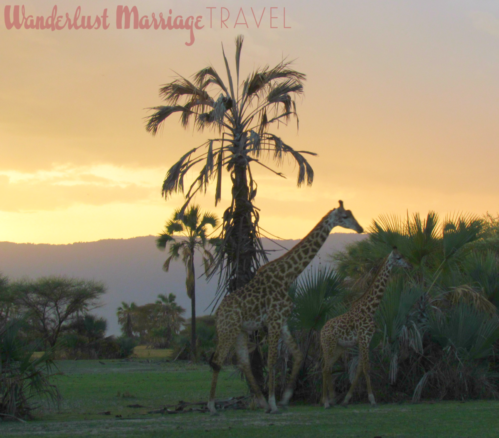 The rooms at Maramboi Tented Lodge are part tent, part solid structure. Rooms are very comfortable, with indoor showers, comfortable mattresses and a mineral water tank. In our opinion, the quality of the food at Maramboi Tented Lodge was better than the Ngorongoro Farmhouse. The views are also far more dramatically beautiful at Maramboi.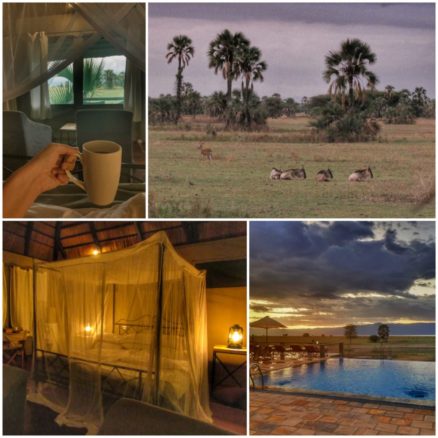 Tarangire National Park
Vervet monkeys greet visitors at the entrance to Tarangire National park. They're very cute, but they can steal your stuff if you're not careful. Another striking greeting is the Bilbao trees, Africa's biggest trees. If you've visited Animal Kingdom in Orlando, that's what the "Tree of Life" is.
The highlight of our visit to Tarangire was watching a lioness stalk prey 15 feet from our jeep. Several unsuspecting zebras came within striking distance as the lioness crouched in the brush. Although tempted, she decided not to attack the zebras, and later teamed with another lioness to unsuccessfully attack two warthogs. Another highlight was watching a herd of elephants up close mingling around the Bilbao trees. We also watched giraffes eating tree leaves a short distance away.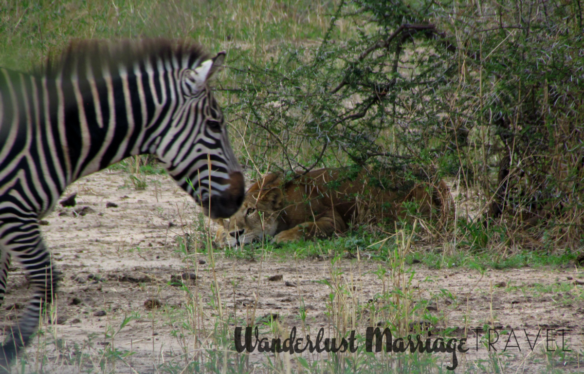 Tarangire National Park features another picturesque, but slightly stressful picnic spot. Lots of vervet monkeys live at the picnic spot and they roam around the tables, looking to steal your food! We saw several vervet monkeys successfully grab apples and other food from people's lunch boxes or even right from their hands, when they weren't paying attention. Ben did a great job of keeping the monkeys away from our table, and we enjoyed our lunch without anything getting stolen.
Africa Amini Life Maasai Lodge
The Africa Amini Maasai Lodge is run entirely by Maasai people from the local community. Its located between Mount Kilimanjaro and Mount Meru in Northern Tanzania, offering guests an incredible sense of space and freedom, with breath-taking 360 degree views of the surrounding landscape from the lodge. It's a unique experience in Tanzania, and all of Africa.
After our visit to Tarangire National Park, we were taken to the beautiful Maasai Lodge on our private tour with Caracal Safaris. The Maasai Lodge is part of the Amini Life Project, a non-profit organization where all profits go towards projects like local schools and healthcare. Their mission is to provide "an authentic Maasai experience with European comfort."
Africa Amini Maasai Lodge Rooms
There are 16 beautifully appointed Earth houses on the property, in a replicated Maasai village. Each bungalow is powered by solar energy, and fitted with a toilet and shower, and hot water. This offers a surprising European standard of comfort given its remote location. Rooms are designed with Maasai decor and include all the comforts of a western home like a plush bed.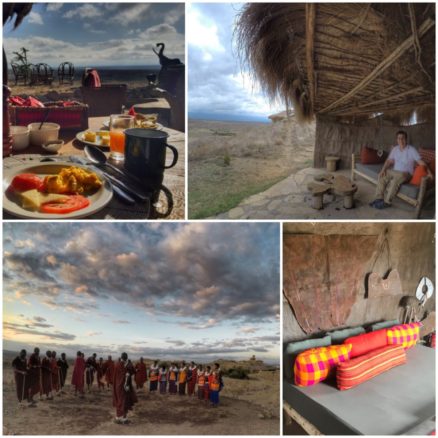 Enjoy international and traditional Swahili dishes refined with home-grown herbs in their restaurant. The delicious farm to table food was some of the most delicious we enjoyed on our Tanzania trip. Breakfast on their terrace, overlooking Mount Kilimanjaro was breathtaking.
Free activities like spear throwing, dances, nature walks and campfire conversations allow you to interact with the Maasai. Upon arrival, we were greeted with traditional Maasai singing and dancing at sunset. The Maasai Lodge also has an infinity pool, sauna, and guests can book massages. The emphasis is all about slowing down the pace of life and enjoying the relaxing space.
We highly recommend taking the nature walk as well. We learned a lot more about local Maasai culture from our guide Esa. He discussed religion, children (he is the youngest of 10 kids!), language, as well as the plants they use for medicine and to help keep lions from attacking villages at night. And how often do you get to hold a spear with a Maasai warrior, with a backdrop of Africa's tallest mountain? Make the Maasai Lodge part of your Tanzania safari holiday as it is an unforgettable experience.
Book Your Tanzania Safari With Caracal Safaris and Save Money
Use promo code wanderlustmarriage to receive a 5% discount off your safari with Caracal Safaris Tanzania! Caracal also organizes safaris to Serengeti National Park and more. As our safari trip was short, we chose to visit the closer parks instead. As mentioned previously, the Ngorongoro Crater shares a border with the Serengeti National Park. Also, follow our advice below to score very cheap plane tickets to Tanzania!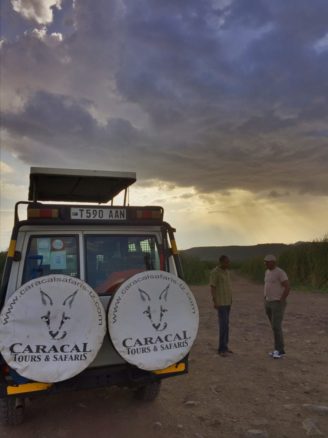 Fly for a Tanzania Safari Very Cheap!
Neither of us paid for our plane tickets to Tanzania (asides from taxes). I was fortunate to win a ticket to Africa thanks to Turkish Airlines, at a Travel Massive event in Washington, DC. Bell cashed in Chase credit card points for basically a free plane ticket between Washington, DC and Tanzania on Turkish Airlines. Chase's customer service agent was a gem for making sure to get Bell the seat next to mine on my flights, for little more than the bonus point sign up!
Tips on Flying to Tanzania on Turkish Airlines
We flew Turkish Airlines from Washington, DC to Istanbul and then on to Zanzibar. We flew back from Kilimanjaro Airport. Turkish Airlines is a great option because they've won European Airline of the Year several times in recent years. Istanbul has a new airport that just opened, and Ataturk Airport is closing soon. Know that all Turkish Airlines flights from Istanbul to Tanzania fly to Zanzibar first and then to Kilimanjaro. So if you're planning to fly Turkish Airlines to do both, visit Zanzibar first and fly home from Kilimanjaro like we did.
Turkish Airlines has great deals to transport you for a safari holiday in Africa. If we had paid for our roundtrip tickets from Washington, DC to Tanzania they would have cost around $800 in November, which is a great deal.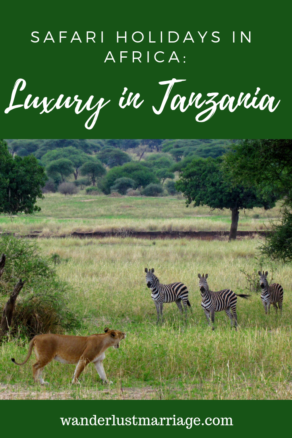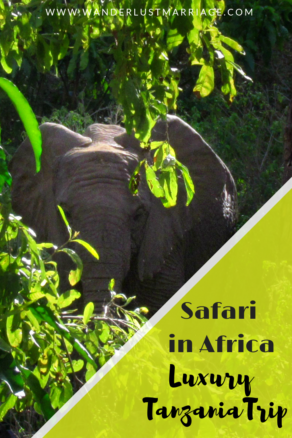 Disclosure: This article contains some affiliate links. We receive a small commission when you book or sign up through certain links and it costs you nothing extra. Thank you for using them!