Tanzania is one of the most popular destinations in Africa for many excellent reasons. Home to Serengeti National Park, along with a host of other amazing parks like Ngorongoro Conservation Area, it is one of the best countries in Africa for a safari. For those seeking a different type of adventure, Mount Kilimanjaro is Africa's tallest mountain, making it popular with climbers. The people often make the place, and the Maasai are a unique tribe to mingle among.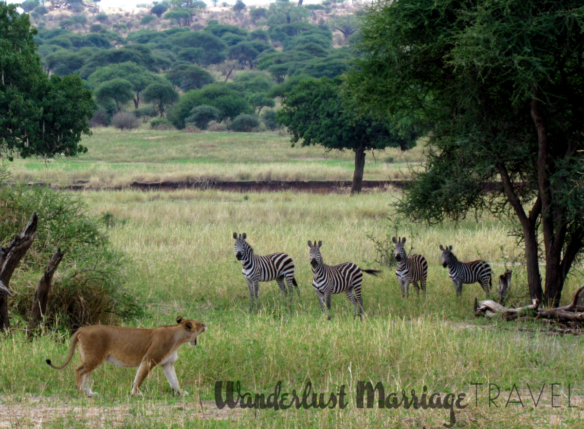 The Maasai People
Inhabiting northern, central and southern Kenya and northern Tanzania, the Maasai are a Nilotic ethnic group. Many reside near the game parks of the African Great Lakes. Their distinctive customs and dress also make them one of Africa's most recognizable tribes.
Tanzania is home to around 800,000 Maasai, while neighboring Kenya to the north is home to around 1.2 million Maasai. Maasai are given a cultural exemption to freely cross the border between Tanzania and Kenya, which they often do on foot. Maasai experiences are one of the cultural highlights of a visit to Tanzania.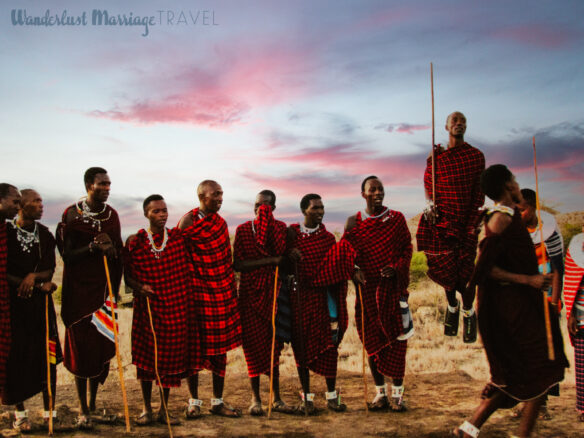 The Africa Amini Maasai Lodge
The Africa Amini Maasai Lodge is run entirely by Maasai people from the local community. Located between Mount Kilimanjaro and Mount Meru in Northern Tanzania, it offers guests an incredible sense of space and freedom, with breath-taking 360-degree views of the surrounding landscape.
After our visit to Tarangire National Park, we were taken to the beautiful Maasai Lodge on our private guided safari tour with Caracal Safaris. The Maasai Lodge is part of the Amini Life Project, a non-profit organization where all profits go towards projects like local schools and healthcare. Their mission is to provide "an authentic Maasai experience with European comfort."
A couple of Maasai who helped with our bags jokingly requested that we drink their blood as a bond of brotherhood when we first arrived out of the safari jeep. The drink was actually fruit juice! Traditionally, the Maasai drink cow blood in rituals as a part of a celebration, and also as a remedy to heal ailments like hangovers in the elderly. And only elderly Maasai are permitted to drink alcohol after they retire their spears and are no longer Maasai warriors.
Africa Amini Maasai Lodge Bungalows
There are 16 beautifully appointed Earth houses on the property. They're built in a traditional Maasai boma style, replicating a Maasai village. Each bungalow is powered by solar energy, and fitted with a toilet and shower with hot water. This offers a surprising European standard of comfort given its remote location. Rooms are designed with Maasai decor and include all the comforts of a western home like a plush bed.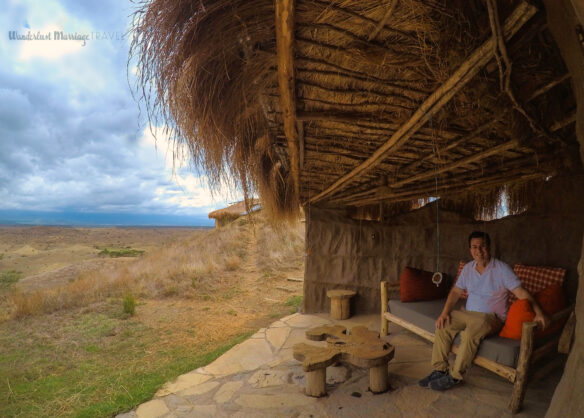 Maasai Lodge Amenities
The Maasai Lodge features an infinity pool with sweeping views of its picturesque surroundings. There is also a sauna for guests to relax and detox. Visitors can also book therapeutic massages. The relaxing space makes this an ideal destination for a wellness retreat.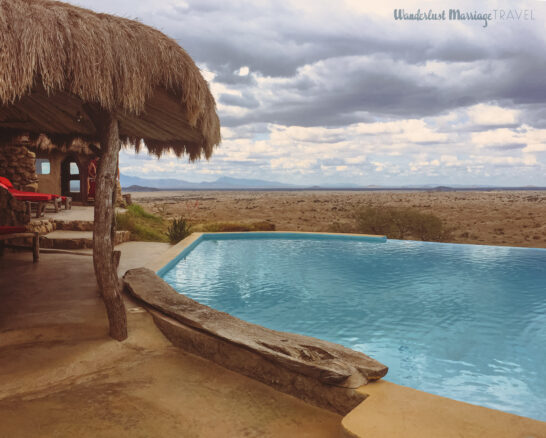 Maasai Lodge Dining
Enjoy international and traditional Swahili dishes refined with home-grown herbs in their restaurant. The delicious farm-to-table dishes were some of the most delicious food we enjoyed on our Tanzania trip. Breakfast on their terrace, overlooking Mount Kilimanjaro is breathtaking and a relaxing way to start the day.
Service at the Maasai Lodge is top notch. Lesse, the lodge manager, and his team do a fantastic job of creating a unique all around experience for guests. Complete with smiling faces and a unique atmosphere, dining at the Maasai Lodge is another experience that exceeded our expectations.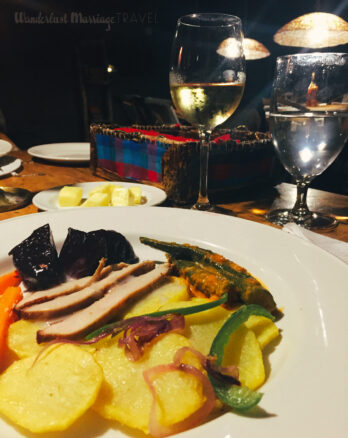 Maasai Lodge Activities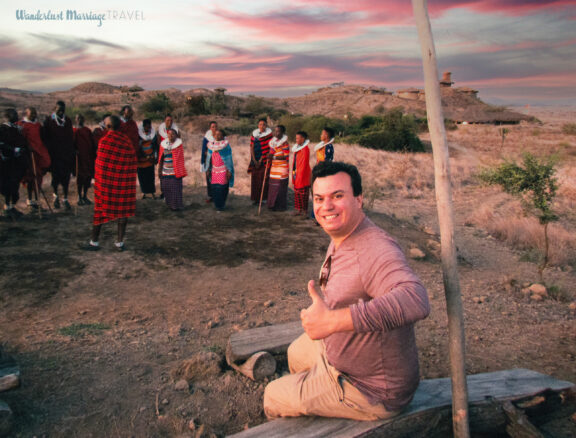 Free activities like spear throwing, dances, nature walks and campfire conversations allow you to interact with the Maasai while having fun. Upon arrival, we were greeted with traditional Maasai singing and dancing at sunset. It's a picturesque and surreal cultural experience.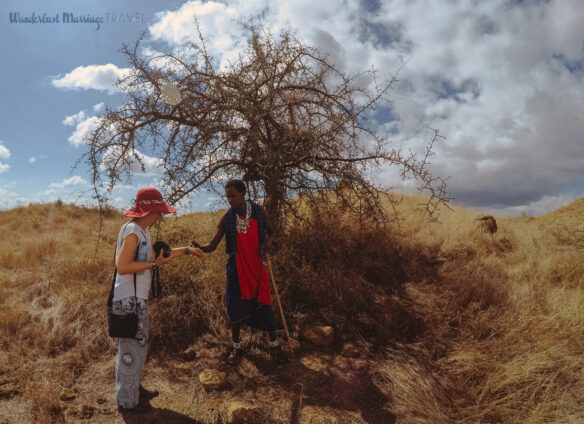 Maasai Lodge Nature Walk
We highly recommend taking the nature walk. We learned a lot about Maasai culture from our guide Esa. He discussed religion, children (he is the youngest of 10 kids!), language, as well as the plants they use as medicine and how to help keep lions from attacking villages at night. And, let's be honest, how often do you get to hold a spear with a Maasai warrior, with a backdrop of Africa's tallest mountain? However, in all seriousness, it is these connections to different cultures and life experiences that make travel a beautiful experience. We highly suggest that you make the Maasai Lodge part of your Tanzania safari holiday as it is an unforgettable experience. 
History of the Africa Amini Maasai Lodge
The Amini Maasai Lodge was established by Africa Amini Alama, which is a registered charity in Tanzania. It was founded as a private initiative in 2009 by Dr. Christine Wallner, an Austrian. Since its inception, the charity has launched a variety of projects dedicated to education, healthcare, social care, tourism and agriculture. Each project encourages the local community to get involved, providing sustainable tourism.
CDC Guidelines for Travel in Tanzania
Check CDC guidelines for travel to Tanzania. According to the CDC website:
"The CDC recommends that travelers going to certain areas of Tanzania take prescription medicine to prevent malaria. Depending on the medicine you take, you will need to start taking this medicine multiple days before your trip, as well as during and after your trip."
When we visited Tanzania, the risk of malaria in Zanzibar was extremely low. So we didn't start taking the malaria tablets until after we arrived in Zanzibar, as we started there. During our safari, I felt some side effects from the malaria tablets and decided to discontinue taking them. Read our article on how to spend one week in Zanzibar, aka "Spice Island."
Bring US Currency to Tanzania
Go to your bank and ask for crisp and new US currency. It's the preferred method of payment for various things, including your entry tourist visa, purchased on arrival.
More tips on Visiting Tanzania
Be sure to pack bug spray, proper footwear & clothing and medications. Read our article on what to pack for a Tanzania safari where we discuss this in more depth. If you have any questions on planning an African safari, email me at [email protected] or leave a comment below!