Safaris are accessible to more travelers than ever. On a safari you will see travelers dressed in proper safari gear – meaning they are appropriately protected from possible problems and annoyances. But you will also see those who leave you wondering a little bit how they got there. So what should you pack for a Tanzania safari?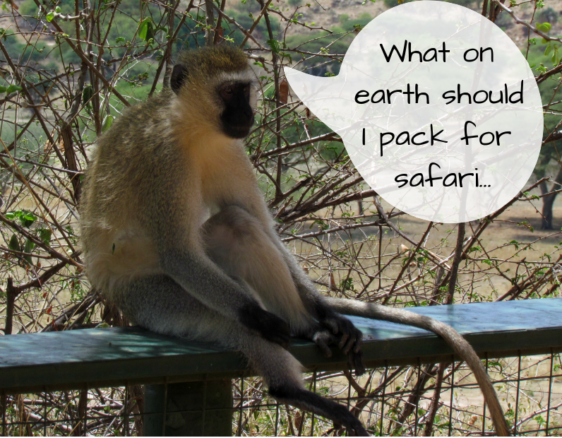 What to Pack for a Tanzania Safari: Clothing
If khaki green isn't your color, don't stress. We recommend light fabric and colors, as temperatures warm significantly during the day after cooler nights. Also pack long clothing as there are pesky creatures called tsetse flies. They don't seem to care whether you have 99% deet on… they bite exposed skin. And they are more attracted to blue and other dark colors as tested out here. Tsetse flies are most active between 9 am and 1 pm, which are the times you're going to be out looking for animals. That being said, Alex had a darker shirt and was never bitten by the tsetse flies. Also, if you are out around dusk or dawn, long clothing will also help prevent mosquito bites as the type of mosquitos that can transmit malaria are most active during those times. Alex really liked his convertible Colombia khaki pants ordered off Amazon. When temperatures are at their hottest, the pants can covert to shorts.
Pack a hat that covers your face. This protects you from getting sunburn and insect bites on your head. Alternatively, buy a souvenir safari hat like Alex did! Alex purchased his hat right after we were picked up from a relaxing 1 night transit stay at The Researcher's Rest in Arusha. Our safari guide went into a local restaurant to pick up our lunch boxes, and a couple of guys came by the safari jeep selling hats and artwork. Alex paid 20,000 shillings for this Ngorongoro Crater safari hat – equivalent to about $8.60 US (he decided not to bargain hard with that vendor). 
Medications
Before traveling for an African safari you'll want to discuss your travels with your doctor. Generally, you'll want to be sure you're vaccinated for hepatitis A and B and you may want to consider a rabies vaccination as well (especially if you enjoy petting stray cats as Bell does). Check the CDC website to see what the Center for Disease Control recommends for the region you're traveling in. For Tanzania, it is advised to take malaria tablets – but upon further research, we discovered that the risk was extremely low on the island of Zanzibar. As anti-malaria tablets, like malarone, can have some bad side effects, you may want to consider only taking them in the higher risk areas. In our case, the Tanzanian safari regions of Lake Manyara, Ngorongoro Crater and Tarangire National Parks are considered higher risk for malaria, as is the Serengeti National Park. The towns of Arusha and Moshi are considered low risk. Check this website to see the breakdown by region.
As there is also a risk of typhoid, cholera and other illnesses that can make you at least mildly to very sick, there are vaccinations for some of these and none for others, check with your doctor. You should pack medications like Imodium (or the generic) for diarrhea and oral rehydration salts to rehydrate your system if you have issues with diarrhea or vomiting. It is also advisable to ask your doctor for an antibiotic like Cipro (500 mg) in the event that you get very sick with something that causes severe diarrhea and vomiting. In that case, an antibiotic like Cipro can help clear it up faster. Fortunately, we did not need to take the Cipro we brought with us, but we were glad we packed it. On a previous trip to Malaysian Borneo, we were very sick in the jungle and did not have antibiotics with us. We were lucky to recover just in time for our jungle cruise, where we saw exotic animals of Borneo.
We also highly recommend packing charcoal tablets. Charcoal tablets aid in battling illnesses by sucking up toxins. In the event you start feeling sick, pop some charcoal tablets. We both had some moderate stomach issues during our trip and would often just pop a charcoal tablet during a meal. Neither of us had major problems during our 12 day trip to Tanzania. This being said do not take your anti-malaria pill and a charcoal pill at the same time as the charcoal can prevent you from getting the full dose of your anti-malaria medication.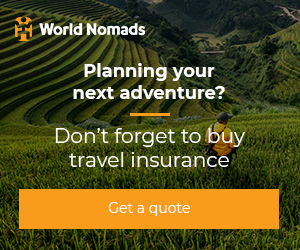 Sprays
Pack good bug spray. We purchased Ben's 100% Deet off Amazon, since it was hard to find this strong of Bug Spray in stores. If you're reading this last minute and don't have time to wait for a delivery from Amazon, just grab a good bug spray from your local store. Be sure to check the concentration of deet as many people find the lower concentrations aren't very effective. You can also spray your clothes with permethrin which helps prevent bites.
What to Pack for a Tanzania Safari: Footware
Appropriate footwear comes down to your itinerary. if you are just doing safari, then something comfy and closed toe will work. You're going to spend most of your time sitting in a 4WD! If you plan on a nature walk of sorts, then you'll want something sturdy and if you're climbing Mount Kilimanjaro or Mount Meru you need proper hiking shoes!
Money – Bring US Dollars to Tanzania
You will need some US bills with a date no earlier than 2006. Tanzanian Shillings are pegged to the US dollar and many local businesses prefer US dollars. Now you might ask how you're going to get these. If you are living in the United States, go into your local bank and request newer notes. Or start saving crisp notes with more recent years ahead of your trip.
If you're outside the US you'll have to talk to the money exchange or your bank and see what they will do for you. It's a good idea to bring at least several hundred dollars in US money to Tanzania. Tipping in USD is also easier and appreciated. The good news is that credit cards are becoming more accepted in Tanzania. We had read that we needed US money to pay for our visa on arrival, but when we landed in Zanzibar we were able to pay with our Chase Visa card (and earn points).
Travel Adapter (Converter Plugs)
Several nicer hotels featured a power strip that took all plugs! But generally, you're going to want British plugs (type G) if you need to go straight into the socket. We read you might need type D plugs. Type D is one of the few plugs we didn't own so we picked it up, but we never saw an outlet that wasn't type G. On this we'll say don't worry too much about the type D plug. It's always a good idea to pack a good travel adaptor.
What to Pack for a Tanzania Safari: Camera Gear
Bring 2 cameras, you never know what could happen. Our primary camera stopped working in Zanzibar; be aware Zanzibar is hot, humid and wet, you will need to watch out for your gear. We had no way to have our camera looked at before going on safari, but luckily we had our Canon Powershot as a backup. The images aren't as sharp, but we've had this entry-level DSLR camera for 7 years and it's a great all in one that will get you some fantastic shots. Had we had a back-up battery to our primary camera we would have been fine as we found out when we got home that it was the battery that had caused the camera to fail. Having a back-up battery will also give you comfort to play with settings and get the light right without worrying your battery will die before you drive out of the park.
We also had our phones and a GoPro HERO 5. The GoPro is great for video and also some wide angle shots where you can get a neat fisheye effect, which is especially cool to play with in the Ngorongoro Crater.
As for a tripod, that is up to you, it isn't necessary for safari, but it could come in handy for a few shots, rather than lugging a full-size tripod, we would recommend a small travel size tripod.
Planning an African Safari?
If you're planning an African, we recommend you read our article Safari Holidays in Africa: Luxury Tanzania Trip. The article breaks down our safari to three national parks in Tanzania. We also give tips on how to fly to Africa for free!
Disclosure: This article contains some affiliate links where we receive a small commission from bookings, which helps maintain this site. Thank you to friends and readers who support our work