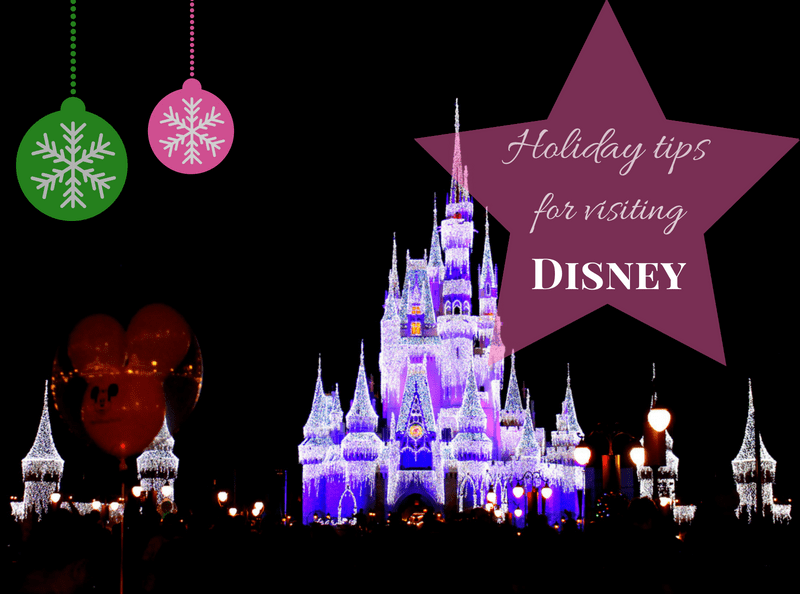 The holiday season can be a great time to visit Disney World. Cinderella's Castle is especially spectacular covered in colorful lights. And the parks, already pretty, have an added charm with Christmas decorations galore. The downside is that the holidays are a busy time to visit Disney parks, and it's important to have a good strategy for a visit, which I've previously written about. Here are some tips for visiting Disney World over the holidays.
Park Hopping Strategies
As someone who worked at Magic Kingdom as a teenager, I have some strategies for maximizing park hopping on busy weekends. Since Magic Kingdom is open until midnight on most Saturdays and the other parks close earlier, it's best to start your day at Epcot, Hollywood Studios or Animal Kingdom and head to Magic Kingdom later.
For example, leaving Epcot around 7pm on a Saturday for Magic Kingdom is a great time as you generally won't have to wait long for the monorail. Epcot closes at 9:30pm so if you try to hop too late, you could waste a lot of time in the monorail line. On weekdays, when Magic Kingdom closes earlier than Epcot, the opposite strategy should be used. Double check park hours prior to the day of your visit and plan accordingly.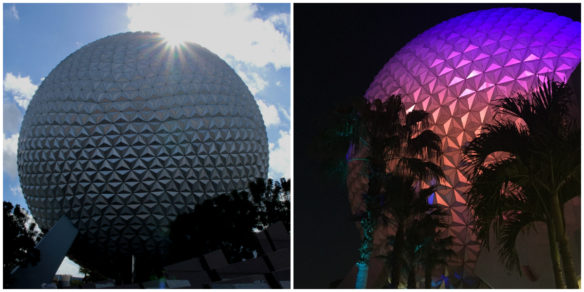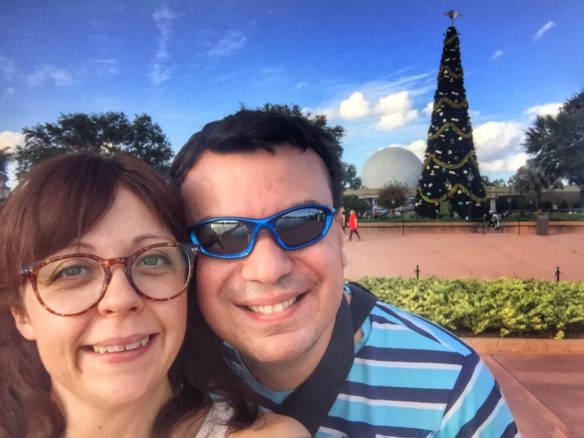 Stick With Two Parks in a Day on Park Hopper Tickets
If you buy a park hopper ticket, you're entitled to visit all four Disney parks in one day. But in our opinion, that's a bad idea, especially if you visit during the holidays. Stick with two parks on park hopper tickets to minimize lost time and energy transferring and the slight hassle of security checks at the entrance to each park. If you decide to visit three parks in a day, make Hollywood Studios and Epcot two of your choices and consider taking the boat at the back entrance of Epcot Center. The boat makes stops at the Disney resorts between Epcot Center and Hollywood Studios, and you can save time backtracking to the front entrance of Epcot. It's also a pretty ride that beats taking a bus.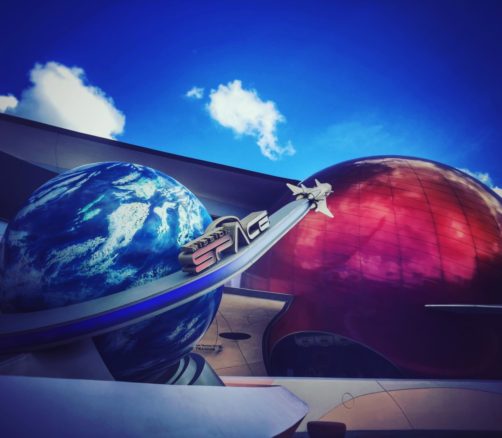 Fast Pass+ Selections: Tips for Visiting Disney World Over the Holidays
Disney tickets now include fast pass selections, which offers limited opportunities to jump lines. And you can even make fast pass selections up to 30 days before your visit. If you utilize Disney World's online service try and select the most popular attractions in advance. Popular rides at Magic Kingdom like Splash Mountain, Thunder Mountain, Space Mountain and Peter Pan always have a long line during busy months so scoop those if you can.
Guests are allowed three fast pass+ selections, and you have to use all three before then being able to make one selection at a time. Select earlier time slots so you can make more selections. Look at it like a game. Play it right and you can access a lot more attractions and save lots of time waiting in lines. On our recent holiday visit, we saved nearly 3 hours waiting in lines by optimizing fast pass+ selections!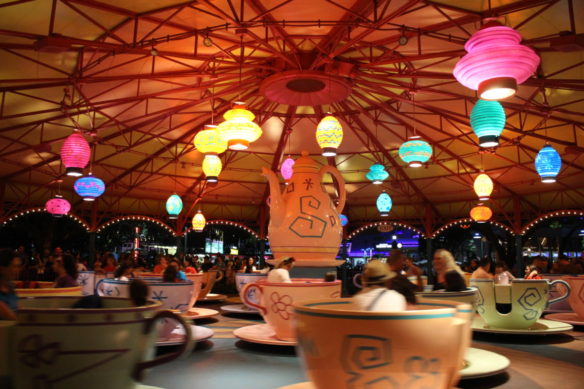 Go on the Most Popular Rides Early or Save Them for the End
Try and arrive at the park at opening, or be sure to stay until closing. These are the times to ride Magic Kingdom's most popular rides, including Space Mountain, Splash Mountain and Thunder Mountain. Wait times during other times of the day can reach 2 and 1/2 hours during the holidays.
Also, Disney's official closing times are when you need be in line, not when the rides actually stop operating, so take advantage of this. During our recent visit on Saturday, December 17th, 2016, we arrived at Splash Mountain at 11:57pm and were shocked to find a wait time of 1 minute. It wasn't a cold night either so you can't beat that!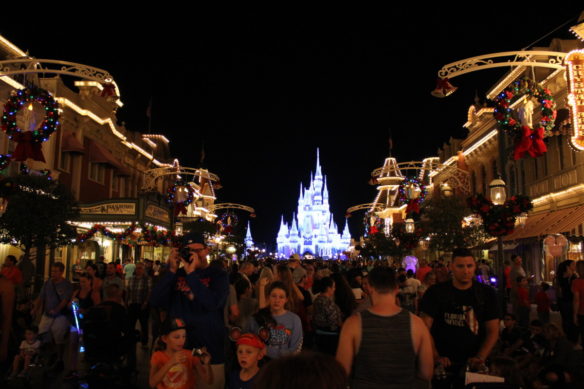 Utilize Uber or Lyft to Save Time Traveling from Your Nearby Hotel
Uber and Lyft have changed the game in terms of transportation. Even if you rented a car for your Disney vacation, parking costs $20 and it can take time to get to and from your vehicle in the massive Disney parking lots. Even though our Kissimmee hotel offered a free Disney shuttle service, the times were very limited, so we ordered an Uber that dropped us off right at the main entrance of Epcot that cost us $10.
And then we ordered an Uber from the Ticket and Transportation Center of Magic Kingdom back to our hotel at the end of the day. Technically, Uber can only pickup from the Ticket and Transportation Center, but it can drop off at park entrances asides from the front of Magic Kingdom.
Additional Tips for Visiting Disney World Over the Holidays
Don't plan to eat fast food during the lunch and dinner rushes. Wait times for fast food between 12pm and 3pm and 6pm to 9pm can run 30 minutes. Eat early or late meals and you'll save a lot of time. Or make lunch and dinner reservations if you want to eat at a full service sit down restaurant. There are many in the Disney parks, of varying quality, selection and prices. So check out reviews on google or read some blogs specific to Disney restaurants before making reservations.
Unless you must, don't rush out of Disney right at closing. You'll spend a lot of time waiting for the monorail and/or shuttle to your car, depending on which park you're in. When Magic Kingdom closes at midnight, the shops on Main Street USA stay open until 1am.
They also leave the castle lit up until that time. Instead of waiting for the monorail, we took photos of Cinderella's Castle and enjoyed the holiday ambiance. Also, perusing shops beats standing in late night lines. Of course, if you have small children, this is one of the tips for visiting Disney that you may not be able to utilize.
There are lots of deals to be found to save money during a Disney vacation.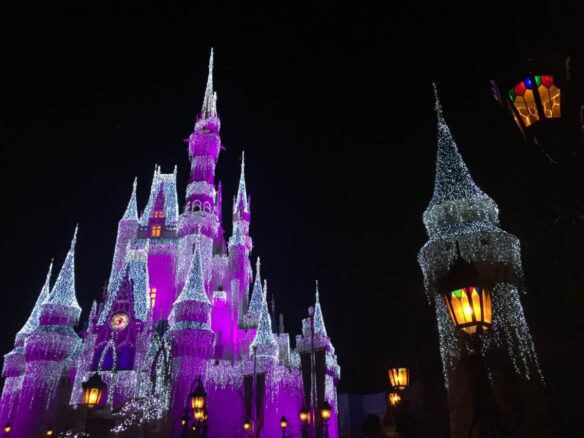 Disney World Prices:
Disney World offers variable pricing, and because of increased demand, admission prices to the parks is slightly higher over the holidays. Prices quoted do not include 7% sales tax. For specific dates and to buy Disney tickets, click here.
One Day Park Hopper for Adults: $160
One Day Park Hopper for Children ages 3-9: $154
Single Day 1 Park Admission: $114 from December 22nd, 2016-January 3rd, 2017, prices reduced to $102 from January 4th, 2017- January 16th, 2017 and $97 from January 17th, 2017- February, 17th, 2017. Variable pricing throughout 2017.
While Disney World offers discounts for Florida residents with proof of ID, the best value is outside the holiday season. Florida residents can purchase a 4-Day Florida Resident Disney Select Ticket for $179, which allows access to one park per day, over a six month period.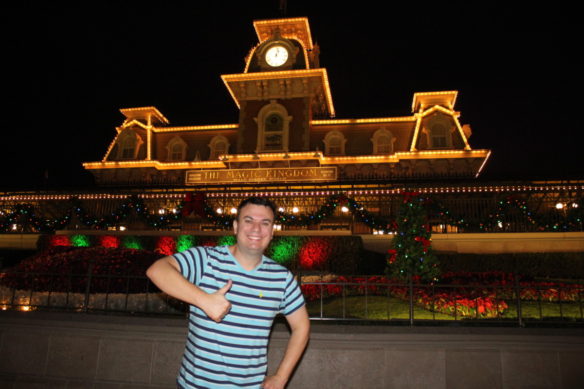 Need advice on planning a Disney vacation? Leave a comment or email [email protected] with questions!
Disclosure: Disney provided us with complimentary media passes for our most recent visit, but this has not impacted this article. All photos and opinions expressed here are our own.