Nestled within the historic streets of Skopje, Macedonia, lies a vibrant coffee culture that intertwines tradition with modernity. The old town, a charming labyrinth of cobblestone alleys, serves as the backdrop to an enchanting journey through the world of coffee. From bustling cafes where locals gather to savor their cherished brews, to hidden gems where aromatic blends are crafted with precision, the old town of Skopje offers a unique and captivating experience for coffee enthusiasts and curious travelers alike. Join us as we delve into the heart of this ancient city's coffee culture, where every cup tells a story of heritage and hospitality.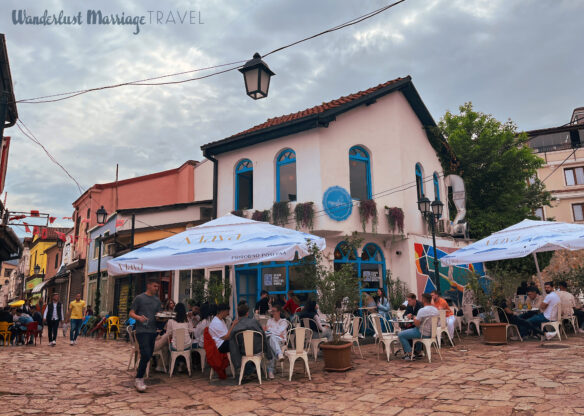 Turkish coffee culture
The coffee, often referred to as Turkish coffee, requires a very finely ground coffee bean. These beans are then brewed by bringing the coffee and water to a boil in a special little pot that goes by different names across cultures, but the Turkish call it the cezve. This mixture is gently poured into small cups.
Some of the coffee grounds are transferred to the cup and, if it is a good brew, these will settle to the bottom and you can enjoy the coffee. If the barista is not the best, the grounds won't settle. And this is why, at least we think, many people say they don't like Turkish coffee. They are yet to have a good brew. There are plenty of good cafes in Skopje, Macedonia that brew good coffee.
Coffee culture in Skopje
Turkish coffee was probably introduced by merchants in the 15th century, during the Ottoman Empire. The Ottoman Empire ruled over Skopje's old town for 400 years, and shaped much of the narrow streets and the skyline with minarets, not skyscrapers.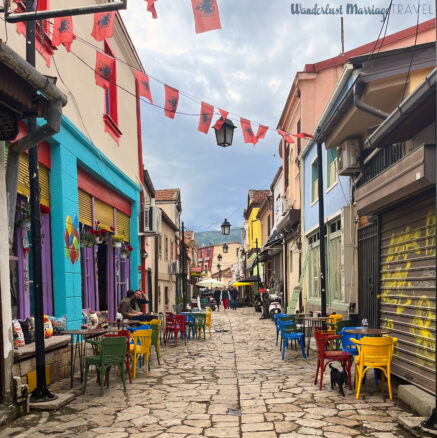 Today, the influence of the Ottoman Empire remains amidst the town's coffee, culture and cuisine. Aside from coffee, the smell of mixed grill over open flames permeates the air, wafting aromas throughout streets and laneways.
Cunda Cafe
Cunda Cafe is one of two cafes that I recommend you do not miss. The Turkish coffee they serve up is strong, aromatic and perfectly brewed. I loved the bright colorfully matched coffee sets. The yellow set my coffee came in felt like I'd been given joy in a cup! The outdoor seating area is perfect for people-watching. The staff at Cunda Cafe are friendly. You might even have a fluffy kitty friend come by and say hello and ask for a scratch behind the ears.
Cunda Cafe Address:
Salih Asim, Skopje 1000, North Macedonia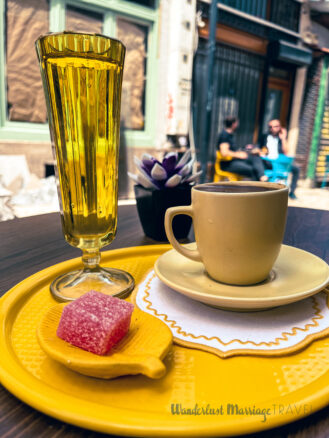 Ottoman Caffe
The other place that you must stop by at on an exploration of coffee in Skopje is Ottoman Caffe. This tiny coffee shop evokes old-world charm and is run by a friendly gentleman. Perfectly brewed coffee served in a charming silver set is going to make any coffee lover's heart sing! The indoor and outdoor seating is limited, but both are charming.
Ottoman Caffee Address:
Kujundjiska, Skopje 1000, North Macedonia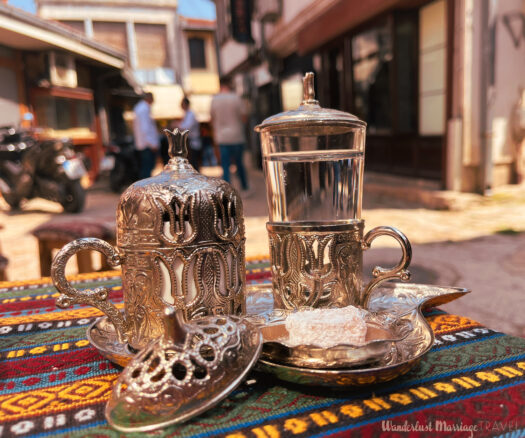 Su Cafe
Su Cafe is right in the thick of the old town. If your time is limited or you feel a little anxious wandering into the, sometimes very quiet, laneways of the old town then this is a great place to grab a cup of coffee and people watch.
2C2P+5HH, Salih Asim,
Skopje 1000, North Macedonia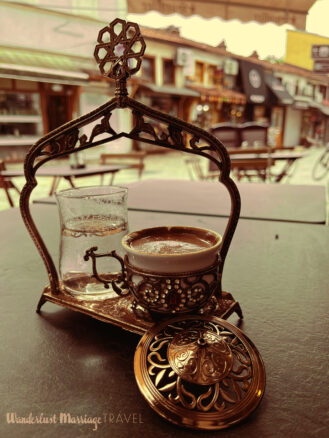 House Ice Gelato
The coffee and treats are a bargain at House Ice Gelato, which is bustling with people. While the decor and presentation of the coffee aren't as noteworthy as some fellow Skopje cafes, I enjoyed both the coffee and şekerpare. Şekerpare, which translates to a piece of sweetness, is a semolina cookie that is soaked in sweet syrup. It was my first time trying this traditional Turkish sweet and I will certainly be back to have another as it pairs nicely with a Turkish coffee.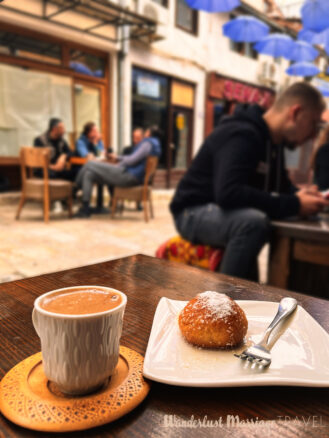 If you have time for more Skopje coffee culture
The other two Skopje cafes that I enjoyed for reasons other than their coffee were Oriental Bahçe and Balat Coffee.
If you need a place to step out of the hustle and bustle of the old-town, then the chill courtyard at Balat Coffee is worth seeking out. However, I found the coffee weak and the baklava was just ok, but it is located in a tranquil spot. It took me 10 minutes to find this cafe with Google maps because it is tucked away.
Balat Coffee Address:
Pokriena Charshija 61
Skopje 1000, North Macedonia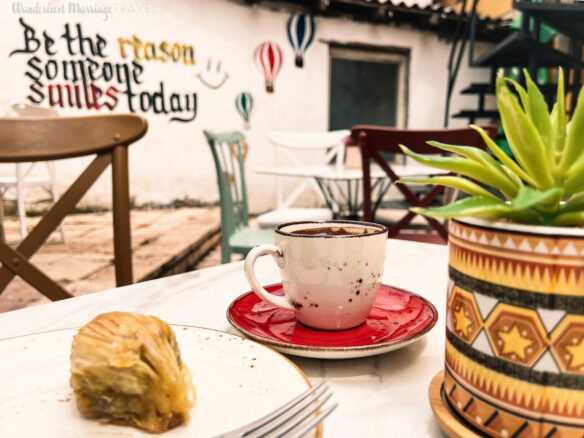 Oriental Bahçe also serves up weak coffee but is situated in another beautiful spot. Skopje is infamous for its very large and impressive statues and at Oriental Bahçe you can take in the view of the impressive statue of Philip the II of Macedonia. He was the 18th King of Macedonia and is famous for restoring internal peace to Macedonia by 339BCE.
Oriental Bahçe Address:
Crvena Skopska Opstina 10
Skopje 1000, North Macedonia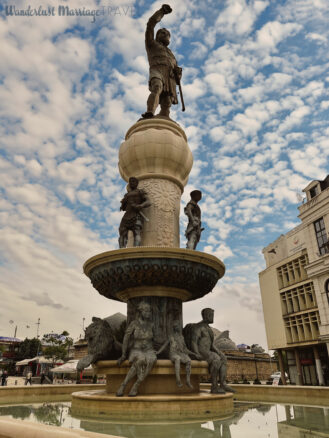 Avoid Cafe Harem, the coffee looked beautiful but was sadly un-drinkable as the barista had not brewed the coffee correctly and the beans had not settled in the bottom of the cup. Of all the places I drank coffee in Skopje, this felt like the "tourist trap" spot.
Espresso-based Coffee Culture in Skopje, North Macedonia
Popular spots for the more modern espresso-based coffee are Cafe Mon Frere and Kaimuck 2.0 Coffee Bar. The influence of the Ottoman empire is noticeable in Skopje, Macedonia, especially in the Old Bazaar. Savor tasty coffees in charming cafes, while people watching and pondering centuries of history (and your day's itinerary!).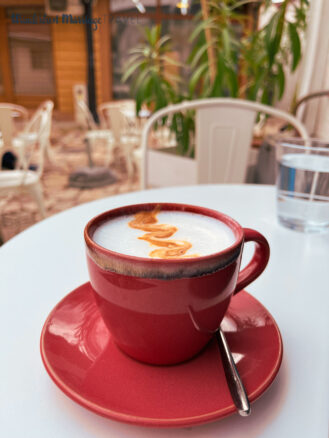 More Balkans Travel
We love exploring this region and have written about some of the most romantic towns in the Balkans. There's a wealth of historic and picturesque spa towns in Greece. Among them, Loutra Pozar, in Almopia, Greece is near the border of North Macedonia. The 220 km drive takes around 3 hours. We had a mixed experience in Sofia, Bulgaria, but it's a country that we would return to see more of.
If you have questions about traveling in Skopje, North Macedonia or around the Balkans in general, leave a comment below. You can also email [email protected] with questions and I can assist with your travel plans!