Poland is one of Europe's most underrated countries for visitors. Its picturesque cities showcase some of Europe's largest and most beautiful market squares, dotted with unique architecture. This 10 days in Poland guide covers highlights of Krakow, Poland's most visited city and a UNESCO World Heritage Site. It also covers the capital of Warsaw, which offers a unique juxtaposition between its charming historic center and towering skyscapers. Another popular destination we enjoyed visiting is Wrocław, a charming city in southwest Poland.
Wroclaw is a beautiful city packed with tiny whimsical gnomes in comical to sweet poses that represent various trades, daily activities and the Polish struggle against oppression. Prior to August 1945 and the conclusion of World War II, Wroclaw was a German city known as Breslau. German residents were forced to flee westward and were replaced by Polish people, a reprisal for Hitler's World War II invasion of Poland.
It is a cruel irony that Poland's eastern neighbor, Ukraine, is experiencing similar tumult at the hands of a bully superpower. And during the Cold War years, Poland's government basically served as a puppet to the Soviet Union. The layers of history to discover in Poland, offer fascinating tales to pair with beautiful scenery.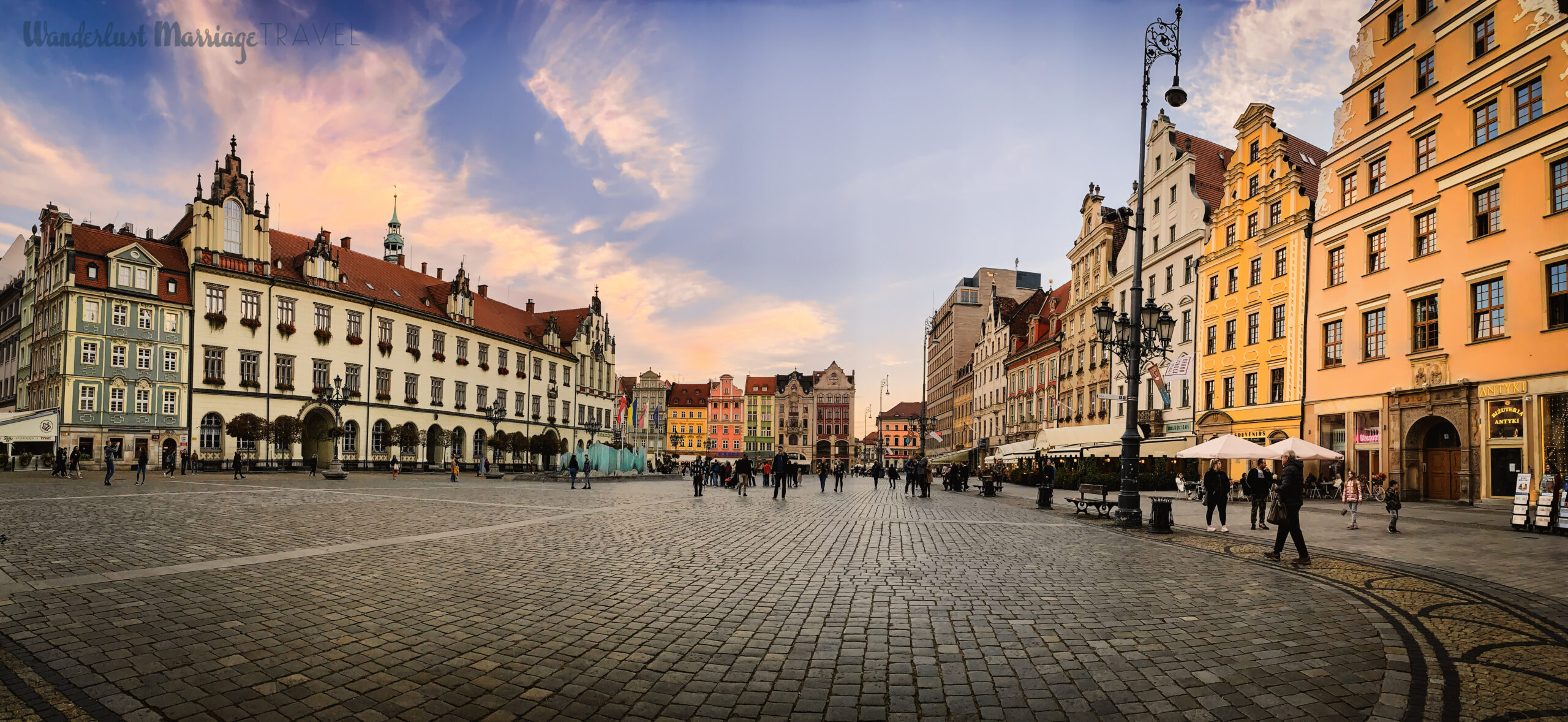 We recently had the chance to explore Poland while working remotely. These days, visitors will notice as many Ukrainian flags displayed in Poland as there are Polish flags. While there are unfortunately many Ukrainian refugees as a result of Russia's brutal invasion, it's generally not a threat to visitors. Warsaw still felt much cleaner and safer compared to many major American and Western European cities.
10 Days in Poland: Traveling Into and Around Poland
There are several international airports throughout Poland. Many European visitors arrive at Kraków John Paul II International Airport. You can also plan to fly into Warsaw Chopin Airport, like we did via a direct flight on Wizz Air from Podgorica Airport in Montenegro. Poznań and Gdansk are a couple more picturesque Polish cities with airports that are worth exploring.
Poland is also well connected both internally, and to neighboring European countries via trains and buses. Bell and I caught the train from Warsaw to Lodz, then from Lodz to Wroclaw. We paid the small difference for first-class train seats, which made a big difference on the modern train, and less of a difference on the older train. We recommend paying the difference for first class train tickets when traveling around Poland.
Wroclaw is a beautiful city, and visitors can fly into and out of Copernicus Wrocław Airport. Bell had to attend a conference in Prague, Czechia and the train schedule from Wroclaw to Prague involved multiple stops. So we booked a direct bus to Prague from Wroclaw Bus Station, which is adjacent to Wroclaw Train Station. The trip from Wroclaw to Prague took around 4.5 hours and there is a bathroom on board the bus.
Wrocław is the closest of the three cities to reach by train or bus from both Berlin, Germany and Prague, Czechia.
Krakow or Warsaw to Begin a 10 Days in Poland Trip?
Warsaw is larger and has a more modern financial district, with an interesting juxtaposition to its historic center. Krakow is smaller, so visitors will find that more attractions in and around its historic center are walking distance compared to Warsaw. Regardless, Krakow and Warsaw are both great cities to begin a Polish journey.
Also, Warsaw's historic center is compact and walkable, since so much of the city was destroyed during World War II. The Tomb of The Unknown Soldier, located on Marshal Jozef Pilsudski Square, is the only surviving section of a pre-World War II Saxon palace that previously occupied the spot.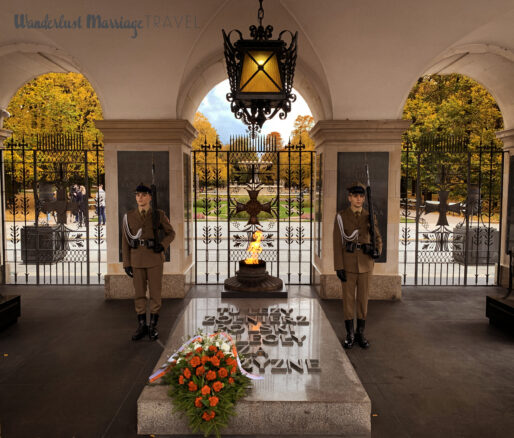 During a 10-day in Poland itinerary, it's a good idea to begin your journey in either Warsaw, Krakow or even Wroclaw. Then conclude your journey in one of the other cities so you don't have to backtrack. Trains and buses are also reliable options to connect with bordering countries like Germany, Czechia and Lithuania.
3 Days in Warsaw
The capital of Poland offers a wealth of attractions and interesting history. The Vistula River dissects a bustling city that's home to around 3 million people in its metropolitan area. That makes greater Warsaw the 6th largest city in the European Union. Warsaw's historic center offers an idyllic location to explore picturesque architecture, delicious food, museums and tumultuous history.
The Historic Old Town of Warsaw
Warsaw's Old Town is a charming district lined with cobblestone alleys and medieval buildings reconstructed after World War II. The bustling tourism hub's heart is Rynek Starego Miasta. The busy square is dotted with swanky Polish restaurants, adorned with burgher architecture. St. John's Archcathedral was constructed in the 14th-century, and even hosts summer concerts. The Royal Castle houses manicured gardens and restored apartments.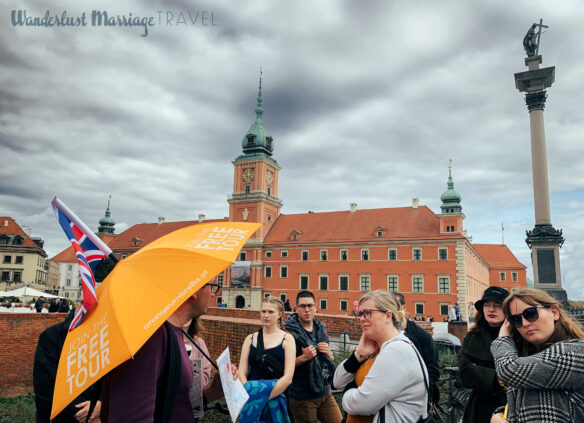 Palace of Culture and Science
Construction of Warsaw's Palace of Culture and Science began in 1952. From 1955 – 2021, the 237 meter tall structure stood as the tallest building in Poland. A gift from Stalin, residents of Warsaw have a love/hate relationship with this iconic symbol of the city.
Plan to visit the observation deck atop the Palace of Culture and Science, which offers sweeping views overlooking Poland's capital. The building also hosts various exhibitions, art shows, fairs and concerts. It also houses a swimming pool, theaters, museums and a concert hall. The Palace of Culture and Science is one of the most photographed attractions in Warsaw.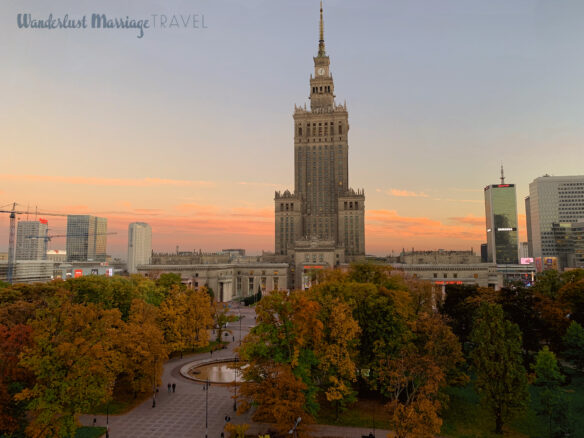 Royal Castle
The Royal Castle in Warsaw is a national historical monument and state museum. It previously housed the official royal residence of multiple Polish monarchs. In 1791, the 3rd May Constitution was passed in Senator's Hall. That was the first constitution in Europe and the second in the world at the time.
The royal apartments and the Throne Room are among the highlights of a visit inside the Royal Castle. The museum features original paintings by Rembrandt and Bernardo Bellotto. The impressive garden features flower beds, fountains, and tall hedges that form mazes.
Warsaw Rising Museum
The Warsaw Rising Museum is dedicated to the Warsaw Uprising of 1944. The museum is a tribute to the men and women who fought and died for Poland's freedom and independence. Around 800 exhibition items, approximately 1500 photographs, films and sound recordings are housed across 3,000 sq. meters. Visitors are guided through the history of the Rising, from pre-war through post-war Warsaw.
The Warsaw Rising Museum opened on July 31, 2004, commemorating the 60th anniversary of the uprising. The museum is located in the Wola district of Warsaw.
Warsaw Rising General Admission Prices
single ticket – 25 PLN ($6 USD) per person
discount ticket – 20 PLN per person
groups – 15 PLN per person (only for group with guide and online reservations)
admission on Mondays is free
Warsaw Rising Museum Address:
Grzybowska 79
Warsaw 00-844
Poland
Wilanów Palace
Wilanów Palace is a baroque gem of Warsaw. The former royal palace is situated in the Wilanów district of Warsaw, at the southern end of Warsaw's Royal Route. It was originally built between 1677–1696 to house King John Sobieski III of Poland. Despite annexations, wars and occupations, the impressive palace and garden of Wilanów Palace remain intact. It has been home to many kings as well as nobility.
Lazienki Park (Royal Baths Park)
Łazienki Park (Royal Baths Park) spans 76 hectares, making it the largest park in the city. The palace complex is located along Ujazdów Avenue, in Warsaw's central district. It's part of the Royal Route, which connects the Royal Castle with Wilanów Palace.
The gorgeous park features an ornamental lake, manicured gardens and a variety of birds, including colorful peacocks. Weekends in Łazienki Park are especially bustling with strolling families and couples. It's especially ideal when the sun is shining and temperatures are mild to warm.
Warsaw has a Delicious and Diverse Culinary Scene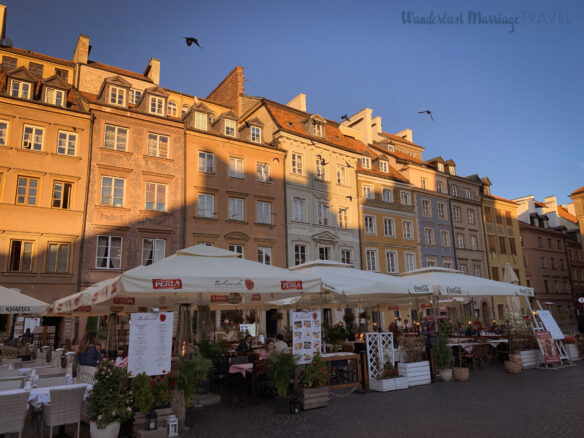 Being the Polish capital, Warsaw is a wonderful culinary destination. Delicious Polish restaurants, bakeries and cafes dot the city. Additionally, it's also a melting pot for a wide variety of international cuisines. And since we visited Warsaw in the midst of a several-month European trip, we decided to also eat at Indian and Asian restaurants to mix things up. In smaller destinations, options for quality international cuisine can sometimes be limited, but that's not the case in Warsaw.
Warsaw Hotels
InterContinental Warsawa, an IHG Hotel
The 5-star InterContinental Warszawa is located across the street from the historic Palace of Culture and Science, just 1,650 feet from Warsaw Central Station. The luxurious property features well appointed air-conditioned rooms and a wellness center located on the 43rd and 44th floor. Guests can enjoy panoramic views of Warsaw from their indoor swimming pool and hot tub.
The InterContinental Warsaw can also make for a great redemption with IHG points. That can save you hundreds of dollars during a great stay. If you don't have IHG points, you might want to consider signing up for the IHG Premier Rewards Club Card by Chase bank. It comes with a sizable bonus of around 130,000 points after the introductory spend.
Raffles Europejski Warsaw
Welcoming guests since 1857, the 5-star Raffles Europejski Warsaw offers a luxurious stay overlooking the Presidential Palace. Located along the Royal Route, it's just a few minutes' walk from the 19-century Polish National Opera. The grand hotel's classic exterior blends with contemporary design, showcasing the artistry of Poland.
Raffles Europejski Warsaw's amenities include Raffles Spa, featuring several saunas, steam rooms, an indoor pool and gym. Elegant rooms and suites feature libraries, air-conditioning, high-definition LED TV with satellite channels and a media hub. Concierges and butlers can organize city tours, and the Art Concierge will happily showcase the on-site art collection.
Warsaw Apartment and house rentals
Vrbo lists many comfortable apartment listings in Warsaw. We enjoyed staying in a fantastic apartment right across the street from the towering art deco Palace of Culture and Science. The modern and well appointed centrally located 5th-floor apartment has a spacious kitchen with stainless steel appliances and Nespresso machine, comfortable bed, separate living room with a comfortable couch and flat-screen TV with cable and a laundry machine. The spacious balcony offers an epic view of the city. We could not have asked for more during our stay in Warsaw!
4 Days in Kraków (Including 1 or 2 Day Trips)
Kraków, located in southern Poland, is a UNESCO World Heritage Site and former royal capital of Poland. The most popular city in Poland for tourists features an expansive market square (Rynek Glówny). It's lined with restaurants and cafes, and is the centerpiece of a beautiful historic center. The Jewish quarter of Kazimierz is a popular cultural district featuring great cafes, restaurants, independent shops and galleries. The 14th-century Gothic church, St. Mary's Basilica, is another noteworthy highlights.
Krakow Old Town (Stare Miasto)
Kraków Old Town (Stare Miasto) became a UNESCO World Heritage Site in 1978. Home to Europe's second largest market square, it's one the most popular areas for tourists. Stare Miasto is lined with lovely polish eateries, ideal for a date night. It's also the perfect spot to hop on a lovely white horse and carriage ride during a romantic getaway.
This was the heart of Poland's political life from 1038 until the end of the 16th-century. In 1596, King Sigismund III Vasa moved the royal court to Warsaw.
Cloth Hall (Sukiennice)
Cloth Hall (Sukiennice) is among the most impressive buildings in Stare Miasto. The Renaissance-style market arcade dates to the 13th-century. It's a great place to shop for a variety of Polish wares and souvenirs. It also houses a 19th-century Polish art museum.
Cloth Hall previously housed a major center of international trade – with traveling merchants meeting to discuss trade and bartering arrangements. During its golden age in the 15th century, the hall was the trade center for a variety of exotic imports from Asia – including spices, silk, leather and wax. Textiles, lead and salt from the Wieliczka Salt Mine were among Kraków's signature exports.
St. Mary's Basilica
St. Mary's Basilica is another highlight of Krakow's Old Town. Reconstructed in the 14th-century following the Mongol invasion, the Roman Catholic brick Gothic church is adjacent to Krakow's Main Market Square. The facade features curiously mismatched towers and a red-brick exterior. The interior houses an ornately carved alter, as well as beautiful frescoes and murals.
Wawel Cathedral
Since the 14th century, Wawel Cathedral has been the primary burial site for Polish monarchs. Located on Wawel Hill in Kraków, Poland, the Roman Catholic cathedral was previously knonm as the Royal Archcathedral Basilica of Saints Stanislaus and Wenceslaus. Since different rulers have added burial chapels, the complex has been significantly expanded over prior centuries.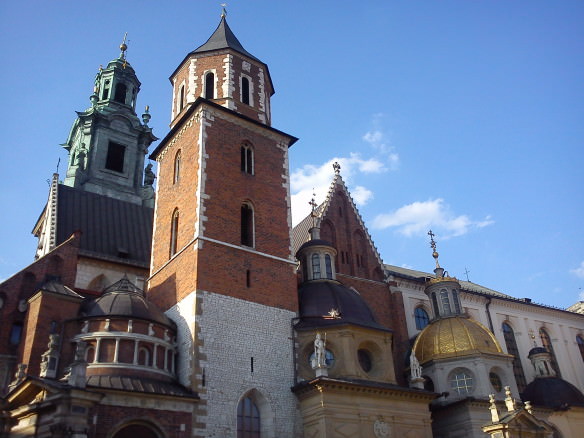 The complex of Wawel Cathedral is free to enter. So visitors can explore the castle grounds without a ticket. But because of the site's popularity, interior exhibits and tours have a timed ticket requirement.
Kazimierz
The historic Jewish quarter of Kazimierz is a creative and trendy district of Kraków. It's a great neighborhood for shopping and enjoying tasty Polish delicacies over drinks. The district's bars range from trendy cocktail lounges to casual establishments serving Polish beers. I enjoyed as excellent a hummus as I've ever eaten in Kazimierz, made with fresh mashed chickpeas, olive oil, lemon and garlic.
The Galicia Jewish Museum educates visitors on local Jewish culture. Remuh Cemetery features a wall of tombstones that were broken during World War II. The 16th-century Old Synagogue highlights Szeroka Street's many synagogues.
Vintage clothing stores and independent galleries are another highlight of Kazimierz. So enjoy an afternoon strolling the shops, and having a delicious a lunch lunch at a trendy cafe.
Krakow Day Trips and Tours
Wieliczka Salt Mine
The Wieliczka Salt Mine dates to the 13th-century and is a UNESCO World Heritage Site. It features the salt hewn underground Chapel of St. Kinga, The Salt Works Museum and a health resort. Handcrafted salt sculptures are dotted around the mine's underground chambers and tunnels. The Saltworks Castle showcases Gothic architecture and antique salt cellars. Wieliczka Salt Mine can be visited on a day tour from Krakow.
Zakopane
A visit to the resort town of Zakopane, known for turn of the 20th-century wooden chalets is another great option. Zakopane is picturesque town at the foot of the Tatra Mountains, popular for winter sports as well as mountain climbing in summer. Take a cable car up to Kasprowy Wierch for lovely panoramic views.
Auschwitz-Birkenau Memorial
The Auschwitz-Birkenau Memorial and Museum is one of the most significant museums in Poland. It commemorates atrocities committed during World War II, when the facility served as a Nazi concentration camp. The Auschwitz-Birkenau Memorial and Museum features preserved gas chambers and artifacts from World War II, offering a sobering reminder of the horrors of large scale war.
Plan to spend 3 or 4 days in and around Krakow. It's easy to spend 2-3 days exploring Krakow's attractions. Then select a day trip to either the Auschwitz-Birkenau Memorial and Museum, Wieliczka Salt Mine or Zakopane.
Krakow Hotels
Bonerowski Palace
The elegant 5-star Bonerowski Palace is ideally located along Krakow's Market Square, in a historic building. Luxurious rooms and spacious apartments are fitted with modern amenities like flat screen TV's. Their Royal and Ducal Halls have facilities suitable for wedding receptions, banquets and business meetings. Royal Hall also hosts piano concerts. Guests can admire Market Square from their lovely garden.
The 5-star Hotel Unicus Palace offers an elegant stay in the heart of Krakow. Hotel amenities include an indoor pool, hot tub, hammam, fitness center, as well as concierge service. Comfortable rooms include a flat screen TV, and some have balconies with picturesque views overlooking beautiful Krakow.
Krakow Apartment Rentals
Vrbo offers comfortable and cozy apartment listings in Krakow. The most central areas to stay are Stare Miastro (Old Town) and Kazimierz (Jewish Quarter). From your doorstep, it's walking distance to Krakow's most popular attractions. Debniki is also a nice neighborhood, around a 15 minute walk from the Old Town. Read my previous article on great areas to stay in Krakow. Book apartments with consistently great reviews for the best experience!
3 Days in Wrocław (With an optional day in Lodz on the Way)
Wrocław, located in the Lower Silesian region of southwest Poland, is another town popular with tourists. Its historic center is packed with beautiful guild houses and tiny gnome sculptures. The center of the historic town, the medieval Market Square, Wrocław is the third largest in Poland. It's lined with great restaurants, featuring covered terraces with charming views of the square – perfect for a date night.
Unique Cathedral Island dates to the 10th century and is oldest area of Wroclaw. It's packed with historic churches like 13th-century gothic Cathedral of St. John the Baptist, along with museums, monuments and gardens. Wroclaw is also known for wellness spas and saunas, so it can also be ideal for a relaxing reprieve during a 10 days in Poland trip.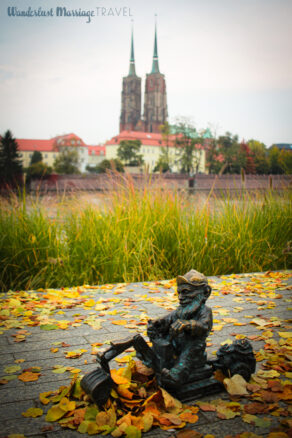 Prior to the conclusion of World War II in 1945, Wroclaw was a German city known as Breslau. Afterwards, German residents fled westward and were subsequently replaced by Polish residents. The redrawing of the German/Poland border was a reprisal for Hitler's World War II invasion of Poland.
Konspira – a Charming Polish Restaurant packed with history in Wroclaw
A great restaurant to eat traditional Polish cuisine in Wroclaw, while learning about Polish history is Konspira. The restaurant particular focuses on the Cold War period of Polish history, which saw the Polish government serving as a proxy to the Soviet Union, headquartered in Moscow. Memorabilia in the restaurant, as well as information in Konspira's menu offers an abundance of historical references and stories.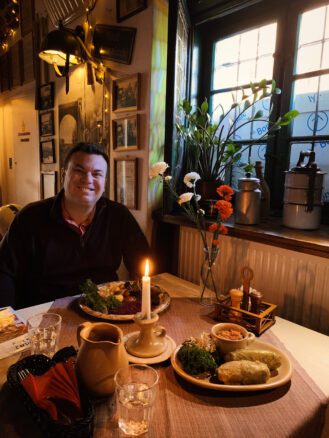 Menu favorites at Konspira include anti-communist Dumplings, which are toasted meat dumplings served with a cup of homemade borsht for 34,99 PLN ($8 USD). Polish-Hungarian Solidarity is a tasty fusion of countries, encompassing "Hungarian" stew with potato pancakes and a variety of salads for 54,99 PLN ($13 USD).
The Gnomes of Wrocław
An array of tiny gnomes are dotted throughout the cobblestone streets and squares of Wroclaw. Officially, there are 163 gnomes in Wroclaw, but some estimate there are actually over 350. The whimsical statues have multiple meanings, representing trades, daily activities and the city's struggle against oppression.
Wroclaw's gnomes sprung from a protest movement in the 1980's that used humor and satire to oppose the communist regime. A group called Orange Alternative painted pictures of gnomes over government propaganda and sometimes dressed up as them.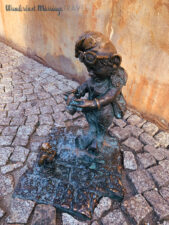 Tomasz Moczek, a graduate of the Academy of Art and Design in Wrocław is the sculptor of the gnomes. He created and placed the first sculptures in 2005 – a butcher gnome, musketeer gnome, laundress gnome, and gnome-Sisypheans, who are portrayed pushing a large ball from opposing sides. Since then, the local government and various businesses have commissioned gnomes sculptures and they've multiplied to become a quirky tourist attraction.
Cathedral Island
Dating to the 10th century, Cathedral Island (Ostrów Tumski), is the oldest area of Wrocław. Enjoy the picturesque approach over pedestrian-only Tumski Bridge. It crosses the Oder River and connects Wyspa Piasek island.
The 13th-century Gothic Cathedral of St. John the Baptist is a notable Wroclaw highlight. The seat of the Roman Catholic Archdiocese of Wrocław features elegant double-spires. Cathedral Island is dotted with beautiful gardens, monuments, museums and churches.
The Old Town of Wroclaw
The center of Wroclaw's old city is historic Market Square (Rynek). The expansive square is one of Europe's largest. Impressive buildings, featuring a variety of architectural styles dating to the 13th century, include the Old and New Town Hall (Ratusz). Eleven streets converge into the market, which features two diagonally contiguous areas, the Salt Market and the square in front of St. Elisabeth's Church.
There are a variety of great restaurants, cafes and bars that line Wroclaw's Market Square. A great traditional Polish restaurant in the square is Pierogarnia Rynek 26. Their menu features a wide variety of pierogis and other Polish favorites like. There are also several international restaurants along the square, including multiple charming Greek restaurants and a lively Mexican eatery to wash tacos down with margaritas.
Wroclaw Spas and Saunas
Wroclaw is popular for wellness spas and saunas. There are several great spas within Wroclaw, as well as nearby spa towns. The Polish government even offers subsidies to senior citizens, who can take wellness spa getaways. Our regular readers know that we're big fans of health spas as it's a topic that we frequently cover.
Wrocławskiego Centrum Spa is among the great wellness facilities in Wroclaw. They offer a wide range of spa treatments, performed over soothing music. Treatment options include a variety of massage options, including couples massages. Body care rituals, balneology, hydrotherapy, aromatherapy and body modeling treatments are additional options. They also feature a full size swimming pool, in a lovely state of the art facility.
Wrocław Hotels
Hotel Monopol
The 5-star Hotel Monopol offers a luxurious stay in the center of Wroclaw. Rooms feature a stylish interior design with hardwood floors, flat-screen satellite TV, minibar and work desk. Amenities include a swimming pool, spa facilities featuring a sauna and steam bath as well as a fitness center. The property has two on-site restaurants, with one focusing on traditional Polish dishes, while the other offers Mediterranean cuisine.
Old Town Haston
Old Town Haston offers a fantastic stay in the heart of Wroclaw. Modern and well appointed rooms feature private bathrooms, air conditioning, flat-screen TV and a refrigerator. The property also has a sauna. It's central location means it's walking distance to popular attractions like Wrocław Cathedral, Galeria Dominikańska Shopping Centre and Wrocław Town Hall.
Apartment Rentals in Wroclaw
Vrbo has lovely apartment listings for Wroclaw. We stayed in a fabulous centrally located apartment in Wrocław that is laid out over two floors. It's a wonderful place to stay to work remotely, as we each had our own floor to work.
Families and groups of friends will especially find the best value booking apartments in Wroclaw. Read reviews carefully and choose properties with lots of great reviews for the best experience.
Consider Stopping in Łódź for 1 Day
History buffs should also consider stopping in the town of Łódź, which is on the way from Warsaw to Wrocław by train or car. Łódź is Poland's 3rd largest city and was the center of the textile industry in pre-war Poland. 19th-century machinery, fabrics and handicrafts can be found at the Central Museum of Textiles.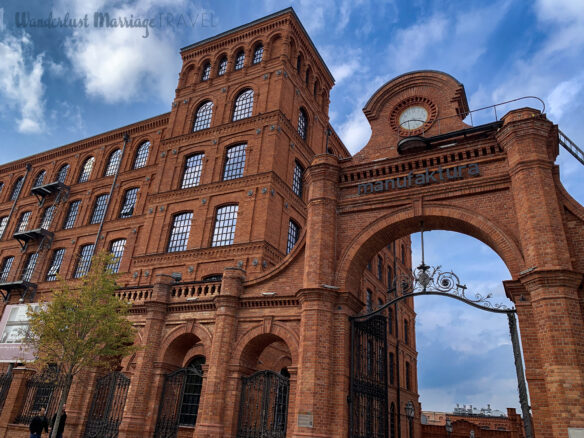 The restored Manufaktura complex was once a bustling industrial brick factory. It now houses a lively culture and arts center, in addition to a spacious shopping center packed with major retailers. Łódź is like the Polish version of Manchester, England, another city we've enjoyed visiting. We enjoyed staying with friends in Lodz and thank them for their gracious hospitality!
More Popular Destinations to Consider for a 10 Days in Poland Trip
Gdansk
Gdansk is also a fantastic city located along the Baltic Sea. Highlights of Gdansk include an impressive Old Town, the Gdansk Shipyard, and the European Solidarity Centre. From Gdansk, you can take a day trip to the Teutonic 14th-century Malbork Castle. The UNESCO World Heritage Site is one of the largest brick castles in the world and its museum houses a vast collection of medieval artifacts, paintings and amber.
Poznan
Poznan is another popular city in western Poland, and the closest major city from Berlin, Germany by train. Renaissance buildings dot its Old Market Square, featuring the town hall clock with mechanical goats that butt heads at noon. The university town features an impressive array of gothic and baroque architecture, including Saints Peter and Paul Cathedral, located on Ostrow Tumski island.
Torun
Torun, a beautiful medieval city on the Vistula River can also make for a nice one day trip from Warsaw. Highlights of Torun include its charming Old Town, the Copernicus Museum and the Leaning Tower.
10 Days in Poland Recap
There is a wealth to experience while spending 10 days in Poland. So what you ultimately decide to see depends on your interests. Warsaw, Krakow and Wrocław are three of the most worthwhile destinations. Between the three, Wrocław is the closest to reach by train from both Berlin and Prague.
Polish accommodations and cafes often have reliable Wi-Fi. This makes Poland a solid choice for working remotely, like we did. Visitors can certainly spend even longer exploring this beautiful and interesting country. Read our remote work tips in our previous article!
Have questions on this 10 days in Poland itinerary? Leave a remark below in the comments section. You can also email me at [email protected] and I'll get back to you!
Disclosure: This article contains some affiliate links. We can earn a small commission when you book through certain links. Thanks for your support in helping independent travel journalism.