The Balkan nations offer idyllic slices of historic European beauty. Pristine coastlines, rugged mountains, medieval towns, delicious cuisine and hospitable locals highlight the region. It's also generally a less expensive area compared to most of western and northern Europe. Dubrovnik, Kotor, Budva and Mostar are some of most romantic Balkans towns to visit. They encapsulate the beauty of countries like Croatia, Montenegro and Bosnia & Herzegovina.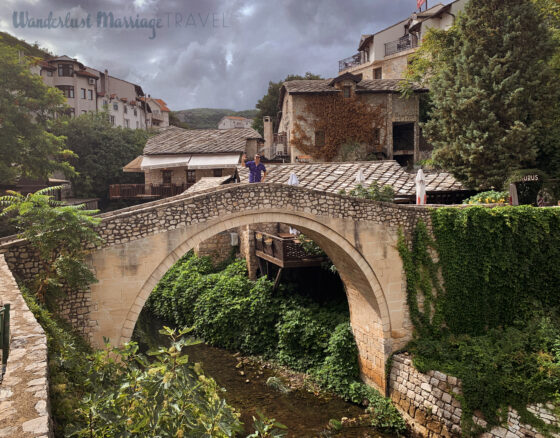 Topics Include:
Dubrovnik, Croatia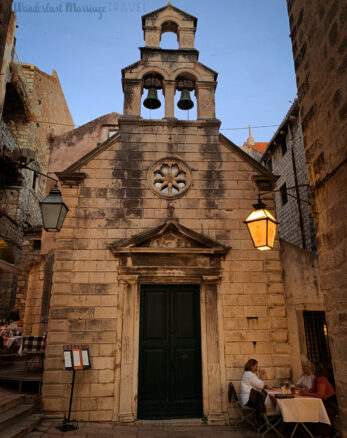 Dubrovnik is a favorite Croatian destination for excellent reasons. The UNESCO World Heritage Site features one of the best-preserved medieval walled cities in the world. Combined with striking mountaintop views of the Adriatic Sea, Dubrovnik oozes old world charm. It's a city of stairs, so be prepared to walk. All the walking will allow you and your love to indulge in an extra scoop of ice cream or a delicious bakery treat!
The historic center of Dubrovnik is pedestrian only. This further adds to the allure and romance, but not if you have to lug heavy suitcases through the old town! Tiny laneways weave through a maze of stairs, opening to squares dotted with statues and picturesque restaurant terraces, perfect for dinner for two.
Croatian Specialties
Croatian cuisine is excellent. Be sure to try squid ink pasta, it's a local specialty that we always love ordering. Fresh seafood, pasta and pizza are popular local favorites in Dubrovnik. Check google reviews carefully, as some restaurants are overpriced tourist traps. You can still find a great meal in the historic center, although it's impossible not to be surrounded by tourists. If you want to visit a truly local restaurant, you'll need to leave the historic walled center of Dubrovnik!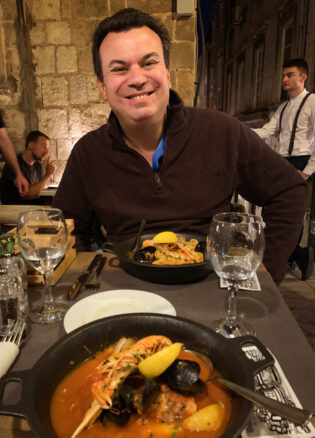 MOSKAR Dubrovnik Street Food is one of our favorite restaurants in the historic center of Dubrovnik. Their terrace is lovely for a romantic seafood dinner. Like many Dubrovnik eateries, MOSKAR shutters its doors during the colder months.
Small Boat Tours of Dubrovnik
Take a small boat tour of Dubrovnik's outer sea walls. The views of the Adriatic Coast are breathtaking. A fantastic date idea is taking a private boat tour for two like we did. At around 30 euro for 45 minutes, it's one of the best value tours in Dubrovnik. Visitors can save money by taking a tour on a larger boat. There's even a pirate ship boat tour, which is fun for families with kids.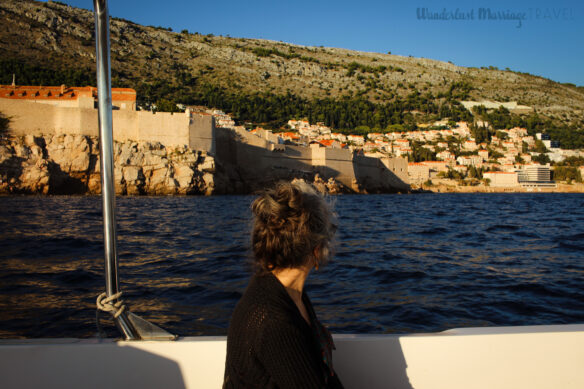 Dubrovnik Hotels
A great hotel for a couple's getaway in Dubrovnik is the Hilton Imperial Palace. It's housed in a historic building dating to 1897. Their guest rooms reflect late 19th-century charm, combined with modern technology.
The Hilton Imperial Palace is located just outside Dubrovnik's Old Town. The grand hotel features an indoor pool, wellness center with saunas, a hammam, fitness and massage facilities. Guests can easily walk to the historic quarter from the hotel. But also catch a taxi or Uber elsewhere since Dubrovnik's Old Town is pedestrian only.
Best Months to Visit Croatia
Dubrovnik's popularity makes it the most expensive destination in the Balkans. Avoid visiting in July and August if you can. Temperatures are hot during the summer. And the historic center gets extremely crowded with the additional influx of thousands of cruise ship passengers.
We recently visited in September, which is a great time to visit. The weather is pleasant, and the historic center is bustling with visitors. So don't expect to have the streets to you and your love, but the crowds are manageable. Winters along the Croatian coast are cold. While that might work for some visitors, it's not so ideal for a romantic getaway.
Dubrovnik is one of the romantic Balkans towns. Couples can enjoy high end food, stunning views and charming laneways. Also consider renting a car to explore the Adriatic coast, which is lined with breathtaking scenery.
Dubrovnik is a wonderful destination for a honeymoon or wedding anniversary. But there are many more beautiful Balkans towns besides Dubrovnik. Especially if you want to avoid crowds and spend less money!
Kotor, Montenegro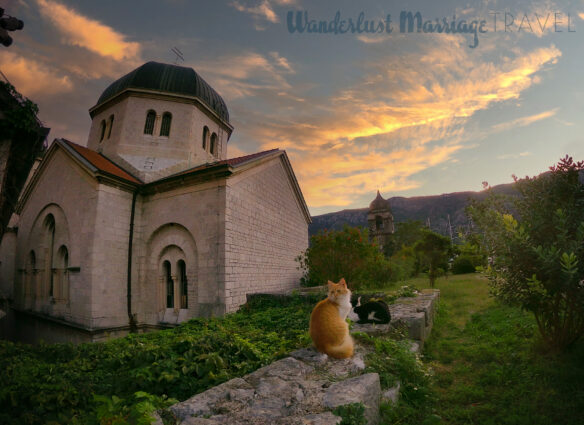 Kotor is one of our favorite towns in Europe. Its fortified walls house a charming historic center along the Adriatic Coast. Beaches line the bay, making it ideal for sunbathing and swimming in summer. Kotor rests just 90km (55 miles) along the coast from Dubrovnik; making it a handy destination to reach by car, ferry or bus.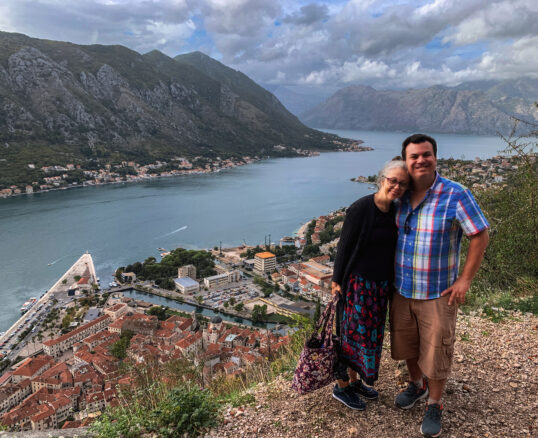 Nestled in a bay near the limestone cliff of Mt. Lovćen, Kotor offers amazing views of mountains and sea. For adventurous couples, there are some great hikes. If you exit the old town via the North gate and follow the river back toward the mountains, you will find a switchback trail. Follow that trail and you will find a small cafe.
We sat and enjoyed coffee, cats, and one of the most amazing views we've had over a cup of coffee. The owner also randomly offered all his guests some complimentary homemade raki. It is the perfect spot to spend an afternoon that transport you away from the hustle and bustle of the world.
Kotor's medieval old town is a maze of winding streets and squares that are perfect for exploring with your love. There are several Romanesque churches, including St Tryphon's Cathedral which was built in 1166. Once you're done wandering the streets there are plenty of places to grab a coffee and people and cat watch.
Kotor is a Cat Lover's Paradise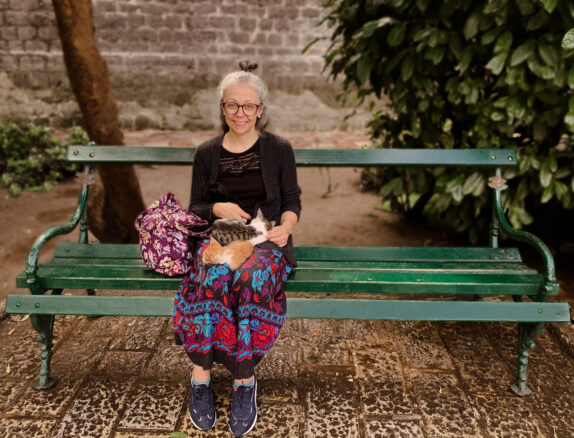 Kotor is also a wonderful destination for cat lovers. They are a staple of the town and the locals feed, dote on and generally take care of their feline friends. I once found Bell sitting in a square with 3 kittens sleeping in her lap! The cats are among the most popular attractions in town. They feature on many handmade magnets and artwork sold at gift shops around town.
Cats are a symbol of good luck in the village. As it is told the cats of Kotor warned residents, with a creepy meowing, when something terrible was coming. Locals once evacuated, and shortly afterwards a devastating earthquake hit the area.
Maritime Museum
The Maritime Museum chronicles local seafaring history. The museum features nautical history exhibits, including model ships, paintings & furniture. The Maritime Museum of Montenegro opened to the public in 1900. Their collection was founded by the "Boka Marine" Fraternity, around the year 1880 and has grown since.
Great Kotor Restaurants
For a wonderful steak dinner, visit Marenda Steak House. Their quality beef is dry aged for over 30 days for optimal mature and robust flavor. We chose our cut from one of the refrigerators stationed in their dining room. The tender cut came to our table perfectly grilled, medium rare as per our order, atop a sizzling hot plate. It's a great steak for half of what you'll pay for the equivalent in USA and western European steakhouses.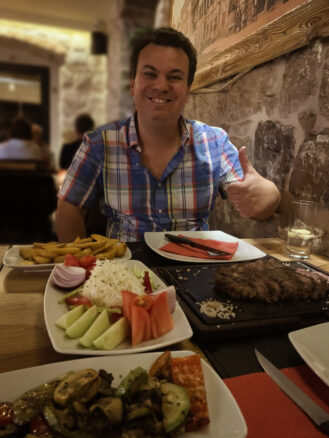 Bastion 3 is a wonderful local restaurant that was recommended to us by the owner of the guest house we stayed in. It's just a minute walk outside the historic center of Kotor. They have a beautiful terrace lined with grape wines. Its a wonderful place to enjoy a Montenegrin mixed grill of beef, chicken, pork and sausage, served alongside fried potatoes. Patrons near us were locals on the day we visited. So it seems like a great place to avoid fellow tourists, for now!
Kotor oozes romance as there are so many incredibly beautiful spots to share with your partner. We plan to return to Kotor someday as it's our favorite destination on this list.
Charming Apartment Hotel in the Heart of Kotor's Historic Center
We loved our 5 night stay at Royal House. It's centrally located within the UNESCO-protected Old Town of Kotor. The property offers accommodations with a separate kitchen. Decorated in stone walls, all units include air conditioning and a flat-screen TV with many international channels. A dishwasher and oven are also offered, as well as a kettle. Rooms include a private bathroom with a shower. Complimentary WiFi is available throughout the property.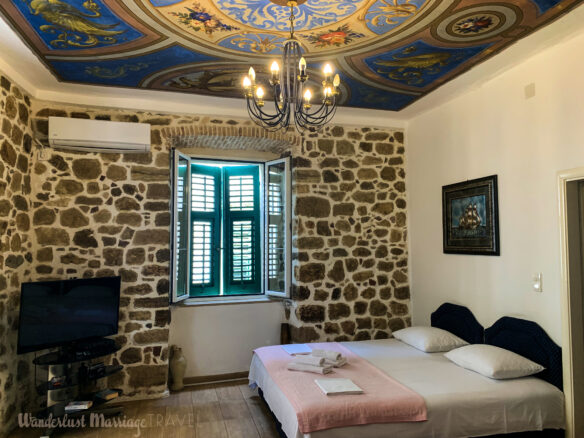 Royal House is also a short walk to the beach and marina. Visit the market and buy some delicious Montenegrin cured ham and olives, and store it in the fridge for breakfast or lunch. The owner is extremely friendly, and provides lots of local tips – including eating at Bastion 3. This is a perfect stay for travelers that enjoy apartment style accommodation and feeling like a local.
Budva, Montenegro
Budva is considered the Miami of Balkans towns. High-rise resort hotels line its seaside promenade. Along the beach, there are great beachside restaurants, bars and cafes. Budva also has a lovely historic center that rivals the charm of Kotor. There are even some beach bars right along the old town walls.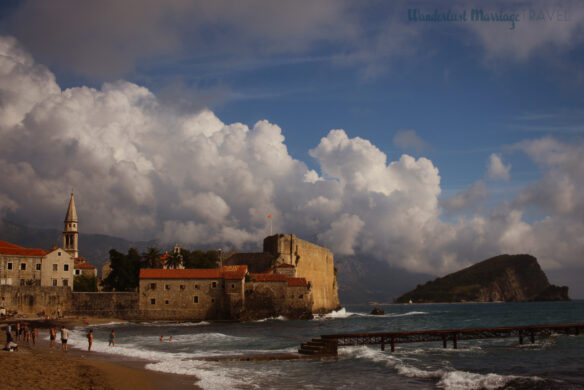 Budva is also one of the most popular Balkans destinations for partying. There are a variety of clubs around town. We didn't party at any of the Budva clubs, but Trocadero and Omnia are two of the most popular ones. Trocadero is ideally located just off the beach.
Budva is a lovely Balkans town for a beachside getaway. Charming seafood restaurants line the marina. They offer tasty and picturesque meals for reasonable prices. Budva's beachside cafes are idyllic for morning and afternoon coffee, drinks and breakfast or lunch. We enjoyed the beautiful seaside views, while working from the cafes during the day. And yes, most of them have free WiFi!
Small Boat Tours of Budva, Montenegro
The marina is lined with small boat tour operators. They offer a variety of tours to experience a seaside view of the area. There are also nearby islands to explore. During our late September/early October visit, we didn't need to book a boat tour in advance.
We organized a one hour private tour with a small boat operator. It offers the opportunity to get a seaside view of Budva and capture some lovely photos.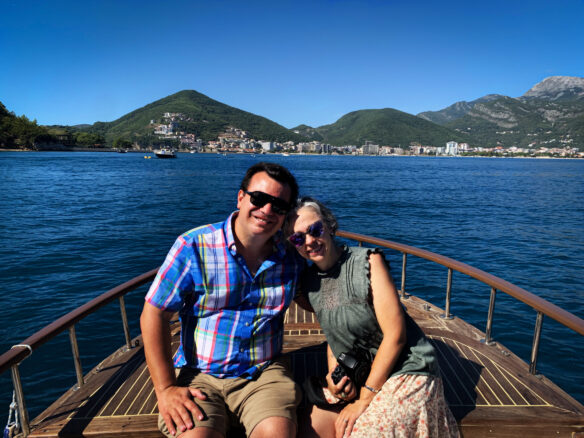 Budva Ballerina Statue
Just on the outskirts of the old town is the Budva Ballerina statue. This beautiful bronze sculpture is said to represent the lost love between a ballerina and sailor. This young lady came to this spot to wait for the return of her love from the seas. But alas, he never returned, and she died of a broken heart.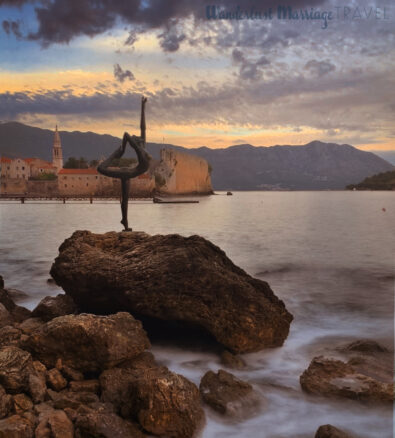 Great Hotel in Budva for a Couples Trip
Newly built in 2019, we loved our 4 night stay at Fontana Hotel & Gastronomy. Modern and well appointed rooms have lovely views of the Adriatic Sea and Budva's historic quarter. It's a stone's throw from the beach, and a short walk to Budva's Old Town. Their complimentary breakfast buffet offers a tasty variety of Montenegrin and international favorites, including delicious made to order omelets. We highly recommend staying at Fontana during a visit to Budva!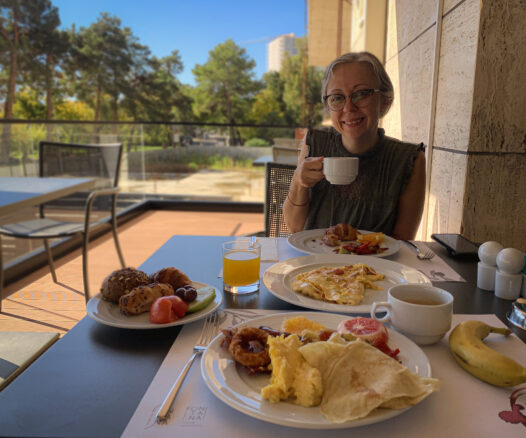 Delicious Budva Restaurants
One of our favorite seaside restaurants in Budva is Jadran. Meat lovers should order a traditional Montenegrin mixed grill, consisting of chargrilled pork, chicken, beef and sausages. Of course, being along the Adriatic Sea, there are good seafood dishes too. Jadran also has a lively pub adjacent to its seaside restaurant. They have a nice draft beer selection including Montenegrin, Belgian and German beers.
We enjoyed one of our favorite meals in the Balkans at PastaBar. Flavorful and interesting dishes are prepared with fresh homemade pasta. They have a lovely terrace within the historic city center, alongside the medieval stone walls. This is a great place to enjoy a delicious dinner paired with tasty local Montenegrin wine.
Mostar, Bosnia & Herzegovina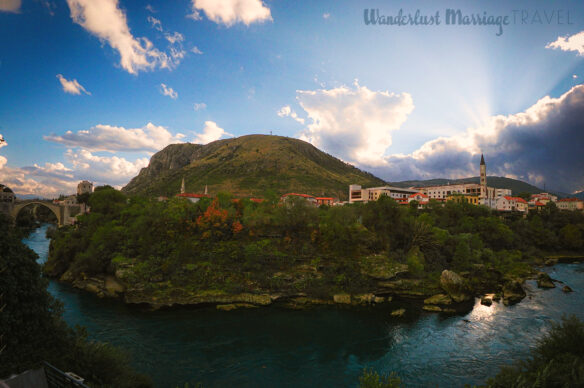 Mostar is among the most charming and unique Balkans towns. The region was a crossroads between the Ottoman and Austro-Hungarian empires for centuries. Bosnia and Herzegovina is a predominantly Muslim country, a carryover from centuries of Ottoman/Turkish rule. Large populations of predominantly Orthodox Christian Serbs and Catholic Croats constitute sizable minorities in religiously diverse Bosnia & Herzegovina.
Mostar's iconic Stari Most (Old Bridge) is strikingly beautiful, unique and probably the most famous landmark in Bosnia & Herzegovina. Cobblestone streets are lined with artisan shops and market stalls. The Neretva River dissects the city and has a wealth of great restaurants with gorgeous views.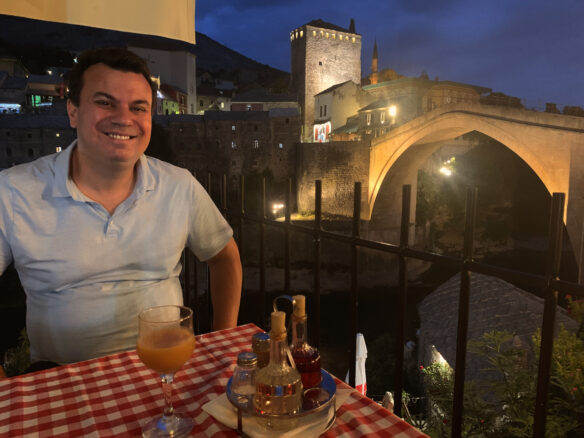 The Stari Most Medieval Bridge is one of the Most Beautiful and Unique Bridges in Europe
The reconstructed Stari Most medieval arched bridge has a unique pointed peak. The bridge was first constructed in 1566 under orders from Suleiman the Magnificent, the Ottoman ruler at the time. It was previously destroyed during the Balkan wars in the mid-90's.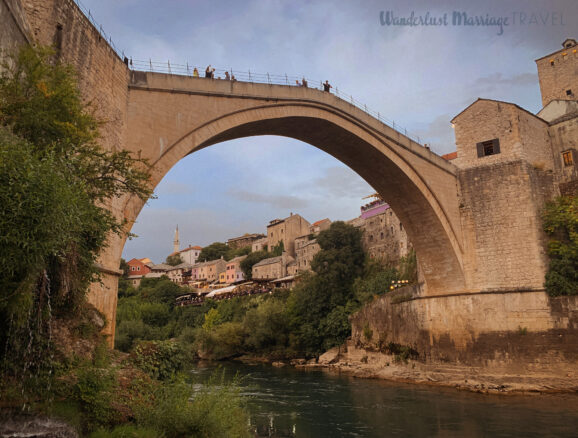 The Stari Most bridge has been subsequently rebuilt to offer one of Europe's most lovely vantage points. Adventurous couples can even organize a dive off the Stari Most bridge with the local diving club. Just be certain to be in good health and be very careful! We didn't partake but enjoyed watching some of the locals and tourists taking the plunge. Red Bull also hosts an annual diving competition on the Stari Most bridge!
Climb the narrow staircase leading to the top of the Koski Mehmed-Pasha Mosque's minaret. It offers fantastic panoramic city views of Mostar. The minarets of Mostar's mosques, Neretva River and surrounding mountains provide dramatic scenery. Wonderful vistas are in abundance in one of the most romantic towns in the Balkans.
Mostar Day Trips to Explore Herzegovina
Mostar also serves as a great base to explore the beautiful Herzegovina region. Three popular highlights include Kravice Waterfalls, Počitelj and Blagaj. Visitors can also visit these destinations on day trips organized from Dubrovnik.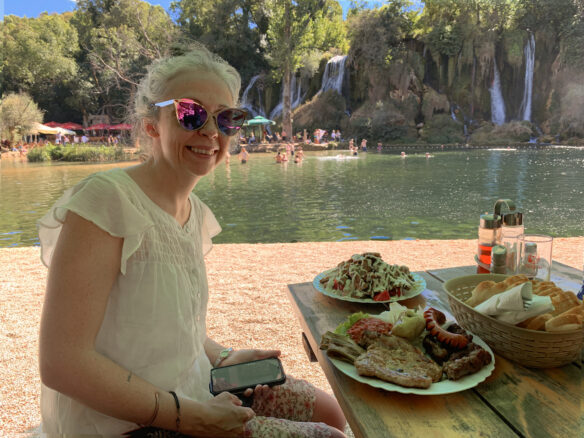 Kravice Waterfalls is one of the most popular attractions in Bosnia & Herzegovina. It draws huge bus loads of tourists even through September. Plan to have a delicious lunch next to the waterfalls. The mixed grill we ate was delicious and surprisingly inexpensive given the location. Kravice Waterfalls offers stunningly beautiful nature, an ideal day trip from Balkans towns.
Počitelj is a wonderfully well preserved hillside village in Bosnia and Herzegovina. Upon arrival, purchase some fresh juice from a street vendor before hiking to the top of town. Autumn is pomegranate season, so that's the perfect time for fresh pomegranate juice. Stunning views overlooking Počitelj and the region, including the Neretva River can be seen from the top. The historic walled town is a protected National Monument of Bosnia and Herzegovina.
Surrounded by green rolling hills, Blagaj is a beautiful and unique village located just 13 km (8 miles) from Mostar. It's highlighted by the mountainside Blagaj Tekija, a Dervish monastery that's nearly 600 years old. Visitors can pay a small fee to tour the historic monastery. Another highlight of a visit to Blagaj is a small boat tour through the cave. Blagaj offers exceptional natural beauty with fantastic views.
Charming Mostar Hotel Recommendation in the Historic Center
Stay in the heart of historic Mostar for a wonderful experience. We enjoyed our cozy and modern stay at Hotel Emen, with everywhere in Mostar's historic old town on the doorstep. All rooms are air conditioned, which is especially important during Mostar's brutally hot summer months.
Enjoy a traditional Bosnian breakfast in Hotel Emen's spacious dining room. It features Bosnian coffee served in beautifully handcrafted copper cups and plates. Breakfasts are huge, with a variety of eggs, olives, nuts, spreads, fruit and breads.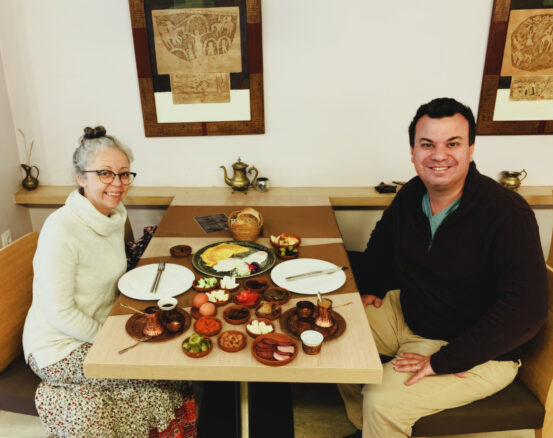 Hotel Emen's staff are friendly and can also assist with booking transfers and tours. Just know that their private "tour" to Blagaj and Kravice Waterfalls is more of a private driver than a tour. The driver's English was basic, and he didn't offer very much information on the beautiful destinations we visited. Though we did appreciate the comfortable private vehicle and great table that was booked for lunch adjacent to Kravice Waterfalls.
Mostar offers old world charm to indulge in romance at a slower pace. Many visitors arrive on day trips from Dubrovnik, which is great for those short on time. Its Ottoman influence has left a slice of the Muslim world in central Europe, and if you have the time spend a few days to soak all that in.
Getting to Mostar from Sarajevo
We traveled to Mostar by train from Sarajevo. The train ride from Sarajevo to Mostar takes 2.5 hours. Weaving through the mountains, and along rivers, it's a strikingly beautiful train journey. The train we took was modern and included air conditioning.
The downside of Bosnian trains is very infrequent service. So check the schedule and plan accordingly. We purchased our tickets from Sarajevo train station. Just a heads up that they only take cash, so have enough Bosnian convertible marks with you.
Travel Between Mostar and Dubrovnik
Visitors can also organize a private driver to Mostar from Dubrovnik. The cost is around €150 ($163 USD).
Buses also connect Balkans towns like Mostar and Dubrovnik. And these destinations are included on many organized bus tours of the Balkans through various travel agencies.
We took the bus from Mostar to Dubrovnik. The downside was inexplicably crossing the Bosnia/Croatia border twice. That added time to what should be a short bus trip. Bosnia has a small slice of Adriatic Coast, including the seaside town of Neum. We had the opportunity to check out the coast when the bus stopped for a 30 minute lunch break in Neum. It's another charming Balkans town to visit!
Best Months to Visit the Balkans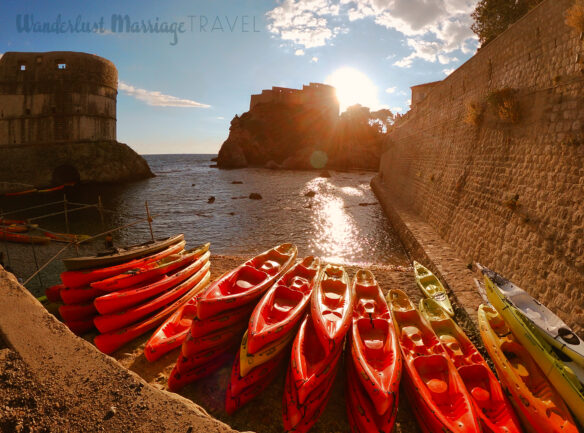 The summer months, especially July and August, are very busy and extremely hot. Europeans tend to take their vacations in those months. Summer is a good time to swim in the Adriatic Sea as the water is warmer.
But optimally, September is the best month to visit the Balkans. The crowds thin after summer holidays, and the Adriatic Sea is still warmer in early September. Spring is also a good time to visit for cooler temperatures that are ideal for sightseeing.
The Balkans get cold in winter. And as visitors drop significantly, many hotels and restaurants close in winter. It's not ideal for most romantic travels, but if you want to feel like you have the destination to yourself, it's a good time to go.
Romantic Balkans Towns Recap
These are some of our favorite Balkans towns for romance that we've visited during our travels through the region. Destinations like Kotor offer unrivaled beauty at a tremendous value. Dubrovnik is extremely popular, so if you're on a budget, don't plan to stay as long there. Long-term traveling couples will find better value staying longer in places like Kotor, Budva and Mostar.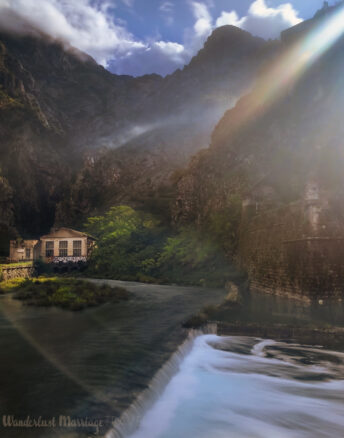 Are Balkans Towns a Good Honeymoon Destination?
We met an American couple from North Carolina in Mostar who were on their honeymoon. They began their trip in Dubrovnik, visited Split, then drove through Bosnia to Mostar. They added Budva because they also wanted to party while in Montenegro.
These destinations are ideal for a honeymoon or romantic getaway itinerary. There are also many smaller beautiful destinations along the Adriatic coast of Croatia and Montenegro. Bosnia has a sliver of coast, and the town of Neum is lovely. We only passed through there traveling from Mostar to Dubrovnik, but would love to get back and spend some time on the Bosnian coast.
Read our article covering many of the world's most romantic destinations. If you have questions about traveling to these Balkans towns, let us know!