The Keukenhof tulip garden is a beautiful display of primarily tulips, but also other pretty flowers and not just your regular tulip varieties, but funky varieties! Each year a theme is chosen and when I went with my mum it was New York City, because in 2009 the Netherlands was celebrating the fourth centenary of their relationship with the United States. For 2013, the theme is the United Kingdom.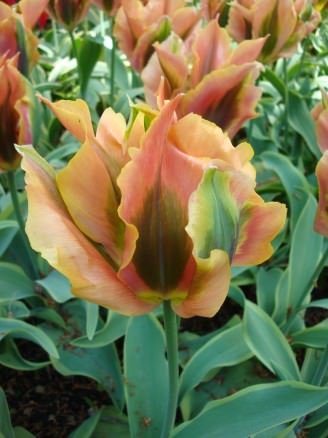 Regardless of the theme, what you will find is over 7 million tulips arranged spectacularly around the grounds. A fascinating fact about tulips is that the funky petals and stripes were not originally due to cultivation, but rather the tulip breaking virus, the virus effects the bulb and the symptoms result in stripes, streaks, and feathering of different colours. Different symptoms occur as it depends on the age of the bulb when infected and also the plant variety.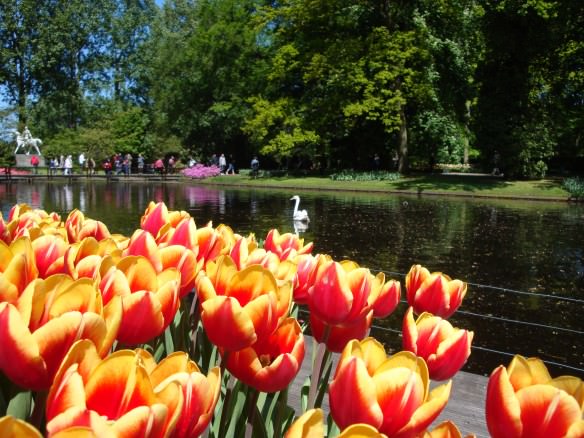 The condition of the gardens depends on when you visit, Mum and I went toward the end of the gardens, so some of the flowers were dying, but it was quiet and not over run with people. We were fortunate to have a sunny day and we packed a picnic lunch, though there is a cafe located at the entrance to the garden. It was really peaceful and we didn't mind that a few of the millions of flowers had already died.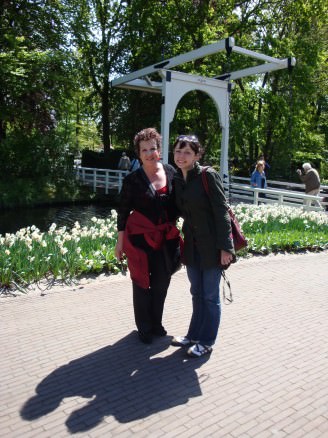 There is also a petting zoo in the gardens, I of course had to jump on in and pet the goats, lambs and llamas! Mum just stood by and watched, so it is a great place to bring children, or me!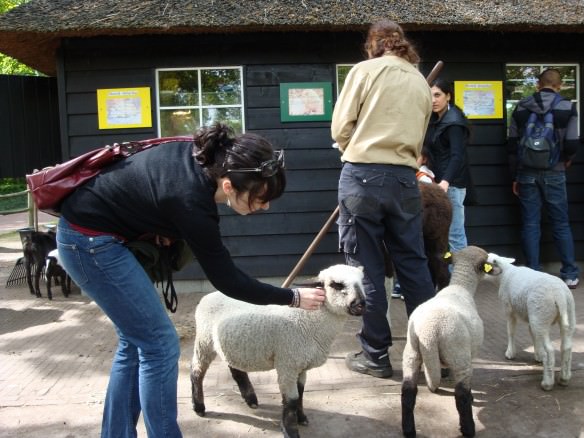 A lot of people have asked whether I think it worth paying to visit the tulip garden, and in general I think so. While you can go to the tulip fields at the right time of the year and see rows and rows of tulips, which are amazing and beautiful, the gardens offer something a little different. You won't see the funky varieties of tulips in the fields and mum and I spent the whole day there, so for our €21 it was worth it.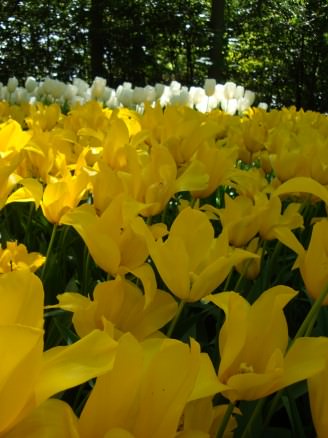 This year, 2013, the garden will open on the 21st of March and will close on the 20th of May. Entrance is 15 euro, but as the garden is between Amsterdam and the Hague you will need to travel a short distance to get there. If you are up for biking, it is about a 30km bike ride that will take approximately 2 hours (maybe that sounds ridiculous but the Dutch have a massive biking culture, though not usually at those distances). Or you can buy your bus ticket and entrance ticket for 21 euros and the bus leaves from Leidseplein in the center of Amsterdam or Schiphol Airport. They are open from 8am until 7:30pm daily during this time.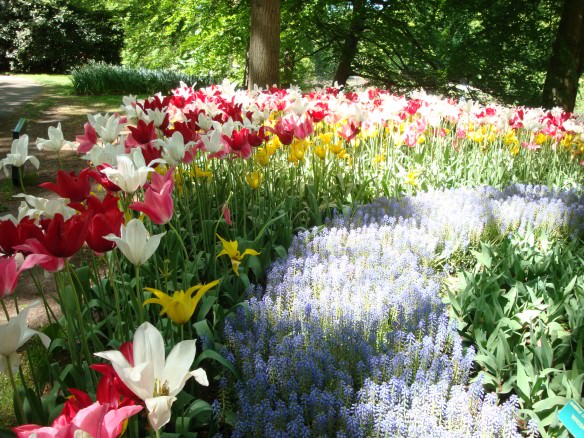 Where to Stay in Amsterdam?
First, you need a place to stay. Hotel prices in Amsterdam can vary wildly depending on time of year and availability. Try and book something with free cancellation well in advance when you can, especially for summer and the holidays! Then you can always cancel later if you need to.
Luxury: 
Pulitzer Amsterdam is a great luxury choice with first class amenities and a lovely central location on Prinsegracht (western canal belt). It's walking distance from everything, but a fair bit away from the Red Light District and other noisy parts of the city.
Radisson Blu makes for the one of the best value upscale stays in Amsterdam.
Mid Range:
Citizen M is a comfortable and modern hotel in Amsterdam. Rooms come with an Ipad and a big selection of entertainment options.
We also recommend Motel One Amsterdam and Motel One Waterlooplein as they're good bang for buck, with an excellent breakfast.
Lloyd Hotel can also be great value, and it's centrally located near the Red Light District and Amsterdam Centraal train station.
Budget:
Backpackers should consider fun options like the popular Flying Pig Downtown and Flying Pig Uptown.
You'll generally find the best value booking short stay apartments in the Netherlands, especially in Amsterdam's historic center during summer and popular holidays like New Year's and King's Day. If you've never used Airbnb, sign up here for free and receive $40 credit off your first stay!
Disclosure: This article contains some affiliate links. We receive a small commission when you book or sign up through these links and it costs you nothing extra. When it suits you, please use them, as it helps us help you!