The Netherlands is one of the world's most densely populated countries, with a train system that efficiently connects picturesque towns and villages. Visualize impressionist paintings as you cross scenic landscapes dotted with colorful tulips in the spring, a particularly lovely time to visit Holland. While Amsterdam is a unique city, many smaller Dutch towns resemble miniature versions, with far fewer tourists. We lived in Amsterdam for 3 and 1/2 years and came to know the country well. Here are 10 awesome day trips from Amsterdam!
1) Haarlem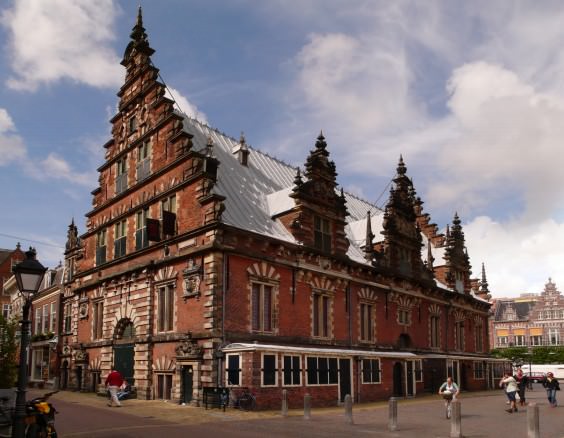 Haarlem is just a 15 minute train ride from Amsterdam with trains departing Amsterdam Central Station every 15 minutes or so. It's a picturesque town featuring the largest church in Holland, the Cathedral of St. Bavo. The main square (Grote Markt) is great to people watch over a local dish like kipsate (chicken sate) and a nice Dutch beer.
Beer enthusiasts should visit the Jopen Brewery, which is close to Haarlem's Grote Markt. The Jopenkerk is a former church that has been converted into a brewery. Jopen brews some of the finest beer in the Netherlands.
Haarlem offers much of the beauty of Amsterdam, on a smaller scale, with a more relaxed pace. That's why I included Haarlem in my small group tour of the Netherlands and Belgium. For scenery and convenience, Haarlem is one of the best day trips from Amsterdam.
2) Zandvoort Van Zee
Zandvoort Van Zee is a great to visit, especially when the weather is good. The Dutch beach scene is underrated for those that live outside the Netherlands. You can reach Zandvoort by train in just 30 minutes from Amsterdam Central Station. In the warmer months, the beach is lined with a great selection of multi-cultural restaurants and clubs right on the beach.
For diverse food and drink options, Zandvoort Van Zee is actually one of the best beach towns we've visited anywhere (along with nearby Scheveningen). The Dutch are a well traveled nation and they've brought many slices of the world to their beachside hangouts. That pairs well with a tasty Dutch or Belgian beer.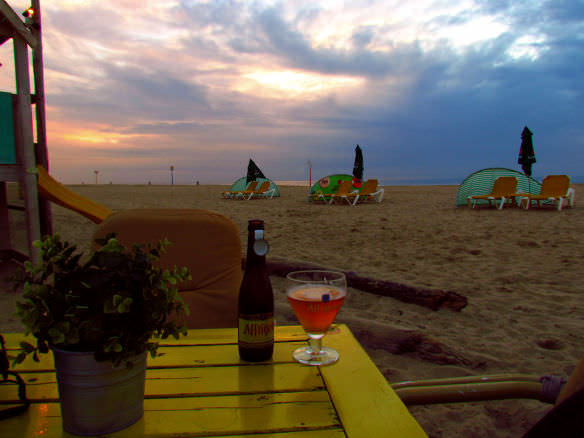 3) Den Haag (The Hague) & Scheveningen Beach
While Amsterdam is officially the capital of the Netherlands, the Dutch parliament building (Binnenhof) is in Den Haag. Den Haag is also home to the International Criminal Court, which you can visit. The town has an interesting mix of architecture, as skyscrapers mingle with centuries old buildings and canals. While the American Embassy is in Amsterdam, many other nation's embassies like Canada and Australia are located in Den Haag. Scheveningen Beach is just a 15 minute tram ride from the center of Den Haag so you can combine some culture with a beach day!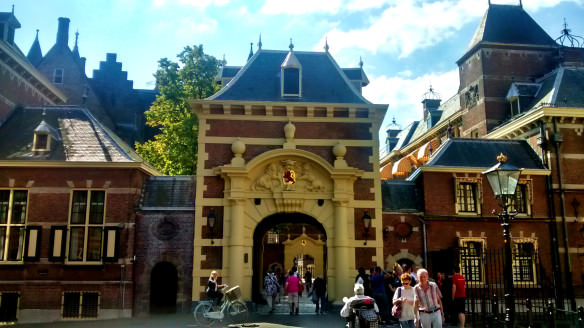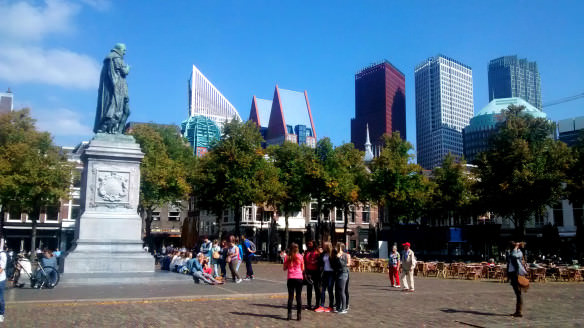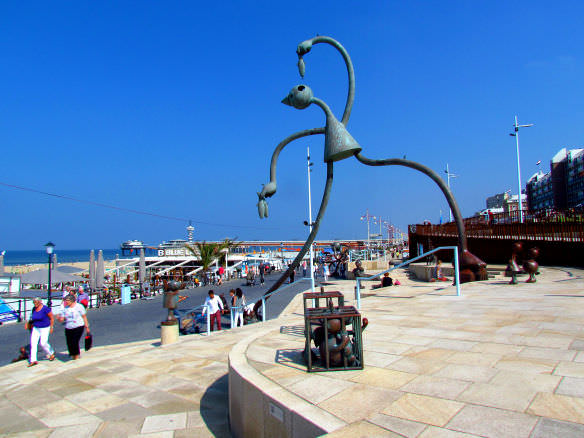 4) Rotterdam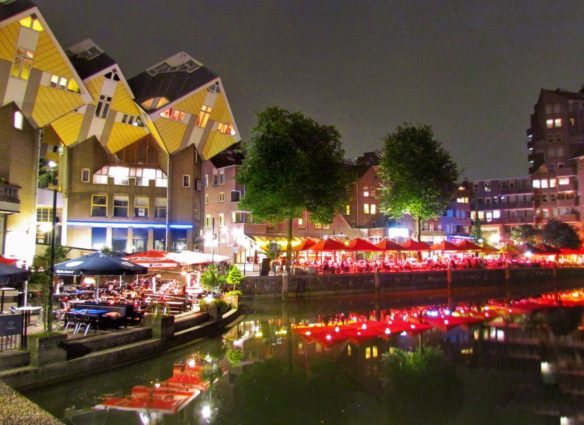 If we moved back to the Netherlands, we might choose to live in Rotterdam. Amsterdam's rival city was completely destroyed during World War II, but Rotterdam decided to re-build in a modern style. Rotterdam is a more blue collar city compared to Amsterdam and residents pride themselves on generally being less pretentious than those from the capital. It has some of the coolest modern architecture in the Netherlands, but also offers old world beauty around the Oude Haven (Old Harbour).
We highly recommend visiting the Rotterdam Market Hall (De Markthal). It is one of the coolest and most futuristic markets you'll come across. The indoor market hall is also home to apartments, that are part of painted fruit murals. Be sure to try delicious Dutch cheeses and maybe another favorite like herring or kibbeling (fried fish nuggets).
Close to Rotterdam is Schiedam, the gin (jenever) capital of the Netherlands. Distilleries like Kettle One are housed in a picturesque historic center dotted with windmills. Visit the National Jenever Museum to learn all about Dutch gin.
5) Utrecht
Amsterdam is sometimes referred to as the Venice of the North. But Utrecht can equally lay claim to that title, as its historic center is also lined with picturesque canals. And the canals of Utrecht can be strolled closer to water level than most areas of Amsterdam. Many enjoy Utrecht because it reminds them of a smaller and more laid back version of Amsterdam.
Utrecht is similar to Haarlem, but with even more canals. There's several great canal side restaurants that are just a couple feet above the water. Utrecht is only a 40 minute train ride from Amsterdam. So it's one of the best day trips from Amsterdam.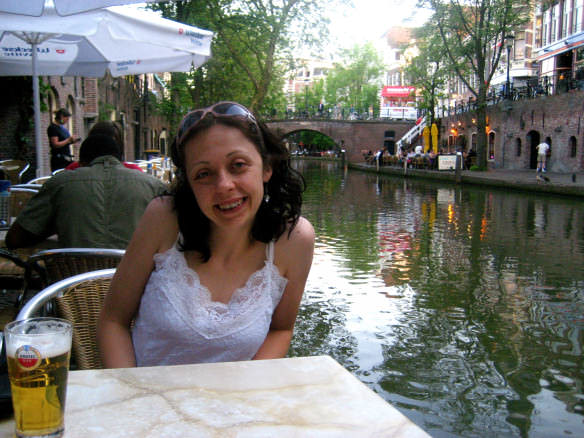 6) Delft
Delft is a little further than several towns on this list (about an hour from Amsterdam). But in the opinion of many, it's as beautiful as any Dutch town. Delft has lovely canals and one of the prettiest squares in the country. It's great to visit for the Saturday flea market. Delft blue china is famous and you'll see a lot of it in shops in Amsterdam. But the flea market in Delft offers an opportunity to buy some antique pieces at good prices. Among other things, you can also tour factories that make modern day Delftware. Delft was also home to Vermeer, who is famous for his painting, Girl with a Pearl Earring.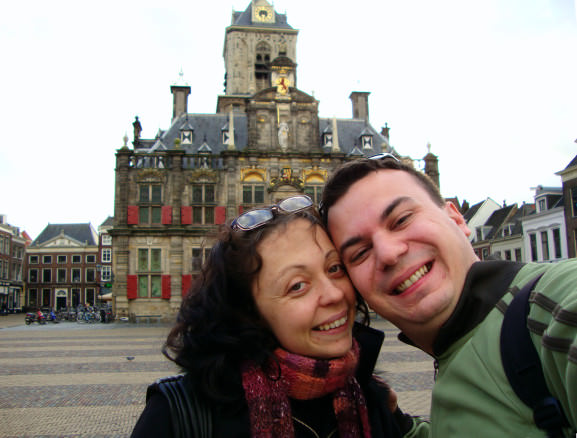 7) Alkmaar 
A pretty town in North Holland, you can reach Alkmaar by train from Amsterdam Central in around 45 minutes. The town's history dates back to 1254 and has a very popular outdoor cheese market every Friday from the first week of April until the first Friday in September. The National Beer Museum at De Boom is also worth a visit. There's also a cheese museum and a Beetles museum among other attractions in the town.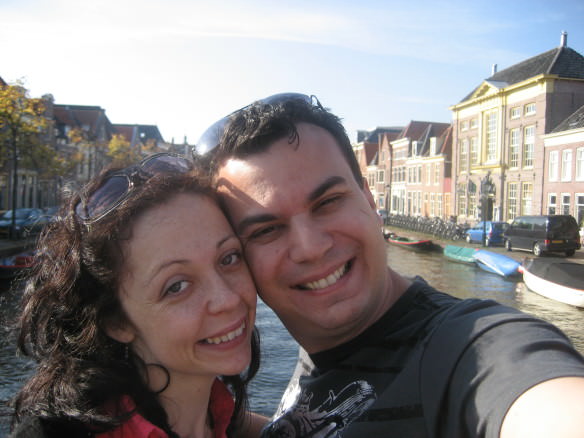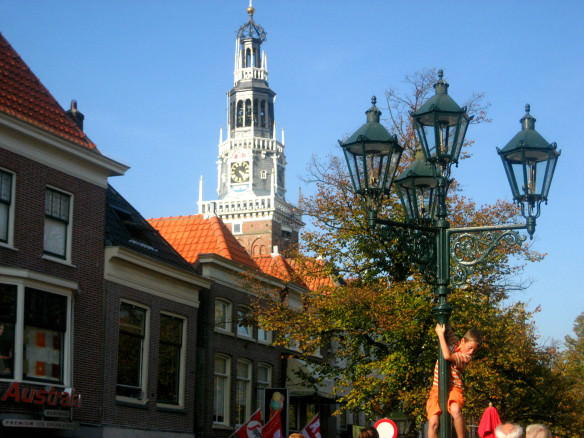 8) Tilburg (for the La Trappe brewery and De Koningshoeven Monastery)
Tilburg itself is not one of the prettiest Dutch towns, but the La Trappe Brewery at the De Koningshoeven Monastery is very pretty and interesting. Our visit there was one of our most memorable afternoons while living in the Netherlands. The monastery is just outside of town and you can catch a city bus there and enjoy lunch at the monastery's cafe before taking the brewery tour. While the tour was offered only in Dutch, our guide gave us an English printout and explained some key details in English throughout the tour. We've visited a lot of breweries in the world and this is probably the most beautiful of them!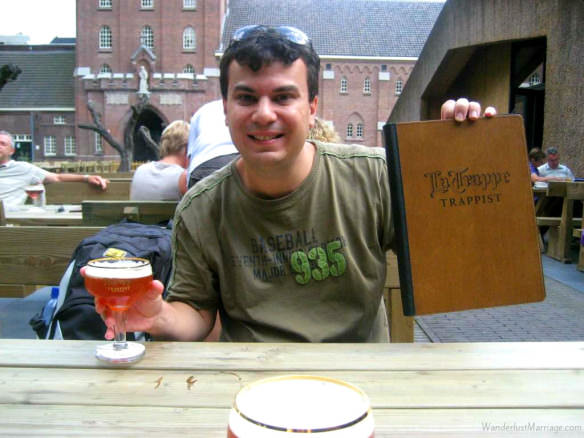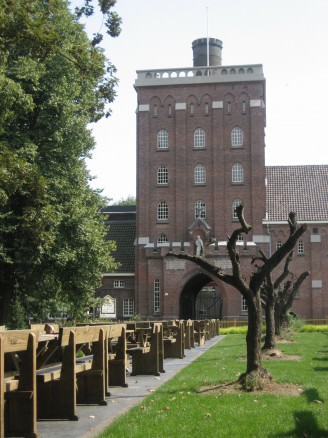 9) Gouda 
Gouda's cheese market runs every Thursday morning from 10am-1pm from the beginning of April until the end of August. While we never visited for the cheese market and actually never visited while living in the Netherlands, I finally had the opportunity to visit Gouda during a business trip to the country last year and really appreciated the beauty of the town. I also had the opportunity to visit the cheese museum located in the beautiful town square.
Gouda features one of the prettiest town halls (stadhuis) in the Netherlands. You only need a few hours to enjoy a town like Gouda before returning to Amsterdam. Combine it with a visit to a nearby town like Den Haag or Utrecht during a long summer day! Read more about Gouda in my article, Gouda: A Great Day Trip from Amsterdam!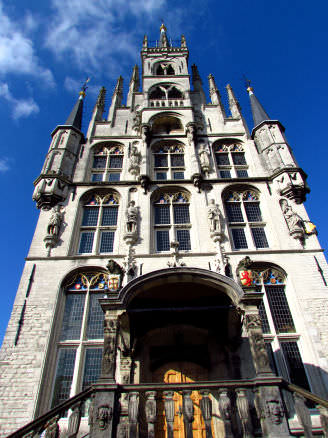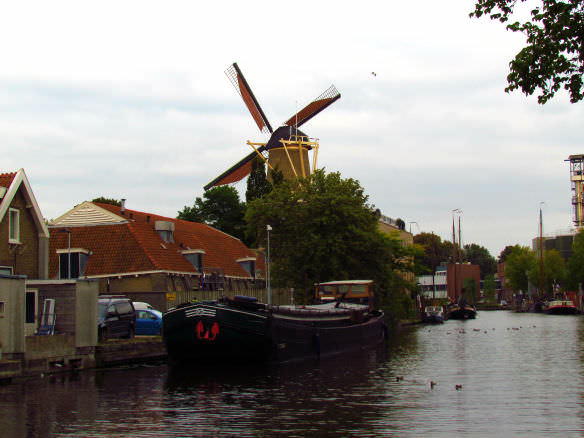 10) Maastricht
Maastricht is one of the prettiest Dutch towns, though not one of the best day trips from Amsterdam due to distance. Unfortunately, it's a 2 and 1/2 hour train ride from Amsterdam, so we don't recommend just a day trip unless you find a special daily train pass deal. Occasionally there's specials on Dutch train passes for sale at stores like Kruidvat.
We took a long day trip to Maastricht from Amsterdam with special passes we picked up at that store. Keep your eyes open if you're an expat living in the country, because if you can travel anywhere in the Netherlands in a single day at a really cheap price, then it's worth visiting Maastricht or Groningen this way. You can always nap on the train ride back like we did!
Residents of Maastricht speak a softer version of Dutch compared to Amsterdammers, who accent is much more guttural. Pay attention to this difference as it's interesting.
Over 3 million people visit the capital of Limburg. One of the biggest draws to Maastricht is for their carnival, which occurs immediately before Lent. So either in February or early March.
How to Search for Dutch Rail Tickets?
You can search and purchase rail tickets on directly on the Dutch NS website. For expats or people planning to spend awhile in the Netherlands, you may want to purchase a 40% discount rail card. That entitles you and another travelers to receive a discount.
The OV Chip Card
The rail system of the Netherlands also functions with an electronic OV chip card. You can purchase the OV Chip cards at Dutch rail stations for a non-refundable fee of 7.50 euro. You have to have a minimum of 20 euro on your OV chip card because if you forget to check out you're penalized 20 euro.
Don't Forget to Check In and Check Out with Your OV Chip Card
You'll often hear this announcement in Dutch and English on the trams in Amsterdam and elsewhere. But it's also important you check out from the train stations. Sometimes there are gates so you have no choice, but sometimes there isn't.
What Happens If I Forget to Check In Or Check Out with My OV Chip Card?
If you have an OV Chip card and you don't check in, you are subject to a fine. Train conductors randomly come through the carriages with chip card readers. If you forget to check out, you'll be penalized 20 euro. That's because the system assumes you gamed it by traveling further.
Where to Stay in Amsterdam?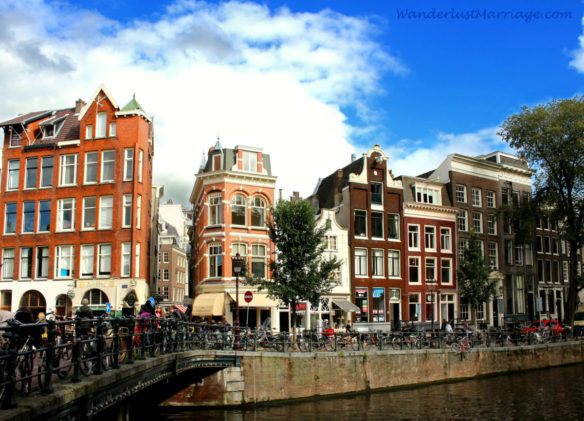 Hotel prices in Amsterdam vary depending on time of year and availability. Book something with free cancellation as soon as you know your dates of travel, especially for summer and the holidays!
Luxury: 
It doesn't get more luxurious than the 5 star Waldorf Astoria Amsterdam. Set along the UNESCO World Heritage listed Herengracht canal, the hotel is made up of six monumental 17th century canal palaces. The 2-Michelin star restaurant Librije's Zusje Amsterdam is perfect for an on site gastronomic experience.
Pulitzer Amsterdam is a great luxury choice located within 25 interlinked 17th and 18th century canal houses, between the famous Prinsengracht and Keizersgracht canals. Combining traditional and modern Dutch design, the hotel has 225 unique guest rooms and suites. It's walking distance from major attractions, but on a quieter end of the picturesque western canal belt.
Radisson Blu features spacious rooms with colorful themes in the center of Amsterdam. Their on site restaurant serves international meals and an extensive breakfast buffet.
Mid Range:
Citizen M is a comfortable and ultra modern hotel in Amsterdam. Every room at citizenM Amsterdam has wall to wall windows and large beds with luxurious linens. Guests can modify room color, temperature, control the smart TV and also adapt the black out curtains all from an Ipad mini.
We also recommend Motel One Amsterdam and Motel One Waterlooplein as they're good bang for buck, with a great breakfast buffet featuring delicious higher end bakery quality breads, pastries and croissants. All rooms have a private bathroom, air conditioning and flat screen TV.
Lloyd Hotel offers individually designed rooms in a transformed historic building. Within 10 minutes you can reach Amsterdam Central Station by tram.
Budget:
You'll generally find the best value booking short stay apartments in the Netherlands, especially in Amsterdam's historic center during summer and popular holidays like New Year's and King's Day. If you've never used Airbnb, sign up here for free and receive $40 credit off your first stay!
Backpackers should consider fun options like the popular Flying Pig Downtown and Flying Pig Uptown.
Questions on Day Trips from Amsterdam?
I previously guided a small group tour through the Netherlands and Belgium. You can read about it on Recap on Guiding a Tour of Belgium and Holland. You may also want to read our article, How to Spend One Day in Amsterdam.
Feel free to comment below or email me at alex@wanderlustmarriage.com if you have questions about planning a trip to the Netherlands!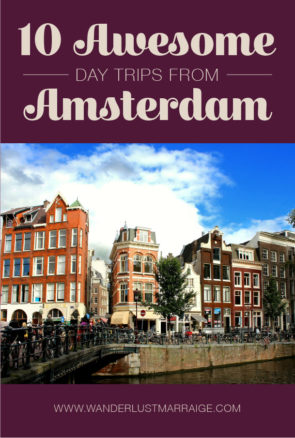 Disclosure: This article contains some affiliate links. We receive a small commission when you book or sign up through these links and it costs you nothing extra. Thanks for using them!