Athens is the oldest capital city in Europe. With a history spanning over 2,500 years, it's the birthplace of democracy, history, theatre and many areas of science. The modern version has a population of 4.5 million people and while falling on tough economic times, that hasn't changed the fact that Athens might still be Europe's greatest city to visit.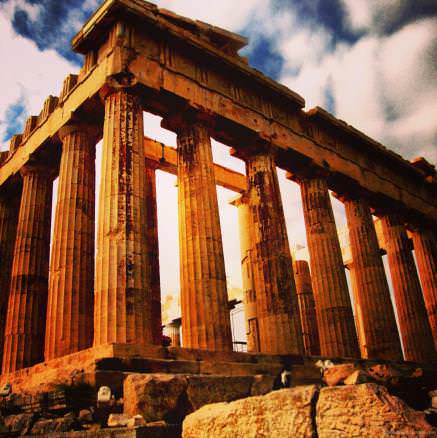 7 Reasons Athens Might Still be Europe's Greatest City
1) Food
Athens has better food than Berlin and London for mid range travelers, though I'll give Berlin the edge in one category- bread. I think German bread is probably the best quality in the world. But I'll take a meal out in an Athenian taverna over a Berlin beer hall or a London pub (which I'd rate 3rd in terms of average quality between these three very different European capitals). Greece has the best olive oil, honey, oregano and yogurt on the planet, adding tons of flavor to their savory and sweet dishes. The oregano is so flavorful it's worth trying to sneak through customs (shhh, we didn't write that). And some of the desserts you'll encounter in Athens are as good as anything you'll find in Paris or Brussels, two of Europe's best capitals for food.
Plaka and Monasteraki are popular spots for tourists because you can enjoy tasty food and drinks with a lovely view of the acropolis. For great food that's less touristy, but just off the beaten path, try any of the restaurants or cafes in Platia Agia Irini (Saint Irene Square), near Monasteraki. It's convenient for tourists, but quintessentially Athenian, trendy and high quality.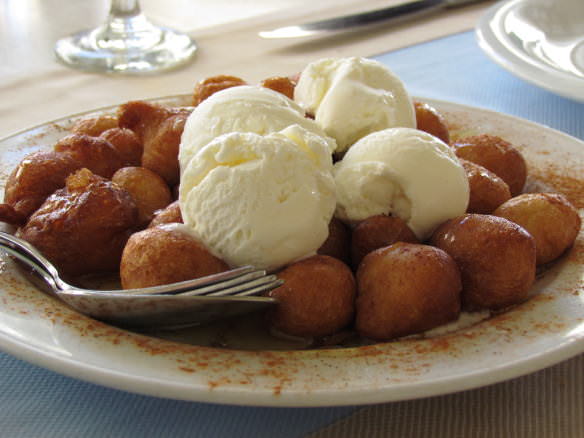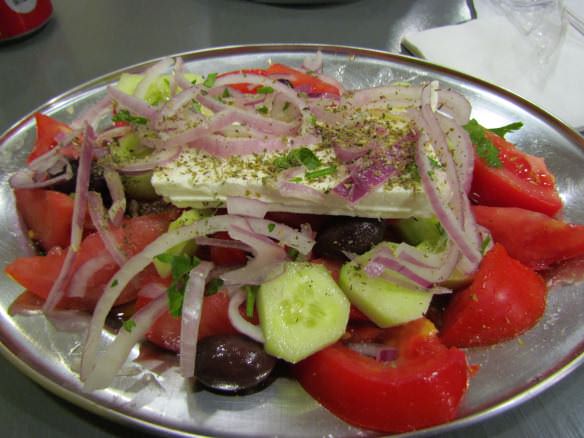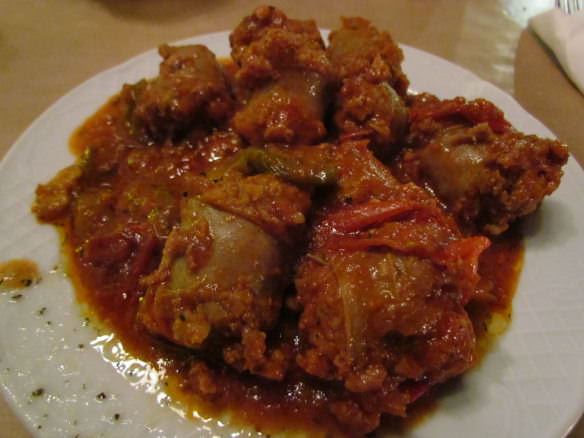 2) Value: Why Athens Might Still be Europe's Greatest City
Athens is cheaper than Berlin and far cheaper than London, which is one of the most expensive cities in the world to visit. For a major capital city, Athens is one of the cheapest in Europe for food and accommodation making it a better value for visitors. For fast food, the price of a tasty gyro in Athens is almost always €2 ($2.60 USD) compared to an average of £4.50 ($7 USD) for a mediocre takeaway sandwich in London. I stayed in an excellent hotel in Athens called the Delphi Art Hotel in the center of the city for €43 ($55 USD) per night for a single room with my own private bathroom. The room was newly renovated, comfortable and had two balconies overlooking the national theater, it also included a quality buffet breakfast and free wifi. Berlin also offers pretty good value in terms of accommodation for mid range travelers but London is far more expensive, with the equivalent room costing at least 3 times as much.
3) Hospitality: Opa!
Greeks are some of the friendliest and most welcoming people on the planet. If you're out to dinner in Greece there's an excellent chance you'll receive a free dessert, coffee or ouzo complimentary at the end of your meal. It gives people a good feeling, and it's good for repeat business. On prior trips to Greece I randomly had someone give me their lunch on a long train ride and was once given a free beer in an Athens bar because I'd missed the last bus. The owner rang a taxi and didn't charge for the beer, which was unbelievably nice. My Greek aunt once invited an English backpacker she randomly met on a train ride to Olympia to stay at her house a couple nights, which the English backpacker happily accepted. Welcome to Greece.
4) History: Why Athens Might Still be Europe's Greatest City
Athens has the oldest recorded history of any European city as the Parthenon and many other fantastic sites around the Acropolis, like the incredible Theseum, date back nearly 2,500 years to the golden age of Pericles. Athens is even older though, with a history dating over 4,000 years. Greeks are extremely proud of the fact that they're the birthplace of democracy and ancient Greeks made a significant impact to the fields of science, math, theater and sports. Panathenaic Stadium, built for the first modern Olympics, which was held in 1896, is the world's only active stadium made entirely of marble.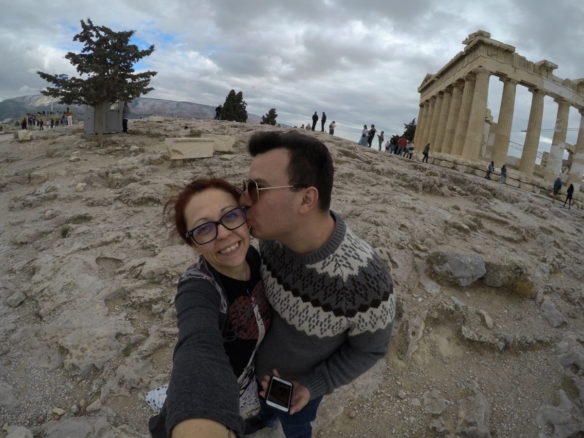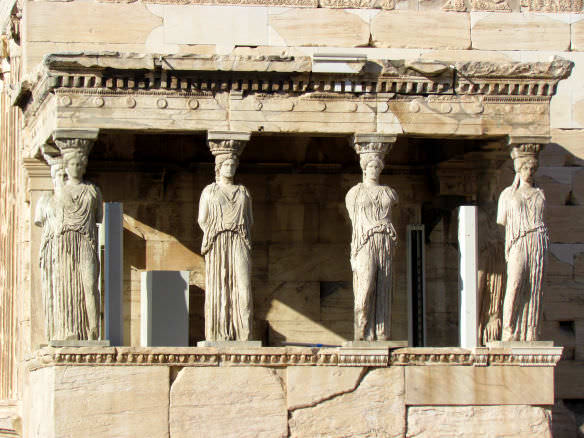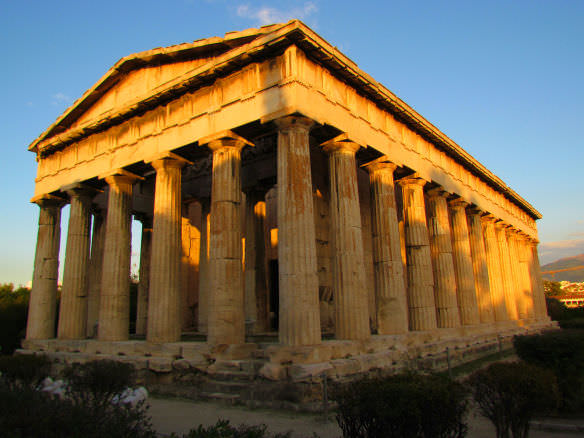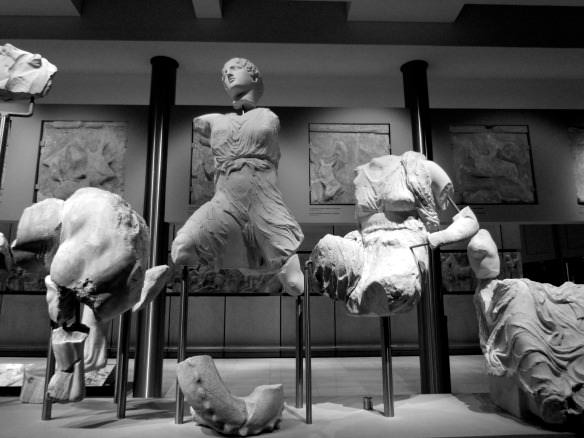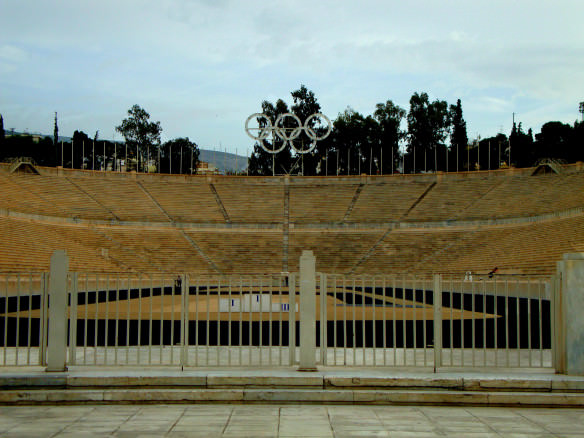 5) Beaches a Tram Ride Away, Unique for a European Capital
You don't have to travel to the islands or even drive a car to relax on Greek beaches, in fact you can just jump on a tram right in front of the Greek parliament building in the center of Athens at Syntagma Square. The coastal tram line, which opened before the Olympics in 2004, will take you all along the Saronic Gulf coast to the beaches in Glyfada, Kavouri, Vouliagmeni, Varkiza and as far as Voula. The tram is modern, air conditioned, comfortable and convenient. If you rent a car in Athens (which I don't recommend driving in Athens) your best best is to drive along the coast to the historic Temple of Sounion, which also has some great beaches. It unfortunately wasn't beach weather during my recent visit but I enjoyed a lovely meal at Kastelorizo in Varkiza, with a lovely seaside view.
Athens subway goes directly to the port of Piraeus which is also great for having a meal before catching a ferry to the islands, though not necessarily great to swim. Athens suburbs offer a long stretch of beaches and wonderful seaside cafes and tavernas, which is very unique for a European capital.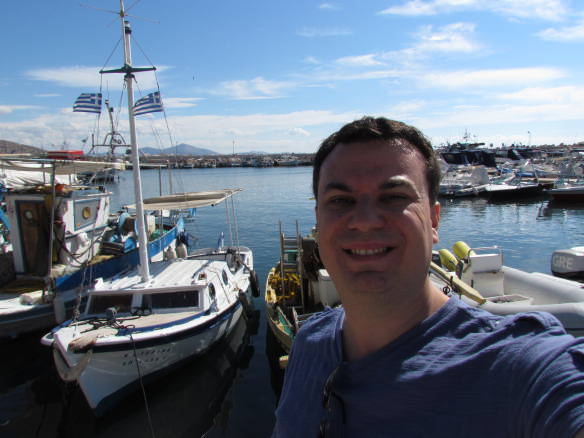 6) Picturesque Mountains Surround Athens
Athens is one of the few European capitals completely surrounded by picturesque mountains, and the only one that also has the sea as well. There's even a mountain in the center of Athens called Mount Lycabettus, which offers the best panoramic views of the city as you have a birds eye view of the acropolis, the sea and port of Piraeus just beyond, the entire city and all the surrounding mountains. This is a breathtaking place to enjoy a meal with one of the best city views on the planet.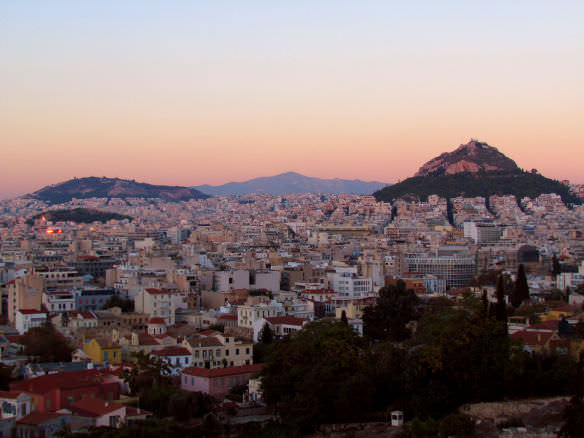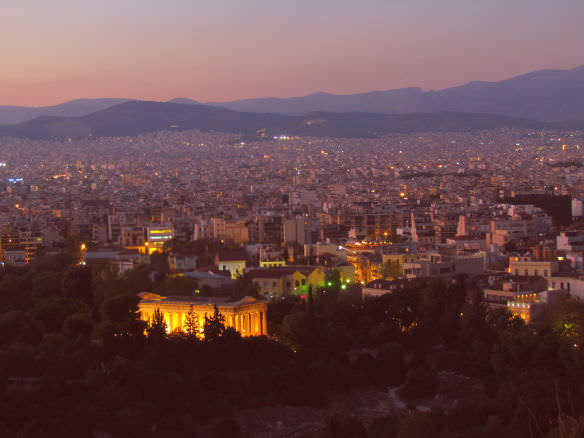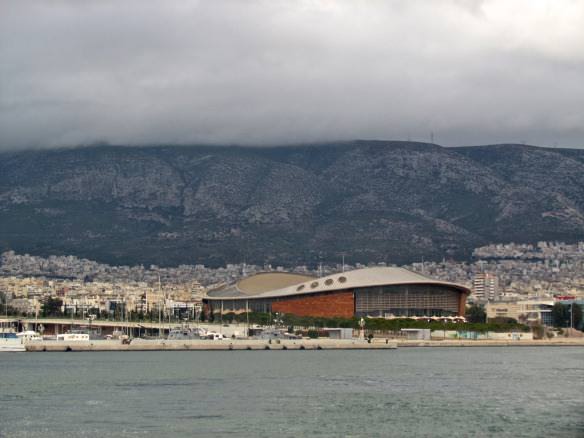 7) Great Public Transportation and one of Europe's Best Airports
Most European cities have great public transportation and Athens' is on par with Berlin and London. Athens had a new state of the art international airport, subway line and coastal tram line built prior to the 2004 Olympics. Public transportation in Athens busts the myth that the city is a backwards and inconvenient place to visit. Athens is easy to get around and very tourist friendly, as electronic metro boards and announcements alternate between Greek and English. Despite the Greek alphabet, Athens is a great city to visit for English speakers.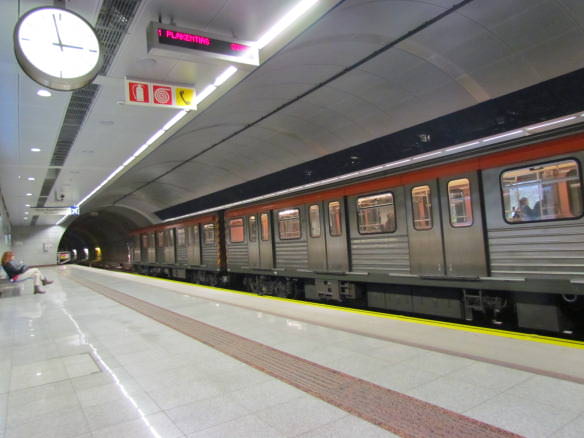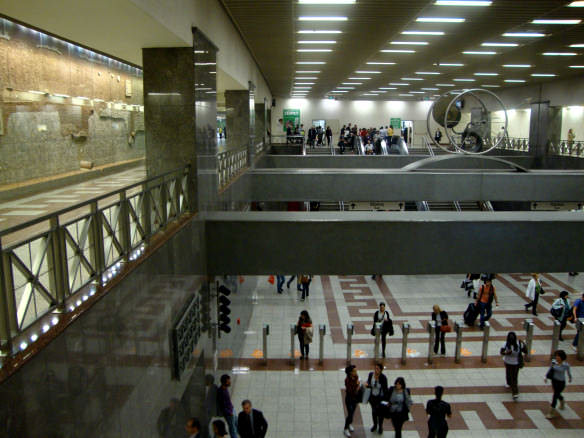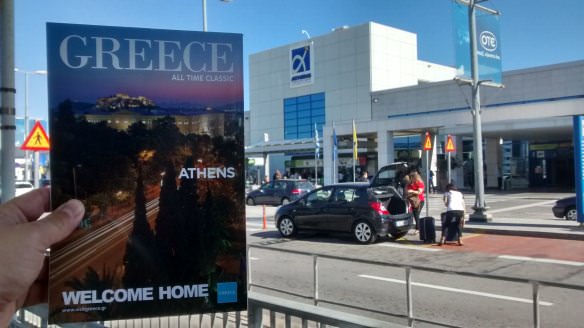 Where to Stay in Athens?
First you'll need a play to stay. Book well reviewed accommodation with free cancellation as soon as you can given how busy Athens currently is. Then if plans change, you can always cancel your booking!
Luxury
The Grand Bretagne is a historic 5 star hotel in Athens with history dating over a century. Rooms have marble bathrooms and some have balconies facing the Acropolis and the daily changing of the guard at the Parliament. From their Roof Garden Restaurant you can see the original Olympic Stadium and Acropolis. The Grande Bretagne Spa offers a thermal suite, complete with herbal bath, grotto, ice fountain, couples retreat and indoor pool. Guests can even pamper themselves with ouzo oil massages.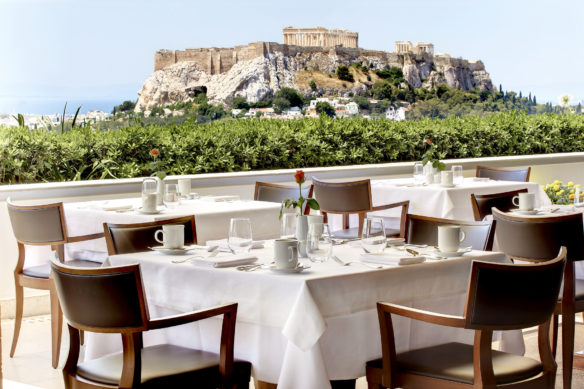 Mid Range
Athenaeum Grand Hotel is a modern hotel offering a comfortable stay at a good price. Rooms and suites are fitted with hardwood floors, nice furnishings and a modern bathroom. All rooms even include use of a smartphone that's programmed with a guide to Athens, that you can use while touring the city. Beds are really comfortable and the breakfast buffet is great quality. We enjoyed our stay there.
Budget
Delphi Art Hotel is a nice budget choice housed in a neoclassical building dating back to 1930. Some rooms even have balconies overlooking the lovely National Theatre of Greece!
Budget travelers should also consider renting an Airbnb apartment with good reviews. If you've never used the service, sign up here to receive $40 off your first stay over $75! Book apartments with consistently good reviews.
Athens is one of the few capitals in Europe to have beaches. You can even catch the Athens coastal tram to the beaches from Syntagma Square (home of the Greek parliament) going towards the seaside town of Voula. If you want to stay on the beach in Athens, consider the Poseidon Hotel in nearby Faliro Beach or London Hotel in Glyfada Beach. It's also not so far of an Uber or taxi ride to go into Athens to visit the Acropolis and other attractions from the beaches, especially from Faliro, which is closer to the center of Athens compared to Glyfada.
I recently returned from spending 3 and 1/2 weeks in Europe, almost exclusively between Berlin, London and Athens, all cities I've previously visited on multiple occasions. I left feeling Athens was my favorite of the three. We've also visited almost every European capital, and while travelers have varying preferences, Athens can make a claim as the greatest for the following reasons.
Want to travel to Athens Very Cheap?
Play the credit card points game to earn dirt cheap international flights with everyday spending. There's really no catch as long as you're responsible with credit. We take advantage of credit card bonus sign ups on a variety of cards we cycle through. This saves us thousands each year on travel. If you need tips on this email [email protected] and I can assist you in saving big money on travel!
Greece's Economic Crisis
Greece has been mired in a rough economic stretch, with overall unemployment at 25% and youth unemployment at 50%, but hopefully the country is past the worst of it. Despite tough times, Greece is still a welcoming country that's safe to travel to. And the more time I've spent in Athens over the years, the more I believe it's one of Europe's greatest cities. If you haven't already visited Athens, try and visit in the next couple years as the city will most likely become more expensive to visit in the very near future!
Other Useful Articles We've Published on Greece:
How to Spend the Perfect Week in Greece
5 Great Tips for Visiting Athens in 2018
Tips for Visiting Naxos: Best of Greece
Reasons You Will Love Chania, Crete
6 Fantastic Greek Islands to Visit in 2018
There's so much to experience in Athens, so this list only scratches the surface. If you have questions on how to spend your vacation in Greece or maximizing credit card points, email me at [email protected] and I can assist you!
Disclosure: This article contains affiliate links. We receive a small commission when you book or sign up through these links and it costs you nothing extra. When it suits you, please use them, as it helps us help you! We never promote any services that we don't use ourselves.