Pretty pictures on Instagram only go so far in inspiring travel. When someone shares their enthusiasm for a destination with us, it can be contagious. An old friend recently messaged us to discuss an upcoming around the world trip she is planning. We chatted about her US leg of the trip and her plans to visit Mexico afterwards.
Alex and I have spent some time in Mexico City, colonial towns like Puebla, Queretaro, San Miguel de Allende and beach destinations like Cozumel and Costa Maya, but Mexico is a big country. I told Nicky you need to get in contact with our Mexican friend Hector, as he has wonderful insight on his home country. Hector then blew up our phones with passionate advice. Below is an edited version of Hector's tips (with his permission) with additional details to help you plan a trip to the Yucatan Peninsula, Quintana Roo and Campeche!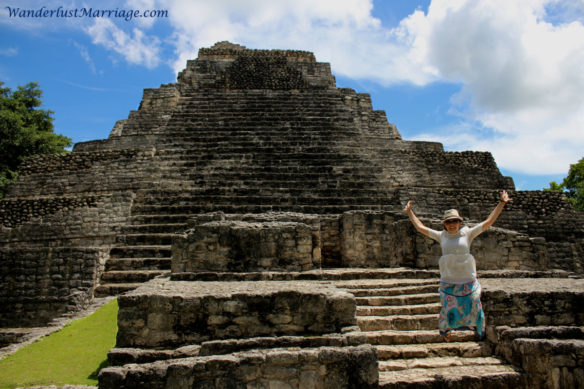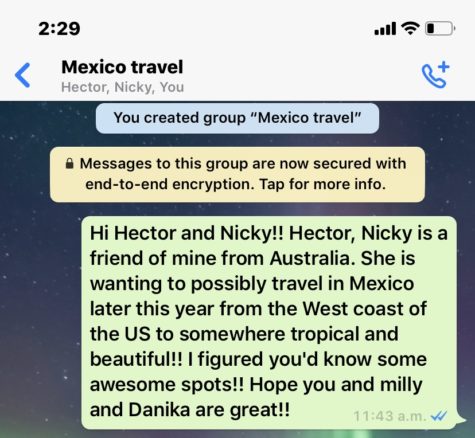 Nicky asked some general questions about the safety of the Yucatan Peninsula and said she wanted to be a little off the beaten track. Below is Hector's response back to her:
"Hey Nicky! The Yucatan Peninsula, Campeche and Quintana Roo, which is the neighboring state (where Cancun is), is pretty safe for travelers and you'll find a good mix of tourist traps and places mostly visited by locals."
Yucatan Peninsula
You can fly into Cancun or Merida. Merida is the state capital of the Yucatan and its colonial city center is very nice to visit. In my opinion, the best food in Mexico is from this region: lots of turkeys and habanero peppers 🔥🔥
In Merida they also opened the Maya World museum which is really cool. You can see it on a two-hour visit so it's doable and not overwhelming like the Louvre in Paris. Tickets are around $8USD for foreigners. There are over 1,200 pieces that relate to Mayan life and it provides context for a lot of the surrounding archeological sites.
Mayan Archeological Sites
There are a number of day trips you can do from Merida to visit amazing Mayan sites. Chi-chen Itza, which is very touristy but a must and a UNESCO world heritage site. This site is about an hour and a half from Merida and Chi-chen Itza dates back to the 7th-century. One of the main attractions is the Pyramid of Kukulkan. Entrance to Chi-chen Itza costs 480 pesos ($25 USD).
For a less touristy and slightly cheaper option that is southwest of Merida you have Uxmal, which I like more than Chi-Chen Itza. Southeast of Uxmal you have a few smaller Mayan sites and you can visit them all in the route called "Puuc" which is Uxmal plus the sites of Kabah, Sayil and Labná. But if you are short on time Uxmal will do! Uxmal was once one of the largest Mayan cities. The pyramid of the Magician stands at 115 feet tall. Entrance into Uxmal is 413 pesos ($21 USD).
Nature
Now within Yucatan, you can do a day trip to visit the mangroves of Dzinitun and Ria Celestun (a 2-hour bus ride northwest of Merida), which is home to one of the largest flocks of wild flamingos and a mangrove forest.
Natural beauty in the state of Yucatan also includes the many underground rivers and caves. They were supposedly created when the meteor that wiped out the dinosaurs hit what is now the Yucatan peninsula. In theory, the center of the crater is in a little town called Chicxulub. The Chicxlub crater is around 30 minutes north of Merida. Because of this meteor, all around Yucatan, you have hundreds of sinkholes that are called "cenotes" locally; some are open air, some are underground. You can even go snorkeling or scuba diving in some of the cenotes.
Within about 30 minutes of Merida, there are a few you can check out. There is Cuzama and around Chi-chen Itza you have some close to the town of Valladolid which is a lovely small town worth a visit with beautiful colonial style buildings. It is a gem that is off the beaten path. The nearby cenotes to check out are Xkeken and Samulá.
Where to Stay Merida
For a charming boutique hotel, Casa Catrina & Diego is a great option. Located in the historic center and just a 10-minute walk from the main square, this hotel is perfect for exploring the town. Rooms come with air conditioning, breakfast is included and there is a beautiful pool on the premises.
Hotel Zamna is a colonial-style hotel that features an outdoor pool set in tropical gardens and seating areas with Mexican art. It is also centrally located in the historic center of Merida.
Campeche
West of Yucatan, is the neighboring state of Campeche. You can visit the capital which is also called Campeche. This is a 2-hour drive from Mérida. The downtown is very beautiful and laid back. Fort San Miguel was previously used to fend off pirates!
Southeast of Campeche is another Mayan site worth visiting called Edzná. Edzna is thought to have been established around 400 BC and was abandoned in 1450. The entrance fee is 46 pesos ($2.40 US). There is a bus from Campeche that drops you off a few hundred meters from the entrance.
Where to stay in Campeche
Hotel Socaire is a 5-minute walk from Parque de la Independencia Main Square and close to Pedro Sáinz Seafront. It features a swimming pool and free Wi-Fi. Rooms are decorated with colonial décor. It's a great deal for being in the heart of town.
For those who prefer a seafront location and more upscale stay, Gamma Campeche Malecon, is a great option. The decor is modern and the rooms face either the sea or town.
Quintana Roo
If you fly to Colombia from Mexico, Cancun has an international airport. Cancun is in the state East of Yucatan called Quintana Roo. Cancun is very touristy so don't spend much time there if you want to avoid crowds and large resorts.
Playa Del Carmen
South of Cancun, you can check out Playa del Carmen which is a spot visited mostly by Europeans. Playa del Carmen is great for beaches, shops and a hopping nightlife. It is a great place to relax on beautiful white sand beaches.
Cozumel
From Playa del Carmen you can take a ferry to the island of Cozumel, where you have nice beaches and coral reef (not as big as the Great Barrier Reef though 😉). Stay away from the port, which drops off thousands of cruise ship passengers every day. There's a lot of beauty a short distance away though. Playa Azula Beach Club, a few km north of the port offers tasty beachside food for good prices, with a very chill vibe.
Further south of Playa del Carmen you have a very nice small bay called Akumal. Akumal has a nice beach and you can even snorkel with sea turtles.
Tulum
Tulum is a Mayan site with access to a beach so it's very beautiful, a must visit. Entrance to the ruins is 65 pesos ($3.40). South of the Mayan site along the coast, you have several fancy boutique hotels, but you can also find budget accommodation in the small town of Tulum (same name as the ruins). Take a cab to the beaches there as the town is not close to the beach. Southwest of Tulum there is a lagoon called Bacalar, which is worth visiting if you have the time.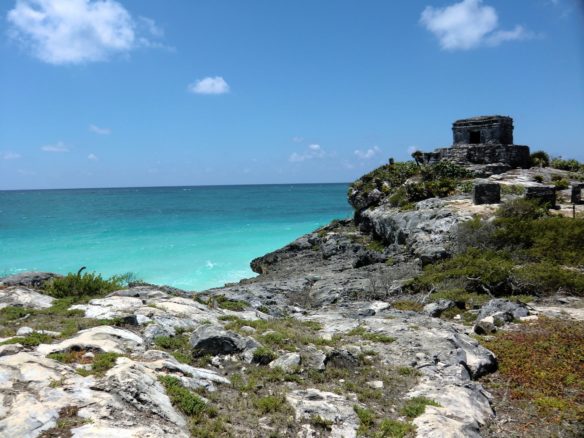 Holbox
Northeast of Cancun, within the state of Quintana Roo, is an island called Holbox (pronounced "whole-bosh"). You can reach it via small fishing boats or a ferry from Chiquila and it has a hippie-ish vibe to it. The beaches are lovely and you can spot whale sharks during summer mating season. There are no cars allowed on the island, making it very relaxing.
Mayan Pyramids of Chacchoben
The Mayan Pyramids of Chacchoben is another worthwhile place in Quintana Roo. The archeological site is around an hour from Costa Maya, which is a popular cruise ship port. It's estimated that the Mayans settled the region around 22 BC and the pyramids date to around 700 AD. From Costa Maya, lots of companies offer tours to Costa Maya. You can also negotiate with a taxi company to have them take you for between $50 – $100 US, depending on your negotiating skills and the length of time you want at the site.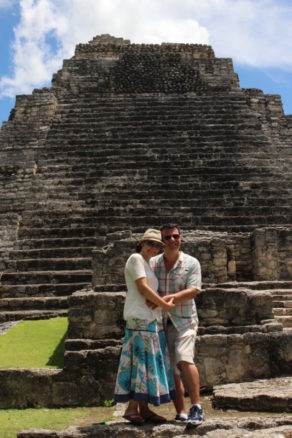 Where to Stay in Quintana Roo?
Playa del Carman:
La Leyenda Boutique Hotel by Bunik has a gorgeous rooftop pool and is a short walk to the beach and town. Rooms are modern and breakfast is included.
Cozumel:
Casa Mexicana Cozumel is conveniently located in the main square. Rooms are air-conditioned and some rooms have an ocean view. There is a beautiful pool and lovely outdoor terrace to relax on.
Tulum:
Tulum offers a good selection of high-end resorts to budget accommodations.
Era Hotel & Spa Tulum is a great value, combining luxury with a great price (around 90 USD a night). The property is located 3.7 miles from Tulum Archeological Site. The hotel has a lovely garden and offers free bikes for guests.
Suite Casa Tortuga is a charming budget option located in the center of Tulum. All rooms have a modern design and include air-conditioning and a fridge. Some rooms have terraces.
Putting these tips all together certainly inspired wanderlust for us to visit more of this beautiful region of Mexico. Thank you agin to Hector for all his passion for his home country!