Bell and I recently celebrated our two year anniversary of moving to Ireland! We first visited the emerald island for our six year wedding anniversary almost three years ago. It was just a short flight over from Amsterdam, where we were previously living. As tourists, we loved Dublin so much that when a job opportunity presented itself for Bell, we decided to move here. So here's 5 great reasons to visit Dublin!
1) Great Craic – 'Craic' is an Irish word meaning "good times." You'll hear Irish people use this word a lot. Sometimes they'll even greet each other with "how's the craic?" If you visit Dublin and you don't have great craic, you either seriously did something wrong, had some bad luck, or just aren't very much fun (sorry, no offence). Part of what makes Dublin great craic is how friendly and chatty most people are. On Bell and I's 6 year wedding anniversary, we wound up in Dublin's pub district, Temple Bar, where 2 fun Irish ladies sitting next to us joined our table. Upon hearing that it was our anniversary they insisted they take us to the most beautiful club in town, Cafe en Seine, in a taxi that they insisted they paid for. That's Ireland, and that's great craic!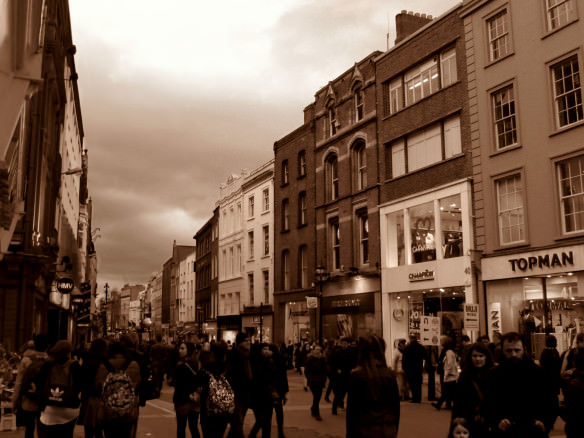 2) Free Museums – Dublin is not a particularly cheap place to visit. Accommodation is not nearly as outlandish as London, but it's on the pricier side, as is eating and drinking out, though bargains can be had. Fortunately, the costs are somewhat offset by potentially a couple days worth of free entertainment. The National Gallery, Natural History Museum, Archaeology Museum  and one of the world's most interesting book collections, at the Chester Beatty Library, can all be enjoyed for free and are worth visiting. And if you get bored at one you don't have to feel guilty about leaving after 10 minutes, because you didn't pay for admission!
3) Irish Pubs – Along with rolling green hills, the pubs are the most famous part of Ireland and certainly the most visited "attraction." If you visit Dublin and head into one of the many great pubs scattered around town, there's an excellent chance you will encounter great 'craic.' All things being equal, we don't think there's a city in Europe that would surpass Dublin as far as the probability of having a good time in a random pub! A typical Dutch pub in Amsterdam is quite cute and cozy, but you're far less likely to strike up a fun conversation with locals, so it's b.y.o fun over there. Ditto that with say Brussels, which also has great pubs.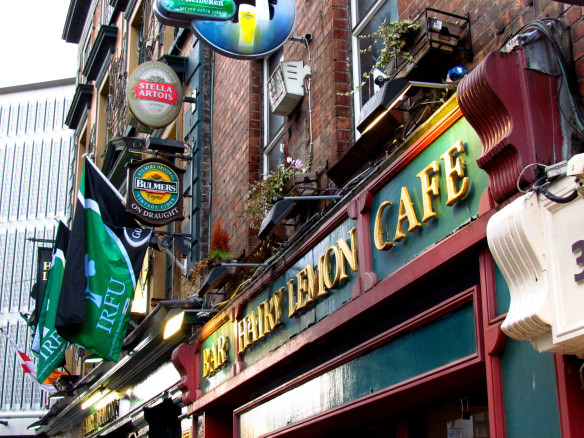 4) Beautiful Coastline Nearby-
 Some argue that you haven't seen Ireland unless you've seen the west coast. The west coast is indeed stunning, but we were very impressed with the coastline just out of Dublin when we first visited as tourists. It's easy to catch the DART (Dublin Area Rapid Transit) train for a picturesque coastal ride to either Howth in the north or Bray or Greystones in the south. Either of these areas offer
magnificent and unforgettable cliff walks.
If you visit Dublin for a long weekend, try to take at least half a day outside of the capital and enjoy the scenery and fresh sea air!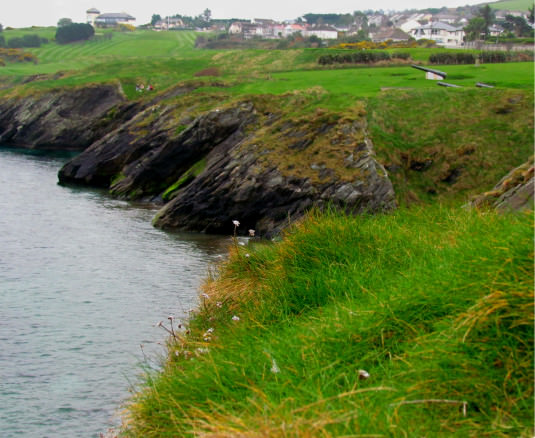 5) Live Music –
In addition to being great storytellers,
so many Irish are gifted with musical talents. This means many pubs around town feature awesome live music. Even one of Bell's colleagues made the finals of a singing contest. She has an amazing voice and is a nurse by day. So when you're stumbling around Temple Bar enjoying the Irish pubs, be sure to enjoy some live music, though it's hard to miss. If you're lucky you'll stumble into a traditional Irish music session, where someone starts a tune and those who know it also join in. Alex and I lucked into one on our first trip here on a Sunday afternoon at 
O'Donoghue's
, on our anniversary trip and loved it. But you don't even have to go into a pub to hear great music, just walk down the busy shopping street, Grafton St., and there's a great chance you'll hear some great music, at almost any hour of the day or night. Ever seen the movie '
Once
?' It's a good flick based on actual events, of the talented musician Glen Hansard, who played on Grafton Street before he became famous.
Where to Stay in Dublin?
You'll typically find the best hotel deals on booking.com. Book a hotel with free cancellation in advance! Then if prices change and you find a better deal, you can easily cancel your reservation and book another one. Families especially will find the best deals on short term apartment rentals. If you've never used Airbnb, sign up here and receive $40 credit off your first stay! Here are some hotels we recommend in Dublin:
Luxury:
Shelbourne Hotel is Dublin's most historic upscale hotel, as several US Presidents and many foreign dignitaries have stayed there. They have a nice cocktail lounge, cafe and restaurant. In the afternoon you can swing in for high tea and enjoy a lovely view of St. Stephen's Green.
Mid Range:
O'Callahan is a small chain of centrally located, comfortable hotels with good breakfasts. Trinity College often puts job applicants and guests up in these hotels.
Budget:
ABC House Dublin is a little outside the center of Dublin but offers reasonable comfort for those that don't want to spend a lot to sleep. We spent a week here while searching for our apartment when we first moved to Dublin.
Generator Hostel is conveniently located right next to the Jameson Distillery (fun!) and is part of a reputable chain of hostels in Europe that are known for being clean and having a fun atmosphere.
Additional Tips on Visiting Dublin
Dublin's city is very walkable for most. But it's a good idea to use services like Uber to get across town or to and from the airport. If you've never used Uber before, sign up here and receive $20 off your first ride!
There are so many other great reasons to visit Dublin, like the Guinness Storehouse, Jameson Whisky Tour, historic Kilmainham Jail, beautiful Dublin Castle and a stroll through lovely St. Stephen's Green park, spooky old Glasnevin Cemetery, or Phoenix Park (Europe's largest city park!), and enjoying delicious fish n' chips in a scenic coastal town like Bray, Greystones, Howth or Malahide.
The vast majority who visit Dublin leave with wonderful memories and are glad they went. Even my father, who doesn't typically like pubs, and who is in his 80's, has loved his two summer visits to Dublin to see us (far more than he enjoyed visiting us in Amsterdam).
Have questions about planning a trip to Dublin? Email me at ale[email protected] and I'll be happy to assist you! 
Disclaimer: This article contains affiliate links. We receive a small commission when you book or sign up through these links and it costs you nothing extra. When it suits you, please use them, as it helps us help you! And we never promote services that we don't use ourselves.