Belfast is the capital of Northern Ireland, which is part of the United Kingdom. It's home to around 350,000 people. Visitors can reach Belfast by train from Dublin, which takes around two hours. It's a great destination for culture, history, pubs, universities and more. Here are 5 great things to do in Belfast!
1) Political murals
Many Irish do not like the political murals of Belfast. Some feel it keeps the conflict of "The Troubles" alive. They have a point, but they are wonderful for political and cultural enthusiasts. Irish Republicans and British Loyalists each have their own murals, on sides divided by a massive "peace wall."
To the outside observer, the murals are colorful, passionate and facilitate in sharing two sides of history. The Republican murals can be viewed on Falls Roads. Loyalist murals can be found on Shankill Road. You can also book black cab guided tours of the area. But in Belfast, do not discuss politics with locals, it's a sensitive subject and not your battle!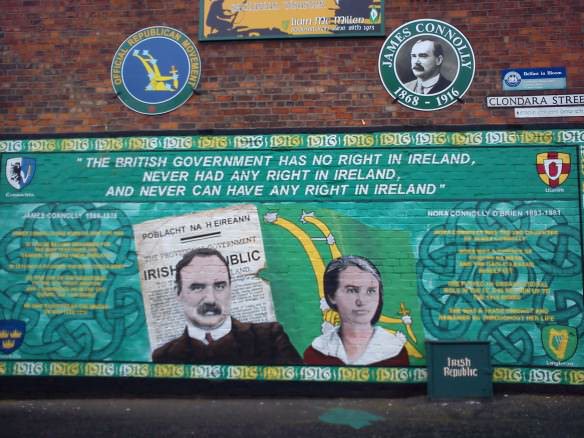 2) Queen's Quarter
Queen's University is a gorgeous example of Tudor architecture. It's beautiful for a stroll. At the foot of the campus is the botanic gardens. From 10am- 5pm you can visit the lovely and massive greenhouse in the Palm House for free and check out some exotic flora and fauna. The Ulster Museum is great for a lesson in Irish art and history and is also free. Queen's Quarter is home to some great cafes. Check out Maggie Mays where you can get Bailey's and other spirits in a variety of milkshakes! Every high school kids dream…

3) St. George's Market (Fri, Sat, Sun) 
The last Victorian era market in Belfast is a fantastic place to sample Irish treats and more. It's been around since 1890, when the local government decided that farmers had hard enough lives and should be able to sell their goods in an enclosed area. So the market's roof protected them from the frequently harsh weather.
I was actually extremely hungover when I visited St. George's Market. I tried to be healthy by grabbing some homemade Thai red curry from one of the stalls. That didn't do the trick so I then bought a fresh cooked burger, which was huge. It was the most food I've scarfed down in a long time. FYI, Guinness at the end of a big night of drinking is a bad idea…speaking of which, you can grab fresh Guinness cheese at St. George's Market!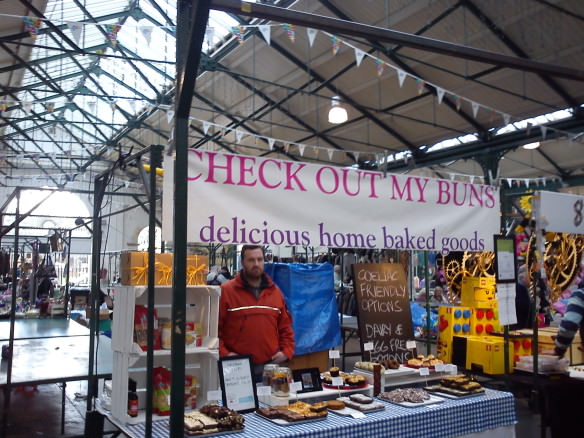 4) Crown Liquor Saloon
The incredibly ornate woodwork, tiling and stain glass windows make the Crown Liquor Saloon a cathedral to pubs. Originally founded in 1885 and designed by Italian craftsmen, this Victorian gin palace is as beautiful a pub as you will ever set foot in. The National Trust owns it and spent £500,000 ($776,000 USD) in 2007 to be sure it stays lovingly true to its old glory.
Grab one of the snugs at Crown Liquor Saloon when they're available. There are 10 enclosed ornate booths, formerly reserved for the elite of Belfast. They're open to everyone now, if you're lucky to see one available. Nicholson's Pubs manages the Crown. They brew a variety of nice beers including pale ales and IPA's. If you enjoy pale ales, I recommend ordering a Nicholson's Pale Ale. It's a smooth and crisp brew.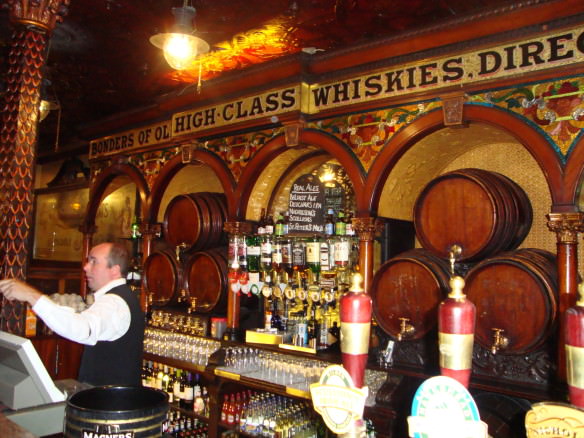 5) Cathedral Quarter
A stroll through perhaps the most architecturally beautiful part of Belfast will lead to more than just great cathedral's like St. Anne's. The Cathedral Quarter is packed with great restaurants and pubs. Established in 1711, McHugh's Bar is one of the oldest pubs in Belfast. It's a great place to enjoy a pint, with a variety of micro brews on tap, if you want something other than a Guinness or mass produced lager. And thumbs up to the Big Ben lookalike!
Traveling to Belfast
Bell and I recently visited Belfast. It was my second time training up to the capital of Northern Ireland. Last summer my dad and I visited by train. If you're visiting Ireland for a city hop between Dublin and Belfast, you don't need to rent a car. Irish Rail will get you between the two cities in 2 hours and 10 minutes. It's a comfortable journey. If you book online a week in advance you should be able to get a great deal on tickets.
Visitors can also fly into Belfast Airport. Belfast is very navigable by foot as it isn't so large. Rental cars can come in handy for exploring Northern Ireland highlights like Giants Causeway and Carrick-a-Rede. But you don't need a rental car in the city. Visitors can also book tours, including day trips.
Belfast Hotels
On both visits to Belfast we stayed at the Ibis City Center. The hotel's location is central, making many Belfast attractions within walking distance. It's also clean and good value for money.
We've helped many people plan great trips to Ireland. Read our article on how to spend the perfect week in Ireland. This article is packed with Ireland travel tips, covering everything from best times to visit to local customs. Have questions about planning your trip to Ireland? Email me at [email protected] or leave a comment below and we can assist you!
Disclosure: This article contains some affiliate links. We receive a small commission when you book or sign up through these links and it costs you nothing extra. When it suits you, please use them, as it helps us help you!