Amsterdam is a touristy city, so many pubs serve only mass produced beers. We spent 3 and 1/2 years living in the historic center of Amsterdam, which spawned a deep appreciation for Dutch and Belgian craft beers. Our list of unique pubs in Amsterdam offers a recommendation for beer enthusiasts of varying tastes. Some of the pubs listed here draw quite a few tourists because they're popular, but none are tourist traps because you'll also find a solid mix of locals at each!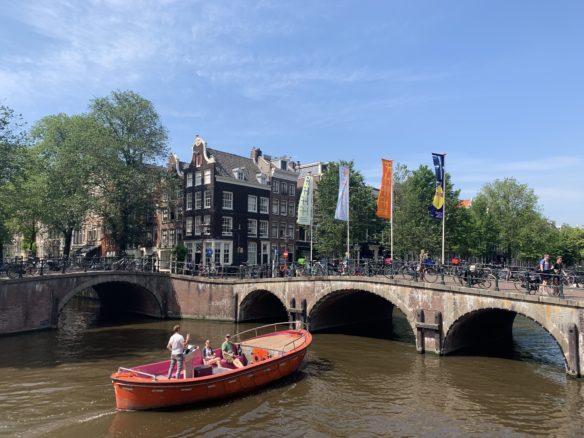 Proeflokaal Arendsnest
If you only have one day in Amsterdam, Arendsnest is the place for a quintessentially Dutch drinking experience. They offer the best selection of Dutch micro brews in all of Holland, with around 150 Dutch beers to choose from. They serve around 15 different Dutch craft beers on draft. Their policy is to serve at least one Dutch beer from each of the Netherlands' 52 breweries. They also have an outstanding selection of jenevers (Dutch gins). All of this is housed in one of Amsterdam's coziest (gezellig) bars along the beautiful Herengracht canal.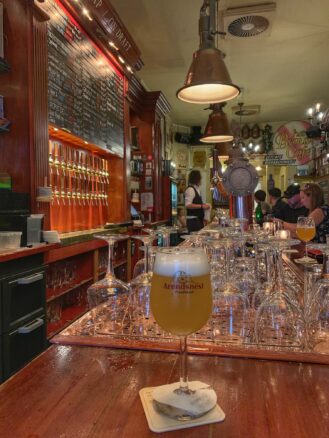 Weather permitting, grab a table along the Herengracht canal at Arendsnest. Watch boats and bicycles pass by in an idyllic setting. On unpleasant days (much of the year), Proeflokaal Arendsnest is a fantastic to sift through their thick beer and Jenever menu. Lap up the ambiance at one the most unique pubs in Amsterdam. Ask for a recommendation to suit your tastes for the optimum experience. The owner Peter, who designed the bar himself and is often there, along with his staff, are friendly and passionate about Dutch beer and jenever.
Proeflokaal Arendsnest Address and Contact Details
Herengracht 90,
1015 BS Amsterdam, Netherlands
In de Wildeman
A traditional 'silent' pub, In de Wildeman doesn't play music. Instead, the focus is on great beer and the opportunity for great conversation to pair with it. They have one of the most extensive beer menus in Amsterdam, with over 250 beers to choose from! You'll find pretty much every Belgian Trappist (monk brewed beer) and a great selection of German beers, local beers and an adequate assortment of world beers. They have around 18 beers on draft.
On a couple occasions, we even received a rare dose of Dutch hospitality, receiving a free beer from the bar staff. This is unusual in Amsterdam as in some places we frequented many times, we never received a free drink. Good customer service is typically not in the Amsterdam repertoire, but In de Wildeman bucks the trend.
In de Wildeman Address and Contact Details
Kolksteeg 3
1012 PT Amsterdam
020 638 2348
De Zotte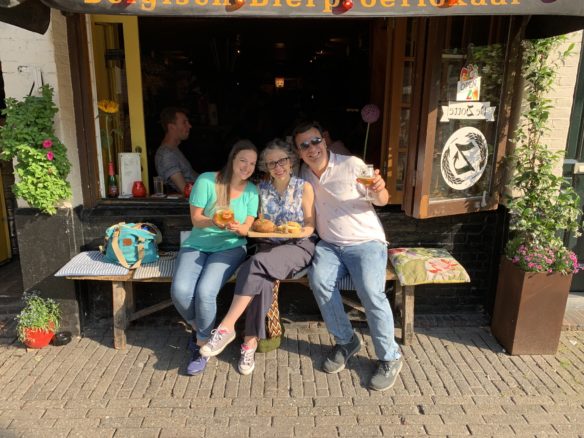 De Zotte is one of the best beer cafes in Amsterdam. Tucked away in a small alley near the Prinsengracht canal and Leidseplein, this pub is one of Amsterdam's best kept secrets. Pop in for a delicious Belgian beer and be sure to order their excellent cheese board, that comes with divine bread. If you're lucky – you can grab the lone bench out front on a beautiful day.
We recently re-visited De Zotte in June 2019, and we were thrilled to introduce our good friend Mikkel from Sometimes Home to it. She just happened to be in Amsterdam the same time as us, purely by coincidence!
De Zotte Address and Contact Details
Raamstraat 29, 1016 XL
Amsterdam, Netherlands
Brouwerij 't IJ (Brouwerij 't IJ – Proeflokaal de Molen)
Housed in an old Dutch windmill, Brouwerij 't IJ boasts a fine selection of brews crafted on site. Their signature amber colored tripel, named Columbus, packs a punch at 9%. You can also enjoy Trappist style cheese, made from cows who fed off the wort the brewery traded with the dairy farm.
Tours of Brouwerij 't IJ are offered Friday, Saturday and Sunday at 3:30pm and 4pm. Tours include 1 free beer. While open daily, the pubs opening hours are just 2pm-8pm. Take a break from sightseeing and try to get here close to opening. Just 45 minutes after opening, even in winter months, it can already start to become difficult to get a table inside. In summer, their large outdoor terrace is a popular place with locals. Again, arrive early, as sunshine draws big crowds to any good outside venue in Amsterdam.
Brouwerij 't IJ Address and Contact Details
Funenkade 7, 1018 AL
Amsterdam, Netherlands
Beer Temple
Beer Temple is Europe's first self-proclaimed American beer bar. If you're American and hankering for a taste of home, this is the place to go. If you're American and wanting to forget home, you should probably skip it, because the decor resembles a TGI Fridays gone Dutch.
Beer Temple boasts a better American beer selection than 98% of American bars in the United States. They feature 30 small batch brews on tap, mostly American, and over 100 additional choices in bottles. Some great options include varieties from the Great Divide and Left Hand breweries, as well as the not too shabby Rogue, Anchor, Sierra Nevada and Flying Dog breweries. They also have rare special edition American brews that will set you back a pretty penny.
Beer Temple Address and Contact Details
Nieuwezijds Voorburgwal 250, 1012 RR
Amsterdam, Netherlands
De Prael
De Prael is an active brewery located in the famous Red Light District. It brews 5 beers year round, with the occasional seasonal beer. Their beers are all named after former Dutch singers.
De Prael recently re-modeled the pub's dining room and it's also a nice place to grab a quality sandwich, or typical Dutch snacks like bitterballen (fried balls of mash potatoes and beef). An added bonus of patronizing this place is that you are supporting a good cause. De Prael staffs several mentally challenged people that work in the dining room and gift shop. Unique for Amsterdam.
De Prael has locations throughout the Netherlands. You can find the brewery in towns like Gronignen, Utrecht, Den Haag and Verhaal.
Amsterdam De Prael Address and Contact Details
More Unique Pubs in Amsterdam
Cafe Belgique
Cafe Belgique is a hip pub for Belgian beers, though they have a smaller selection than In de Wildeman. They have a selection of around 50 Belgian beers, with around 8 draft choices. Though the pub is one of the smallest in Amsterdam, they strangely manage to squeeze in quality up and coming DJ's. Particularly in summer months, people spill into the small alley and the area permeates of weed. This is honestly pretty unusual for a good pub in Amsterdam. Very few tolerate marijuana smoking, even outside. We do think it's funny that some choose to combine 9% beers with powerful weed. If you can find a seat at Cafe Belgique, like we occasionally did, it has one of the funkiest vibes of any Amsterdam pub.
Gravenstraat 2, 1012 NM
Amsterdam, Netherlands
Cafe de Dokter
Cafe de Dokter is tucked in a small alley in the center with an atmosphere all its own. The pub was founded by a surgeon in 1798 and has remained in the family for 6 generations, with the current generation operating it for the last 40 years. Beautiful candles, dusty chandeliers, jazz music and old artifacts provide an old world charm. It's unusually romantic for a pub, even with all the dust.
Despite being one of Amsterdam's smallest and most unique pubs, you can frequently find seats at Cafe de Dokter. It's definitely worth a visit but doesn't crack our top 5 because of its poor beer selection and service. After your first drink, the owner seems more interested in chatting with his friends or reading the newspaper rather than asking if you want another drink.
We literally lived 50 feet away from Cafe de Dokter for 3 years and for this reason we rarely went, except when guests visited. It's a unique Amsterdam pub for a nice whiskey, jenever or wine. Just don't expect a Cheers type vibe, because he doesn't care what your name is, or seemingly whether you came in the first place.
Cafe de Dokter Address and Phone Number
Rozenboomsteeg 4, 1012 PR
Amsterdam, Netherlands
Cafe Gollem
For Amsterdam beer snobs and mainstream travel guides we've certainly left this list open to argument. We left the typically #1 ranked Amsterdam pub off it. Cafe Gollem has a great beer selection, though 95% of it is Belgian. And it is indeed a cool Amsterdam pub.
Our main issue with Cafe Gollem is that it's virtually impossible to find a seat and it doesn't have so many distinguishing features. So we believe it's a little overrated. But if you happen to swing by on a late afternoon and find a seat, grab it.
Cafe Gollem is one of the most popular unique pubs in Amsterdam. In recent years, they've opened additional locations around Amsterdam. So there's even more places to enjoy great beers!
Cafe Gollem Locations Around Amsterdam
Raamsteeg 4 · +31 20 612 9444 (Original location in Amsterdam's historic center)
More Articles on Beer in the Netherlands and Belgium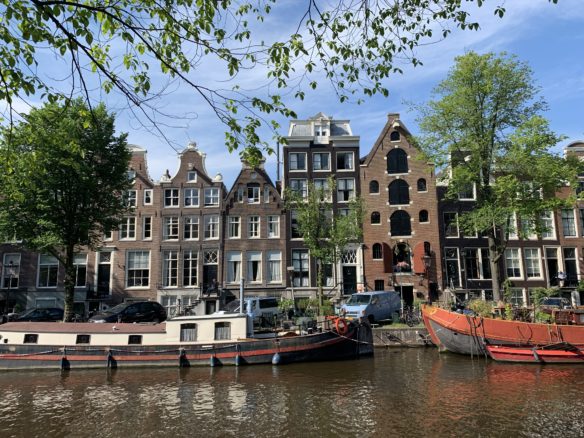 Perhaps this should be a top 10 list, but at least we covered our butts from criticism! For a review of a Trappist brewery (monk made beer), read our article on La Trappe Brewery in Tilburg. It's one of the excellent day trips from Amsterdam for beer lovers. If you visit Brussels, don't miss the only lambic brewery in the city, Cantillon Brewery.
Disclosure: Some articles contains affiliate links. We receive a small commission when you book or sign up through these links and it costs you nothing extra. When it suits you, please use them, as it helps maintain this site.