Updated: Permanently Closed: Alex and I were back visiting my home town of Melbourne, Australia a couple months ago and discovered a fantastic non-profit bar called Shebeen. This is a unique concept that supports wonderful causes and if visiting Melbourne you should definitely swing by for at least one drink. First thing to know is that 100% of the profits made from drink sales (coffee, tea, beer, wine and margaritas) are fed back to the country your drink originated from.
When I first read about Shebeen, just hours after arriving in Melbourne, I put it on our list of things to do while in town and we were not disappointed in the slightest.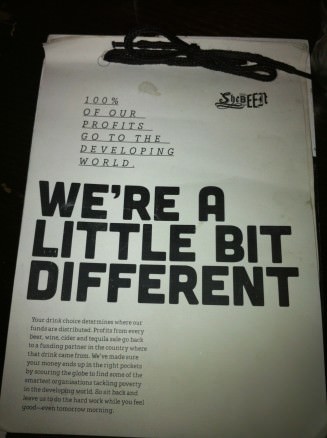 Shebeen supports 7 charities, so when perusing the menu you can either choose your favorite drink and know that the money is going somewhere worthwhile or you can pick based on a charity that might be near and dear to your heart. Read about the rise and collapse of Sheeben. It's an interesting read that leaves as many questions as answers.
The charity I ended up supporting while enjoying wine and good company was Room to Read. This charity promotes literacy in primary/elementary aged children in developing countries in Asia and Africa and also champions gender equality in education. I truly believe education is a key component to reducing poverty, so I was able to have a good time and support something I believe in. If only I could do that more frequently! Alex went with the approach to explore some new beers, and ended up supporting a charity called KickStart.
Interestingly, Shebeen is Irish (síbín) for an unlicensed bar. The word and concept traveled to South Africa and Zimbabwe. During apartheid, Shebeens were illegal bars where black Africans could enjoy a home-brew. Today the Shebeen in Melbourne is legal, and opened earlier this year. From what we can tell from their media coverage and our own experience there, it's quite a popular hangout in a bar saturated city.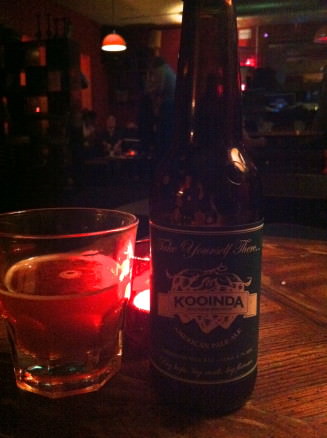 While we were enjoying our evening, Shebeen staff came around with yellow smiley cups that contained a sample of a new margarita they were testing. We were all willing guinea pigs and enjoyed the jalapeño flavored drink. It was delicious, though it could have been a wee bit spicier for Alex and I seeing that we thoroughly enjoy spicy things.
Overall we had a fantastic time there. It's in a cool and central location, staff are really friendly, they have a good selection of drinks and your money helps to support those in need, I mean what more can you ask for?!? So if you live in Melbourne, or you are passing through, please check this wonderful not for profit bar out. We promise you won't be disappointed, we were just disappointed we ran out of time to make a second visit to Shebeen.
Shebeen – 36 MANCHESTER LANE
MELBOURNE, VIC 3022
PH: 9650 6931