Alex and I were fortunate to live near the Melbourne Shrine of Remembrance when we lived in Melbourne 8 years ago. On the 25th of April, 8 years ago, we attended the dawn ANZAC day ceremony. The ceremony begins at 6am, but we recommend getting there at around 5:45am. This is an amazing ceremony dedicated to members of the Australian and New Zealand Army Corps who fought at Gallipoli in World War I, but also serves as a remembrance of all who served and died in military operations for their countries. If you are visiting the city on the 25th April, we highly recommend getting up early and checking it out. However, we never really fully explored the building until our recent trip to Melbourne two weeks ago.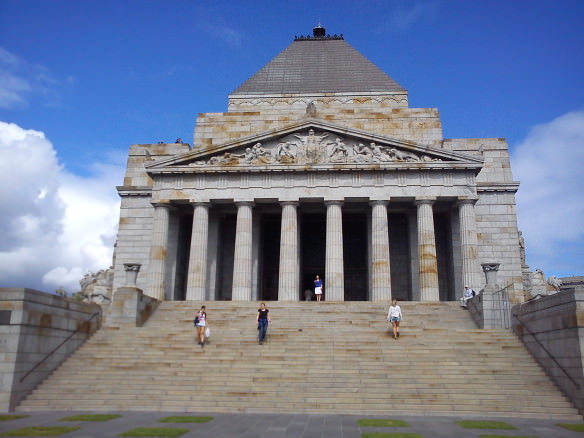 Alex and I were actually planning to go for a walk around the nearby botanical gardens (also lovely, worth visiting and free). However, there was an announcement that there was going to be a service of remembrance inside the shrine, so we figured why not take a look. This short remembrance involves a replica of the natural light that falls on the grave in the center of the shrine and the Last Post was played. These services occur on the hour, starting at 10:30am daily, so if you visit be sure to be there in time for one.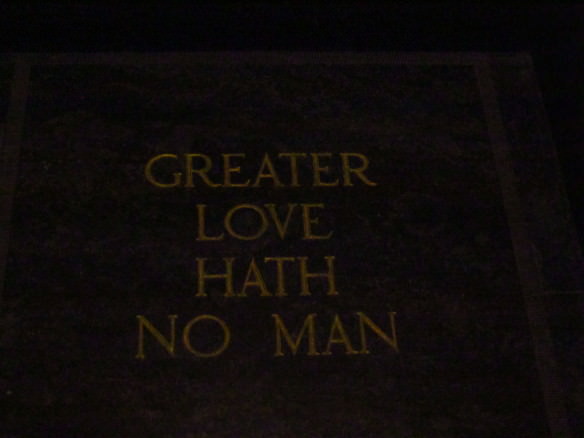 The inscription on the grave, seen above, is from John (15:13). On the 11th of November at 11am the light falls on the word love and marks the hour and day of the Armistice which ended World War I. The iconic building itself was completed in 1934. As we walked around the sanctuary, we noticed signs for the crypt, so we decided to explore more.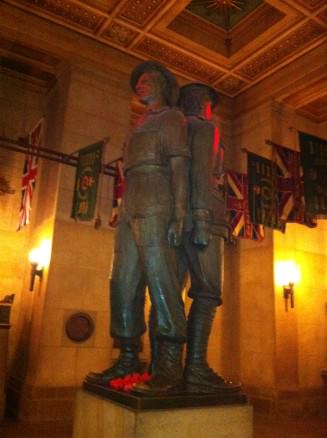 We took the stairs down into the crypt, which leads into a lovely visitors center. Inside the crypt, stands this bronze statue. The statue represents father and son who fought in both World Wars.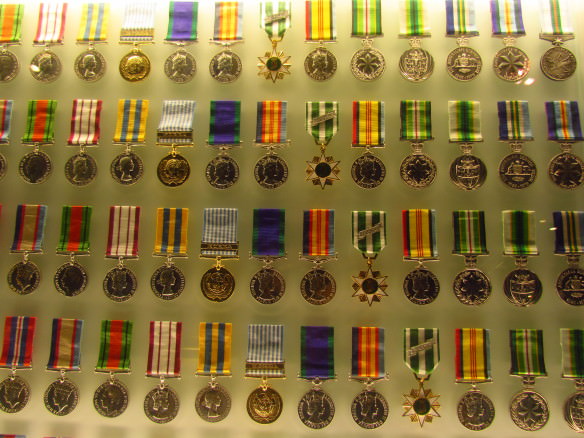 Just before entering the visitor center, you will pass by a wall with 4000 medals. These medals have been arranged so as to represent 100 Victorians who have served and 6 who have died. It is an impressive display.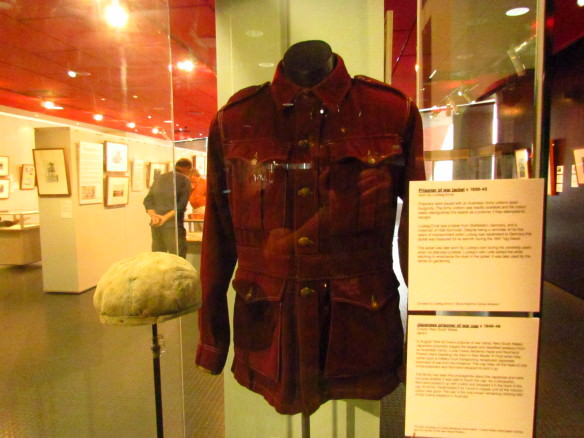 The visitor center has a lot of information on Australia's involvement in both World Wars (little known to many Americans). It even details the internment camps that were created in Australia during both wars. In WWII the camps were created to hold nationals of the enemy countries like Germany, Japan and Italy, but wound up including nationals of over 30 countries believed to be a threat. While most internees were men, there were women and children held in these camps. As an Australian, I think this is a little appreciated fact of our history and one that many visitors to Australia would be completely unaware of. So we were both impressed to see it highlighted in the display in the visitor center.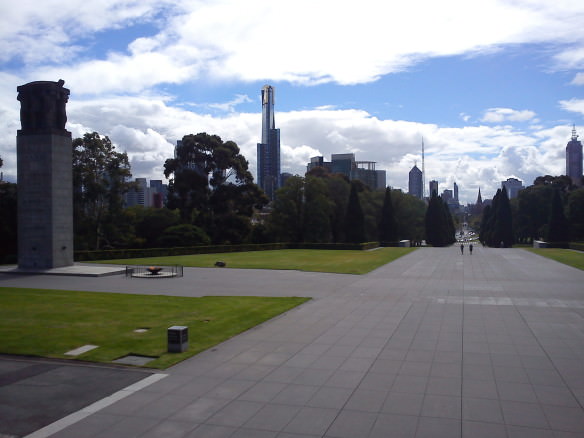 From the entrance to the Shrine of Remembrance, a spectacular view of Melbourne can be seen, which includes the Eureka Tower, the tallest buildings in the Southern hemisphere in terms of number of floors (2nd to an apartment complex in Gold Coast when you count their antenna, which you shouldn't).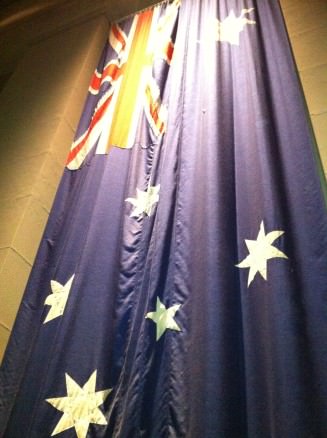 The
Shrine of Remembrance
is located in Kings Domain on St Kilda Road, Melbourne, Australia and is open daily from 10am until 5pm. Entrance is free. Aside from being free, it is a great way to escape the heat and learn about Australia's involvement in both World Wars.