In February, 2016, we made our first trip to China via the little known free 72 hour Chinese transit visa on our way to Australia. We bought two roundtrip tickets, one from Boston to Beijing on American Airlines for just $600, and two additional roundtrip tickets from Beijing to Melbourne on Air Asia for $650. By scheduling multiple stops of less than 72 hours, while en route to a third country, we were able to visit Beijing for a total of 5 days on the way and back. This also saved us $150 each for a Chinese tourist visa. And since we were going to Australia anyway, we basically got a free trip to China with the flight deals. Here's some additional advice for visiting Beijing!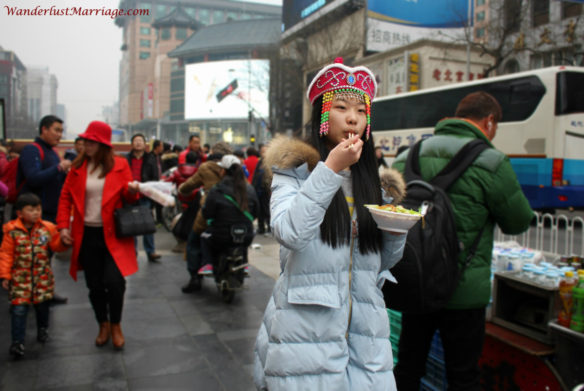 Stay in the Wangfujing Area of Beijing
Beijing is a massive city, with some 25 million people. There's ancient palaces scattered around the city but most of the big ticket items are centrally located near the Wangfujing area. Most people in Beijing don't speak English, so for visitors it's easiest to just stay in Wangfujing. This places you in walking distance to Tiananmen Square, the Forbidden City, Chinese National Museum, Temple of Heaven, shopping centers and a couple of great night markets.
Where to Stay in Wangfujing in Beijing?
We stayed at two 5 star hotels in Wangfujing, which were both fantastic bang for the buck by western standards at under $95 per night. We'd recommend the Inner Mongolia Grand Hotel over the Prime Hotel Beijing. The rooms and amenities at both hotels were great but the tiebreaker was plusher beds at the Inner Mongolia. Chinese people tend to like very firm mattresses so if you also prefer that, then the Prime Hotel is probably perfect for you.
Don't stay in a western chain that will be decorated the same as a hotel in Chicago or London if you don't have to. You can possibly book either hotel with free cancellation to hold the room and then cancel later if your plans change.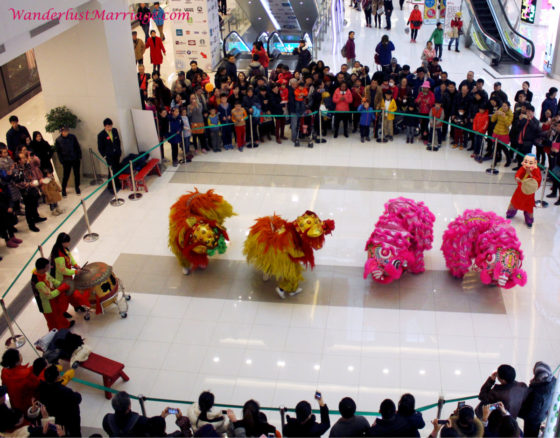 Forbidden City (Imperial Palace)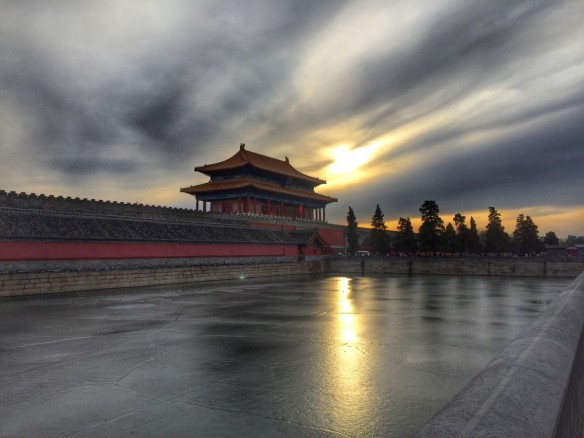 A visit to the incredible Forbidden City is a must while visiting Beijing. This massive palace complex houses 980 buildings and was the seat of government for the Ming dynasty through the Qing dynasty between 1420-1912. Wear comfortable walking shoes!
Also, be sure to dress for the weather. If you visit in winter like we did, prepare for temperatures even colder than the forecast suggests. We were underdressed and you cannot enter most of the palatial buildings, so you're exposed to the elements. We were really cold and had to rush through this magnificent experience.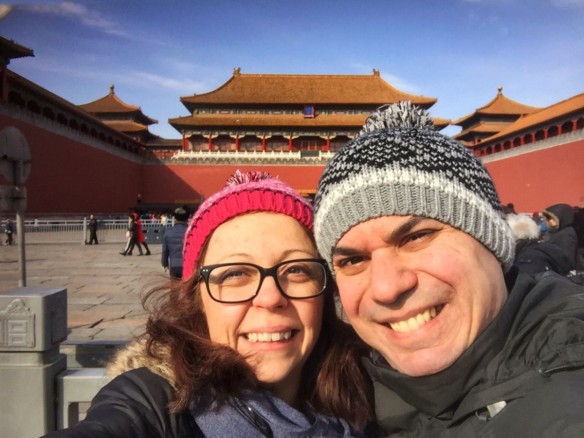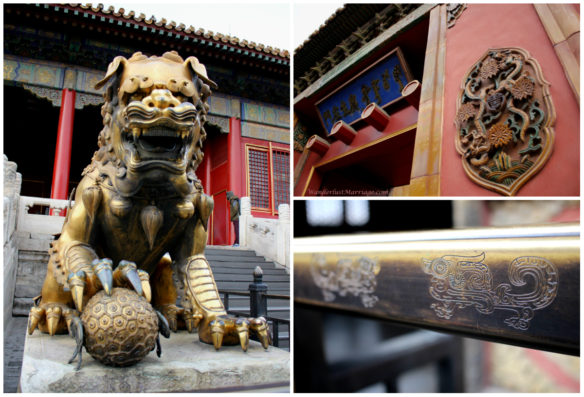 Visit the Mutianyu Section of the Great Wall of China
Sections of the Great Wall of China date back 2,700 years, but the majority of the staggering 13,170 mile (21,196 km) wall was unified and expanded during the Ming Dynasty in the 1400's. There's many breathtaking sections to visit that vary in distance from 90 minutes to 2 & 1/2 hours drive from Beijing. Badaling is not the section to visit if you want to avoid massive crowds because it's the most popular section to visit.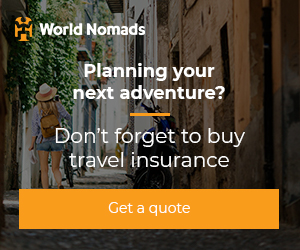 The Mutianyu section is the best section while visiting Beijing in terms of distance from the capital, beauty, accessibility and fewer tourists. Consider a private tour with Wild Great Wall Adventure Tours like we did. Our visit to Mutianyu with them was made easy and very comfortable.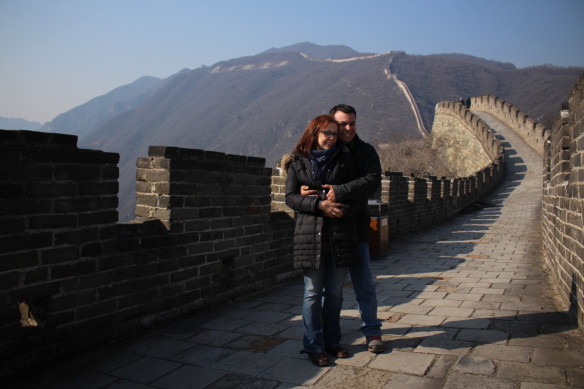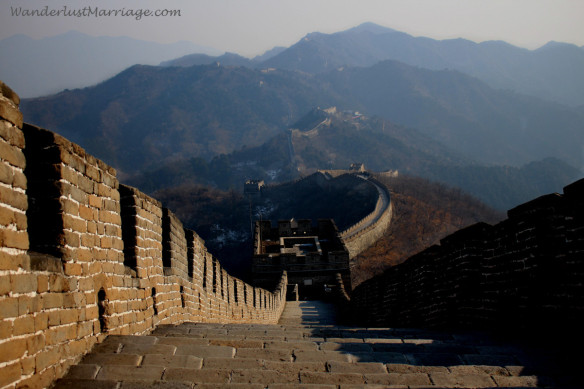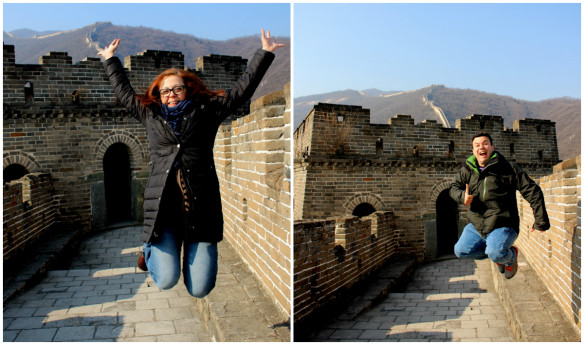 South Luogu Lane
The traditional hutongs of Beijing date back centuries, but these traditional buildings are quickly being replaced with modern high rises. One of the best areas to view traditional hutongs are the neighbourhoods just off South Luogu Lane. South Luogu Lane itself offers a long stretch of quality eateries, cafes and shopping. The businesses themselves are a great blend of old traditions with new ones. We enjoyed delicious dishes and snacks, unique shopping and possibly the best tea we've ever drank, a delicious hawthorn fruit tea.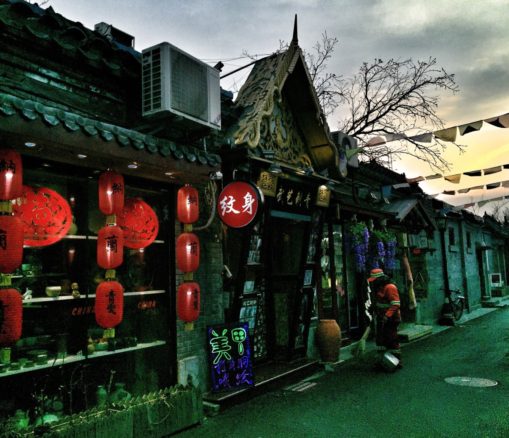 On a sidenote, public bathrooms are still very prevalent in China. This area is also traditional in that most restaurants and cafes don't have their own bathroom, but there's always a public one within a couple blocks. This is pretty common in Beijing, with pros and cons to the concept. If you don't like it, you can always utilize the facilities in the lobby of nicer hotels!
Drink Beer At Great Leap Brewing
We're huge beer fans and Great Leap Brewing rivals the very best brewpubs we've ever visited. We visited the Great Leap Brewing location tucked away in a residential neighborhood near South Luogo Lane. They also have two other locations in Beijing.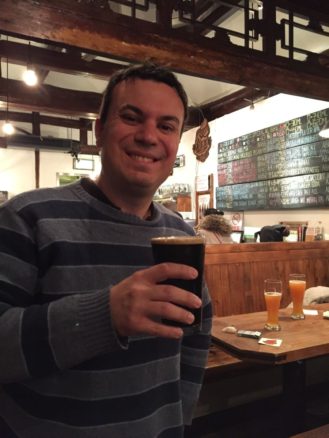 Their Cinnamon Rock Ale was particularly fantastic. It wasn't overly sweet, with a subtle cinnamon flavor that was perfectly balanced with hops. They have an excellent combination of western-style beers like IPA's, pale ales, porters, stouts, pilsners, Belgian style beers and the added bonus of some with an Asian twist. We were disappointed they were out of the Wasabi Pale Ale because based on what we drank, that would have been great. Great Leap Brewing is a must for beer lovers visiting Beijing! Special thanks to Adventures of Sheen for suggesting we meet here for drinks.
Eat Peking Duck at Siji Minfu, an Awesome Experience While Visiting Beijing
Siji Minfu serves traditional Peking duck, freshly carved next to your table. The only downside to a visit here are the long waits. However, you can get a ticket from the hostess, ask for an approximation on the wait time, do some nearby shopping in the Wangfujing area and return around 20 minutes before your scheduled seating. So bang, no problem.
If you don't eat Peking Duck at Siji Minfu, be sure to eat it at a reputable restaurant elsewhere in Beijing. But since Siji Minfu is ranked #7 out of over 9,000 restaurants in Beijing on TripAdvisor, and prices are reasonable, we doubt you'll leave disappointed. Bon Appétit, we generally loved the food in Beijing!

For more information on a visit to China, visit the Chinese Tourism Board's official website.
Want to travel to China Cheap?
Play the credit card points game to earn free flights with everyday spending. There's really no catch as long as you're responsible with credit (being irresponsible is the catch). We take advantage of credit card bonus sign ups to save thousands each year on travel. Reward bonuses frequently change so it's good to know when to apply for certain cards. If you need tips on travel hacking leave a comment or drop us an email!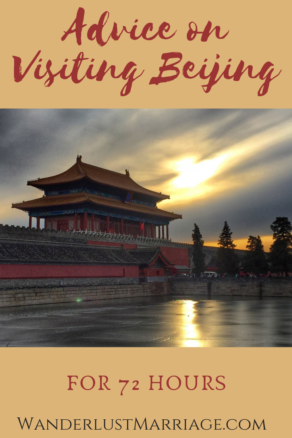 Have questions on planning a trip to Beijing? Leave a comment or email me at [email protected] and I can assist you!
This article contains some affiliate links. We receive a small commission when you book or sign up through certain links and it costs you nothing extra. When it suits you, please use them, as it helps us help you!