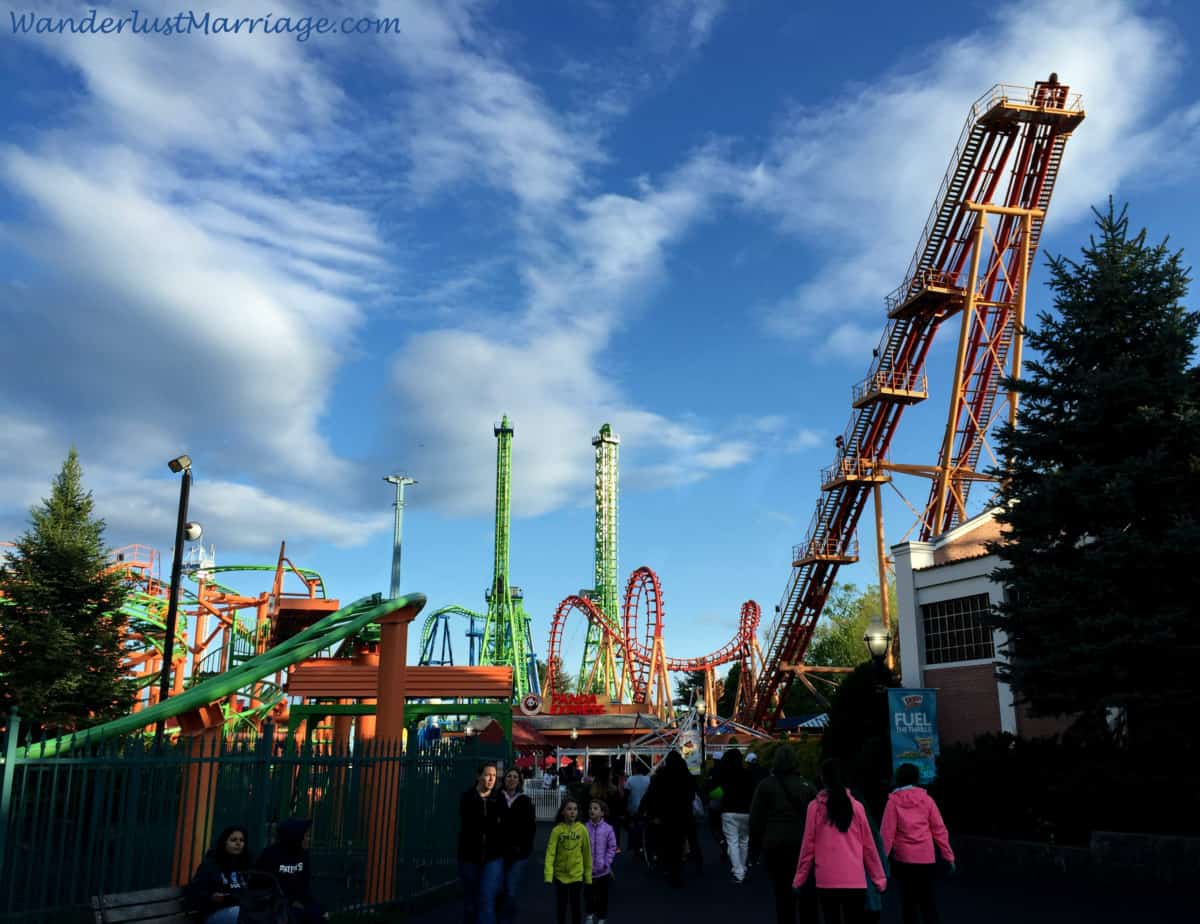 Six Flags is famous for epic roller coasters and thrill rides. Situated adjacent to the picturesque Connecticut River, Six Flags New England is the oldest park in the franchise, dating back to the late 1800's. The amusement park features over 60 rides, including 13 roller coasters and even an entire water park, Hurricane Harbor. Unfortunately, the weather didn't cooperate on our mid May visit to enjoy the water park, but there were more than enough rides, characters and games to have a great time regardless.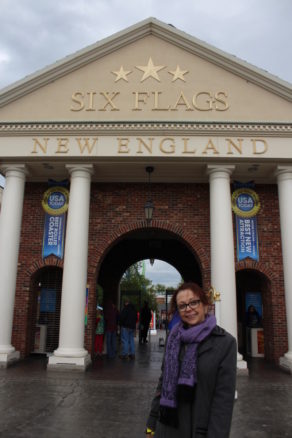 Skyscreamer: The World's Tallest Swing Ride!
In 2014, Six Flags New England debuted the Skyscreamer, which is the world's tallest swing ride. The Skyscreamer swings brave souls over 400 feet in the air and offers fantastic views of the surrounding Pioneer Valley. Neither of us could muster the courage to swing 40 stories high, but we enjoyed watching others from below.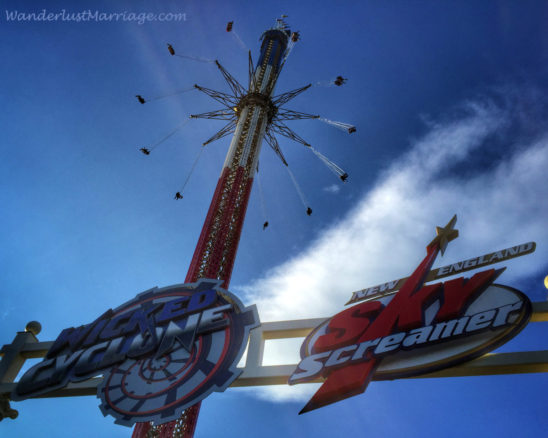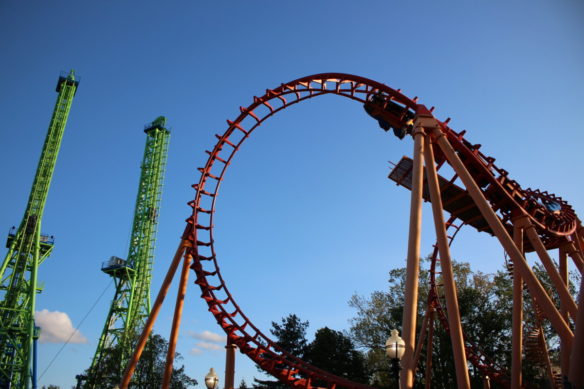 Goliath: Super Coaster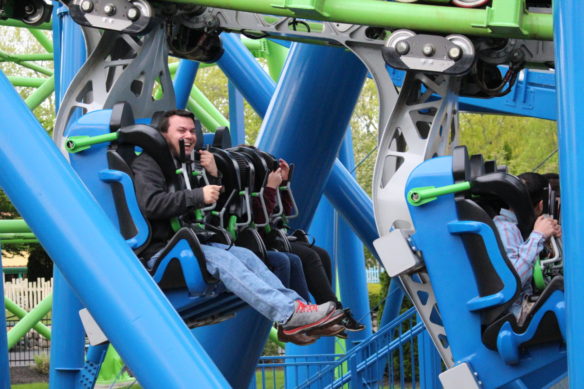 I rode the inverted super coaster, Goliath. Bell opted out of this thrill ride and stood by to take photos of me smiling on the outside, while slightly terrified inside. Six Flags New England's website says "Goliath is so intense they had to invent a whole new category of super-coasters just to describe it… a Giant Inverted Boomerang." Indeed, check your pulse because if climbing nearly 200 feet in the air at a 90 degree angle, then speeding 65 miles per hour through loops and twists, both forwards and backwards, doesn't get your heart racing, we don't know what will! Goliath is a seriously intense roller coaster, and put my fear of heights to the test.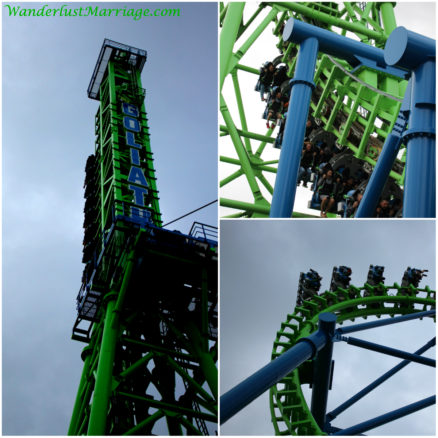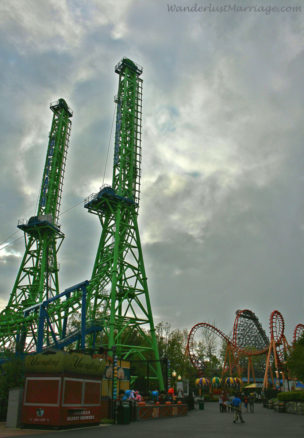 Shows and Characters at Six Flags New England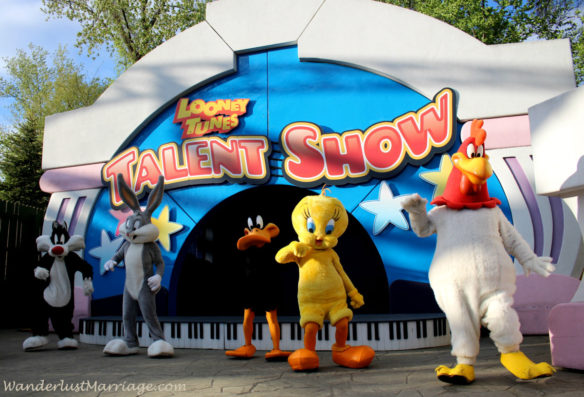 There's a lot of opportunities to meet and great characters at Six Flags New England. We had fun watching the Looney Tunes Talent Show, where the characters square off in a song and dance competition, American Idol style. After the show, we had photos taken with Bugs Bunny and Daffy Duck. We also bumped into Scooby Doo, Scrappy Doo and Taz, among other characters throughout the day. It was fun taking photos with them, even though we're in our 30's and don't have kids. Weird? Maybe just a little!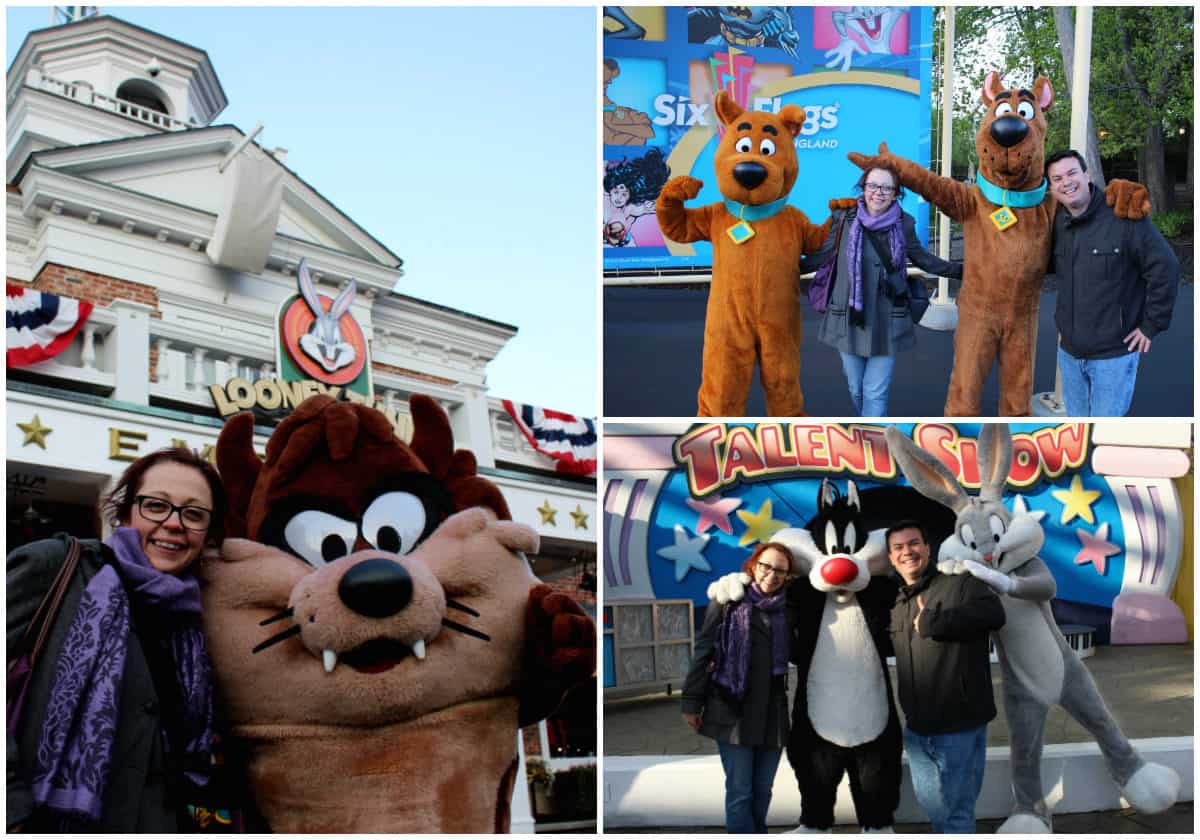 Historic Carousel from 1909
This is the first attraction that greets you after entering Six Flags New England. The Illions carousel was originally built in 1909 and has 68 hand carved saddled horses, dressed in colourful armor, and all featuring authentic horse tails. There are also lions, tigers and zebras that spin guests through a relaxing 3 minute journey. While fun for all ages, this is of course a huge thrill for little ones.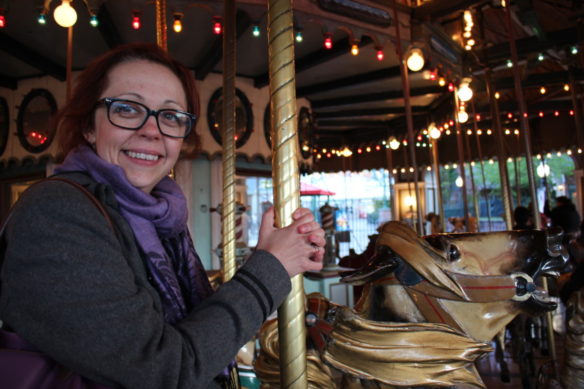 Superman: the World's Tallest, Fastest, and Longest Virtual Reality Coaster
SUPERMAN, Six Flags New England's most popular coaster, has just become one of the world's first virtual reality roller coasters. Wearing virtual reality headsets, guests are now transported into a realistic 360-degree virtual world of Metropolis that's synched to the movements of the roller coaster. Combining virtual reality with 20 story climbs and 77 mile per hour speeds means this is the closest you'll come to actually feeling like Superman. We'll have to return to Six Flags New England to experience this firsthand!
We had a great time at Six Flags New England and while the weather was cold, the bright side was that the park wasn't busy, so lines were virtually non-existent. We even rode the spinning tea cups all to ourselves! If you visit this summer on a nice day, consider bringing swimwear to enjoy the water park. There's a ton to experience here, and we only scratched the surface of it. We're looking forward to returning soon, and maybe next time we'll bring the courage to try the world's tallest swing ride!
Our visit to Six Flags New England was organized thanks to them, the Massachusetts Office of Transportation and Tourism and the Pioneer Valley Visitor Center. All opinions and photos included in this article are our own.