This post is in honor of 'National Park Week' and the 100th anniversary of the National Park Service. Ohio might not be a state on many travelers radars, but we were really impressed with the caves and waterfalls we encountered at Hocking Hills State Park last year. We combined a work and family visit, as Alex has family that live an hour outside of Columbus. It was great to have Alex's half brother John show us some beautiful spots in rural Ohio. If you're on a road trip through Ohio, the Pro Football Hall of Fame is a top Ohio attraction and we also enjoyed the history in Canton, like the William McKinley Presidential Library.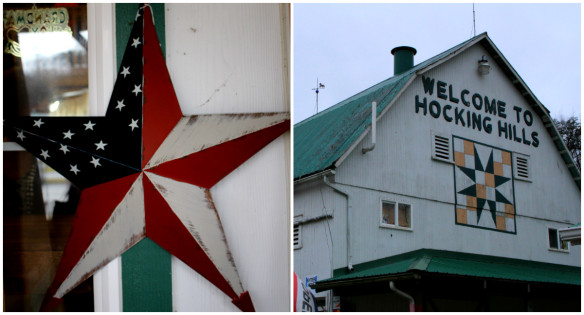 Hocking Hills Flea Market
Our first morning, John guided us through the Hocking Hills Flea Market. If you are in this area on a Saturday, it's worth stopping in, especially for the fantastic pies. The market is a decent size, but just ask a vendor for the pie lady and someone will point you in the right direction. We bought quite a few small pies and it's really hard to say which was the best, maybe the cherry, rhubarb, apple or all of the above. We recommend buying an assortment of small ones and deciding for yourself! You're going to hike those calories off anyway (maybe).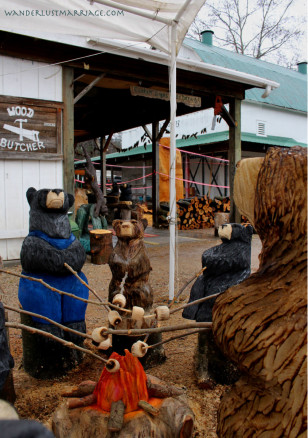 Hocking Hills State Park
After we stock piled our pies, we headed for Hocking Hills. Nine seperate parks make up beautiful Hocking Hills State Park and we stopped at four of them. The hikes in the four parks we visited were relatively easy, but in March there was still considerable ice, which made some of the hikes more challenging than they would be in warmer months.
Cantwell Cliffs
Our first stop was Cantwell Cliffs, and there was not a soul to be seen. There are some beautiful tall waterfalls and rocks at this spot, and it was the most peaceful of the parks we stopped at. Alex was relieved not to see any bears. He enjoys the outdoors, but a bear encounter is a phobia of his.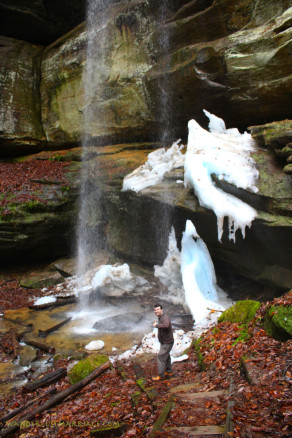 Rock House
Next was the Rock House. This would be a great cave to take kids, as it is an easy hike. And the cave is quite open, which is especially great for anyone who is claustrophobic. It is made from blackhand sandstone and the top is 25 feet high. It's aptly named the Rock House because the cave has seven openings looking out on the hills.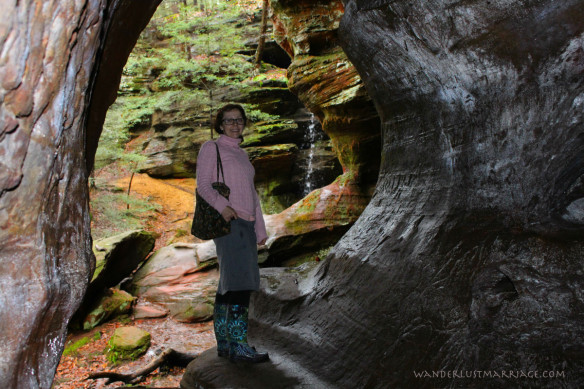 Cedar Falls
Cedar Falls was our next stop. The path to the falls was extremely icy, but it felt like we were in a fairy tale with moss, mist and beautiful icicles. There were quite a few people at these waterfalls. But because I decided that gum boots (Aussie for wellies or rain boots) were the appropriate footwear, I was able to wade into the icy rivers to enjoy a different perspective of the scenery.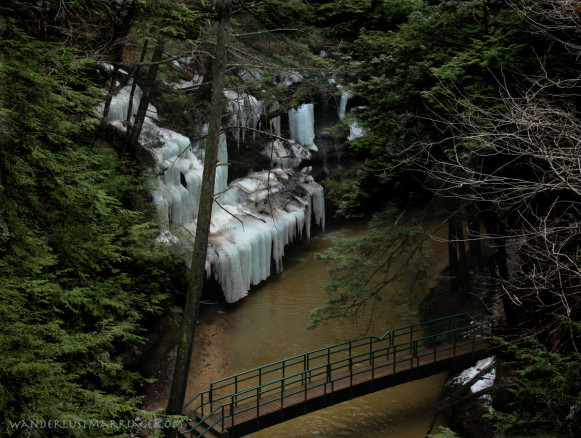 Old Man's Cave
Our final stop was Old Man's Cave, which is the most popular of the parks in the Hocking Hills State Park. It was easy to see why given how enormous the cave was. But this was also the most difficult area to get around in late winter. The ice on the pathways were extensive and nothing was gripping to the thick ice. But it was fun and beautiful to explore this park in a season Alex and I might normally avoid.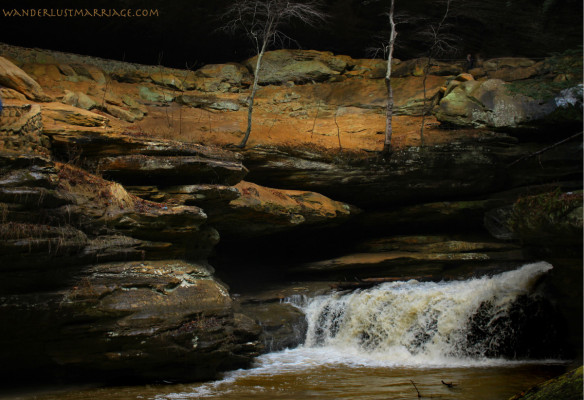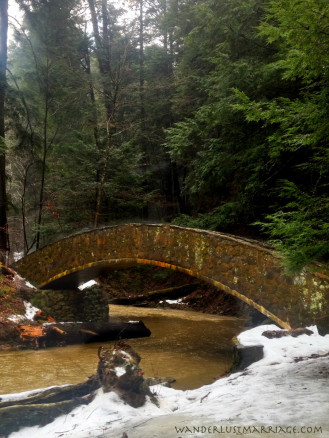 Visit a National Park this Summer on the 100th Anniversary of the US National Park Service!
The Hocking Hills parks offer some beautiful scenery, with hikes that aren't too strenuous and provide an excellent way to work off pies or any other hearty midwestern food you've been enjoying! To find out how to get to these excellent parks, visit the National Parks Hocking Hills website for maps and activities going on in the parks.
Summer is coming up so try and enjoy a national or state park on the 100th anniversary of the National Park Service. The outdoors can be romantic for a number of reasons. Just don't let any bears steal your picnic basket!