On our recent trip to Melbourne in summer, it was a particularly hot day so we decided to escape the heat and check out some fantastic Australian art at the Ian Potter Gallery, Melbourne. Once upon a time, I studied art, and the school I went to in Ballarat, Australia put an emphasis on teaching Australian art. They put the European classics in the backseat! Australian art was something I was very interested in and I loved learning the stories behind the paintings and their place in time and the cultural circumstances they depicted. So I was delighted to be able to share with Alex some of Australia's best artists and enjoyed re-discovering works by two of my favorite Aussie artists, Arthur Boyd and Russell Drysdale.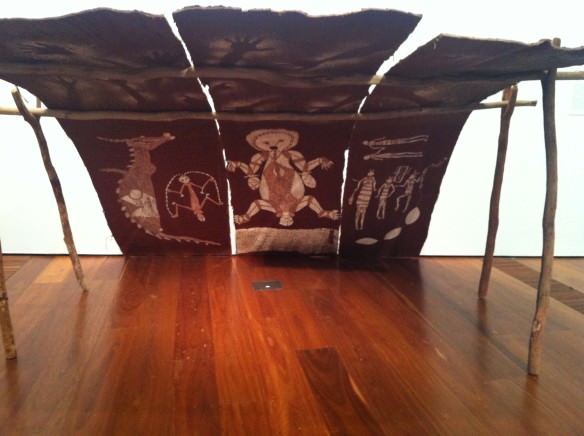 Indigenious Art at the Ian Potter Gallery
For most of us, we become entrenched in our own culture and so Aboriginal art might be what jumps to mind when someone mentions Australian art. The Ian Potter Gallery has an extensive collection of these beautiful paintings. The ground floor includes a wonderful display of statues, bark canvasses and of course some beautiful didgeridoos. No you can't have a go on these ones! If you have not been exposed to this type of artwork, the Ian Potter Gallery is a great place to learn more about the history of Aboriginal art and the stories the art tells. Aboriginal people use their beautiful work as a tool to communicate import stories that preserve their history and culture.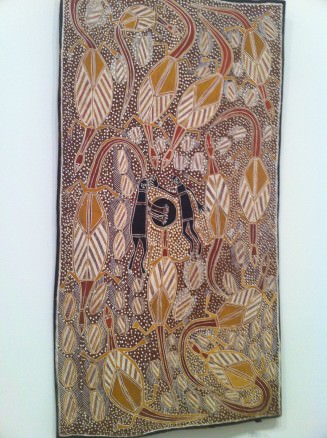 Seeing the Aboriginal paintings after years away from this type of art brought back good memories. I enjoyed learning about this art in primary school (elementary school for our American readers). And when we were children we camped with my parents in central Australia and saw a lot of this work.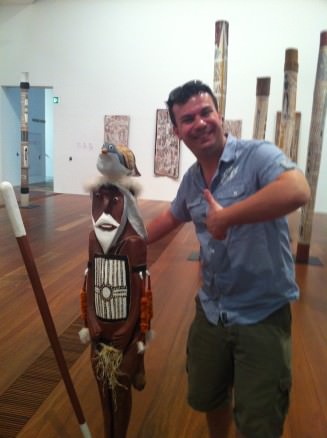 Modern Art at Ian Potter Gallery
When we went upstairs I was excited to see many of my favorite paintings. While I appreciate work by John Brack, Arthur Streeton and Sidney Nolan, I love Arthur Boyd's work. I deeply appreciate his 'Love, Marriage and Death of a Half-Caste Bride' series. These paintings were inspired by Boyd's observations of the tragic neglect experienced by Aboriginal people living in central Australia. When the series was first exhibited in Melbourne in 1958, it was met with mixed reactions. I find the paintings to be both beautiful and very haunting. They capture some of the dark history of white settlement in Australia that is often brushed over in the history books.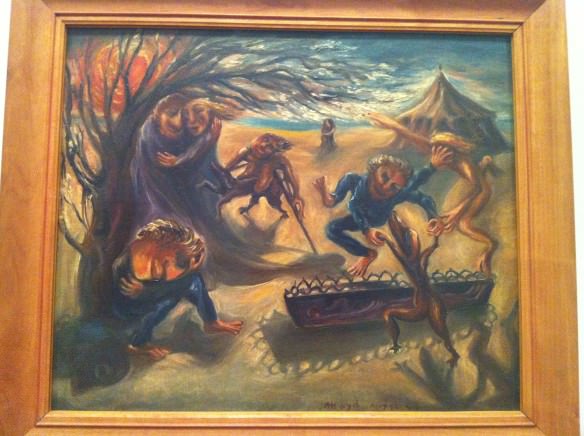 The painting we snapped a picture of, is not one in the half-caste series but is of a similar style. The Weathercock depicts the human condition Boyd witnessed in inner-city Melbourne in the 40's. Around the same era of Australian artists, is Sidney Nolan. Below is one of his iconic images of the infamous bushranger Ned Kelly, a runaway convict. Kelly is a controversial Australian who has folk law status but was essentially a murderer. The stories and songs about him have are what allows him to have this folk law status in Australian culture.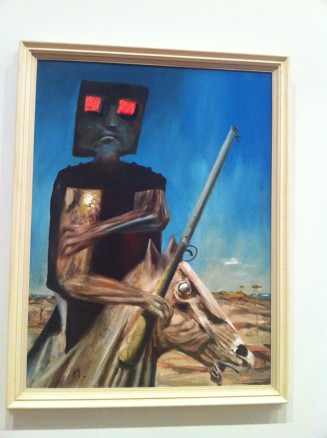 Below is another famous painting depicting Australian life on the station, which was completed in 1890. Roberts was a key member of what is referred to as the Heidelberg School. These paintings were often inspired by rural life and capturing the particular light of the Australian Bush. I'm not a huge fan of this style of work but I appreciate it for what it tells us about life in Australia over 100 years ago.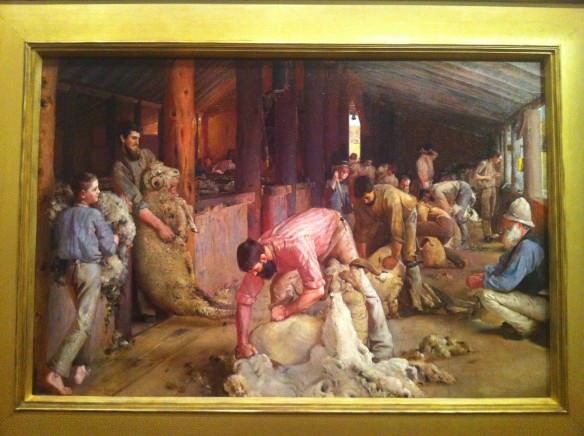 Ian Potter Gallery Admission and Opening Hours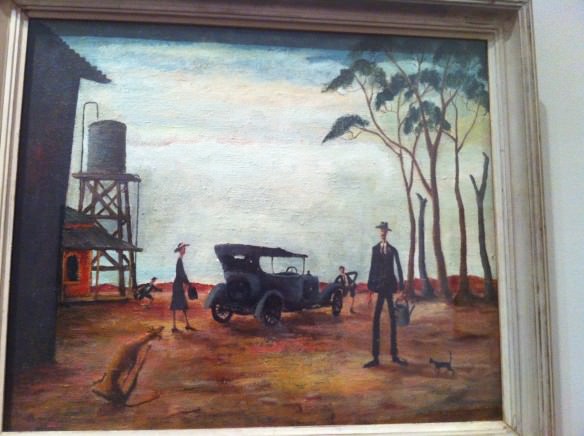 Australian art at the Ian Potter Gallery is a must-see in Melbourne. The gallery is centrally located in Federation Square, entry is from the Swanston Street side. Admission is free and they are open 10am-5pm Tuesday – Friday and 12pm-5pm Saturday and Sunday. They are closed on Mondays.