Vienna consistently ranks as one of the world's most livable cities, and there are an abundance of great reasons for that. Located just 15 miles (24km) southwest from Austria's capital is the charming spa town of Baden bei Wien, which translates to "Bathing Near Vienna." It's Austria's lone destination among the Great Spa Towns of Europe, which includes 11 inspiring spa towns that are collectively a UNESCO World Heritage Site!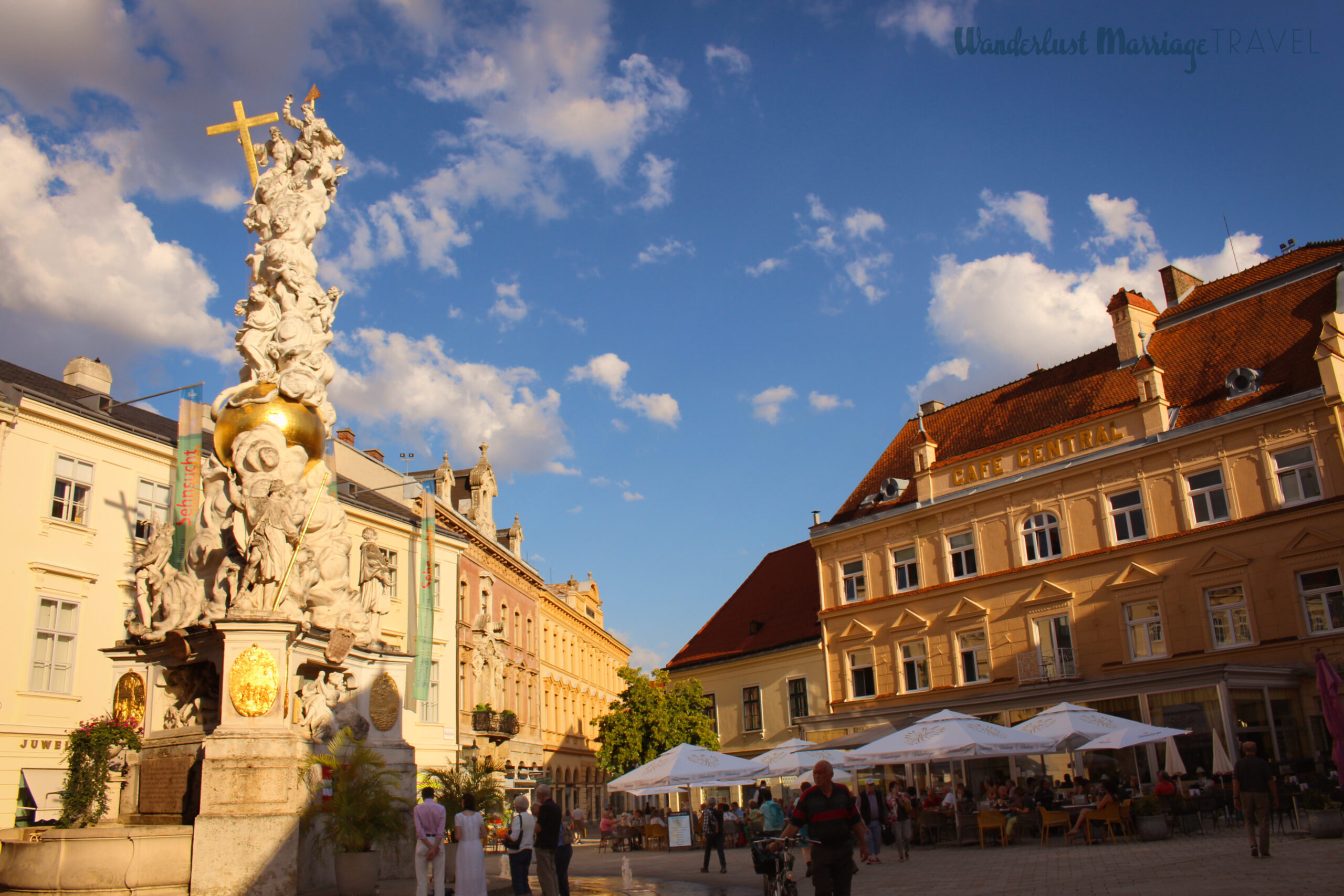 Baden's friendly and well educated residents create an ideal environment for visitors to relax amidst inspiring surroundings. The town's lovely historic center includes pedestrian-only laneways and is dotted with 19th-century Biedermeier architecture. And the charming At the Park Hotel, which overlooks beautiful Kurpark, offers a fantastic stay in the heart of town.
Baden bei Wien offers an ideal spa getaway, amongst fantastic art, inspiring music, delicious gastronomy and fun outdoor activities. Lovely Kurpark features free daily orchestra performances in summer, and memorials to composers like Mozart and Beethoven (who spent the summers of 1821-1823 living and composing in Baden). Hiking and biking trails lead to Kalvarienberg, a hill where the park morphs into the Vienna Woods. And for those that enjoy gaming, Baden Casino is the largest in Austria.
Baden bei Wien: A Great Spa Town of Europe and UNESCO World Heritage Site
Baden bei Wien's spa culture has been a popular draw for centuries. Therapeutic relief in an inspiring setting made it a favorite getaway and workplace for famous composers like Beethoven, Mozart and Strauss.
Emperors also visited, seeking rejuvenation and relaxation by soaking in the town's mineral rich thermal waters. Baden was a favorite summer resort for the Hapsburg family, making the town a 'Spa of Emperors.'
The Great Spa Towns of Europe became a UNESCO World Heritage Site in 2021. They comprise 11 exceptional spa towns in 7 countries: Austria, Belgium, Czech Republic, France, Germany, Italy and the United Kingdom. The lone representative town of Austria is charming Baden bei Wien. Historic thermal towns like Baden are also classified as a Cultural Route of the Council of Europe.
How to Get to Baden bei Wien?
The best ways to reach Baden bei Wien are by car or train. We traveled to Baden by train, which is just 35 minutes from Vienna. Trains are frequent, running around every 20 minutes, so it is not necessary to buy train tickets in advance. Tickets can be purchased from automatic kiosk machines at the train stations like Wien Hauptbahnhof (Vienna Central Station). Train tickets from Vienna to Baden bei Wien cost around €7 each way.
Vienna to Budapest, Hungary is just 2.5 hours on the train. Budapest has more thermal baths than any other world capital, and is considered "Spa City." So combining the two destinations makes for an excellent thermal bath itinerary.
Festival La Gacilly Baden: An Incredible Outdoor Photo Exhibition
Baden bei Wien is a fantastic town for art and culture. Among the highlights is the incredible Festival La Gacilly, which is in its 5th consecutive year running. During the photo exhibition, the gardens, streets and squares of Baden are transformed into an epic gallery of incredible art.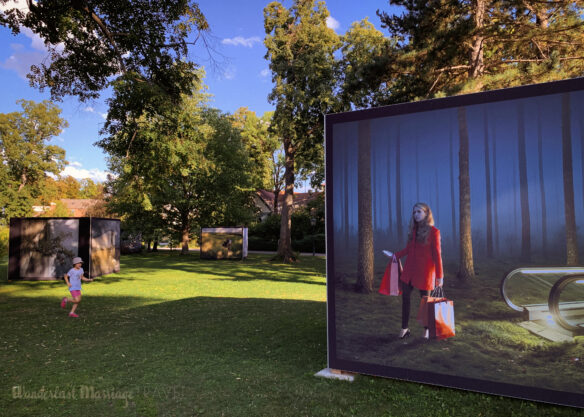 Festival La Gacilly Baden features around 1,500 outdoor photos from some of the world's best photographers. Along with beautiful images, many are thought provoking. Many images deal with pressing global issues like climate change, animal preservation and a variety of social issues. According to Klaus Lorenz, the Director of Baden tourism, objectives of La Gacilly include education and challenging the way people think about the world around them.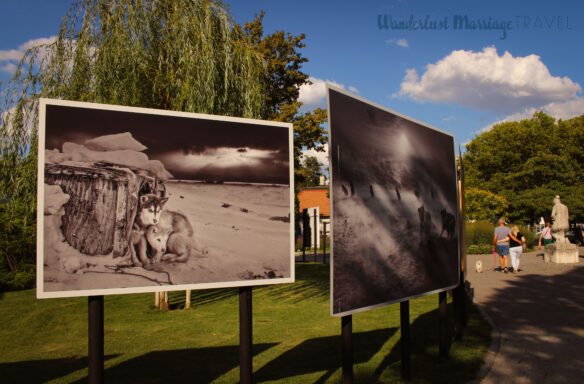 Director Lois Lammerhuber has done a phenomenal job heading Festival La Gacilly Baden, and is passionate about the project. The continued support of the exhibition makes it clear that Baden bei Wien is a destination that cares about education and the arts. The festival takes place annually from June through October. Check their website for updated information on Festival La Gacilly Baden 2023.
Thermalstrand Baden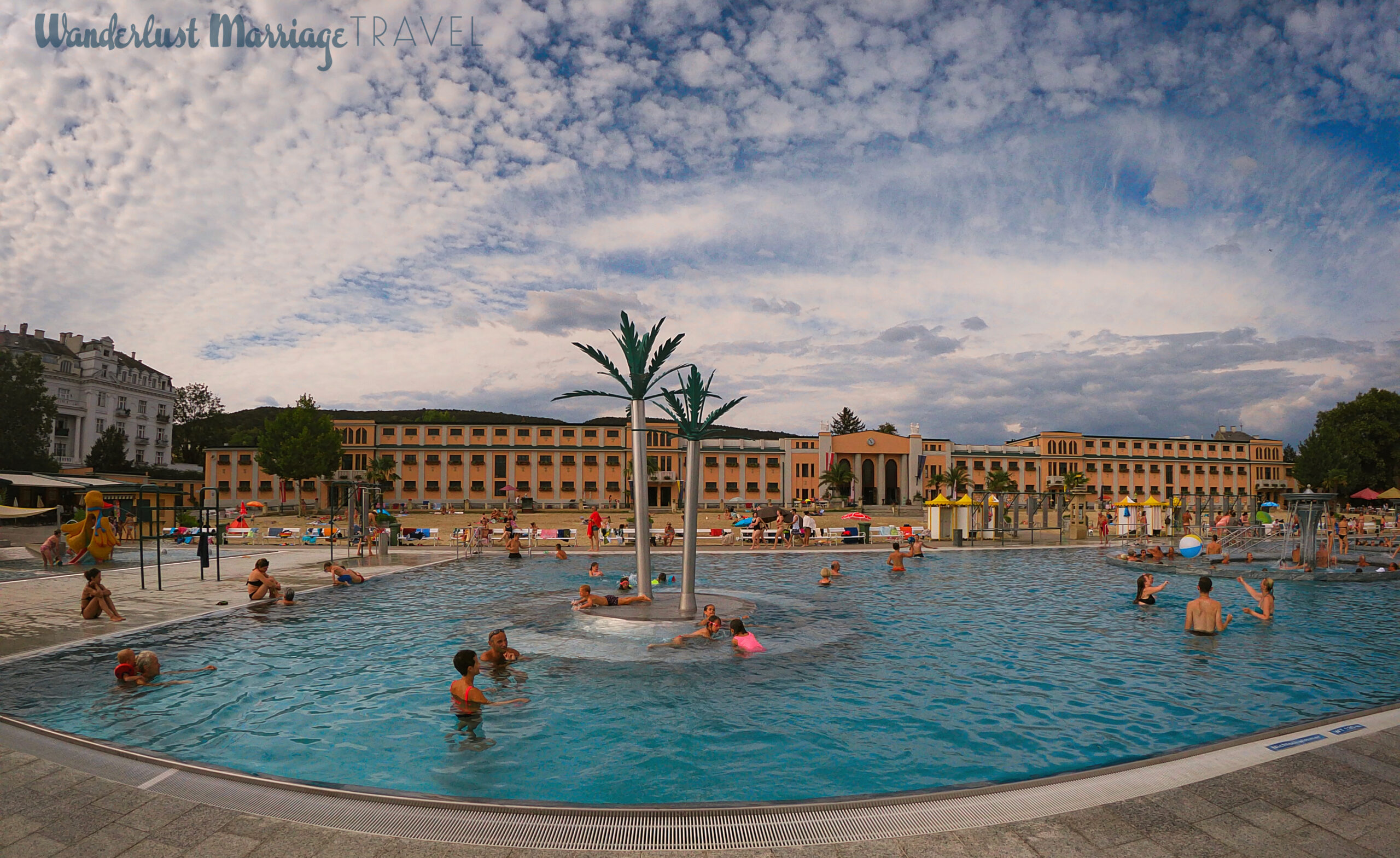 Thermalstrand Lido Baden is the largest sandy beach in Austria. The art deco facade features two 50-meter swimming pools, massage jets, jet stream canal, geysers, massage beds on the palm island and a children's pool with water mushroom and a slide. There is also a big water slide, wide water slide, and a diving platform.
We enjoyed our time at Thermalstrand Baden. It makes for a relaxing afternoon for families and couples like us. Alternate between the cold and warm thermal pools for optimal therapeutic relief, as the practice is great for blood circulation. Along with muscle and injury relief, spending time in thermal pools can aid in problems like anxiety and insomnia.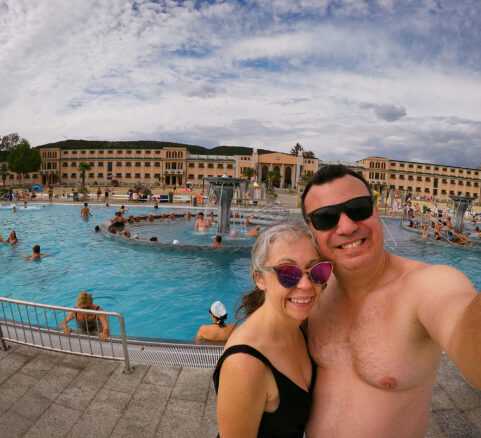 Park entrance to Thermalstrand Lido Baden costs €10. Entrance offers all-day access to thermal pools and the beach. Locker rentals are available. Don't forget to bring a towel because Thermalstand Baden does not sell or rent towels!
Arnulf Rainer Museum
The Arnulf Rainer Museum is home to gorgeous art in a former bathhouse. Rainer grew up in Baden bei Wien and his abstract art currently on display deals with themes of nature, science, creation and the cosmos. The opulent and unique setting was a popular 19th-century bath house for ruling families like the Hapsburgs as well as other aristocrats.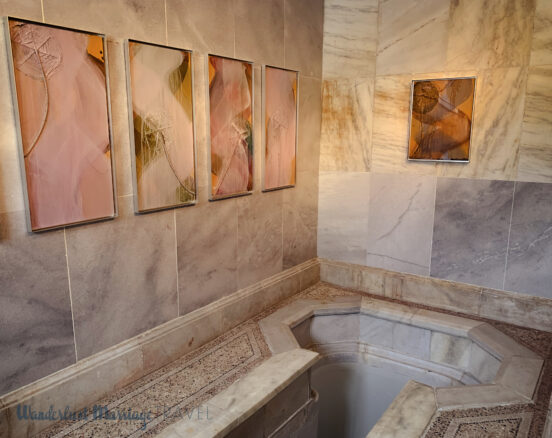 Rainer superimposes metal silhouettes with motifs of angels and stars in abstract works that feature spherical color moods. Artificial flowers, typically made of silk, add another layer to the unique paintings. Works from the 18th and 19th centuries played an important role in shaping Rainer's diverse works.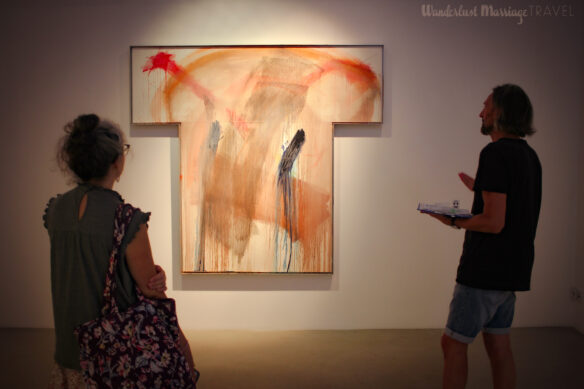 Visitors to the Arnulf Rainer Museum can enjoy pondering the artist's works in a unique gallery. We enjoyed our tour with Herman, a knowledgeable guide who is passionate about Rainer's paintings. He asked us to look at a series of Rainer works and think of the angel that best spoke to us. Sitting in what was once a marble pool where emperors once bathed to view beautiful art is a unique experience.
Beethoven House (Beethovenhaus Baden)
Beethoven suffered from multiple health problems. In his late 20s he started to lose his hearing and by around 44 years old he was almost completely deaf. Other health problems Beethoven suffered from included digestive & respiratory issues and depression. Baden bei Wien offered a reprieve where he drank the thermal waters and also went on long walks in the surrounding Vienna Woods.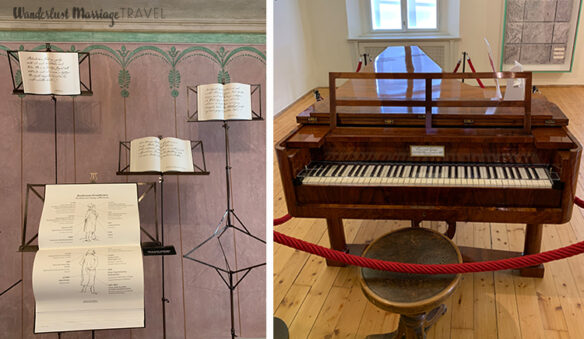 In the summers of 1821-1823, Beethoven lodged in the upper floor of Rathausgasse 10, a house owned by a coppersmith. Beethoven composed music there, including important sections of his most complex and famous Ninth Symphony. During that period, Emperor Franz I spent summers with his family in Baden. The town bustled with members of the high aristocracy and upper middle class, including patrons of Beethoven.
Today, Rathausgasse 10 houses the Beethoven Haus Baden, a museum dedicated to the famous composer's life. During renovations in 2014, the original pink wall painting that can be seen today thanks to restoration efforts was a surprise discovery. An in-depth experience with the Ninth Symphony can be enjoyed through an audio and visual tour. Adult admission to Beethoven Haus Baden costs €8.
Baden bei Wien Hotels
At the Park Hotel
We stayed at the At the Park Hotel. Located right along Kurpark, guests can enjoy lovely views of the beautiful park. The breakfast is delicious, featuring gourmet items like fresh honeycomb, smoked salmon, prosciutto, freshly baked croissants, breads and pastries. Adjacent to the park, it's a great setting to enjoy a meal and drink.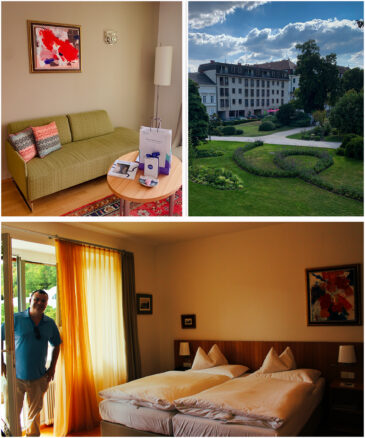 We stayed in room 204 at At the Park Hotel, which commemorates Baden's place as a Great Spa Town of Europe and UNESCO World Heritage Site. The suite features original art and thermal bath memorabilia. Two spacious balconies, one from the living room and one from the bedroom, offer beautiful views overlooking Kurpark and Baden.
At the Park Hotel Details
Address: Kaiser Franz-Ring 5, 2500 Baden, Austria
Phone: +43 2252 44386
Great Baden bei Wien Restaurants and Cafes
Streiterhof
Wine enthusiasts especially should visit a traditional "Heuriger" – a typical Austrian wine tavern. We loved our fantastic dining experience at Streiterhof. Their outdoor terrace is a delightful venue to enjoy traditional Austrian dishes over tasty wines and great conversation.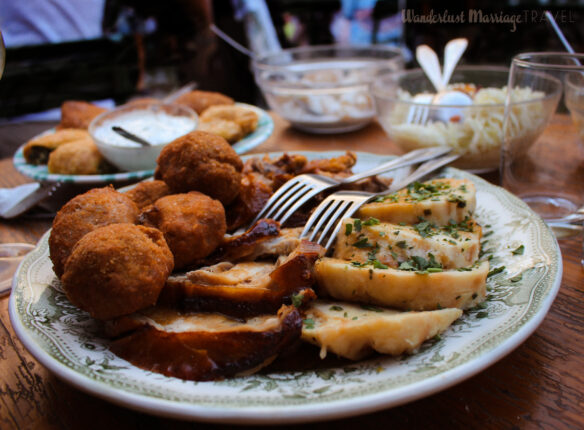 One of our favorite dishes at Streiterhof was the perfectly prepared crispy roast pork. A dessert highlight was their delicious apricot cake (Austrian apricots are fantastic). There is a huge selection of tasty Austrian wines starting at extremely reasonable prices, like under €3 a glass!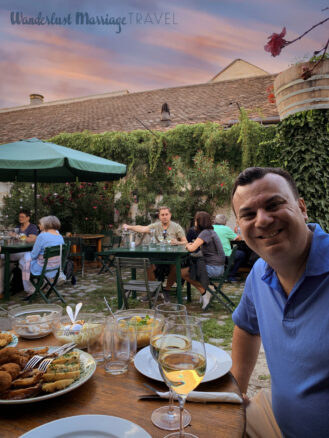 Streiterhof Address and Contact Details
Leesdorfer Hauptstraße 64
2500 Baden
Office email: [email protected]
Telephone number: +43 02252 80253
El Gaucho
El Gaucho is a wonderful restaurant in the heart of town for steak lovers. Their tender prime steaks are dry aged for a minimum of 21 days, which offers robust and tender flavor in each bite. Ribeye is my go-to steak as I find it the perfect balance of flavor and tenderness. The ribeye at El Gaucho was the best I've eaten in quite a while.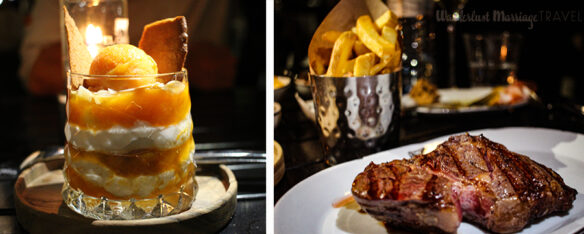 Balmy summer evenings are perfect to enjoy delicious steaks and wine on El Gaucho's lovely terrace. For dessert, we loved their sheep's milk yogurt with apricot preserves. El Gaucho is very popular so be sure to make reservations in advance.
El Gaucho Address and Contact Details
Josefsplatz 2
2500 Baden bei Wien
E-Mail: [email protected]
Tel: +43 2252 80399
Cafe Central
Cafe Central is an Austrian institution dating to 1841. Set in the main square of Baden, with views of the Trinity column, their charming terrace is an ideal spot for food and drinks. Enjoy a cappuccino and a tasty regionally inspired dessert like dobos torte, a Hungarian sponge cake layered with chocolate buttercream and topped with caramel.
The Vienna location of Cafe Central is typically packed, with a line stretching out the door for a table. We appreciated that we were able to easily get a table inside on a lovely Saturday afternoon in summer at the Baden location. Traditional Austrian cafes and patisseries like Cafe Central, have inspired generations of writers, artists, musicians and politicians.
Cafe Central Address and Contact Details
Hauptpl. 19, 2500 Baden, Austria
Phone: +43 680 2004508
Baden bei Wien Electric Bike Rentals
E-bike rental: Bikes can be rented and picked up at the Tourist Information Baden office. We recommend renting the e-bikes for half-day, which currently costs €15. That's a great deal to explore Baden, and the biking trails in the Vienna Woods. You can also bike to another nearby town like Heiligenkreuz with a half day bike rental. Check out the cycle rental page of the Baden website and contact them if you have any questions.
Tourist Information Baden
Address: – 2500 Baden bei Wien, Brusattiplatz 3
Office phone number: 43 (0) 2252 86800 – 600
[email protected]
E-bike Rental Costs
1 hour – €7
half day – €15
full day – €25
weekend – €40
Vienna Woods, Including Helenental (Valley of Saint Helena) are Great for Biking and Hiking
The Helenental (Valley of Saint Helena) is wonderful for cycling and hiking. Beethoven enjoyed walking for many miles in the forest just outside Baden bei Wien. There is even a Beethoven plaque that commemorates a favorite spot of his.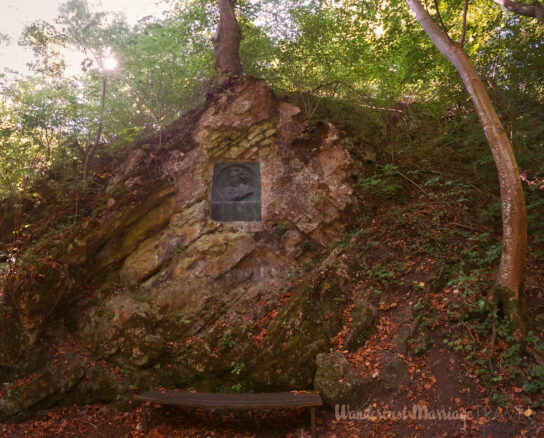 We enjoyed our 13 km electric bike ride through Vienna Woods to Heiligenkreuz Abbey. E-bikes are fantastic, as they provide more powering in pedaling, allowing riders to go further, while still getting a good workout. Bell and I were both under the weather during the bike ride, so we would have struggled to make the 26 km roundtrip journey on traditional bikes.
The beautiful Cistercian monastery of Heiligenkreuz Abbey is located in the village of Heiligenkreuz, in the southern part of the Vienna woods. Constructed in 1187, it's one of the oldest continuously occupied Cistercian monasteries in the world. Plan to arrive before 12pm, so you can enjoy a unique 20-minute sung prayer by a group of monks.
After the prayers, we enjoyed a fantastic lunch at the abbey restaurant, Klostergasthof Heiligenkreuz. We highly recommend their local game stew with Viennese dumplings. They have a delicious menu, and their terrace is a beautiful spot to relax during the warmer months. Apfelspritz (sparkling apple juice) is a ubiquitous drink in Austria and perfect to enjoy during a cycling stop on a hot day.
Casino Baden: The Largest Casino in Austria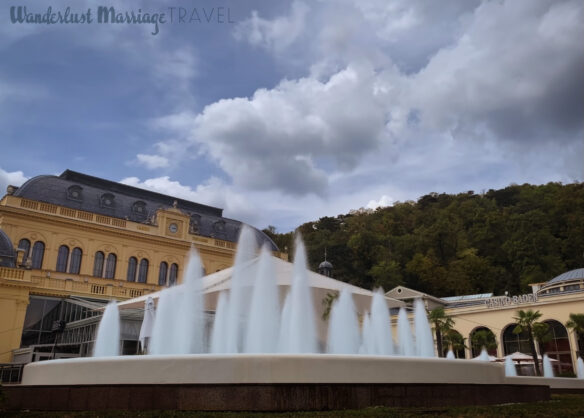 The largest casino in Austria is Casino Baden. Roulette, Black Jack, Poker and a wide variety of slot machines give visitors numerous options for gaming. Four differently designed restaurants and a bar, offer diverse dining options for a night on the town. Housed in a beautiful venue, it can make for a fun night out for those that enjoy casinos.
Remember to bring your passport or European ID card. Austrian government regulations require visitors to register for a casino account. The regulation offers a buffer to help mitigate gambling addictions.
Casino Baden Address, Phone Number and Email
Address – 2500 Baden bei Wien, Kaiser Franz Ring 1
Phone: +43 (0) 2252 444 96 – 0
Fax: +43 (0) 2252 444 96 – 10222
[email protected]
Baden bei Wien Tours with Expert Local Guides
We enjoyed a 2 hour guided walking tour of the village led by local expert guide Renate Ryba. Our tour began at At the Park Hotel and the first stop was Kurpark, to view a little of the daily free orchestra concert in the park. Renate then took us to see the source of Baden's thermal waters, while discussing the town's history.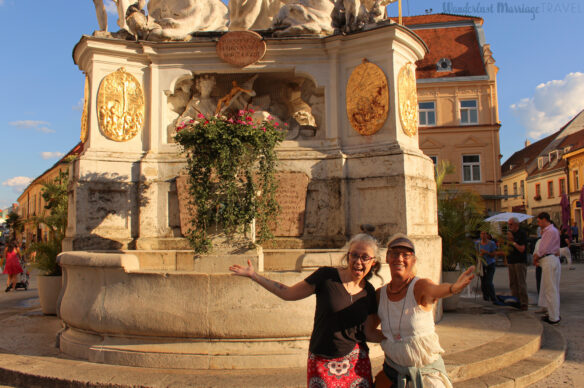 There are several official Baden guides that also cover tours in Vienna and other popular regions of Austria. They have a wide range of tour specialties like historical walking tours, Beethoven & Mozart, military history, thermalism, Vienna Woods, Wachau Valley and Burgenland. It's possible to book tours by foot, bike and bus. Guided tour options in Austria can be found on the Baden website.
Our tour with Renate had an emphasis on the amazing La Gacilly-Baden Photo Festival. She spent time discussing the festival, photos and some background information on the incredible photographers.
Baden bei Wien Recap
Vienna is a fantastic destination for a city getaway. Baden bei Wien offers many of the delights of Vienna – great music, architecture and delicious restaurants in a more compact and relaxing setting. Austria's great spa destination has played an important cultural role for centuries. A visit today offers a therapeutic and rejuvenating reprieve from the busy hustle of city life. After a few encounters with its friendly residents, visitors will quickly realize that Baden is an ideal destination to live, work, play and visit.
This article is a collaboration with the Baden bei Wien tourism office and Great Spa Towns of Europe. Special thanks to Klaus Lorenz, the Director of Baden Tourism for a fantastic tour of the area, allowing us to put this article together. A big thanks also to Catherine Lloyd at Great Spa Towns of Europe, as well as Saskia Sailer from Baden Tourism. All opinions and photos in this article are ours.