The world is filled with an abundance of wonders. From rugged snow capped mountains to vast white sand beaches, there's a myriad of natural beauty to explore. Fantastic architecture, hospitable people and delicious local cuisine round out epic destinations. Islands frequently illicit feelings of romance and make for great getaways. Here are some great islands for culture and natural beauty. Keep these worldwide destinations on your radar for 2023 and beyond!
Andros, Greece
Greece is one of the world's most popular destinations for a wide variety of great reasons. World class history, stunning beauty and a fantastic culinary scene collide in the birthplace of western democracy. While many visitors flock to touristy Santorini and Mykonos, those are not the best Greek destinations for those looking for authentic experiences, while discovering the essence of Greek culture.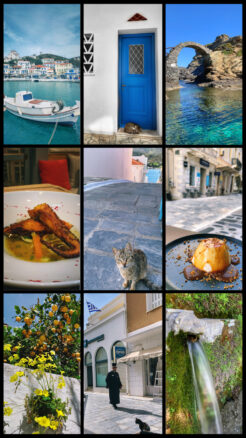 Andros is the second largest Greek Cyclades island. It's just a 2.5 hour ferry from Athens' port of Rafina to Gavrio, the port town of Andros. Andros can also be reached in as little as 1 hour on the high speed ferry from Mykonos.
Andros is among the most authentic Greek islands we've visited. The ruggedly beautiful island features stunning coastal drives to take in magnificent views of the Aegean Sea. Its pristine nature features a bevy of trails making it popular with hikers in the spring and fall.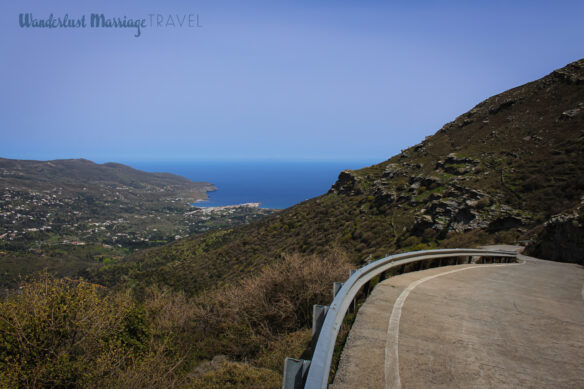 Andros does not have an airport, which contributes to its authenticity. Today around 85% of visitors to Andros are Greeks. But Andros is well set up for international visitors, with multiple ferries connecting the island, many car rental agencies and a wide variety of accommodation options to suit all budgets. We enjoyed a picturesque seaside stay at Hotel Perrakis, featuring lovely views of Kypri Beach.
When visitors dine out in Andros, they're likely to be sitting next to Greeks, eating the same authentic dishes they are. Visitors are also more likely to encounter authentic traditional Greek dancing among locals, compared to more touristy islands.
Andros Chora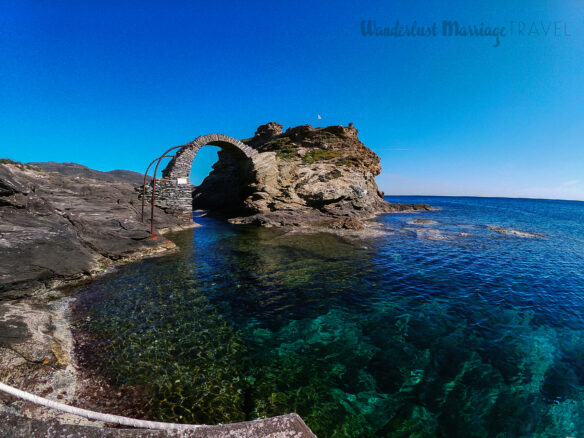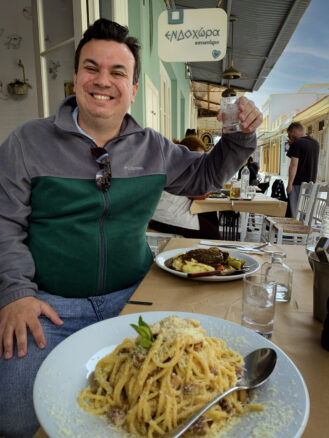 Andros Chora is the capital of the island and a fantastic destination to base yourself. Its neoclassical architecture ranks it among the most charming towns in the Greek islands. Its Pedestrian Street is lined with excellent restaurants, cafes, boutique shops and delicious patisseries. Highlights include
Tourlitis Lighthouse, built in 1897 atop a tiny rock island. Pithara Waterfalls, located a few miles outside Andros Chora, is a lovely spot popular to enjoy on an easy hike.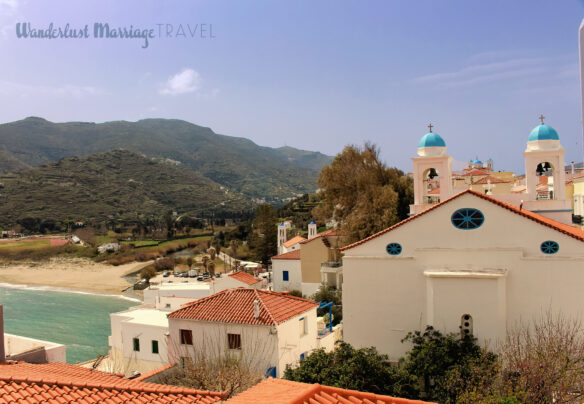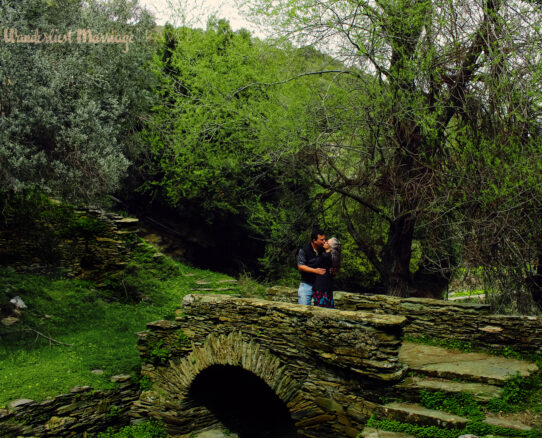 Batsi
Batsi is another popular base for tourists. The fishing village is nestled along a round bay, surrounded by lush green mountains and enveloped by a sandy coast. Stamatis Taverna has been operating since 1965, and is a wonderful restaurant for fantastic Greek cuisine overlooking the marina of Batsi.
Culinary highlights include a variety of seafood, meat and traditional Greek dishes. Try their saganaki (fried cheese), which is not flambeed table side for a show like Greek restaurants in the USA, because their recipe is too delicious to be gimmicky. We also enjoyed the best Mediterranean style omelet we've ever eaten in Batsi, with farm fresh eggs, fresh vegetables, topped with generous crumbles of wonderfully creamy feta cheese and herbs.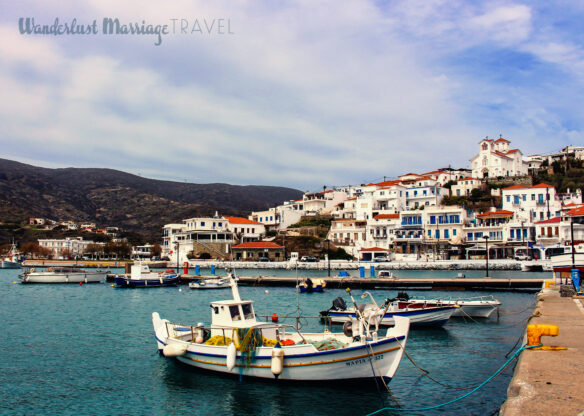 Panachrantou Monastery
Panachrantou Monastery is perched atop the northern side of Mount Gerakones. It offers sweeping views across Andros, including Andros Chora and the Aegean Sea. The original chapel at Panachrantou Monastery dates to 960 AD. One of the priests informed us that the rounded marble in the entranceway is worn into a curve thanks to over 1,000 years of visitors' footsteps. One of the most beautiful monasteries in Greece elicits a feeling of a Greek Orthodox Shangri-la.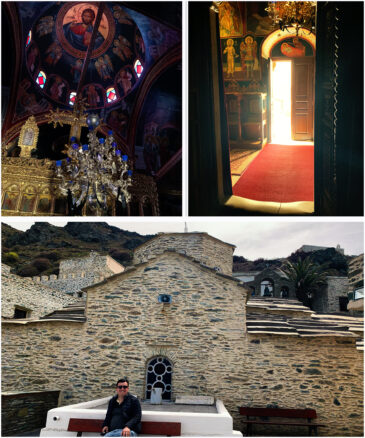 Plan a visit to Andros while Island Hopping the Cyclades
Santorini and Mykonos are beautiful islands, but especially in summer, cruise ships overwhelm the destinations with visitors. Andros offers a wealth of natural beauty, charming towns and fantastic Greek cuisine without over-tourism clogging roads, towns, restaurants and cafes. It's among the great islands in Greece for a nature and culture lovers' getaway. Check ferry schedules to see about including Andros in an island hopping itinerary of Greece.
Zanzibar, Tanzania
Zanzibar is a gem of an east African island, just off the east coast of Tanzania. A tropical island in the Indian Ocean, it's nicknamed "Spice Island" for its abundance of spice farms dotting farmlands, which visitors can tour. Historic Stone Town in Zanzibar City is a traditional trading center, which has been a crossroads of Swahili and Islamic influences. The north of the island features white sand beaches, offering a relaxing reprieve among wind swept palm trees, culinary delights and friendly locals.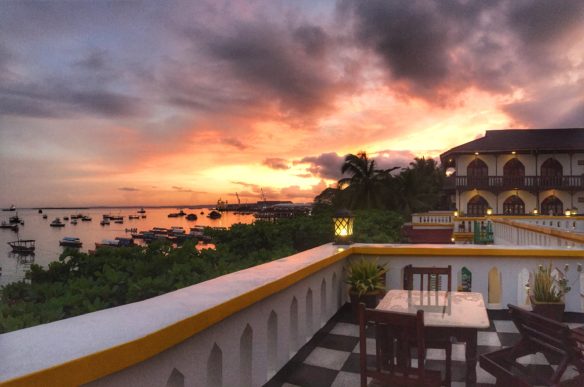 Zanzibar City/ Stone Town
Zanzibar City is the largest city on the island and the gateway for most visitors. International and domestic flights to Zanzibar arrive at Abeid Amani Karume Airport. Airlines like Turkish Airlines transport visitors from around the world to the multicultural island. It's a great addition to a Tanzanian safari itinerary, or before climbing Mount Kilimanjaro, Africa's tallest mountain.
The narrow laneways of Stone Town offer shops selling handcrafted African wares. Restaurants serve traditional dishes like octopus curry, Ugali and pilau rice, including a mix of locally harvested spices like cumin, cinnamon, black pepper, cloves, cardamom and garlic. Coffee beans are also locally grown, punctuated by several great cafes ideal for relaxing over a latte, like Zanzibar Coffee House.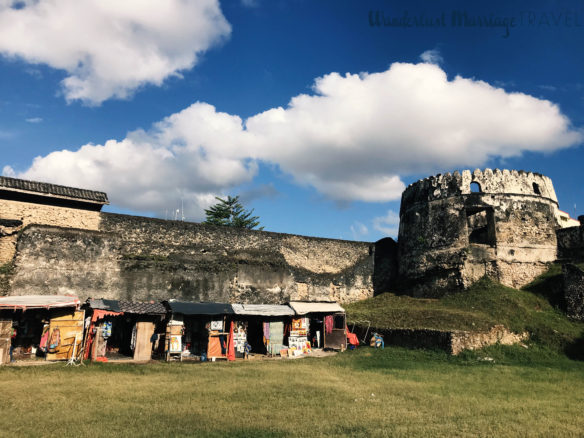 The Arab Fort in Zanzibar CIty dates to the 17th century. Christ Church Cathedral, completed in 1879, is one of the most prominent examples of early Christian architecture in East Africa. The Old Slave Market was the base of the East African slave trade before slavery was abolished in 1873. Visit the Zanzibar Night Market, for a variety of grilled seafood or local delicacies like Zanzibar pizza. Zanzibar pizza is similar to a made to order savory crepe filled with ground beef, freshly fried egg, vegetables and spices.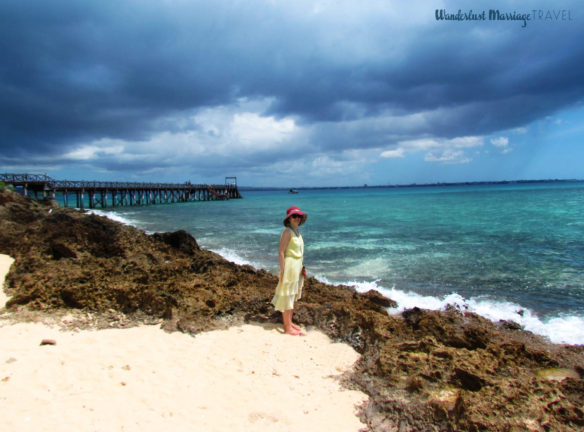 Changuu Island (Prison Island)
Changuu Island is a tiny island 5.6km off the coast of Zanzibar City. It can be reached by one of the small boats docked in Zanzibar City. It's nicknamed Prison Island because in 1860 a prison was built to house rebellious slaves. Today the island's well maintained Tortoise Sanctuary houses over 80 Aldabra Giant Tortoises, with the oldest being over 200 years old!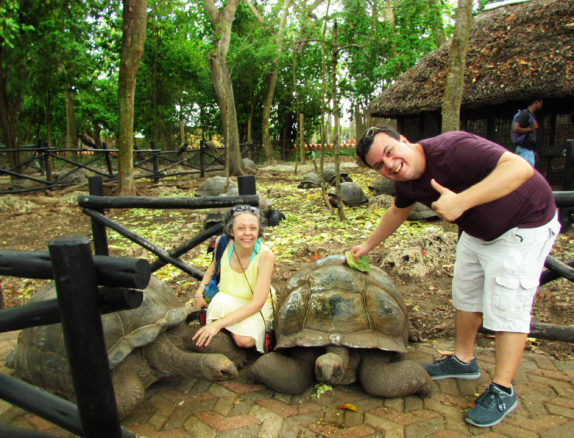 Jozani Chakwa Bay National Park
Zanzibar is home to a variety of wildlife like red colobus monkeys, known for their white whiskers and rusty coat. We encountered them on a guided tour through Jozani Chakwa Bay National Park. Other furry residents include the blue duiker, a diminutive antelope and more than 50 butterfly species and 40 species of birds. The only national park in Zanzibar is great for outdoor and wildlife enthusiasts.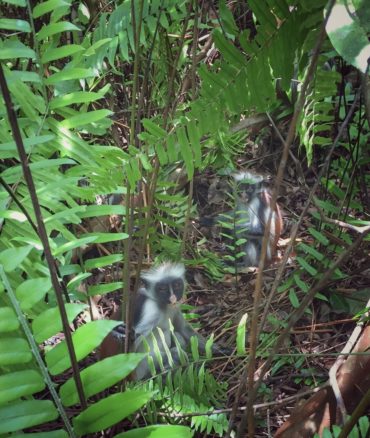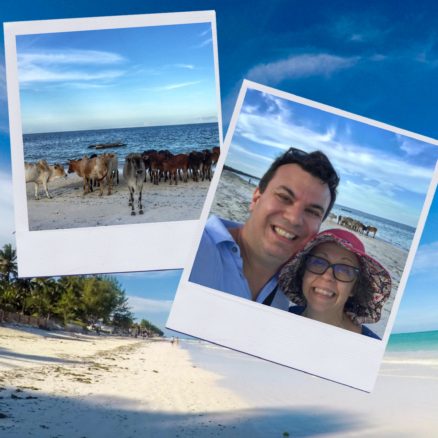 A Romantic Stay in Zanzibar
We enjoyed a few days relaxing along the beautiful white sand beaches off the east coast of Zanzibar at Bellevue Guesthouse. Bellevue is a lovely establishment on Bwejuu Beach, owned by a Dutch family from Amsterdam. We stayed in the Deluxe Suite/Honeymoon Suite at Bellevue, featuring lovely African decor. Amenities include an outdoor pool overlooking the forest and beach. One day we looked up while swimming and saw monkeys swinging from the nearby trees. Their kitchen is fantastic, including a seafood feast with a generous helping of crab, lobster, king prawns, tuna steaks and delicious sides like Vlaamse frites (Dutch/Belgian style fried potatoes).
Zanzibar is one of the world's great islands for culture and nature. It offers a wonderful couples getaway for relaxing and enjoying the outdoors.
Southeast Alaska Islands, USA
Southeast Alaska is also known as the Alaska Panhandle. The southeastern portion of the U.S. state is bordered by the Canadian province of British Columbia to the east and north. It houses over 35,000 miles of forests, including Tongass National Forest, the USA's largest protected forest as well as Misty Fjords National Monument. Alaska is home to indigenous people like the Tlingit, Haida, Tsmishian and Eyak. The state's capital of Juneau, as well as Ketchikan, have airports connecting visitors from around the world.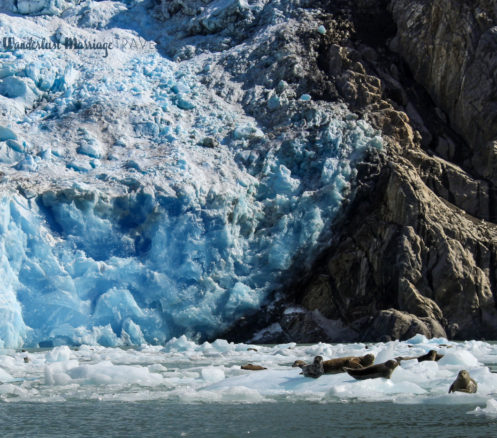 Tongass National Forest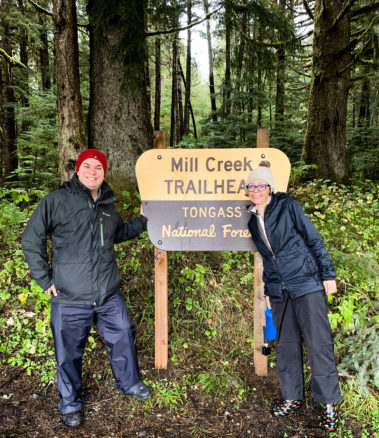 Tongass National Forest is the world's largest temperate rainforest. Spanning nearly 17 million acres, the vast terrain includes islands of the Alexander Archipeligo, towering fjords and majestic glaciers. It's home to a variety of wildlife including bears, wolves and eagles as well as rare flora and fauna. It's an ideal setting for outdoor activities like hiking, kayaking and whale watching. Visitors can also view the Northern Lights, which are visible on many nights throughout the year.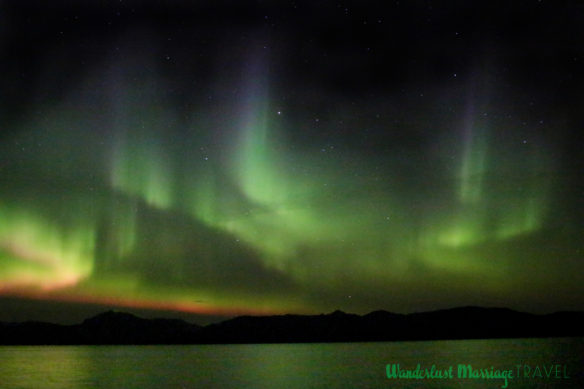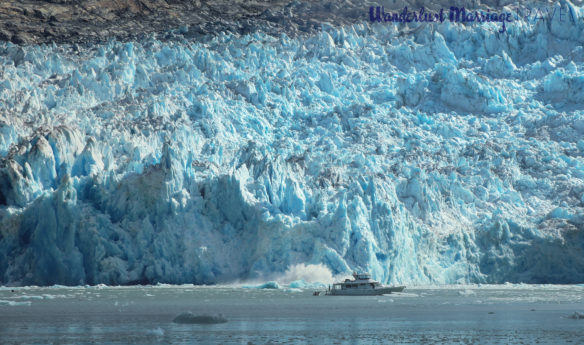 Ketchikan, Alaska
Ketchikan is a charming Alaskan town along the Inside Passage. It's a popular cruise ship port along Alaska's southeast islands. Native American totem poles, displayed throughout town are a cultural highlight. The abundance of wild salmon swimming throughout the town's waterways is unmatched compared to anyplace else I've visited. Like Juneau, it's a great place to stay before or after a small ship cruise.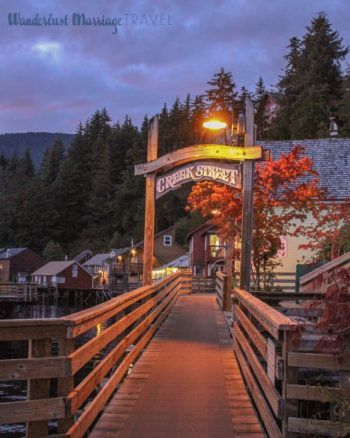 Nearby Misty Fjords National Monument is a glacier-carved wilderness wonderland. Snowcapped mountains, waterfalls and salmon-spawning waterways offer an oasis of natural beauty. Due to similar glacial morphology and geology, famed naturalist John Muir drew parallels between Misty Fjords and Yosemite Valley in California.
Wrangell, Alaska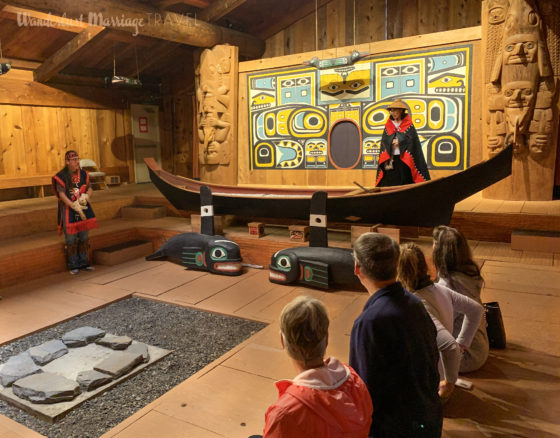 Wrangell, Alaska is the third oldest community in the state. It is Alaska's only community to be governed by 4 nations, spanning Stikine Tlingit nation, Russia, Great Britain, and the USA. Wrangell's Petroglyph Beach Historic Site features 40-50 rock etchings believed to be around 8,000 years old. Chief Shakes Tribal House offers a historic collection of original and recreated Native Alaskan artifacts, including a fantastic reconstruction of a Tlingit community house dating to 1940. Wrangell Museum is considered one of the finest in Alaska, with a vast collection covering the story of a diverse community.
Small Ship Alaska Adventure Cruises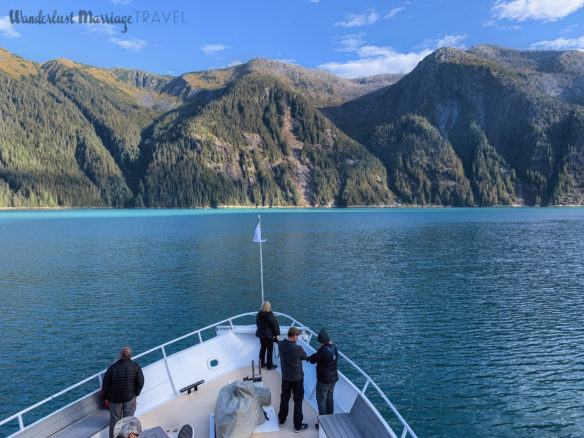 The best way to explore southeast Alaska is by small ship cruise. Cruise companies like UnCruise offer great 7-day itineraries on intimate ships with a maximum of 78 passengers. Since much of the food is sourced from the pristine land and waterways of Alaska, on board dining is wonderfully fresh and delicious.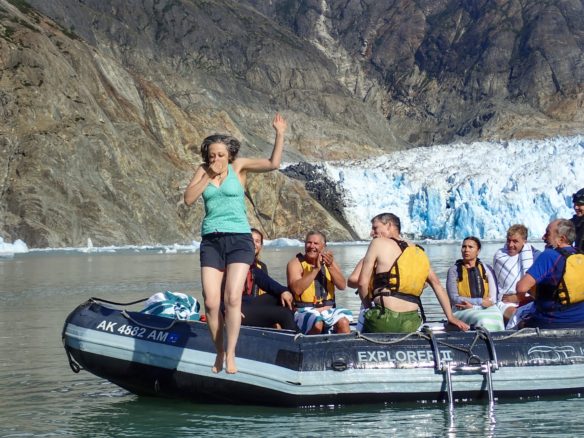 A perk of small ship cruising is that natural beauty and your company are the stars, not on board gaming or gimmicks. Here's an article we published covering everything you can expect to experience on a small ship UnCruise Alaska adventure cruise.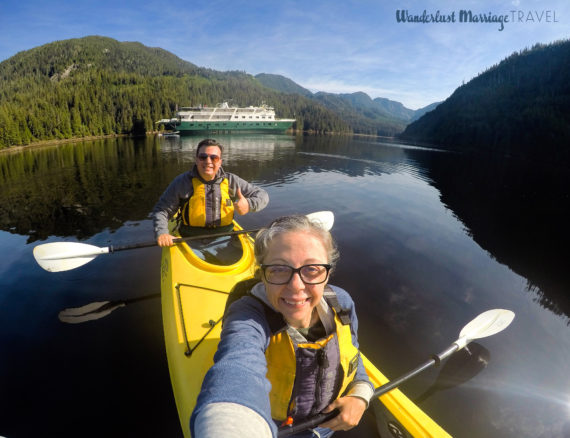 Sicily, Italy
Sicily represents Italy well as one of the world's great islands for culture and nature. The Mediterranean's largest island offers a cornucopia of delicious cuisine, ancient temples and gorgeous landscapes. Sicilian towns like Palermo, Syracuse and Catania are great bases to explore the region. Mount Etna is one of the world's most active volcanoes, feeding rich agricultural soil around it.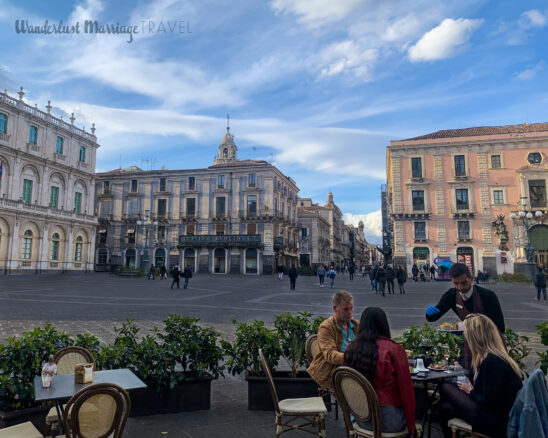 Palermo
Founded by Phoenician traders in the 8th century BCE, Palermo is Sicily's capital and largest city. Over three centuries, Palermo changed hands to Carthage, the Roman Empire and then to Byzantium for 1,000 years. During Byzantine rule, the Greeks called the town Panormus, meaning "complete port."
Palermo's Teatro Massimo is wonderful for enjoying opera performances in a spacious neoclassical setting. The Palermo Cathedral dates to the 12th century and houses royal tombs. Ballarò street market and the Vucciria are bustling markets to purchase a wide variety of delicious Sicilian products like vegetables, meat, seafood, cheese and nuts.
Catania
With a population of 300,000, Catania is Sicily's second largest city. It rests at the foot of volcanic Mt. Etna, with trails ideal for hiking and biking. Piazza del Duomo is the main square of Catania and a UNESCO World Heritage Site known for its unique baroque architecture. Grab a table at one of many charming outdoor terraces in Catania to enjoy delicious local food and drinks. During my visit to Catania, I also enjoyed exploring nearby villages like Militello, packed with beautiful architecture and delicious food.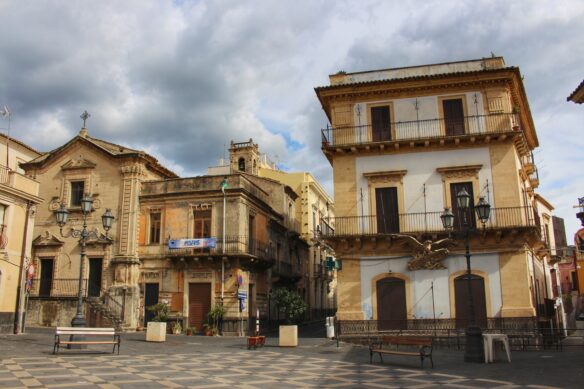 Syracuse
Along the Ionian coast of Sicily, beautiful Syracuse (Siracusa) rests along the sea. The primary Greek city of ancient Sicily was originally settled in 734 BCE by the Corinthians. Syracuse is known for ancient ruins, highlighted by the Archaeological Park Neapolis. The park includes the Teatro Greco, Orecchio di Dionisio and Roman Amphitheater. Siracusa is an ideal setting for romantic strolls in a historic setting.
Tasmania, Australia
Tasmania is among the world's great islands for natural beauty and laidback Australian culture. The Bass Strait separates Tasmania from mainland Australia, making it the southernmost destination in the country.
Tasmania's capital of Hobart, at the foot of towering Mount Wellington, offers a charming oasis of outdoor beauty, art and a great culinary scene. The riverside town of Launceston in northern Tasmania is known for Cataract Gorge, offering a chairlift to enjoy panoramic views, walking trails and sculpted gardens.
Australia banned leisure tourism for two years during the height of the COVID-19 pandemic. But the country is open to tourists again, making it a great option for travel in 2023 and beyond.
Art, Cuisine and the Best Pinot Noir Wines
Being the southern hemisphere, Tasmania is the coolest destination in Australia weather wise. Temperatures are optimal for producing some of the world's finest pinot noir wines. Enjoy a robust pinot noir wine on a scenic terrace, over a delicious farm to table dish. Australian cities have some of the world's best markets, influenced by cultures around the world, including Greeks, Italians, Asians, Africans and native aboriginals.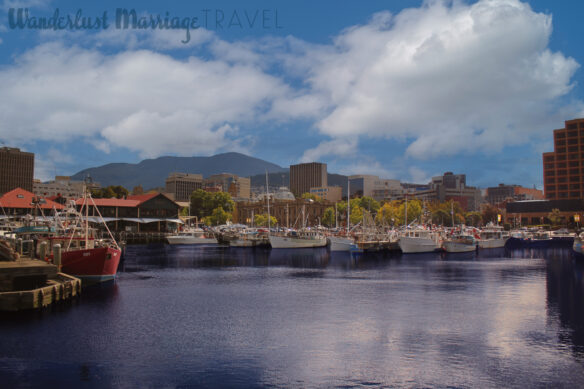 Hobart
Hobart is the capital of Tasmania. Highlights include Battery Point, which is dotted with colonial-era cottages and narrow laneways. Salamanca Place is wonderful for great restaurants, cafes and art galleries. Hobart has a fantastic arts scene. Catch the ferry to MONA (Museum of Old and New Art). It's a fantastic ferry ride, wonderful art gallery and a great place to enjoy Tasmanian wines, craft beers and locally produced cheeses.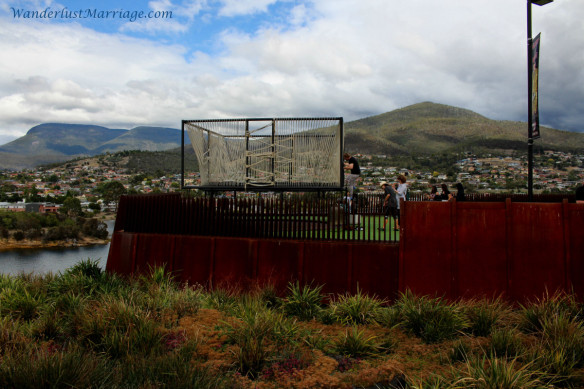 Mount Wellington
Just outside Hobart, Mount Wellington towers over the town at 4,166 feet (1,270 meters). Rent a car and drive up Pinnacle Road to the lookout point. Mount Wellington is wonderful for hiking, and offers fantastic views overlooking Hobart, the River Derwent and the surrounding area.
Natural Beauty
Tasmania offers a wonderland of natural beauty. Freycinet National Park, on the east coast is fantastic for its abundance of wildlife, secluded bays, white sand beaches and pink granite peaks. It's an ideal setting for kayaking, snorkeling and swimming.
Cradle Mountain-Lake St. Clair National Park is known for an abundance of natural beauty. Glacial-carved lakes, sawlike peaks, rainforest and grasslands dot the park.
Seeing a Tasmanian devil in the wild is rare. Your best bet to view them is in an animal sanctuary or zoo in Australia. If you encounter one, consider yourself extremely fortunate!
Port Arthur
Port Arthur is a village and historic site in southern Tasmania, 97 km (60 miles) from Hobart. Resting along the Tasman Peninsula, the 19th-century penal settlement has been converted to an open-air museum. Remnants include a massive penitentiary and the shell of a Convict Church, constructed by inmates. The World Heritage Property is described by UNESCO as "the best surviving examples of large-scale convict transportation and the colonial expansion of European powers through the presence and labour of convicts."
Planning a Trip to Australia
Australia is on the bucket list of many travelers. It even tops the list for many Americans. While the vast country takes time to explore, Tasmania is among the world's great islands to consider when planning a trip to Australia.
Japan
Since Japan is an island country, it fits this list as a nation. It's one of the great islands of the world for culture and nature. For over two years during the COVID-19 pandemic, leisure tourism to Japan was closed. Fortunately, this rich country with a unique juxtaposition between high-tech and old world is open to tourists again in 2023!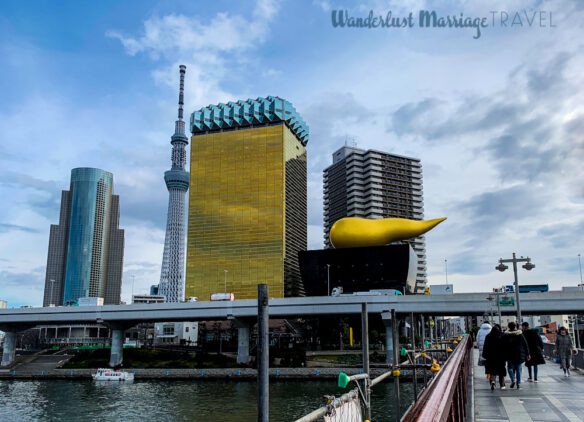 Tokyo
Tokyo became the capital of Japan in 1868 following the Meiji Restoration, taking the helm from Kyoto. The ultra modern city features the world's busiest train stations at Shinjuku and Shibuya, connecting the nation with modern bullet trains. Experiencing Tokyo's advanced infrastructure frequently feels like stepping into the future.
Tokyo features more Michelin star restaurants compared to any other city in the world. The options for delicious meals ranging from a wealth of sushi (including conveyor belt sushi) to traditional dishes like ramen in cozy Izakaya restaurants (which translates to stay-drink-place) is dizzying.
Asakusa is a traditional neighborhood famous for the Senso-Ji Temple, considered the most important temple in Tokyo. The Buddhist temple is dedicated to the bodhisattva Kannon. The neighborhood is also great for its variety of small stalls selling street food ranging from fried fish to sweet treats.
Highlights of Tokyo include Ueno Park, which houses ornate temples, museums and Ueno Zoo. The park is a fantastic place to enjoy an abundance of cherry blossoms in the spring and colorful foliage in autumn. Ueno Park opened to the public in 1873 and is one of Japan's five oldest public parks.
Tokyo Skytree is the tallest building in Japan. Rising to 634 meters (2080 feet), it is also the world's tallest tower and second tallest structure after the Burj Khalifa in Dubai. Along with Tokyo Tower and the observation deck at the Tokyo Metropolitan Government Building, it offers one of the best views of Tokyo.
Tokyo Imperial Palace is home to Japan's royal family. Its spacious grounds cover 1.15 square kilometers and are lovely to stroll. 75 minute tours in English and Japanese are conducted on the palace grounds. Originally built in 1457, it was called Edo Castle prior to the Japanese emperor relocating the capital from Kyoto to Tokyo.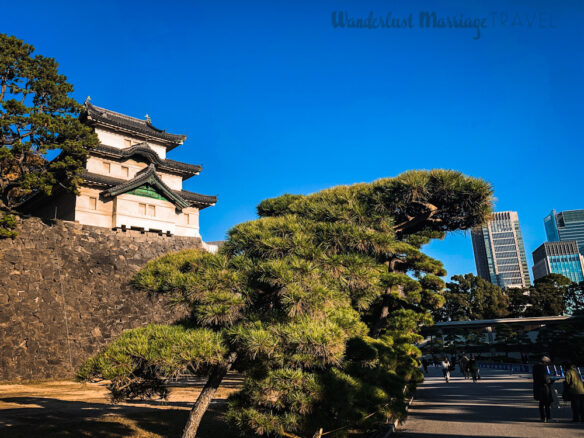 Kyoto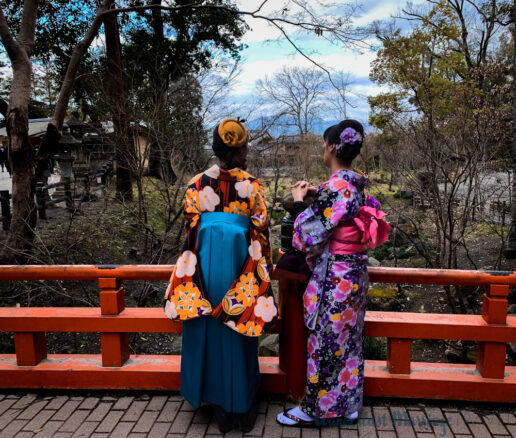 Until 1868, Kyoto was Japan's capital for around 1,000 years. With a staggering 17 UNESCO World Heritage Sites, Kyoto remains the traditional heart of Japan. The Torii gates at the Fushimi Inari-taisha Shrine in Kyoto are one the most iconic landmarks in the nation. Thousands of vermilion Torii gates line trails that criss cross the mountain. The trails are dotted with traditional teahouses as well as small shrines.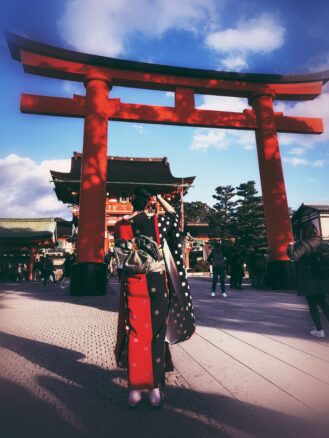 Dotted with wooden buildings, Gion is Kyoto's most famous neighborhood. It exemplifies a traditional Japanese urban neighborhood, separated from towering modern high-rise buildings. Traditional Japanese restaurants, teahouses and bars line the alleyways and side streets of Gion. If you're lucky, you may spot a geisha making her way to an appointment.
Built in 1679, Nijō Castle is among the 17 UNESCO World Heritage Sites dotted around Kyoto. The fortified castle spans a staggering 275,000 square meters (68 acres) and includes Ninomaru Palace, ruins of the Honmaru Palace, along with supporting buildings and gardens.
The Golden Pavilion of Kinkaku-Ji is an exquisite Zen Buddhist Temple. Gold leaf dominates its top two floors in a picturesque lakeside setting that conjures a feeling of a Japanese Shangri-La. The UNESCO World Heritage Site sits tranquilly in the northwest quadrant of Kyoto.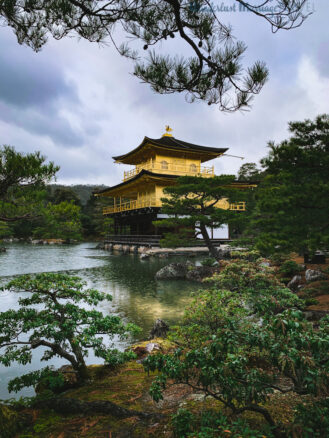 Tips on Planning a Trip to Japan
Read this 12 day Japan itinerary I published. It also covers the resort town of Hakone, at the foot of Mt. Fuji. The area is wonderful for relaxing in an onsen (Japanese spring baths) at ryokans (traditional Japanese inns). Nearby Lake Ashi is dotted with temples. Take a boat cruise for sweeping views of the lake along with Mount Fuji.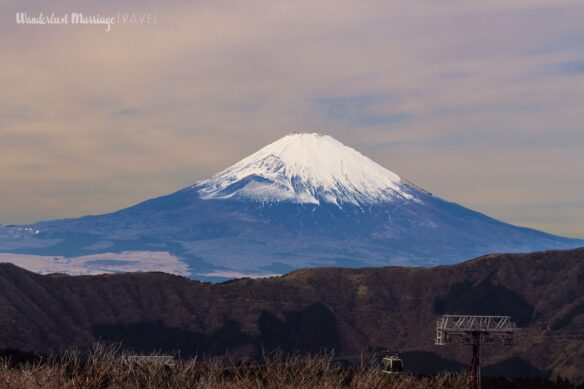 Bustling Osaka is also worth visiting. The culinary haven is highlighted by 16th century Osaka Castle, which played a prominent role in the unification of Japan. Its popular Dotonbori area is known for its extravagant neon signs along the Dotonbori Canal.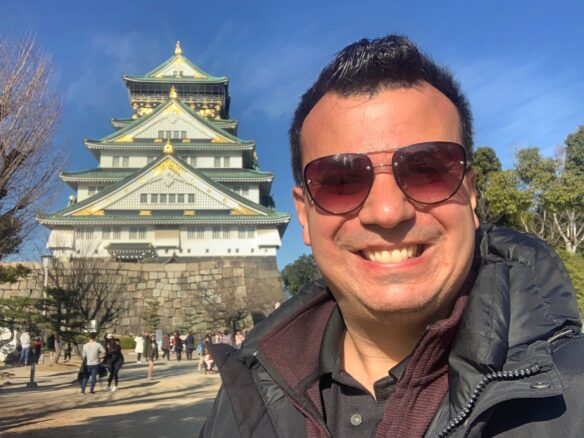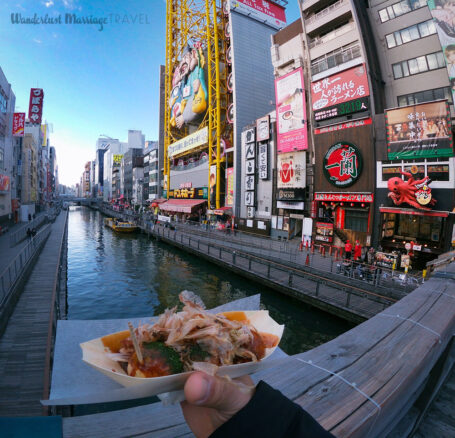 Hakone and Mount Fuji
Hakone is also a wonderful destination to partake in traditional Kaiseki dining, an elaborate multi-course fine dining meal enjoyed sporting a traditional kimono. Elaborate techniques used in Kaiseki make it equivalent to western haute cuisine. I enjoyed wonderful Kaiseki dining at Mount View Hakone. The onsen at the charming ryokan features rare volcanic nigori-yu milky hot springs bath water. Massages can be booked on site as well.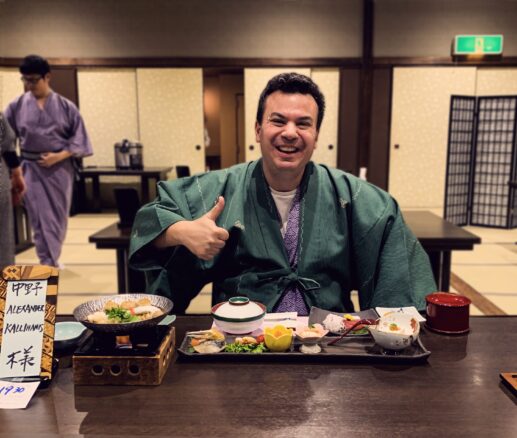 Borneo – Malaysia, Indonesia and Brunei
Borneo is the third largest island in the world, spanning three countries. It includes the Malaysian provinces of Sabah and Sarawak, Indonesian Kalimantan and the small nation of Brunei. The rugged island is known for its biodiverse rainforest, beaches and wildlife including Orangutang, pygmy elephants, snow leopards and native proboscis monkeys.
Kota Kinabalu
The entry point for many visitors to Borneo is the seaside town of Kota Kinabalu, the capital of the Malaysian province of Sabah. Kota Kinabalu International Airport is the second busiest in Malaysia, after Kuala Lumpur.
Bustling Kota Kinabalu is known for its beaches, resorts, and markets. The sweet and sour fish at the Filipino Night Market, cooked in banana leaf, is one of the most flavorful seafood dishes we've eaten anywhere. Nearby Manukan Island is popular for swimming, snorkeling and relaxing on the beach. The North Borneo Railway is a wonderful excursion for viewing villages and the countryside aboard a rare well preserved Vulcan Steam steam train.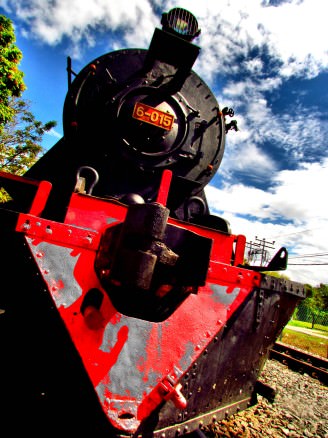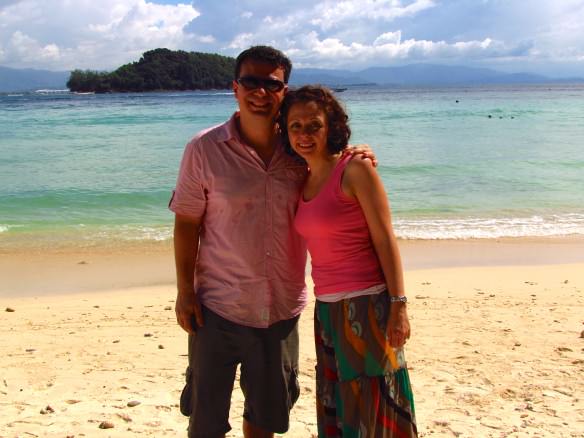 Kota Kinabalu is just 55km (34 miles) from Kinabalu National Park. Kinabalu National Park is home to Mount Kinabalu, towering 4,095m (13,435 feet) high. The tallest mountain in Malaysia is also the third tallest mountain of any island on Earth. The mountain is popular with hikers, and visitors can book tours from Kota Kinabalu.
A wonderful place to stay in Kota Kinabalu is the 5 star Sutera Harbour Resort. Gorgeous rooms feature sweeping views of either the South China Sea or Mount Kinabalu. Expansive outdoor pools and multiple dining options offer visitors a luxurious paradise to relax.
Wildlife Viewing Near Sandakan
Along with the Indonesian island of Sumatra, Borneo is one of only two islands remaining in the world to encounter Orangutang in the wild. In Borneo, orangutans reside in the Malaysian states of Sabah and Sarawak, and in Indonesian Kalimantan. The Sepilok Orangutang Rehabilitation Center is one of the best places to view the majestic creatures.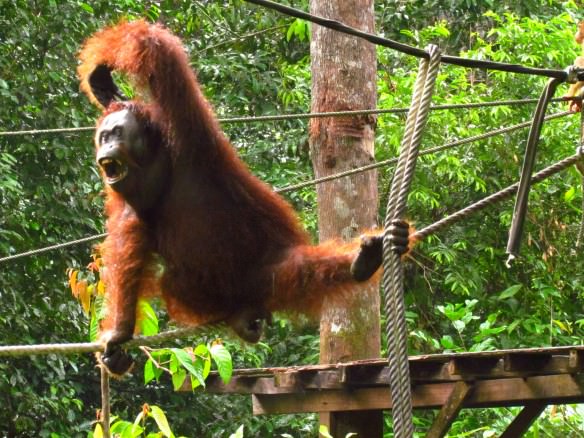 Sandakan is the second largest town in the Malaysian province of Sabah. It's an ideal base for visiting the Sepilok Orangutang Rehabilitation Center. Visitors can also take a small boat tour along the biodiverse Kinabatangan River. One of the world's richest ecosystems is home to endangered Orangutang, pygmy elephants, proboscis monkeys, crocodiles and hundreds of bird species like the Hornbill.
Companies like Borneo Eco Tours offer fantastic tours along the Kinabatangan River. The award-winning Sukau Rainforest Lodge is a comfortable and well appointed oasis built along the banks of the river. Famed BBC Wildlife commentator Sir. David Attenborough previously stayed at Sukau while on assignment. It offers an ideal stay for viewing endangered wildlife and even an adventurous Borneo honeymoon.
The beef rendang we enjoyed at the Sukau Rainforest Lodge, with a sweeping view of the Kinabatangan River from its wooden terrace, was one of the best dishes we've eaten in our lives. Beef rendang originated in Indonesia and is a spicy coconut beef curry. A myriad of herbs and spices lends to a richly complex dish, with tender beer, in a dry curry, with a hint of sweetness from caramelized coconut milk. Anytime I see beef rendang on an Asian menu, I order it now. It's a fantastic dish, but I've never had one as good as what we enjoyed in Borneo.
Great Islands Around the World Recap
The world offers a wealth of great islands. This diverse list for 2023 covers a wide variety of destinations that are great for experiencing culture and nature. It's hard to find better countries for fantastic cuisine compared to Greece, Italy, Japan and Malaysia. Australia, which has been influenced by these nations to varying degrees, has some of the world's finest markets and a diverse culinary scene. From the shores of East Africa to Southeast Alaska, a wonderland of culture, wildlife and tranquil resorts ideal for adventurous couples getaways await visitors.
These islands are among the world's most romantic destinations for outdoor enthusiasts and foodies. Have a favorite destination you want to share? Leave a comment below and tell us about it!