Our first Greek Independence Day Parade in Boston was filled with an abundance of floats, festivities and great vibes. Every year Greek churches and organizations from across New England come together to parade through the heart of town, with traditional dancing, music and Greek food in Boston Common afterwards. There were Greek goddesses, traditional guards (evzones), an immense display of pride for Greece, the United States, and specific regions of both Greece and New England as well. Boston Mayor Marty Walsh was Grand Marshall of the Greek Independence Day Parade. While not Greek himself, Walsh is no stranger to cultural diversity, as both of his parents were born in Ireland.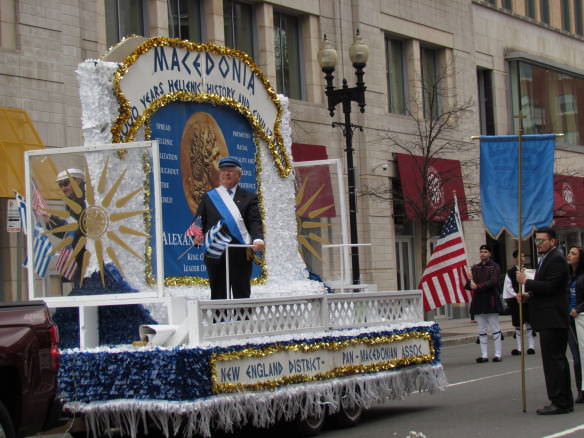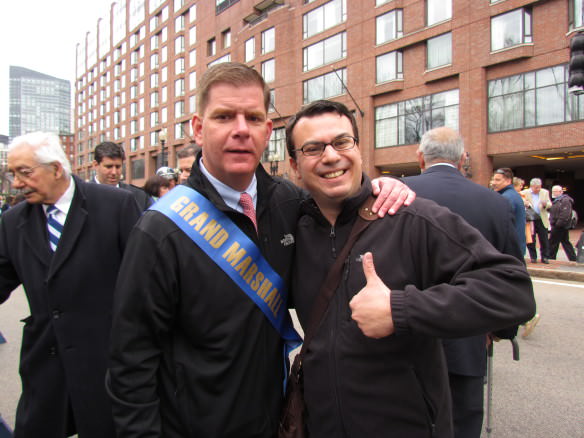 History of Greek Independence
The parade commemorates the day Greece officially gained its freedom from the Ottoman Empire, which occured March 25th, 1821. Boston's 21st annual Greek Independence Day Parade fell late on the calendar this year because of the timelines of St. Patrick's Day festivities, Catholic Easter, Greek Easter and then the Boston Marathon. Former President of the Hellenic Federation of New England, Jimmy Papaslis said that next year they'll be able to hold the parade the first week of April, as they did in 2014. Apparently many Greeks questioned and complained about the parade taking place so late this year.
Boston Greek Independence Day Parade Floats
Virtually all floats in the parade displayed positive and patriotic messages, with some being uniquely Greek-New England, such as the "Boston Strong" float, with a parthenon on top. "Boston Strong" is a reference to the toughness of Bostonians following the terrorist attack at the 2013 Boston Marathon. And given how inundated with snow this city was this winter, you need to develop a thick skin to survive in what can also be a very abrasive town.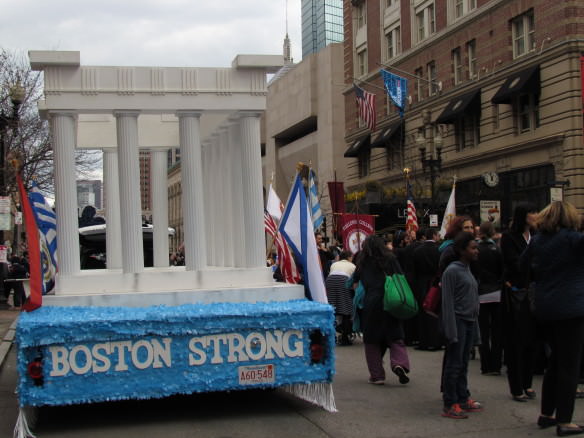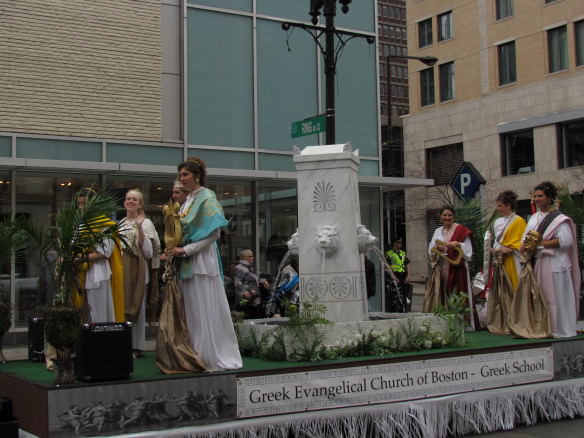 An exception to floats displaying positive messages was the float representing the region of northern Epirus, which shares a border with Albania. For over a century there has been a border dispute, and Greeks object to the mistreatment of many ethnic Greeks living in Albania. Now that Albania is seeking EU membership, the rights of ethnic Greeks in Albania is apparently improving. While free speech is important, and ultimately this was a Greek Independence celebration, we and several others felt the message of this Greek community could have been expressed in a more positive manner. And due to the random draw by the Greek federation of New England, they were the last float that paraded down Bolyston Street, which was also somewhat unfortunate.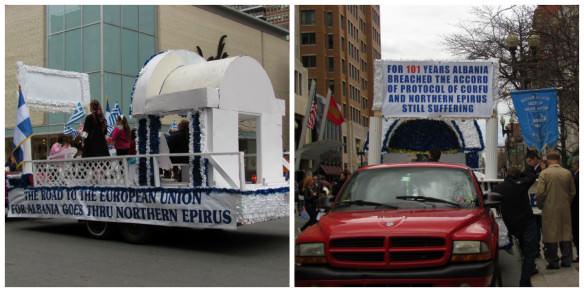 1988 Democratic Presidential Nominee Michael Dukakis Always Participates in the Boston Greek Independence Day Parade
As usual, Michael Dukakis also partook in the 2015 Greek Independence Day Parade. Dukakis, whose parents were both immigrants from Greece, is a former 3 term Governor of Massachusetts and was the Democratic nominee for president in 1988 (defeating Al Gore and current Vice President Joe Biden among others). At one point in the 1988 campaign, he held a 17% lead in national polls over eventual winner George H.W. Bush, who ultimately ran a savvier (and dirtier) campaign that led to Dukakis only winning 10 of 50 states. Still, Dukakis was admired by millions of blue collar workers, as he carried, among others, the predominantly coal mining state of West Virginia, a state that even President Barack Obama lost in both presidential elections.
Dukakis also won his home state of Massachusetts, an achievement that would have won the presidency for Al Gore over George W. Bush in 2000 had Gore carried his home state of Tennessee. And Mitt Romney, who is also a former governor of Massachusetts, did not carry the state in the 2012 presidential election. Dukakis was a champion of public transportation as Massachussetts governor, who led by example, and despite his own objections, the Massachusetts state legislature voted last year to officially name Boston's main train station, 'South Station', the 'Michael T. Dukakis South Station Transportation Center.' Now 81, Dukakis is a political science professor at Boston's Northeastern University and UCLA and has been Grand Marshall of Boston's Greek Independence Day parade many times.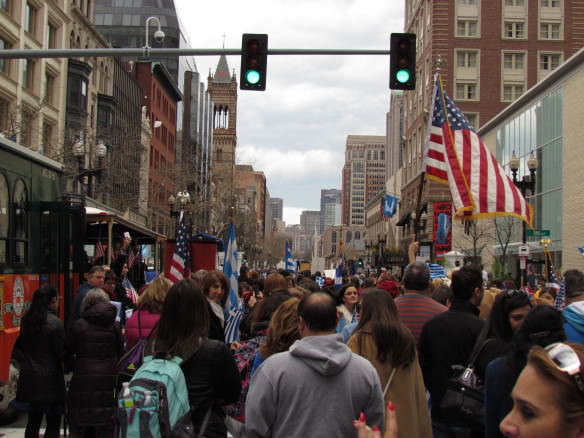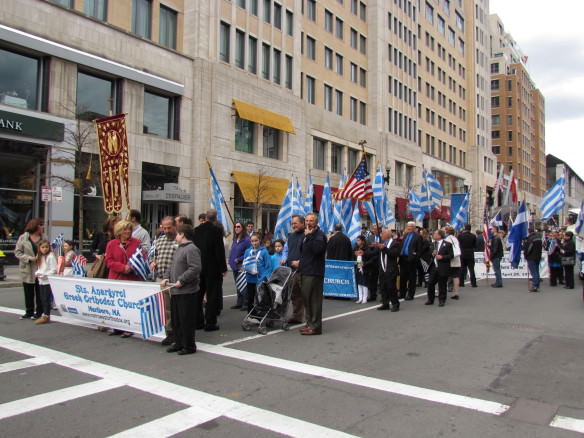 Boston Common Festivities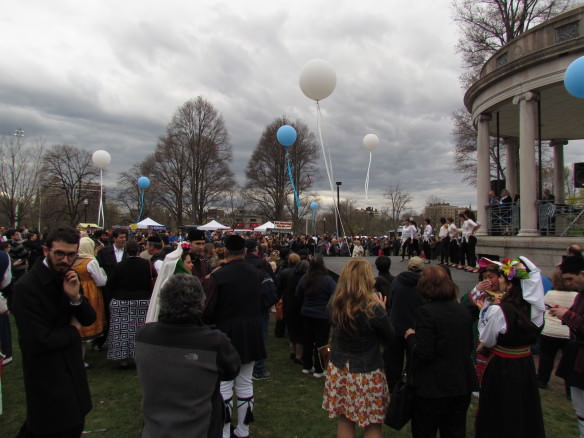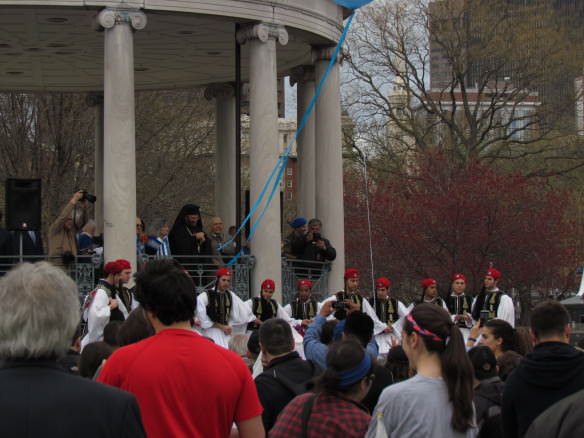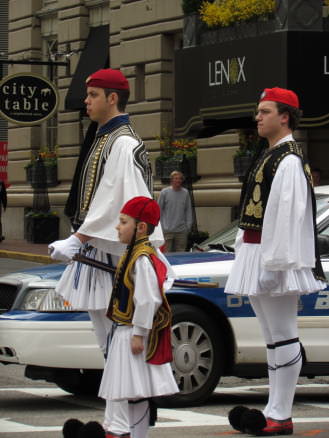 The festivities that followed in Boston Common included Greek dancing, music, food and speeches. While there were gyros, kebabs and frappes for sale in the park, there was no ouzo as it's difficult to get a license to sell alcohol in the park. We felt there could have been more Greek food for sale and wondered why Greek patisseries in the area weren't selling spanakopita and baklava. Also, we felt that too many of the speeches were solely in Greek and therefore a little unwelcoming to other Bostonians and travelers who arrived in Boston Common to watch the Greek festivities.
During Italian American celebrations in Boston's North End, there's a lot more Italian food options for sale, making it a more happening place for outsiders as well (granted the Italian businesses already dominate the North End). We thought the parade was generally wonderful, but for the festivities following the Greek Independence Day Parade, we'd love to see more Greek food for sale. It's great business and a highlight of Greek culture.