For 31 years, the North American Travel Journalists Association has held an awards competition for excellence in travel journalism. A wide range of categories include Best Travel Magazine, Luxury and Resort Travel, Cruises, Historical Travel, Culinary Travel, Cultural Travel, Sustainable Travel, Wellness Travel and Diversity in Travel. Photography categories include Landscape and Nature Photography, Portrait Photography, Outdoor Adventure Photography and Photo Essay. Congratulations to all the winners in the 31st NATJA awards competition!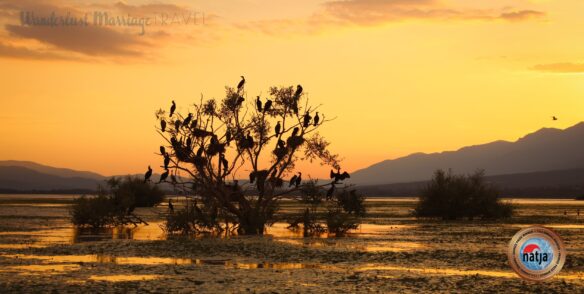 Landscape and Nature Photography – Bronze Award
My photo, "Golden Birdwatching Sunset on Lake Kerkini, Greece" received the Bronze award in the Landscape and Nature photography category in the 31st annual North American Travel Journalists Association awards competition. The photo was taken during a press trip covering historic European thermal spa towns, and published in my article covering Greek spa towns.
The article was a collaboration with European Historic Thermal Travels Association (EHTTA), Visit Europe and municipalities throughout Greece. Special thanks to several fantastic people involved in organizing the trip, including the wonderful Catherine Lloyd, Simone Zagrodnik and Markos Danas of EHTTA and Miguel Gallego of the European Travel Commission, without whom the photo would not be possible!
Wellness and Nature Travel in Europe
Wellness travels have also covered Austria's Great Spa Town of Europe, Baden bei Wien (which translates to "Bathing near Vienna"), as well as tips for visiting Budapest spas.
Lake Kerkini National Park protects Greece's second largest lake and is one of Europe's most impressive wetlands. Located in northern Greece near the border with Bulgaria, it's a breathtaking setting for bird watching. Thousands of birds like flamingos, pelicans, cormorants and ibis congregate along Lake Kerkini during their migrations. It's the bird watching equivalent of viewing diverse wildlife on a Tanzanian safari.
Visitors can take a small boat birdwatching and photography trip along Lake Kerkini with Nikolaos Gallios at Itavros Tours. Combine it with Agistro Hamman, a beautiful thermal day spa in Agistro, Greece. Northern Greece is a wonderful destination, with a great culinary scene focusing on fresh vegetables, meat, river fish like trout, small batch wine and spirits, like traditional raki (distilled from grapes). I've never eaten more deliciously prepared fresh trout than at the Agistro Trout Farm – offering true farm to table dining!
I stayed at the lovely Wooden Village (To Xilono Chorio) in Agistro. Spacious and modern wooden and stone cabins feature great amenities like comfortable beds, air conditioning, refrigerator, flat screen TV, fireplace and large patios & balconies.
31st NATJA Awards Competition Winners for 2023
Below is a complete list of the 31st NATJA awards competition winners for 2023. Congratulations again to all the winners!
And if you have questions about thermal travels for wellness in Europe, feel free to leave a comment below or email me at [email protected]. Happy travels and photo taking!
PUBLICATION CATEGORIES
Category 300: Travel Magazine
Gold Award: Condé Nast Traveler, March 2022 Issue
Silver Award: Travel + Leisure, August 2022 Issue
Bronze Award: AAA Traveler Worldwise
Honorable Mention: Robb Report, The Travel Issue (May 2022)
Category 301: Independent Travel Blog
Gold Award: Brad A. Johnson, Brad A. Johnson, Food & Travel
Silver Award: Carolyn Scott, The Healthy Voyager
Bronze Award: Arial Evans, America From The Road
Honorable Mention: KyAnn Lewis, KidTripster
Honorable Mention: Lina Stock, DivergentTravelers.com
MEDIA CATEGORIES
Category 100: Destination Travel
Gold Award: Heide Brandes, "Sleeping in the morgue of Eureka Springs' Crescent Hotel, one of the most haunted places", Roadtrippers
Silver Award: Terri Colby, "Sky high, stargazing in the Midwest", Chicago Tribune
Bronze Award: Rob Goss, "The Michinoku Coastal Trail: Japan's new 1,000km path", BBC Travel
Honorable Mention: Tarajia Morrell, "Soul Of New York – A Guide to 30 Exceptional Experiences", Jonglez Publishing
Category 101: Illustrated Story
Gold Award: Brandon Cole, "Into the Black, and Blue", Scuba Diving magazine
Silver Award: Amy Berenbeim, "Time Travel", National Parks
Bronze Award: Brad A. Johnson, "Hotel Review: San Ysidro Ranch, Montecito", Brad A. Johnson, Food & Travel
Honorable Mention: Douglas Peebles, "Fun, Frigid Fairbanks", Star Advertiser Sunday Travel
Category 102: Long-Form Narrative/Personal Essay
Gold Award: Mattathias Schwartz, "The Ayahuasca Diaries", Insider
Silver Award: Anne Sigmon, "In the Garden of the Fox", Wandering in Japan: The Spirit of Tokyo, Kyoto and Beyond
Bronze Award: Kelsey Vlamis, "Disaster at 18,200 feet", Insider
Category 120: Personality and Profiles
Gold Award: Katherine DeGroff, "Park Ink", National Parks
Silver Award: Daliah Singer, "Behind One Chef's Mission to Create a Diverse and Stable Restaurant Industry", 5280
Bronze Award: Rachel Ng, "Hawaiian Foodways Are Vanishing. Chef Brian Hirata Won't Let That Happen", Bonappetit.com
Honorable Mention: Heide Brandes, "The Angel of Ash Forke", Route Magazine
Honorable Mention: Keri Bridgwater, "This Fearless Female Wrangler Runs One of California's Most Historic Dude Ranches", Fodor's
Category 121: Luxury and Resort Travel
Gold Award: Timothy Scott Leffel, "Casa de La Playa Hotel Review — Riviera Maya", Luxury Latin America
Silver Award: Brooke Morton, "An Island of One's Own", Scuba Diving magazine
Bronze Award: Jordi Lippe-McGraw, "Vacation Like a Billionaire on Richard Branson's New Private Island", Conde Nast Traveler
Honorable Mention: Jenn Smith Nelson, "The Low Down: Klahoose Wilderness Resort", Explore Magazine
Category 122: Sports, Recreation and Adventure
Gold Award: Jennifer Flowers, "One Thing Most People Don't Know About Birding, the Hot Travel Trend", Bloomberg Pursuits
Silver Award: Jen Murphy, "Montana's Big Sky Ski Resort Finally Gets Its Moment in the Sun", Bloomberg Businessweek
Bronze Award: Dan Schlossberg, "Legendary Ballparks", TravelWorld International
Honorable Mention: Gillian Kendall, "This Country Has So Many Hot Springs (a.k.a. "Hot Spring Hopping in New Zealand")", Fodor's
Honorable Mention: Christopher Solomon, "Rolling on the River", Travel + Leisure
Category 123: Cruises
Gold Award: Fran Golden, "Branson's Virgin Voyages Courts First- Time Cruisers, Cures Inhibition", Bloomberg Pursuits
Silver Award: Don George, "Cruising to the Galápagos Islands", AAA Explorer Magazine
Bronze Award: Mark Orwoll, "Forward with Onward", Porthole Cruise & Travel
Honorable Mention: Jesse Ashlock, "Origin Story", Condé Nast Traveler
Honorable Mention: Fran Golden, "Crystal Cruises's Epic Demise Leaves Customers Out $100 Million – or More", Bloomberg Pursuits
Category 124: Historical Travel
Gold Award: Sojourner White, "How Traveling by Train Led Me to Learn About My Family's Black History", Travel + Leisure
Silver Award: Rose Palmer, "How to Visit Mt. Athos, Greece – Even If You Are Female", Quiltripping.com
Bronze Award: Starlight Williams, "Secrets of Harriet Tubman's life are being revealed 100 years later", National Geographic Travel
Honorable Mention: Janisse Ray, "'First, Tell the Truth'", National Parks
Honorable Mention: Stanley Stewart, "A Sicilian Story", Travel + Leisure
Category 125: Family or 60+ Travel
Gold Award: Andrew Sessa, "Cancún with Kids", The Houston Chronicle's HC Magazine
Silver Award: Jon Gorey, "Winter Playground: When temperatures drop, head to Quebec City for European vibes and its fairy-tale winter carnival", Boston Globe Magazine
Bronze Award: Flora Stubbs, "Once Upon A Time In Italy", Travel + Leisure
Honorable Mention: Tykesha Burton, "Zion's Tiny Oasis", Travel World International Magazine
Honorable Mention: Stacy Tillilie, "Continental Drift", AAA Traveler Worldwise
Category 126: Culinary Travel
Gold Award: Adam Erace, "Salt Of The Earth", Travel + Leisure
Silver Award: Anne Sigmon, "Bowing to Washoku", Wandering in Japan:The Spirit of Tokyo, Kyoto and Beyond
Bronze Award: Ray Isle, "French Pastoral", Travel + Leisure
Honorable Mention: Stacey Leasca, "I Visited Panama to Try the World's Most Expensive Coffee — and Now You Can, Too", Travel + Leisure
Honorable Mention: Vivian Song, "Soufflé, Chateaubriand, Escargots…Mafé?", Robb Report
Category 127: Cultural Travel
Gold Award: Rob Goss, "Follow in the Footsteps of Samurai on this Ancient Trail", Nationalgeographic.com
Silver Award: Janet Gyenes, "Earth Tones (print); Earth, Straw, and Cultural Revival in America's Oldest Capital City (digital)", Montecristo magazine
Bronze Award: Rachna Sachasinh, "Mexico's 'pottery of the night' is perfect for Day of the Dead", National Geographic Travel
Honorable Mention: Morgan Tilton, "Running to Heal", Trail Runner Magazine
Honorable Mention: Jacqueline Swartz, "Immersive spectaculars take art outside museums for public enjoyment", East West News Service
Category 128: Sustainable Travel
Gold Award: Gina DeCaprio Vercesi, "This Side of Paradise", Travel + Leisure
Silver Award: Vivian Song, "Admiring the trees of Paris", The New York Times
Bronze Award: Jackie Caradonio, "The Hotel Industry's Big Carbon Lie", Bloomberg Pursuits
Honorable Mention: Jennifer Bain, "Protecting P.E.I.'s Sand Dunes From Footsteps", National Parks Traveler
Honorable Mention: Jen Murphy, "Hawaii Is Rethinking Tourism. Here's What That Means for You", Bloomberg Pursuits
Category 129: Lifestyle, Health, and Wellness Travel
Gold Award: Anne Sigmon, "In the Garden of the Fox", Wandering in Japan: The Spirit of Tokyo, Kyoto and Beyond
Silver Award: Hillary Richard, "Why Do Travel Tales Put People to Sleep?", National Geographic Travel
Bronze Award: Sandy Bornstein, "The Benefits of Traveling While Coping with Glioblastoma, an Incurable Brain Cancer", Wander Magazine
Honorable Mention: Terri Colby, "Sky high, stargazing in the Midwest", Chicago Tribune
Honorable Mention: Nina Karnikowski, "Reigniting a Sense of Earth Stewardship — and Discovering Soliphilia — Hiking Australia's Granite Belt", Marriott Bonvoy Traveler
Category 130: Diversity, Equity, Inclusion, and Accessibilty in Travel
Gold Award: RJ Young, "This Is Tulsa", Travel + Leisure
Silver Award: Mark Ellwood, "Untold America: A hidden refuge for LGBTQ+ nature lovers", BBC
Bronze Award: Heide Brandes, "Remember the Removal Bike Ride", Cowboys & Indians
Honorable Mention: Dorian Fox, "Creative Access", National Parks
Honorable Mention: Heather Greenwood Davis, "For Muslim hikers, an empowering community makes all the difference", National Geographic Travel
Category 140: Travel Video – Independent
Gold Award: Karen LeBlanc, "The Design Tourist Meets the Christmas Artisans of The Thuringian Forest", The Design Tourist Travel Show
Category 141: Travel Video – Commercial
Gold Award: Juliana Broste, "Cruising to Mexico with Princess Cruises", Princess Cruises YouTube Channel + TravelingJules YouTube Channel
Silver Award: Earl Bridges, "THE GOOD ROAD: Charleston, SC", PBS/American Public Television
Category 142: Travel Vlog
Gold Award: Juliana Broste, "Valley of Fire Hike in Las Vegas", TravelingJules YouTube Channel
Category 143: Travel Podcast
Gold Award: Jennifer Errick, "Telling the Truth", The Secret Lives of Parks
Silver Award: Jennifer Errick, "An American Hero Turns 200", The Secret Lives of Parks
Bronze Award: Ian and Tonya Fitzpatrick, "Walking through the Museum of the Southern Jewish Experience", World Footprints
Category 150: Photography – Cover or Feature Photo/Illustration
Gold Award: Michael Hodgson, "Running with the wind", HITravelTales.com
Silver Award: Rose Palmer, "One Day in Cartagena, Columbia – A Colorful, Independent Cruise Excursion", Quiltripping.com
Bronze Award: Marco Arguello, "October 2021 cover", Travel + Leisure
Honorable Mention: Heather Trimm, "A Perfectly Magical Reflection", Trimm Travels
Category 151: Landscape and Nature Photography
Gold Award: Therese Iknoian, "Milky Way over Bodie Island Lighthouse", HITravelTales.com
Silver Award: Cindy Baker, "Smoke & Thunder – Bow Lake Alberta", Travel Bliss Now
Bronze Award: Alexander Kallimanis, "Golden Birdwatching Sunset on Lake Kerkini, Greece", Wanderlust Marriage Travel
Honorable Mention: Heather Trimm, "Fall-ow the Path to Hallgrímskirkja", Trimm Travels
Category 152: Portrait Photography
Gold Award: Therese Iknoian, "Contemplative Maasai Warrior in Kenya", HITravelTales.com
Silver Award: Rose Palmer, "Waiting to Make a Dollar in Cartagena", Quiltripping.com
Bronze Award: Marco Arguello, "Days of Wine and Roses", Travel + Leisure
Category 153: Outdoor and Adventure Photography
Gold Award: Leslie Oh, "Lost and Found", Alpinist Magazine
Silver Award: Arial Evans, "Fly Fishing On Avalanche Lake", America From The Road
Bronze (tie) Award: Lauren Monitz, "Ascend the Sea Stacks at Cruit Island", TheDownLo.com
Bronze (tie) Award: Tom Fowlks, "Rolling on the River", Travel + Leisure
Category 154: Photo Essay
Gold Award: Michael Hodgson, "Death of a wildebeest: Great Migration crocodile attack", HITravelTales.com
Silver Award: Frederic Lagrange, "Fire & Ice", Travel + Leisure
Bronze Award: Therese Iknoian, "Explore five lighthouses of the Outer Banks in photos", HITravelTales.com
Honorable Mention: Pallavi Kumar, "A Guide to Barbecue Around the World—in All Its Tangy, Spicy, and Charred Glory", Condé Nast Traveler
Category 160: Travel Book or Guide
Gold Award: Moon Travel Guides, "Moon USA State by State: The Best Things to Do in Every State for Your Travel Bucket List", Moon Travel
Silver Award: Laurie McAndish King and Linda Watanabe McFerrin, Wandering in Japan: The Spirit of Tokyo, Kyoto and Beyond
Bronze Award: Claudia Laroye, A Gelato a Day
Honorable Mention: Sandy Bornstein, "100 Things to Do in Boulder Before You Die", Reedy Press
Honorable Mention: Rosalind Cummings-Yeates, "Moon 52 Things to Do in Chicago", Moon Travel
Honorable Mention: Steve Rosenberg, "Dive and Travel Turks and Caicos"
Category 161: Trade Travel Article
Gold Award: Betsy Blumenthal, "Bright Ideas in Travel 2022", Condé Nast Traveler
Silver Award: Nikki Ekstein, James Ellis, and Chris Rovzar, "Travel Trouble", Bloomberg Businessweek
Bronze Award: Jayme Moye, "Tenureland: Why Adventure Tourism Tenure in the Kootenays is So Divisive", Kootenay Mountain Culture
Honorable Mention: Dori Saltzman, "How to Build Business and Trust with Expert Cruise Reviews", TravelMarketReport.com
Category 162: Travel Tips & Advice
Gold Award: Nikki Ekstein, "How to Plan a Last-Minute Summer Getaway Without Breaking the Bank", Bloomberg Pursuits
Silver Award: Kathleen Mangan, "Best Under-the-Radar Places in Ireland 2022", Insider.com
Bronze Award: Jen Ruiz, "15 Tricks to Travel for Less–With or Without Credit Cards", Fodor's Travel
Honorable Mention: Stacy Tillilie, "Where to Get the Best Cheesesteaks in Philly", The Extra Mile, the blog of AAA Club Alliance
DESTINATION MARKETING ORGANIZATION CATEGORIES
Category 200: Visitors' Guide
Gold Award: Southern Luxury Publishing, "Explore the Northshore"
Silver Award: Arkansas Tourism, "2022 Travel Guide"
Bronze Award: Huntsville/Madison County Convention & Visitors Bureau, "Official Destination Guide to Huntsville/Madison County"
Category 201: Destination Video
Gold Award: Visit Buffalo Niagara, "The Colors of Buffalo"
Silver Award: Kansas Tourism, "Spring 2022 Commercials"
Bronze Award: The San Francisco Peninsula, "The San Francisco Peninsula: South of San Francisco, North of Expectations"
Category 202: Creative Marketing Campaign
Gold Award: Visit Topeka, "Topeka Dino Days"
Silver Award: Visit Indiana/Indiana Destination Development Corporation, "Pie Day-to-Pi Day"
Bronze Award: Kansas Tourism, "To the Stories Series"