There's no greater achievement for an NFL player than to be immortalized at the Pro Football Hall of Fame in Canton. To have a bronze bust permanently displayed in a room alongside other elite football heads is the hope of many kids who grow up playing. So during a visit to Canton, where we stayed at the historic McKinley Grand Hotel (where many of the hall of fame players stay during the summer induction ceremony), I had the chance to visit the Pro Football Hall of Fame.
I grew up a passionate football viewer, while playing intramural football in middle school. I played quarterback and was pretty good at that level- a level that's an eternity away from being capable of even starting in high school. My hope was that if I couldn't play quarterback, I'd grow big enough to play middle linebacker, captain of the defense. Unfortunately, my hands never grew bigger, nor did the rest of my body. But at the time, I didn't realize that many of my fellow classmates, who grew super sized compared to me, did so through artificial methods.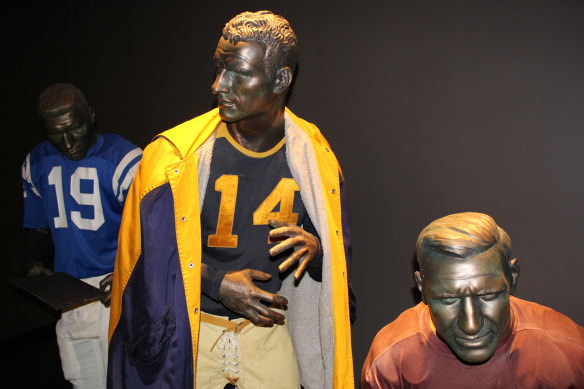 I grew up a Buffalo Bills fan, which was both exhilarating and heartbreaking to a kid in the early 90's. They're still the only NFL team in history to reach four consecutive Super Bowls…. and lose all of them. I cried for the first one, by the fourth I pretty much expected that familiar ache in my stomach. The 21st century has perhaps been even crueler to the franchise as they haven't even made the playoffs. It's hard being a Bills fan, and when they lose a big game, it still eats at me for a little while before I shrug it off and mutter "it's just a game."
Last month, at the age of 36, I finally made it to the Pro Football Hall of Fame as a visitor. And thanks to a career in writing, I was able to receive complimentary media admission, which saved me $24, plus $10 in parking. It kinda felt like a little pat on the back for not using steroids in high school, in the slim hope I'd reach Canton as a player (I'm not saying all players get there that way, but no doubt many were assisted by illegal performance enhancing drugs).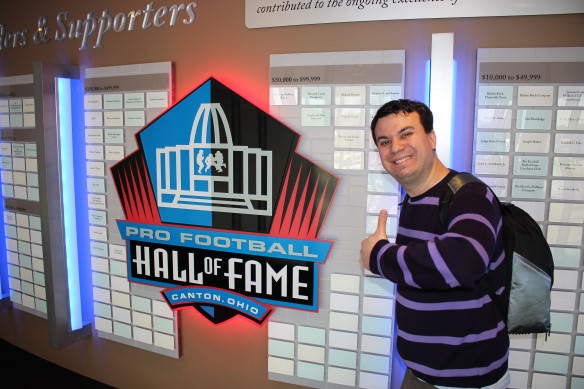 The Pro Football Hall of Fame is in Canton, Ohio because the NFL officially formed as a league there in 1920. The Canton Bulldogs were part of the NFL at its conception and legendary athlete and player Jim Thorpe played for them. Thorpe had previously won the Olympic gold medals for decathlon and pentathlon at the 1912 Olympics in Stockholm, Sweden and also played professional baseball. As a football player, he played running back, defensive back, placekicker and punter, which is unthinkable today. President Eisenhower, who played against Thorpe in college said of him "Here and there, there are some people who are supremely endowed. My memory goes back to Jim Thorpe. He never practiced in his life, and he could do anything better than any other football player I ever saw." Thorpe is regarded by many sports historians as the greatest American athlete of the 20th century. In the room encapsulating the history of professional football in America, there's a massive bronze statue of Jim Thorpe "The Legend" in the center of the room, superior to all others at the Hall of Fame. It's a testament to not only Thorpe, but to the integral role that Canton continues to play in the United States' most popular sport, despite being a dying rust belt town that has lost 50% of its population since the 1950's.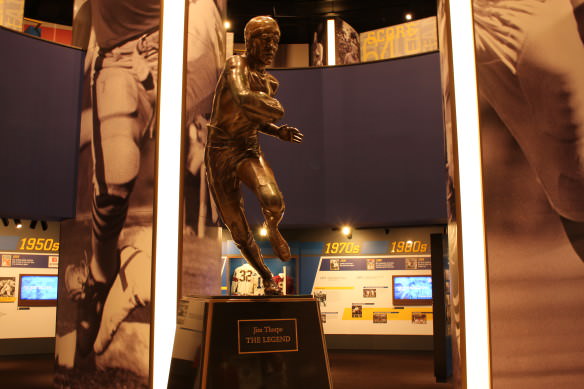 There are 287 bronze busts of inductees in the most famous room of the Pro Football Hall of Fame, which include players, coaches, owners, administrators and press. I spent over half an hour closely examining many of the heads from the inaugural inductees of 1963 to the present. While the athletes of today are paid much better than previous generations, many incur serious injuries that hinder their later lives. Many struggle to hold jobs outside football, including possibly the greatest athlete of the 20th century, Jim Thorpe, who died poor. But for those inducted, regardless of how much money these men die with, they are remembered for however long the league and museum exists.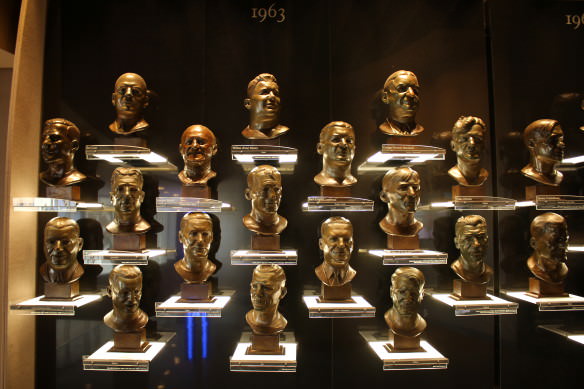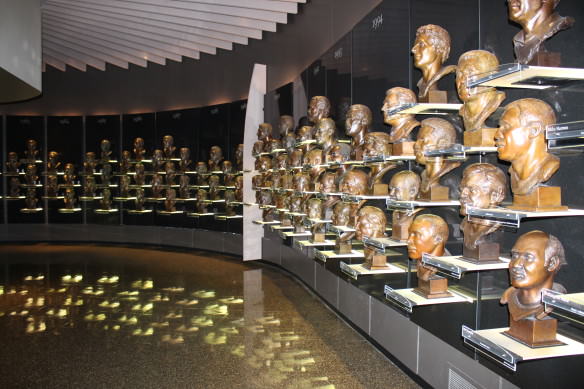 The Pro Football Hall of Fame was particularly special as a Bills fan, as many players and staff from the early 1990's Super Bowls continue to be inducted. In 2014, receiver Andre Reed was one of 8 players inducted and his former jersey and other personal mementos are in a room especially devoted to the previous years inductees. There's also jerseys and playbooks from Buffalo Bills Super Bowl appearances and perhaps what's most special is that the entire football preservation wing is named after late Bills owner Ralph Wilson, who died in 2014. Wilson founded the team in 1960 and was the only owner in its history for 54 years, until his passing, after which his family sold the team to billionaire Terry Pegula, who also owns the Buffalo Sabres hockey team.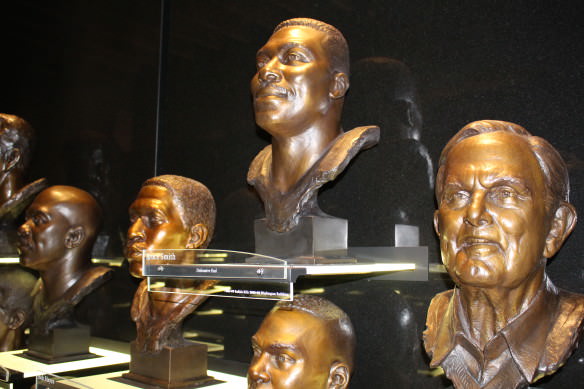 A die hard NFL fan could visit the Pro Football Hall of Fame every year to see new items on display. Each year there are new inductees and new mementos from the previous season's best plays temporarily displayed. A must is to watch the video highlighting the previous seasons Super Bowl. The movie theatre rotates and the sound is spectacular, as you can practically feel the players hitting each other. Most NFL fans, myself included, will feel goose bumps.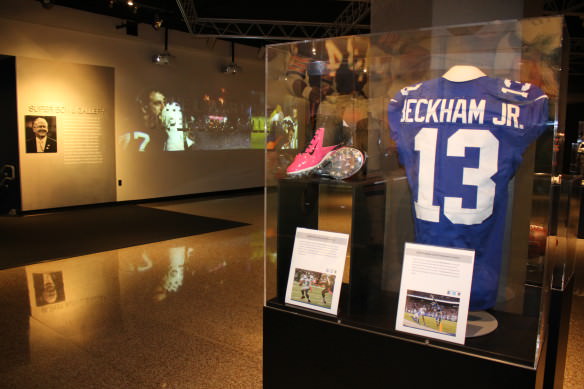 The Pro Football Hall of Fame has a room featuring mementos and history of other professional American football leagues before and during the NFL's supremacy. This includes leagues like the AFL and USFL. For many younger football fans, it's an important lesson in business as well as sports history.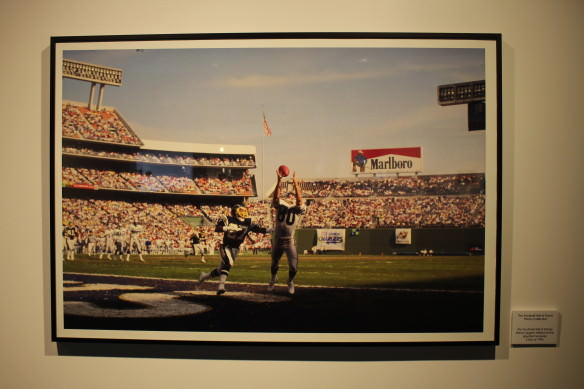 Many visitors to the Pro Football Hall of Fame sport the jersey of their favorite team. While admission is a little pricey at $24, it's much cheaper than attending an actual NFL game. Barring perhaps a pre-season game in cheaper markets like Buffalo and Oakland, where you might find a great deal on a third party ticket exchange site like stubhub, the NFL has outpriced most American families. The $10 charge for parking is new and rather unnecessary for a league raking in record profits, as NFL Commissioner Roger Goodell earned $44 million last year, while the NFL holds a non-profit tax status.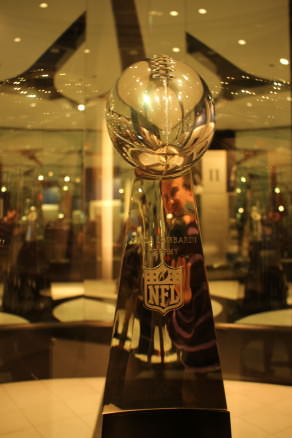 My father took me to the Baseball Hall of Fame in Cooperstown as a kid and it was an experience I cherished for years. As we age life makes us more cynical, but I still appreciated my visit to Canton as a 36 year old jaded NFL fan. Is the Pro Football Hall of Fame worth visiting if you're from outside the US and have only a casual interest in American football? If you're close by, yes, and what's definitely worthwhile in Canton is the
William McKinley Presidential Library & Museum
, which has an incredible recreation of a typical late 1800's American town. Additionally, for those with no interest in football, the
National First Ladies' Library
 is also a great option while waiting for someone who's visiting the Pro Football Hall of Fame.
For history lovers, Canton is significant, and for a struggling town, the Pro Football Hall of Fame is extremely important. But what does it say about the United States, when there's mounting evidence that football is dangerous at all levels, that this sport has never been more popular? Perhaps we should stay away, but I would certainly be a hypocrite to tell you that.
Disclosure: This article contains some affiliate links. We receive a small commission when you book or sign up through certain links and it costs you nothing extra. When it suits you, please use them, as it helps us help you!