New York is a great city for cocktails, hence the Manhattan. If you're visiting the Big Apple and looking to meet fellow travelers over drinks, consider a cocktail tour. On a recent summer visit we took a craft cocktail tour in NYC with Urban Adventures. This is a fun way to discover former speakeasies in the East Village while learning about prohibition, gangster and food & drink history over tasty libations.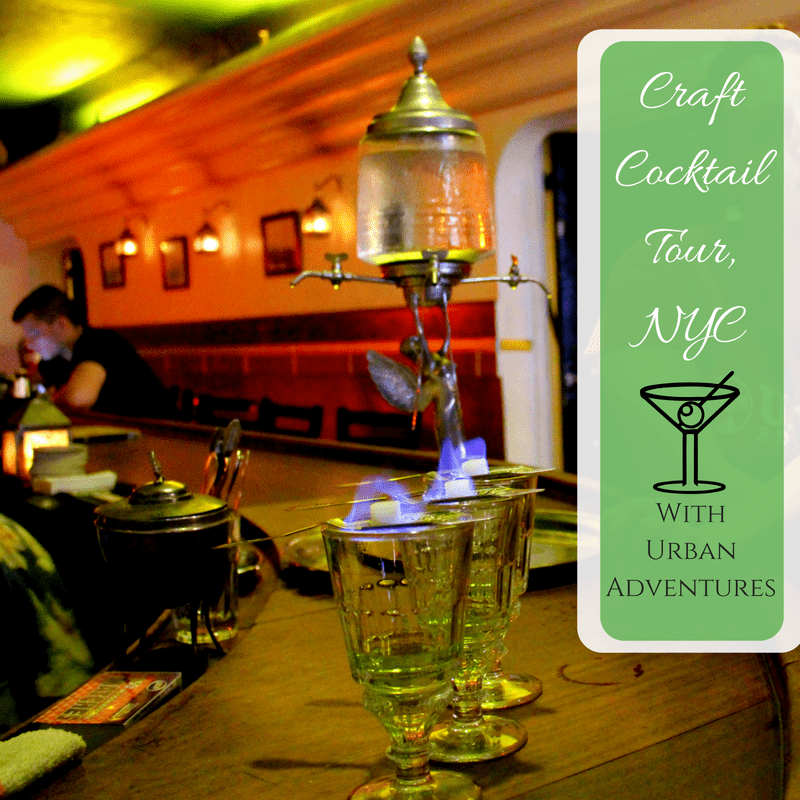 William Barnacle Tavern
William Barnacle Tavern is one of the most historic pubs in the East Village of Manhattan. Our guide Jillian told us stories of pre-prohibition history while we sipped absinthe cocktails. Life was rough prior to prohibition and the water wasn't very safe to drink in the late 1800's, so people in the area consumed more alcohol at that time than any other time in history. Prohibition occurred from 1919-1932 and people secretly drank at the William Barnacle Tavern, hence the name "speakeasy."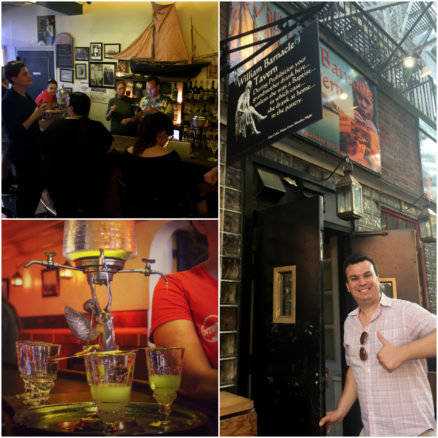 Absinthe traditionally has a natural green color and is often called the green fairy. It's an anise flavored spirit made from botanicals, including the flowers and leaves of artemisia absinthium (grand wormwood), together with green anise, sweet fennel, and other medicinal and culinary herbs. It's high alcohol content of 45–74% ABV isn't for lightweights. 
Attached to the William Barnacle Tavern are two other historic establishments. A lot of famous people performed at Theatre 80 St. Marks early in their careers including Frank Sinatra and John Coltrane. The theatre's mission is to make the arts more accessible to the public and performers, making it a good off-broadway stop.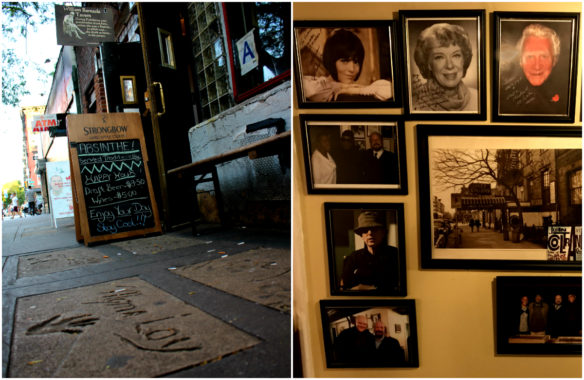 Also attached to the tavern is a Feltman's of Coney Island, selling one of the best hot dogs in the city. Feltman's (not Nathan's) is the original Coney Island hot dog. In 1867 German immigrant Charles Feltman first sold NYC style hot dogs in Coney Island from a pushcart. You can grab a delicious one at the William Barnacle Tavern today. Their hot dogs have a nice crispy skin, and are loaded with sauerkraut.
Also attached is the Museum of the American Gangster, which was not part of our tour. Between the second and final bars, our group was given the option to visit Astor Wine and Spirits to learn more about local spirits. We voted as a group to skip it in favor of heading straight to the third bar.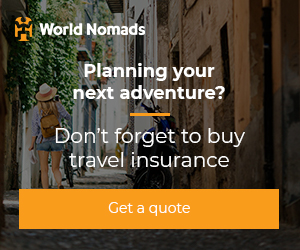 The Late Late
The Late Late was the third and final stop of our tour. The Late Late is modeled after a 1960's era Irish residence.  Irish hospitality meets contemporary New York society at this hip East Village hangout.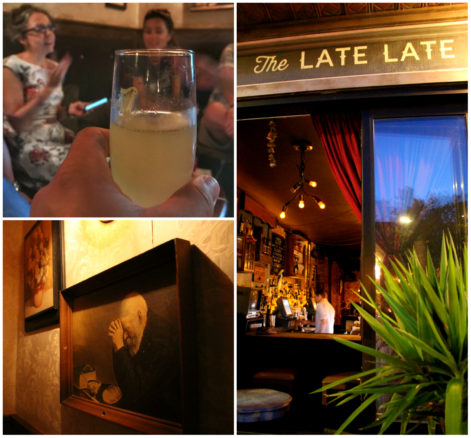 We had a choice of two cocktails included in the tour, the Jefferson Airplane and Sympathy for the Devil. Jefferson Airplane combines Smith and Cross, lime, honey syrup and Brut champagne. Sympathy for the Devil combines Deleon Silver, lemon cassis and ginger chili demerara. We ordered one of each to try both. Both were tasty but we preferred Sympathy for the Devil.
Our final stop was another opportunity to chat amongst our group. One tour participant had taken all three tours with Jillian that day. He was telling us about an interesting Tour de France tour he previously took, among other adventures. While we once attended the Tour De France's opening stage in Rotterdam, we never previously thought about a tour surrounding that event. A multi-day biking tour of Belgian breweries or French wineries has been on our radar though.
It was a cool group that had a lot to share on travel and life. After the tour was finished, we appreciated receiving an email from Jillian recapping everywhere we went. If you're a cocktail aficionado looking to meet fun and interesting people, consider taking Urban Adventures Craft Cocktail Tour.
Highlights of Urban Adventures Craft Cocktail Tour in NYC
Taste delicious craft cocktails at some of New York's best bars
Learn how prohibition shaped NYC, and the speakeasies and gangsters who influenced the city's cocktail culture
Discover new spirits from local micro-distilleries
Find the best tucked-away places to grab a drink in New York's East Village
Learn how bartenders are revolutionizing cocktails in the USA with fresh, artisanal ingredients
Inclusions: Local English-speaking guide, 3 cocktails, light snack
Exclusions: Additional food and drink, bottles of spirits, souvenirs, tips and gratuities for the guide
Cost: $89 per person
Where to Stay in New York City?
Hotel prices can vary wildly in New York City. During busy periods like summer and holidays, hotels are especially pricey. During off-peak times in winter, hotel prices are significantly cheaper. We visit NYC often, including several times for the NY Times Show. Here are some recommendations to suit all budgets. Consider booking a well-reviewed hotel in advance that offers free cancellation.
Luxury:
The Plaza is an iconic 5 star hotel at the base of Central Park. Spacious rooms include iPads and are gilded with 24-carat gold plating. There's an on site elegant Champagne Bar, the famous Rose Club and Guerlain Spa.
The Mark is located in New York's upscale upper east side, a block from Central Park and a short walk from the Metropolitan Museum of Art. Spacious marble bathrooms feature a large soaking tub and mini flat-screen TV. Each room is decorated in ebony and sycamore furnishings.
Mid Range:
CitizenM is great for a comfortable stay with modern amenities, at a price that's easier on the wallet. Rooms feature a centralized digital system that controls lighting, music and electronics. They have two locations: CitizenM New York Times Square and CitizenM New York Bowery.
W New York – Times Square is great if you want to stay in the heart of the city, in a modern hotel. A plasma TV, terry cloth bathrobes and Bliss bath amenities are included in all rooms. Rooms are equipped with a stocked mini-bar and light snacks.
Budget:
The Pod Hotels are a good deal in New York City, though more so in winter. Pod 39, is a little better than Pod 51 because it's newer and has a rooftop bar. The newest edition is Pod Times Square which just opened in January, 2018.
The Jane is a historic and fun budget option with a rooftop bar and adjoining club. Rooms can be small, but it's hard to beat the price in NYC, especially since they have a great location in Greenwich Village near the Hudson River and High Line.
Disclosure: New York City Urban Adventures hosted us on their Craft Cocktail Tour in NYC. All photos and opinions expressed here are ours. Also, the hotel links are affiliate links. If you make a booking through those links, we receive a small commission at no extra cost to you.