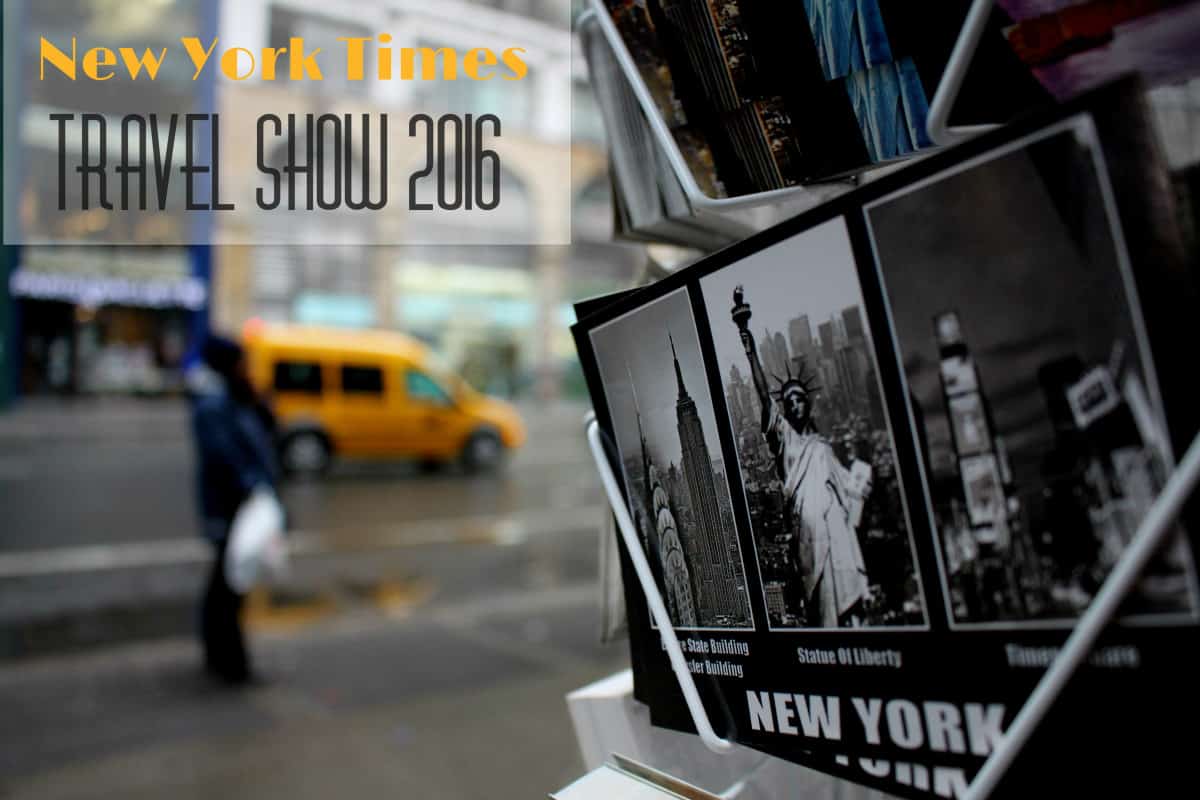 New York City is an amazing place that's at the top of many travelers lists. It's where the "American dream" has began for millions of people, including my father when he first immigrated from Greece in 1953. Just a four hour bus ride from Boston, Bell and I haven't taken advantage of the close proximity to enjoy New York as much as we'd like since relocating to the northeast from Ireland in 2014. But for the second year in a row, the NY Times Travel Show has been a great excuse to visit. Here are some things we experienced and learned at the 2016 NY Times Travel Show:
Seth Kugel has been the New York Times travel section's 'Frugal Traveler' columnist for 5 and 1/2 years. Particularly when we lived in Dublin and money was tight, we were frequent readers of his column for tips on saving money to travel. He was on a panel that also included NY Times travel writers Seth Sherwood and Lucas Peterson, who will be taking over for Seth Kugel after he steps down as writer of 'The Frugal Traveler' column next month.
Colombia is a Great Bang for Buck Destination
Seth Kugel believes that Colombia is possibly the best bang for buck country in South America. He says it's fantastic for architecture, food, mountains and beaches- all at a great price. Our previous travels have taken us to Argentina and Uruguay, which we enjoyed. And we were ultimately inspired to visit Bogota, Colombia and Salento, in the coffee region of the Andes Mountains!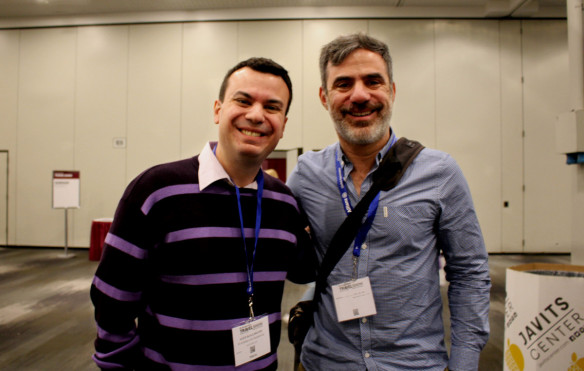 Youngest Person to Visit Every Country in the World?
Lee Abbamonte is the youngest American to have visited every country in the world, doing so at 32 years of age. His new goal is to be the first recorded person to ever visit every country in the world twice. Incredibly, he admits sports is his first passion over travel.
Obviously, Lee Abbamonte has experienced a wealth of amazing things on his world travels and is quite the thrill seeker. He said his favorite man-made site in the world is the Tiger's Nest in Bhutan. His least favorite countries have been Nigeria and Angola. In Nigeria, he said authorities tried to extort bribes from him and the ATM ripped him off three times in three days. "And it wasn't that I tried to take out $100 and got $98, it was more like I tried to take out $100 and got $4!"
He said he was denied a tourist visa by Angolan authorities 5 times before finally receiving one. His belief is that the Angolan government didn't really want tourists in the country. As they were too focused on the oil scam they have going with governments around the world, including the USA and EU.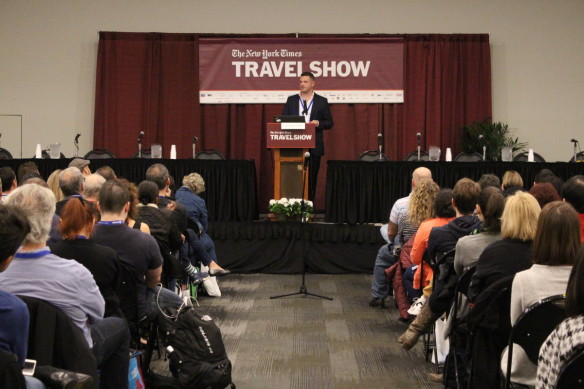 Budget Travel Tips
Matt Kepnes (Nomadic Matt) is probably the most famous travel blogger in the world and has authored several books including 'Travel the World on $50 a Day.' We've been reading Matt's blog for years but this was the first time we saw him speak. Matt is an excellent resource on budget travel and constantly encourages people to see the world and broaden their horizons.
Nomadic Matt encouraged people to hitchhike. It's a very common form of transit in countries like Iceland. It's also safer than a lot of people think. He told his audience to research more about J. Edgar Hoover's hatred of hippies and how the FBI began a propaganda campaign to discourage hitch hiking from becoming mainstream in the United States. One audience member became irate with Matt during the Q & A session saying "I can't believe you're encouraging women to hitchhike!"
Matt told his audience to save money by staying and eating with locals. Avoid fancy restaurants because "you can eat a fancy meal in any city in the world." He also said ask locals "where do YOU eat?….rather than where should I eat?" He said that if you're a budget conscious traveler, duck into a hostel to ask staff for a restaurant recommendation even if you're not staying there. He also recommended asking cab or Uber drivers for tips, which we like to do as well.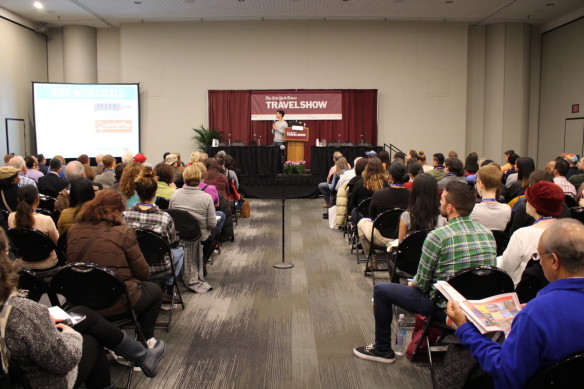 Meeting Travel Channel TV Host Samantha Brown
I saw former long time Travel Channel TV host Samantha Brown sitting in a round table discussion and given I had a press badge myself decided to join in on the conversation. She was sitting with members of the US State department having a conversation about customs and immigration policy. Partly because of tightened border controls, US citizens holding a passport has jumped exponentially from just 3% in 1974 to 9% in 1989 to 38% of US citizens holding one today.
I decided to chime in with a few comments of my own regarding immigration and border control. When we traveled to the United Arab Emirates in 2013 we were greeted by a very slow-moving immigration line and realized it was moving so slow because the immigration officer, in his sleek white gown, was flirting with all the women. After asking me to step to the side, he told Bell "you have beautiful eyes." One of the other baffling things I've found traveling abroad is the Australian customs form which had medications and firearms under the same category to check.
I was thrilled to get a couple laughs from Samantha Brown and US State Department staff. And Samantha Brown was as charming and friendly in person as she is on TV, posing wonderfully for this photo I requested from her. Her husband Kevin James O'Leary was also at the table and was the one who took the photo below.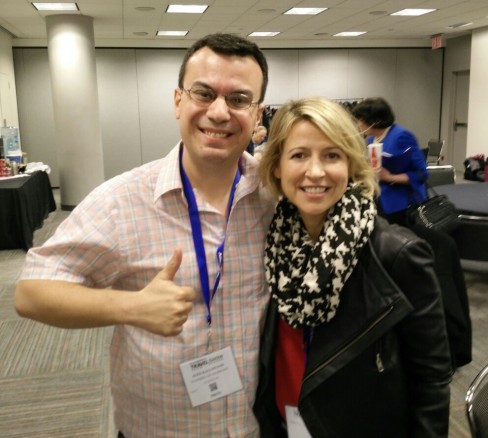 As they say "divide and conquer," so at times Bell and I split up and attended different sessions taking place simultaneously. Below is Bell's recap of a couple great sessions she attended.
Professional Photography Tips
Ralph Velasco gave a great presentation on making the most of your travel photography. Neither Alex nor I keep a "shot list" and it had never occurred to me to do this. This is where you make a list ahead of your travels of key things that you want to capture in different categories to fully encapsulate your trip. After listening in on this session, I went outside with some different shots in mind and had fun trying to capture them in photogenic New York City! Ralph has a free app for iOS that has 52 categories to keep in mind when on the road.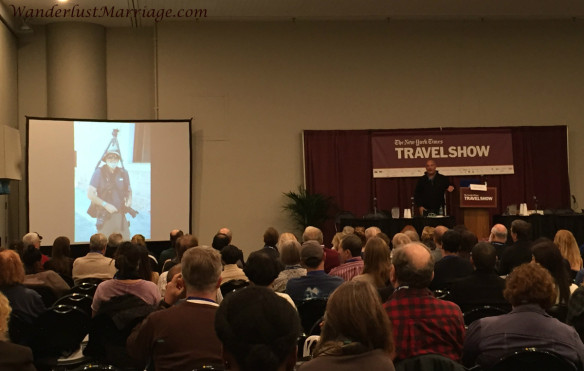 Julia Dimon spoke about great travel tips and deals for 2016. She noted Australia and Canada due to their current favorable exchange rates for Americans. Julia also suggested some different websites for travel that are modeled within a sharing economy framework like Uber and Airbnb. The websites that peaked my interest the most were the meal sharing sites, for example, Eat With and TasteMade, which we hope to check out this year during our travels.
Great New York City Hotels
Hotel prices can vary wildly in New York City. During busy periods like summer and holidays, hotels are especially pricey. During off-peak times in winter, hotel prices are significantly cheaper. We visit NYC often and have stayed in a lot of different hotels. Here are some recommendations to suit all budgets. Consider booking a well reviewed hotel in advance that offers free cancellation!
Luxury:
The Plaza is an iconic 5 star hotel at the base of Central Park. Spacious rooms include iPads and are gilded with 24-carat gold plating. There's an on site elegant Champagne Bar, the famous Rose Club and Guerlain Spa.
The Mark is located in New York's upscale upper east side, a block from Central Park and a short walk from the Metropolitan Museum of Art. Spacious marble bathrooms feature a large soaking tub and mini flat-screen TV. Each room is decorated in ebony and sycamore furnishings.
Mid Range:
CitizenM is great for a comfortable stay with modern amenities, at a price that's easier on the wallet. Rooms feature a centralized digital system that controls lighting, music and electronics. They have two locations: CitizenM New York Times Square and CitizenM New York Bowery.
W New York – Times Square is great if you want to stay in the heart of the city, in a modern hotel. A plasma TV, terry cloth bathrobes and Bliss bath amenities are included in all rooms. Rooms are equipped with a stocked mini-bar and light snacks.
Budget:
The Pod Hotels are a good deal in New York City, though more so in winter. Pod 39, is a little better than Pod 51 because it's newer and has a rooftop bar. The newest edition is Pod Times Square which just opened in January, 2018.
The Jane is a historic and fun budget option with a rooftop bar and adjoining club. Rooms can be small, but it's hard to beat the price in NYC. Especially since they have a great location in Greenwich Village near the Hudson River and High Line.
Families and groups of friends can rent short term apartments. But you can no longer rent private apartments in Manhattan. There are still good private options in Brooklyn and Queens though. So you don't have to be captive to hotel prices.
2016 NY Times Travel Show Exhibitor Award Winners:
Best in Show: Turkish Culture and Tourism Office
Rookie of the Year: Go Touch Down Travel and Tours
Most Interactive: Destination Canada
Best 10′ x 10′ Booth: Flight 001
The People's Choice: Mexico Tourism Board
Most Imaginative: Curaçao Tourist Board
Best Show Service: It's Easy Passport Visa Services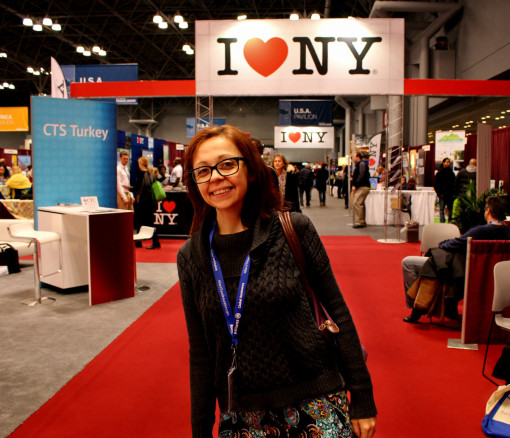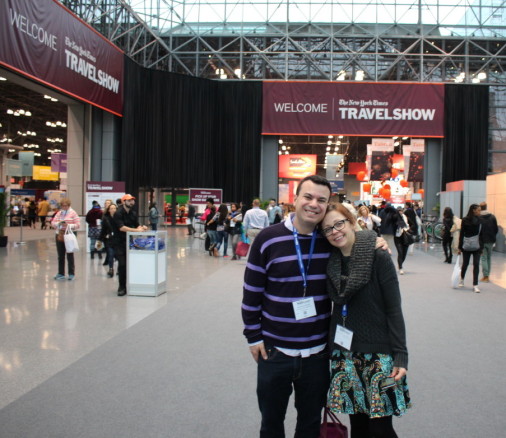 We were fortunate to attend the 2016 NY Times Travel Show with two other talented Boston bloggers, our friends Brianne Miers of A Traveling Life and Kristin Amico of 5 Things to Eat. Brianne chose a fantastic Airbnb rental that had a view of the Javits Center (home to the NY Times Travel Show) from the kitchen of the 14th floor of our apartment. You could also see the Empire State Building if you stuck your head out the window of the bedrooms onto 34th street in midtown Manhattan.
I joked that it was inspiring to brain storm travel ideas over coffee and bagels as we watched the flashing Javits Center jumbotron over breakfast. Speaking of bagels, it was great to have a foodie expert like Kristin to track down great bagels from Murray's Bagels, cookies from Milk and Cookies Bakery and a plethora of great lunch options at Gotham West Market, just a 10 minute walk from the Javits Center.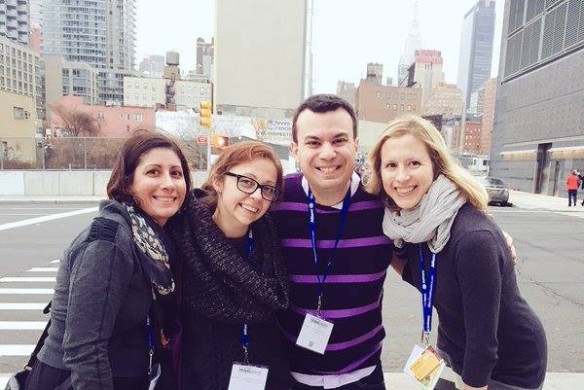 Brianne Miers wrote a great post on Six Travel Trends to Watch in 2016, that recaps the session that longtime travel guidebook publisher Arthur Frommer presented.
The NY Times Travel Show was an event that anyone with a vested interest in travel could benefit from. It's worth the price of admission for the public just for the expert sessions. There's also over 500 trade show booths, featuring exhibitors from all over the world.
Travel Exhibitions Around the World
In addition to also attending the 2015 NY Times Travel Show, we've previously attended other big travel shows in the past, including the largest one held in the English language, the 2013 and 2014 editions of World Travel Market in London, the 2014 edition of FITUR in Madrid, the largest travel show held in Spain, and the 2015 Boston Globe Travel Show, all with press passes.
If you want to know more about these events, whether you're a traveler, media or small business, get in touch! You may also be interested to read our article on how to make money off a travel blog!