By Bell
A few weeks back, we had the pleasure of traveling around Canada. It was great because those Canadians are just so nice! Even in towns where it barely breaks freezing for five months of the year, people were welcoming and friendly. The lady who checked me in at my hotel in Winnipeg made me feel at home as she pleasantly detailed breakfast and the never ending supply of tea and coffee for guests. And in Vancouver, in "the big city," several servers chatted with us extensively and seemed enthusiastic about both their jobs and giving advice on things they enjoyed around town.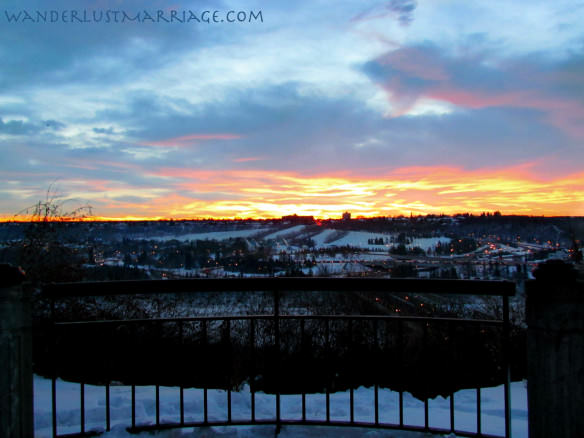 December Travels in Canada
So in the span of one week, Alex and I shared 4 days spanning holiday lights in Vancouver. We also took a short British Columbia road trip to Whistler.
Then I flew to Edmonton, followed by Winnipeg. These were very short stops unfortunately, as I was there because of my day job. This didn't leave a lot of time for exploring, and with temperatures being well below what I am used to, I wasn't outside too much! But below are a few winter wonderland photos I managed to capture despite my short time.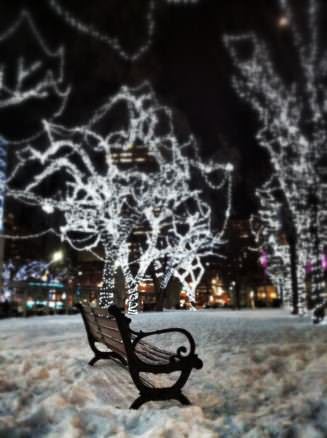 Edmonton in Winter
If you are in Edmonton in winter and it isn't too cold, I recommend walking by the North Saskatchewan River. As you can see it is totally frozen, but I headed over to the river at sunrise, and the colors contrasted by the white of the snow took my breath away and I felt refreshed and ready for another long day.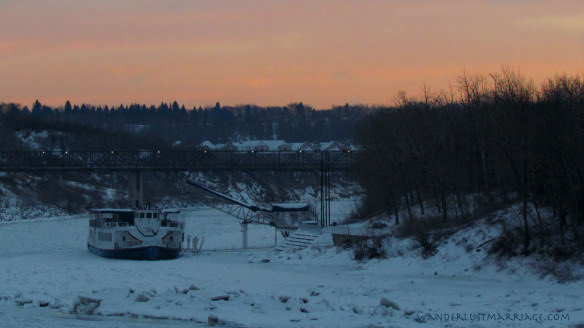 Winnipeg in Winter
Winnipeg was a lot colder than Edmonton. I had less time there. Just one night, compared to two nights in Edmonton. But my taxi driver from the airport gave me the rundown on how Winnipeg "has it all." You can enjoy museums, professional hockey, and Canadian football!
A new museum opened earlier this year, The Canadian Museum for Human Rights, which is the only national museum outside of the capital of Ottawa. I didn't have time to check it out, unfortunately. But if you are in Winnipeg it's highly recommended by locals. Several people told me about it.
With the windchill, it was -21 Celsius (-5 Fahrenheit). So taking photos and actually walking around to see the city was difficult.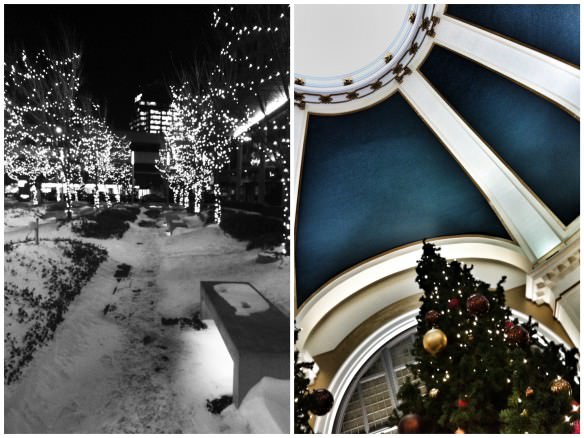 Interviewing Cancer Patients in Edmonton and Winnipeg Gave a Renewed Appreciation for Life
So what on Earth was I doing in those parts of Canada in December? I was interviewing advanced cancer patients for a project my company is working on, and project timelines don't wait for ideal weather. This is a new role for me, as I usually work on "behind the scenes" research, never actually talking to those participating, as I'm a statistician by day. Talking with these lovely people and listening to their amazing stories gave me a refreshed perspective on life.
I've always been a strong believer in that small things are what make life amazing. I'm now consciously paying more attention to those little details. Like being totally present when snuggled up with Alex rather than thinking of how the laundry needs to be done. Or that I'd better send that email to x person and so forth. I'm loving that I have these moments. Life is very precious and things can change for anybody in a heartbeat. I'm appreciating this life that I am privileged to have and trying to ensure that those I love know it not just because I tell them, but because I show them.
Read more about Traveling to Edmonton and Winnipeg in Winter
For a long list of cool things to do in Edmonton in winter check out this list by the Edmonton Tourism board.
And for a rundown of 10 top experiences in Winnipeg, check out the list on the Winnipeg tourism board's page.