By Alex Kallimanis: We previously lived in Boston, and currently reside in Washington, DC, so we've made many trips to New York City the past several years. New York is around four hours from Boston and Washington, DC by car, train or bus (though we never drive to NYC). The Big Apple is one of the world's most exciting cities, but it can also be a bipolar place when it comes to food quality and general experiences. These are some of our favorite things we've done in NYC that we recommend for visitors. I've excluded discussing the most famous options, like a picnic or bike ride in Central Park.
Walk the High Line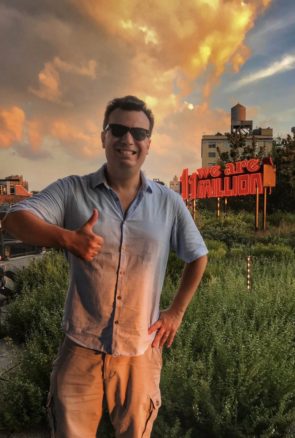 The High Line is a 1.45 mile long elevated park that's been built on an old railway line on the lower west side of Manhattan. The train line originally opened in 1933 but was abandoned in the early 80s and set for demolition until the community rallied to save the space and turn it into a public park. It runs from Gansevoort Street in the Meatpacking District to West 34th Street, between 10th and 12th Avenues.
The High Line offers excellent elevated views of the Hudson River and the Big Apple Skyline. I highly recommend going up around sunset, as the setting sun over the Hudson River is very picturesque. Consider packing a picnic or grabbing to go food from nearby Chelsea Market.
Drinks on a New York City Rooftop Bar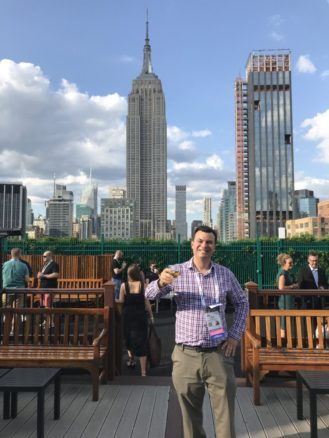 Unsurprisingly, New York City has some excellent rooftop bars, everyone wants to take in that iconic skyline! One I highly recommend is 230 Fifth Rooftop Bar. This venue has a wonderful view of the Big Apple's skyline including the Empire State Building. They serve some inventive cocktails including a delicious "froze", a frozen rose wine and vodka drink. They also have a good selection of food including sushi options. Rooftop Bars in NYC can make for excellent #DoItForThe Gram moments too.
New York City Food Tour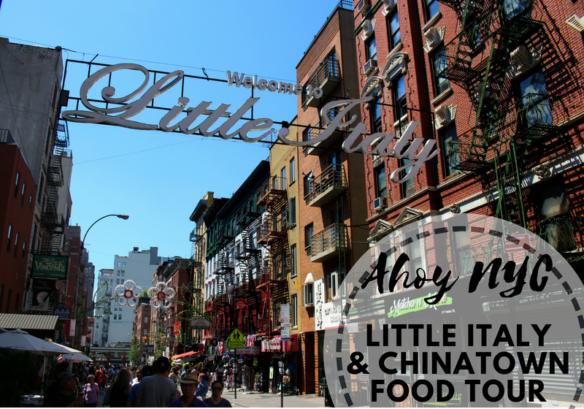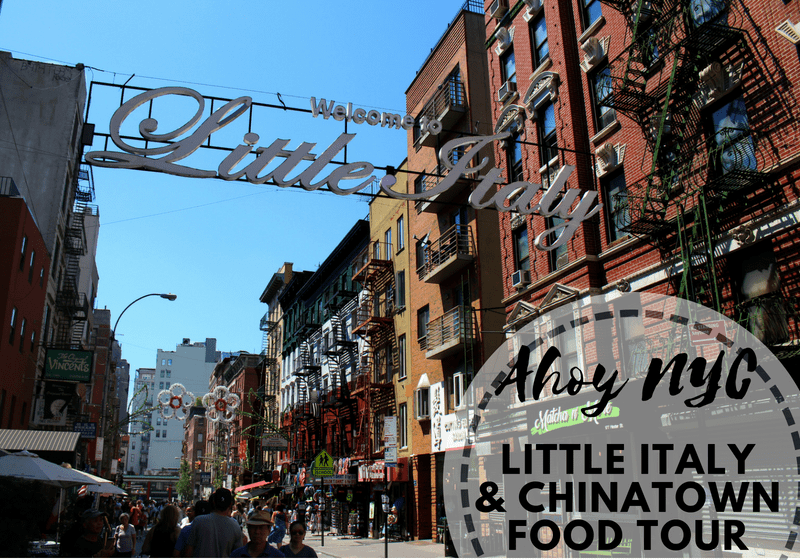 New York City is a huge melting pot of cultures, with co-existing communities from all over the world. As various immigrants have moved into the city over the past few centuries, they've shaped the culture and cuisine. Food and history enthusiasts should consider a tour when visiting the Big Apple and Ahoy New York Food Tours offers a great one for $55.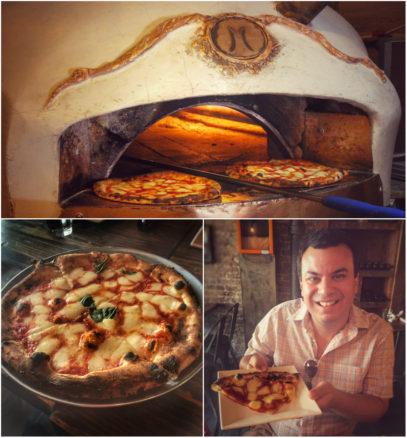 Among six stops, we visited the country's oldest Italian American cheese shop, Alleva Dairy, which has been in business since 1892. Another was Margerita NYC, which is delicious for wood-fired pizza. Little Italy can be hit or miss for food, but this is a great little restaurant. The pizza here is as good as New York pizza comes – a perfectly crispy crust with quality mozzarella and marina sauce. Another highlight was Tasty Dumpling to try their fried dumplings. You can read the full recap of this tour in our article, Little Italy and Chinatown Food Tour in NYC with Ahoy.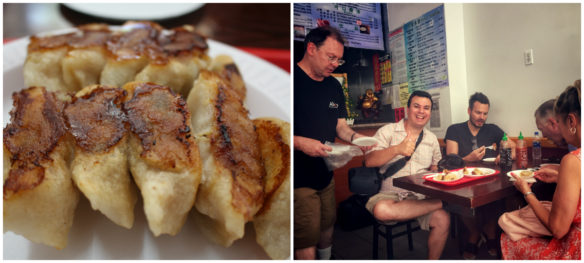 New York City Craft Cocktails
New York City is a great destination for cocktails. The Manhattan is thought to have been created around 1860. There's also a lot of interesting prohibition era history and some cool former speakeasy pubs you can visit. Fun fact about the Manhatten cocktail, while originally made with American rye whiskey, during prohibition Canadian whisky was used due to its availability.
You can combine your appreciation of cocktails with a history lesson on a Craft Cocktail Tour with Urban Adventures. You can read all about our experience in that article. In a nutshell, you'll visit three bars and learn how prohibition shaped NYC, and the speakeasies and gangsters who influenced the city's cocktail culture. Tours cost $85 and can be booked at New York City Urban Adventures.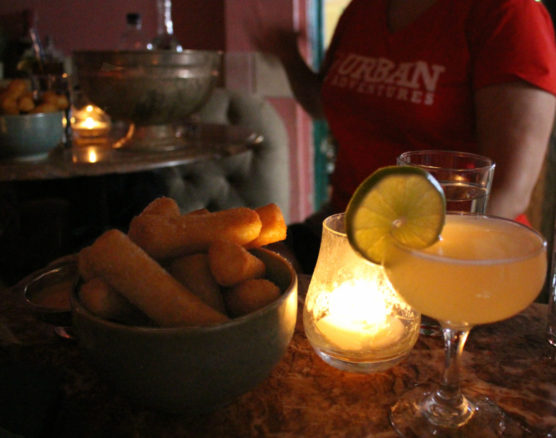 Attend an NBA, MLB, NFL or NHL Game
New York City is one of the best sports towns in the USA. Historic Madison Square Garden is home to the New York Knicks basketball team and New York Rangers hockey team. It's centrally located in mid-town Manhattan to catch a game when it's cold outside (most of the NBA and NHL regular seasons).
The New York Yankees play at Yankee Stadium in the Bronx. While the Mets play MLB games at Citi Field in Queens. You can watch the Brooklyn Nets play NBA basketball games at the Barclays Center in Brooklyn. The New York Islanders play professional NHL hockey at UBS Arena in Elmont, New York. The New York Giants and Jets both play NFL football at the MetLife Stadium in East Rutherford, New Jersey.
If there is a game you really want to attend and it's sold out, check third party ticket sites. Browse ticket re-seller sites like StubHub and Vivid Seats (not to be confused with the porn site!).
New York City Hotels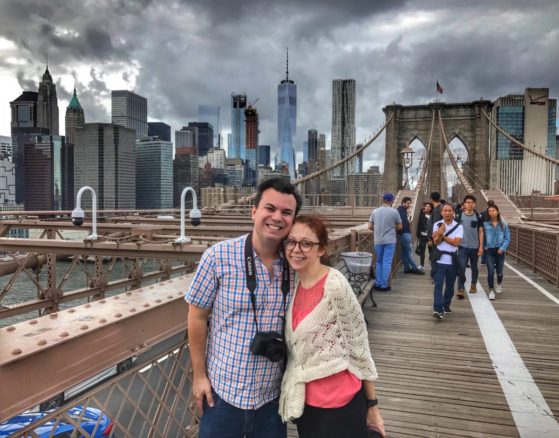 Hotel prices can vary wildly in New York City. During busy periods like summer and holidays, hotels are especially pricey. During off-peak times in winter, hotel prices are significantly cheaper. We visit NYC often, including several times for the NY Times Travel Show. Here are some recommendations to suit all budgets. Consider booking a well-reviewed hotel in advance that offers free cancellation.
Luxury Hotels
The Plaza is an iconic 5-star hotel at the base of Central Park. Spacious rooms include iPads and are gilded with 24-carat gold plating. There's an on-site elegant Champagne Bar, the famous Rose Club and Guerlain Spa.
The Mark is located in New York's upscale upper east side, a block from Central Park and a short walk from the Metropolitan Museum of Art. Spacious marble bathrooms feature a large soaking tub and mini flat-screen TV. Every room is decorated in ebony and sycamore furnishings.
Mid-Range Hotels
CitizenM is great for a comfortable stay with modern amenities, at a price that's easier on the wallet. Rooms feature a centralized digital system that controls lighting, music and electronics. They have two locations: CitizenM New York Times Square and CitizenM New York Bowery.
W New York – Times Square is great if you want to stay in the heart of the city, in a modern hotel. A plasma TV, terry cloth bathrobes and Bliss bath amenities are included in all rooms. Rooms come equipped with a stocked mini-bar and light snacks.
Budget Hotels
The Pod Hotels are a good deal in New York City, though more so in winter. Pod 39, is a little better than Pod 51 because it's newer and has a rooftop bar. The newest edition is Pod Times Square which just opened in January, 2018.
The Jane is a historic and fun budget option with a rooftop bar and adjoining club. Rooms can be small, but it's hard to beat the price in NYC, especially since they have a great location in Greenwich Village near the Hudson River and High Line.
The Lexington Hotel is another good budget choice in New York City. Joe DiMaggio and Marilyn Monroe resided at the Lexington Hotel in the 1950's, so the property is steeped in history.
New York has cracked down on Airbnb, so you can no longer rent private apartments in Manhattan. There are still some good private options in Brooklyn and Queens though.
Disclosure: This article contains some affiliate links. If you make a booking through certain links, we receive a small commission at no extra cost to you, which helps maintain this website.