The Olympia Riviera offers an idllyic seaside vacation, located in the beautiful Ilia region of the Peloponnese, in southern Greece. Vast stretches of sandy beaches offer a relaxing reprieve for couples and families, with sweeping views of the Ionian Islands of Zakynthos and Kefalonia. Grecotel features a variety of resorts, packed with plush amenities, ideally suited for a sun-kissed holiday.
Within an hour from Grecotel's fantastic resorts, is the beautiful tree lined archeological site of ancient Olympia, where the Olympics kicked off in 776 BC. Here's what you can expect during a visit, along with tips for planning a phenomenal getaway!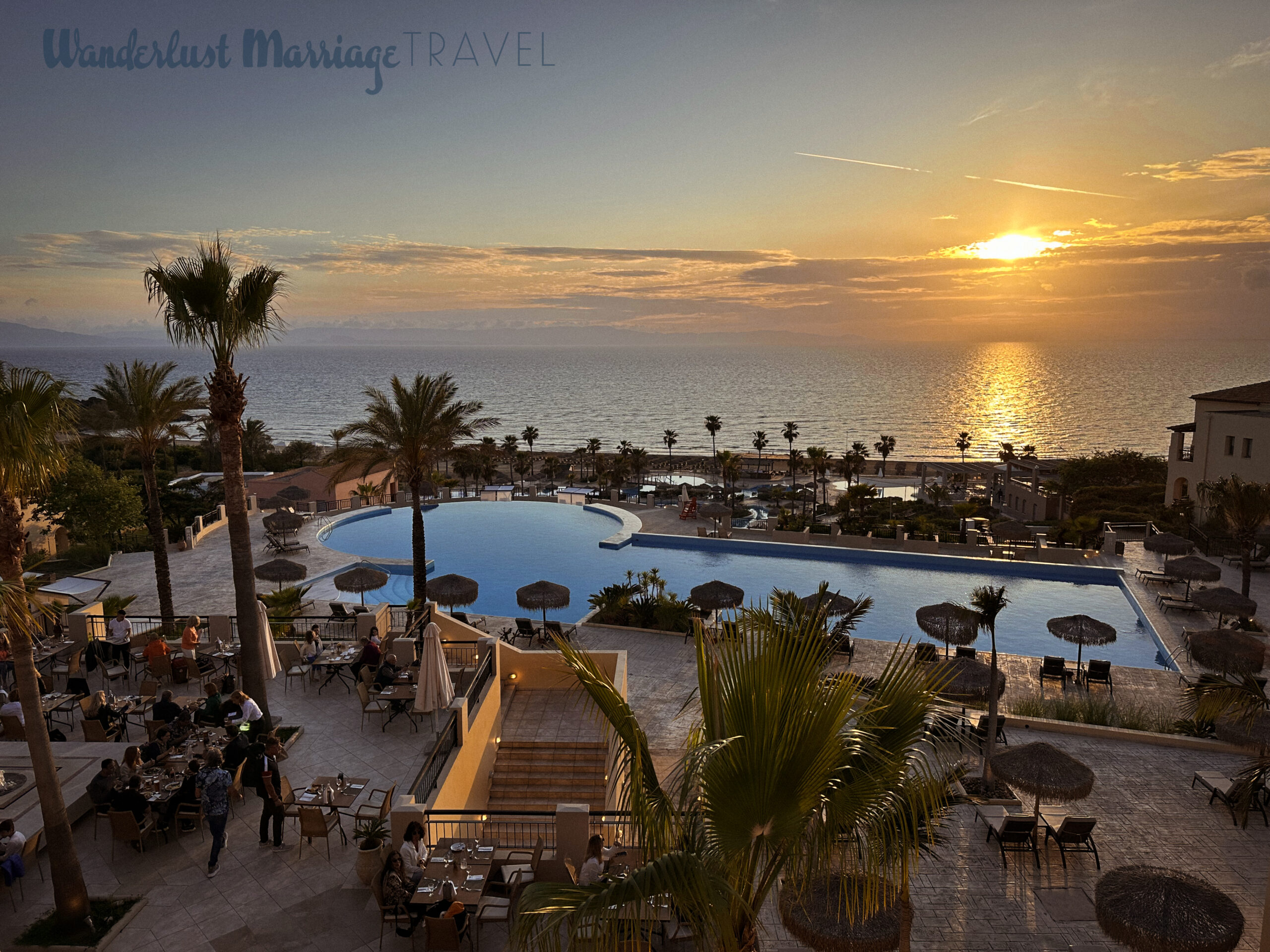 Getting to the Olympia Riviera
The closest airport to the Olympia Riviera is Araxos, located around 47 km (29 miles) from the town of Kyllini. Araxos Airport also serves the town of Patras, the 4th largest city in Greece. Visitors can rent a car or organize a paid airport shuttle service. Visitors can also fly into the nearby Ionian Island of Zakynthos (Zante) and have a transfer organized.
Grecotel Olympia Oasis and Aqua Park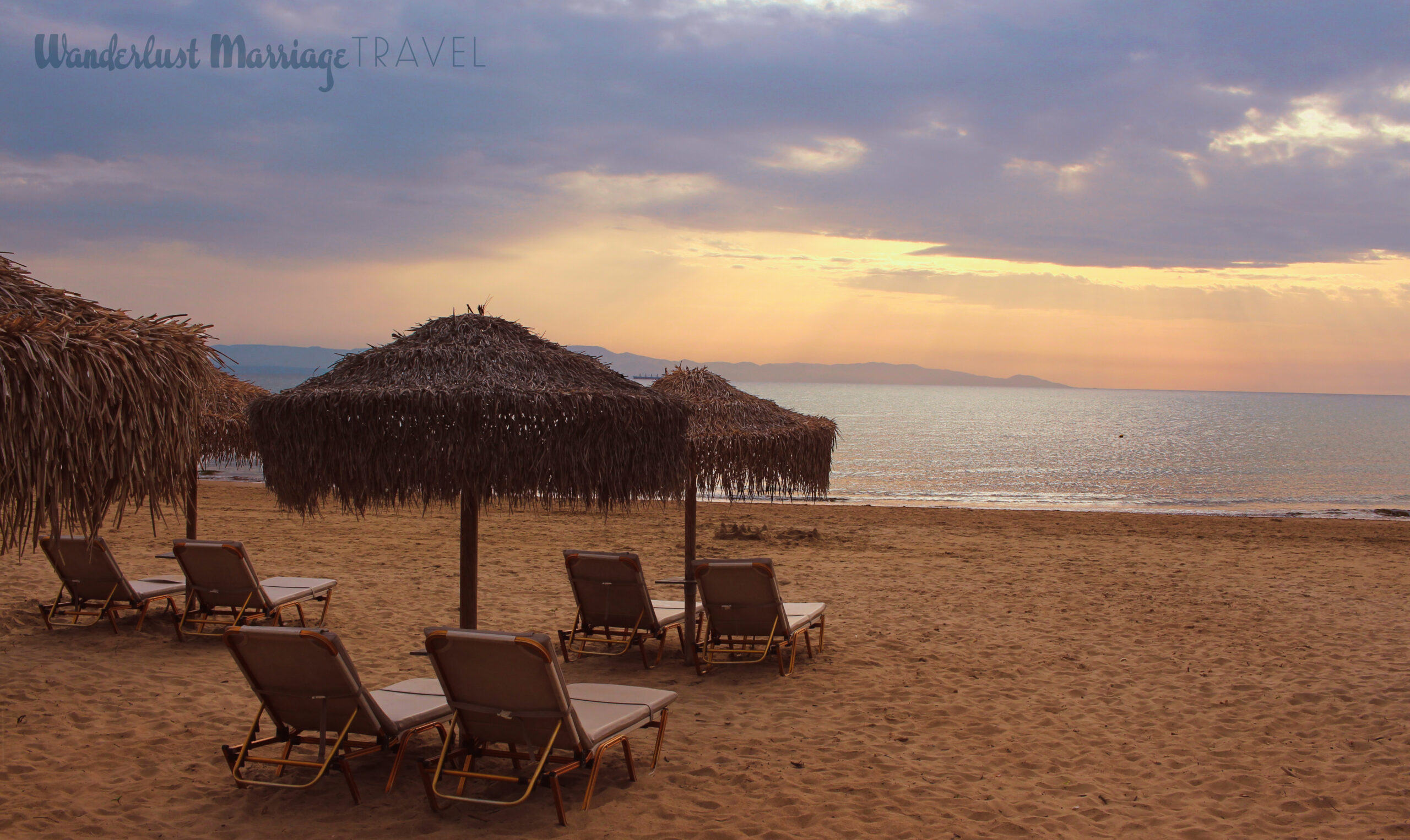 Grecotel Olympia Oasis and Aqua Park is a stunning 5-star property nestled along the Ionian Sea. Sweeping views across the sea include the Ionian Islands of Zakynthos and Cephalonia. Dotted with an abundance of pools that cascade down to the sea, guests are indulged with delightful food, scenic views and warm hospitality.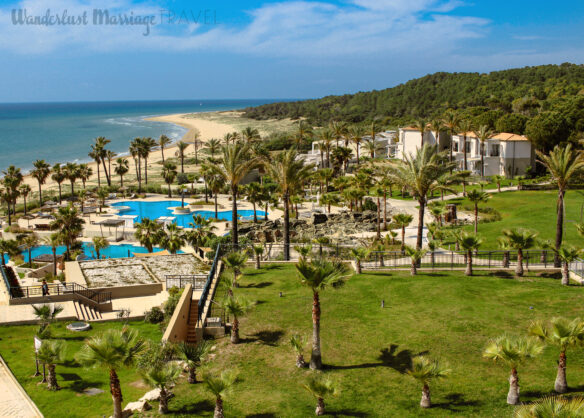 The Greek word, filoxenia, which translates to "friend to a stranger" is a motto on display throughout a stay. Their warm staff makes guests feel welcome, helping to ensure a pleasant stay. Hotel manager, Sakis, cares about the comfort of his guests – offering stylish service with a smile.
Grecotel Olympia Oasis and Aqua Park features spacious rooms with an abundance of natural light. With feature floor-to-ceiling windows, rooms showcase views of the Ionian Sea or inspiring green gardens. Family rooms include size-able living areas with sliding doors that allow for reconfiguration. The property offers all the amenities of a luxury resort.
A luxurious, holiday concept offers a bounty of all-in choices amidst its magnificent waterfront location. Guests will enjoy starting their day with a lavish gourmet breakfast buffet, offering a wealth of Western and Greek favorites. The enjoyment is amplified with a sweeping vista across the sea.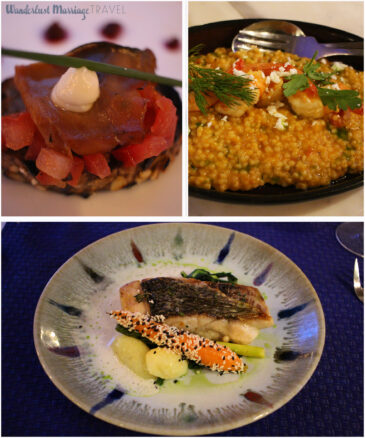 Top-notch food and beverage selections can be enjoyed throughout the day, including delicious lunch and dinner options, à la carte dining venues and tasty snacks. Pâtisserie-Chocolaterie and Creperie-Gelateria offer a variety of sweet treats. An assortment of unlimited drinks features a wide collection of premium brands, including select wine labels, refreshing cocktails and healthy juices. Try a paloma – which blends traditional Greek tsiporou and grapefruit juice. It's a refreshing and clean favorite I enjoyed during my stay!
Olympia Aqua Park
A stay at Grecotel Olympia Oasis and Aqua Park includes complimentary admission to the Olympia Aqua Park. Spanning 20,000 m², the Olympia Aqua Park is the largest on any Greek resort. The mega-waterpark is packed with adrenaline rush inducing thrills. Highlights include record breaking waterslides, rides and aqua towers. The whole family can enjoy an abundance of whirling excitement.
Elixir Spa Center
A complex of Greek temples houses the Elixir Spa Center. The design is particularly inspired by the rotunda at ancient Olympia. Illuminated at night, it's a throwback to the sanctuaries of the classical Hellenic city-states. The luxury retreat blends centuries-old Greek wisdom, who placed importance on the healing aspects of the sea, with modern wellness programs to soothe the body and reinvigorate the mind.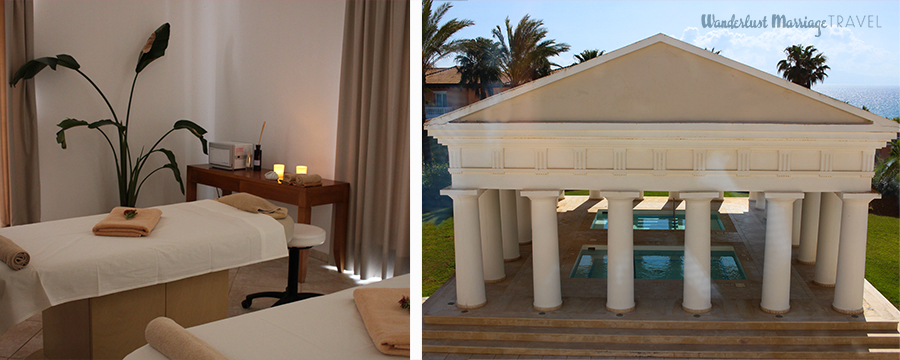 I thoroughly enjoyed a professional 60-minute full-body massage during my stay! Elixir Spa Center is 4,500 m² of calming relaxation. Plan to book a massage during your stay to round out a tranquil and fun vacation.
Mandala Rosa Grecotel Boutique Resort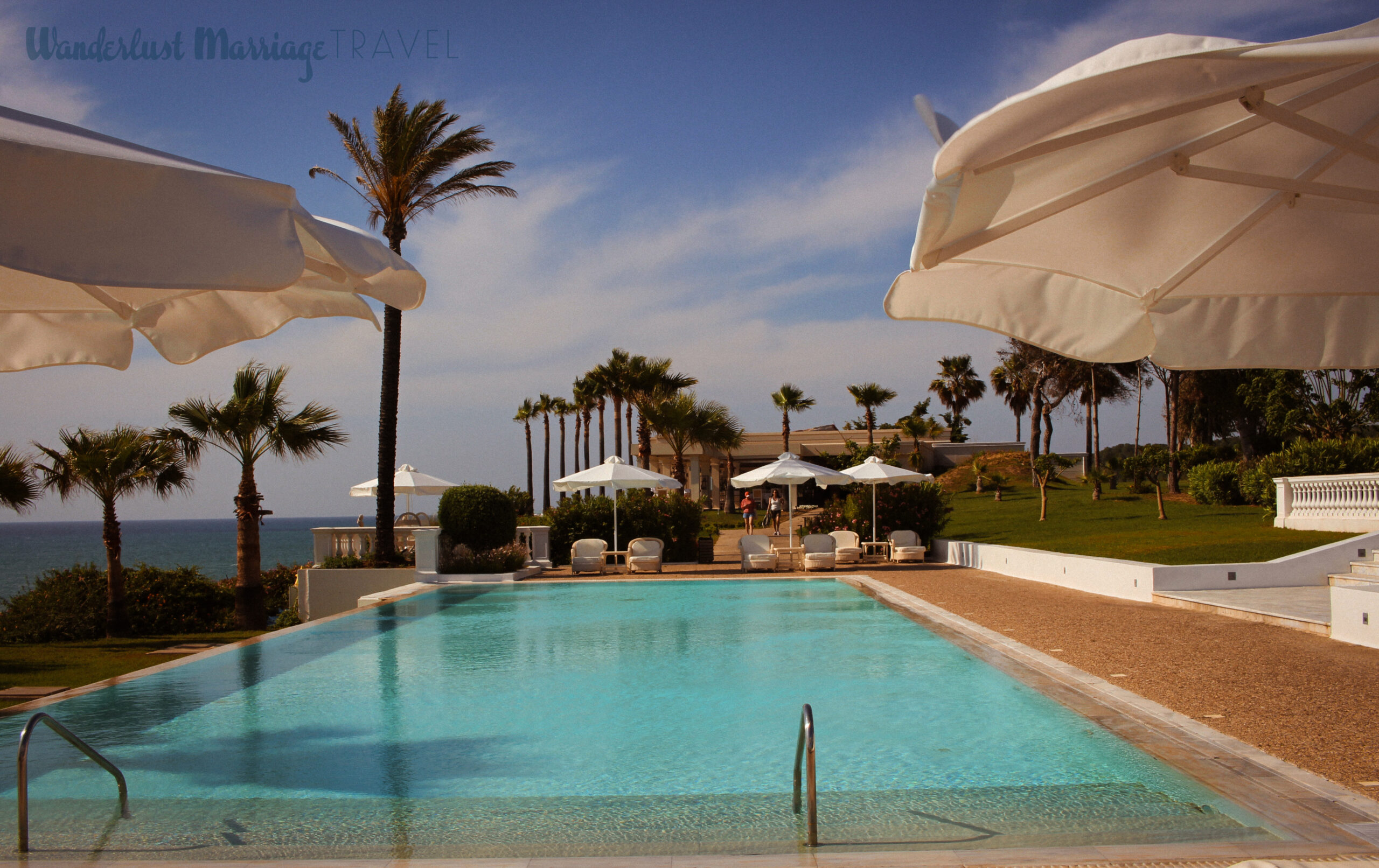 Mandala Rosa Grecotel Boutique Resort, adjacent to Grecotel Olympia Oasis and Aqua Park is ideal for a luxurious stay along the Olympia Riviera. Classical sculptures and art immediately impress visitors upon arrival. Stylish decor, plush beds, and luxurious amenities ensure a fantastic stay in their spacious suites. Guests can also book plush seaside villas ideal for a first class Olympia Riviera getaway.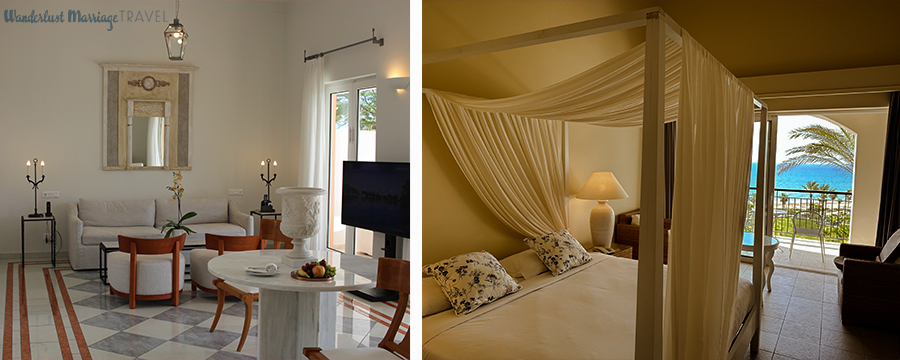 The 5-star Mandola Rosa, Grecotel Exclusive Resort is inspired by Belle Époque design. Featuring a freshwater infinity pool overlooking the Ionian Sea, it's located alongside one of Kyllini's sandy beaches. The picturesque view looks out to the Ionian islands of Zakynthos and Cephalonia across the horizon.
Part of the Olympia Riviera complex, the boutique hotel features two stunning sea-view restaurants, with exemplary cuisine and service. Multi-course fine dining options feature a variety of wine pairings to perfectly complement the palate. There's also a uniquely decorated cocktail bar to enjoy a drink.
Hotel Manager, Andreas, and his fantastic staff ensure a luxurious stay at Mandala Rosa Grecotel Boutique Resort. Their attention to detail, knowledge and warmth are a notable bonus to the exemplary amenities.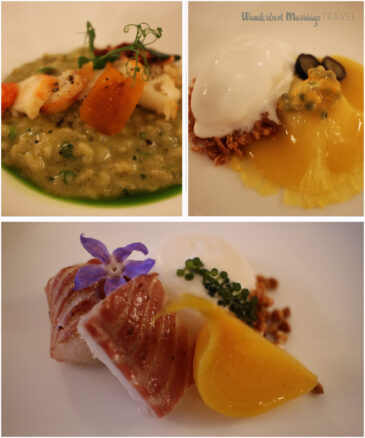 Part of the Olympia Riviera complex, a stay at Mandala Rosa Grecotel Boutique Resort includes admission to the Olympia Aqua Park. So visitors can add some fun to a luxurious holiday along the Ionian Sea. Here are 10 unique experiences in the Peloponnese region of Greece.
Grecotel Ilia Palms
Grecotel Ilia Palms and Aqua Park offers a wonderful 4-star stay along the Olympia Riviera. The property features a seasonal outdoor swimming pool, garden, terrace, kids club, playground and free private parking.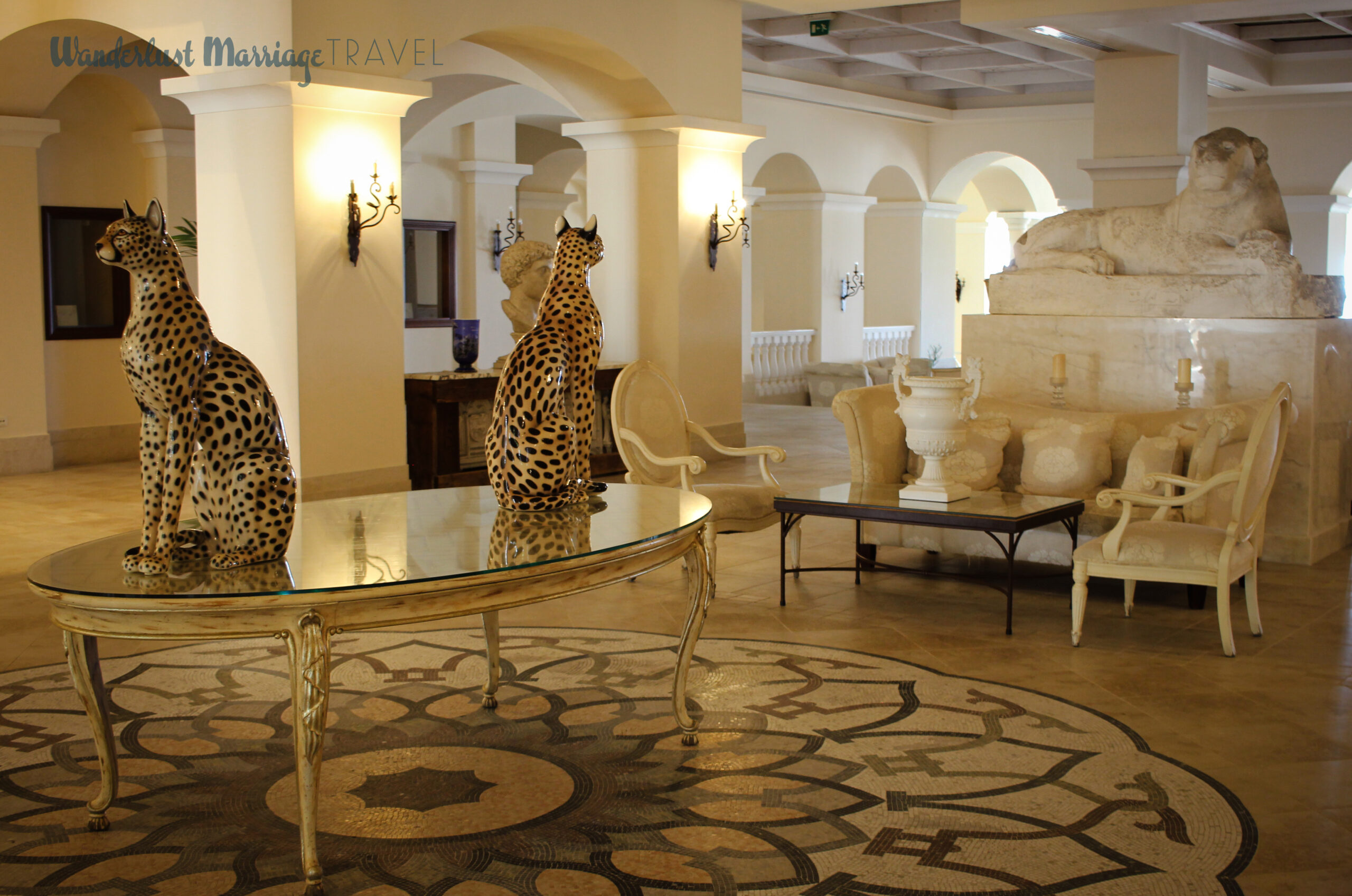 The accommodation offers a 24-hour front desk, with entertainment staff and a concierge service. All rooms at Grecotel Ilia Palms and Aqua Park have air-conditioning, a refrigerator, safety deposit box, flat-screen TV, a balcony, private bathroom with a tub, a wardrobe and kettle.
Grecotel Ilia Palms offers a tasty buffet or American-style breakfast. Their on-site restaurant serves Greek, Italian and Mediterranean cuisine. Dietary restrictions are catered to, as vegetarian, dairy-free and gluten-free options can also be requested.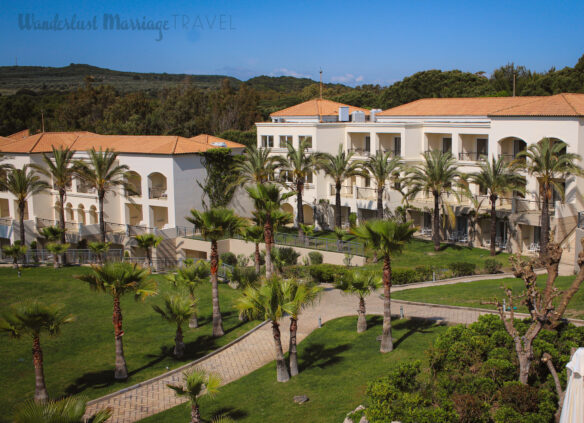 Guests can also play table tennis or darts at the 4-star resort. The area is also popular for cycling.
A stay Grecotel Ilia Palms and Aqua Park includes complimentary admission to the Olympia Aqua Park. So the property is ideal for a family vacation, where both children and adults can avail of the thrills and fun of action packed waterslides.
Ancient Olympia
History lovers will appreciate the close proximity to the archeological site of Olympia, Greece, a UNESCO World Heritage Site. In 776 BCE, city states within the Hellenic world came together every 4 years to compete in a variety of athletic events. The games were held in the nude, enabling greater impartiality, since it's harder to distinguish a person's status without clothing.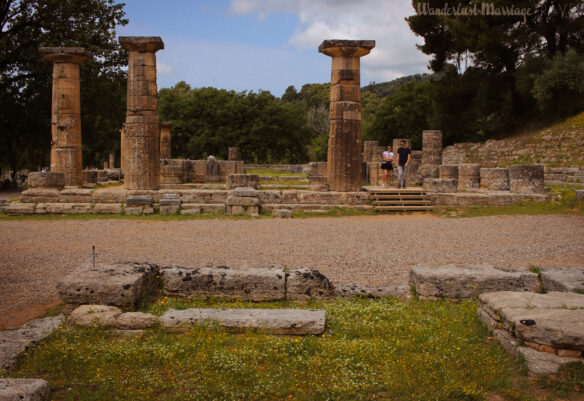 Only men were allowed to compete and watch the ancient Olympic games. Today, priestesses light the Olympic flame at the Temple of Hera during each Olympiad. Prior to each Olympics, the flame is paraded around the world, culminating in the lighting of the cauldron at the opening ceremony.
Ancient Olympia is one of the most significant archeological sites in the world. Information on the grounds in sparse, so I recommend booking a knowledgable licensed tour guide to get the most from the experience. You can also purchase an ancient Olympia audio tour that you can play on your smart phone while touring the hallowed grounds.
Booking Tours in the Peloponnese region of Greece
If you want to book a tour around the Ilia region or elsewhere in the Greek Peloponnese, Penguin Travels and Tours, based in Kalamata, Greece can organize a first class tour for your group. During our press trip around Ilia following TBEX Peloponnese 2023, co-owner Stavroula (Stavi) guided us on a fantastic tour on a comfortable Mercedes mini-bus with plush leather seats and powerful air conditioning.
Penguin Travels and Tours also organizes holidays for trips abroad. Contact them for packages around Europe and to exciting and historic destinations like Egypt, Italy and more!
Olympia Riviera Recap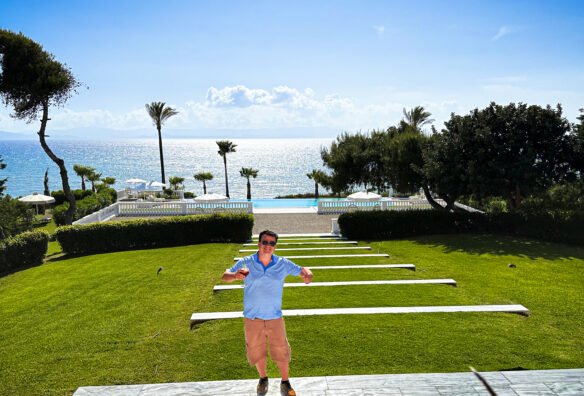 The Olympia Riviera offers a luxurious stay along the Ionian Sea. The most discerning luxury travelers will be pleased with a stay at Mandala Rosa Grecotel Boutique Resort. Families will enjoy staying at either Grecotel Olympia Oasis and Aqua Park or Grecotel Ilia Palms. Complimentary admission to Olympia Aqua Park, one of the largest water parks in Greece, offers fun for the whole family.
A visit to nearby ancient Olympia is a must. It's one of the most important archeological sites in Greece. History and/or sports buffs will leave Olympia with a wealth to contemplate from centuries of impactful history. Run around the track and emulate the path of participants from thousands of years ago.
The nearby Frankish Castle of Chlemoutsi is another great attraction for history enthusiasts to visit. The castle dates to the 12th century and is one of the best preserved Frankish castles in Greece. A small museum inside the castle chronicles centuries of history with information in English, set alongside notable finds and important artifacts.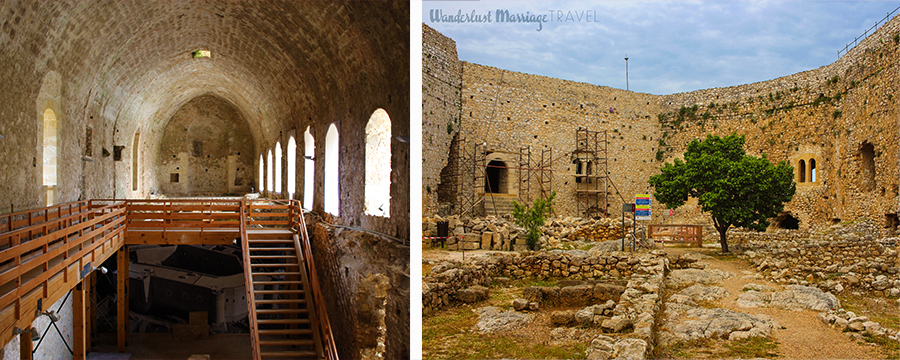 The town of Kyllini offers long stretches of sandy beaches, typical of the Ilia region of Greece. Arkoudi Beach, in Kyllini, is a relaxing place to enjoy a coffee or seaside lunch. The rocky cove of Arkoudi Beach offers a charming view of the colorful seaside houses of Kyllini across the turquoise waters of the Ionian Sea.
Questions about Planning a Trip to Greece?
The Olympia Riviera is one of the best Greek destinations for sandy beaches and history, in a country spoiled with a wealth of natural beauty and fantastic cuisine. Have questions about planning a trip to Greece? Leave a comment below or email me at [email protected] – I'm happy to assist!
Disclosure: I was hosted by Grecotel Riviera Olympia and Aqua Park, along with Penguin Travels and Tours on a press trip following TBEX Pelopponese 2023. All photos and opinions in this article are mine.