Birthplace of the ancient Olympic Games in 776 BC, Olympia is one of the most impressive archaeological sites in Greece. Many tourists filter in through the cruise ship port Katakolo, which is lined with sandy beaches, seaside restaurants and shops. Between Olympia and Katakalo is the town of Pyrgos, where my father was born. Pyrgos presents an opportunity to experience everyday Greek life and delicious local restaurants, because most tourists skip it. Here are some highlights of the birthplace of the Olympics and other nearby recommendations to help you plan a trip to Olympia!

Olympia
Olympia is arguably the second most important archeological site in Greece, after the Acropolis in Athens (where western democracy was born). The ancient games were held every four years between 776 BCE and 393 CE. During the three month Pan-Hellenic truce, athletes and upwards of 40,000 spectators came from all over Greece to participate in the ancient Olympics.
Olympia Tour Options
One downside to visiting Olympia is that information on the grounds in sparse. So you'll learn a lot more through a guided tour of Olympia. Small group tours of Olympia cost $50.90.
A self-guided virtual tour of Olympia is a good idea if you do not want to book a group tour, but want to learn more about the history of Olympia while touring the archeological site. The cost is $17.32 USD.
An Ancient Olympia Audio Tour can be downloaded for $10.82 USD.
Archeological Museum of Olympia
City-states and individuals brought offerings for Zeus, which included money and statues. One of the most impressive gifts is housed in the Archeological Museum of Olympia today: Hermes of Praxiteles. Also known as Hermes and the Infant Dionysus, the marble statue dates to the 4th century BCE and is one of the most perfect statues from antiquity. It is pictured below on the right. On the left is the statue Nike of Paionios, which dates to 425 BC. Nike is the Greek goddess of Victory, in addition to being one of the world's most popular sports apparel companies.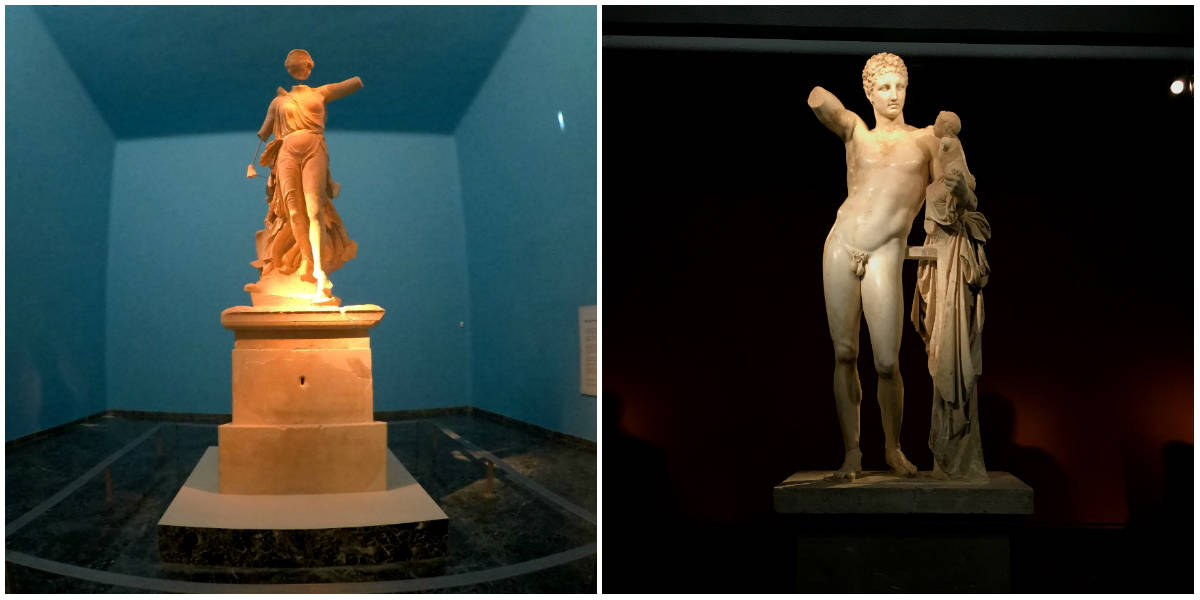 Temple of Hera: Where the Olympic Torch is Lit Before Each Olympics
The torch is lit at Olympia in front of the Temple of Hera before every Olympics, winter and summer. Hera was Zeus' wife. The ceremony is presided over by a group of priestesses dressed in white robes. The high priestess lights the flame and the symbolic ceremony connects the Ancient Olympics with the modern games. Watch the video above to see the most recent ceremony prior to the Tokyo 2020 Olympics.
The Olympic torch is then relayed around the world before arriving in the host city. As the ancient and modern Olympics originated in Greece, Greek athletes march during the opening ceremony first. The Greek flag is raised along with the host nation's and the Olympic flag.
Olympia Was a Venue for the 2004 Athens Olympics
When Athens hosted the 2004 Summer Olympics, the shot put event was held on the track of the ancient Olympic Stadium. A popular thing to do in Olympia today, after entering through the stone archway of the Krypte, is to jog around the dirt track of the stadium that athletes competed on thousands of years ago. If you're an Olympics and/or history buff, the experience will give you goose bumps.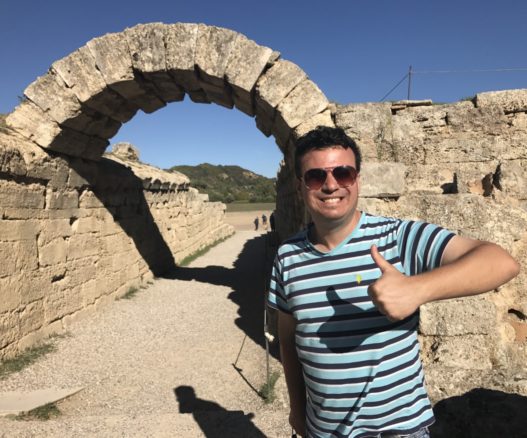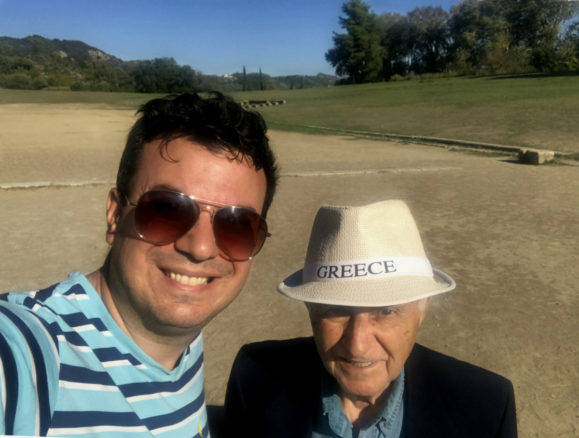 Ancient Temples of Olympia
Olympia is an impressive site for its ancient temples and two museums: the Archeological Museum of Olympia, as well as the separate Museum of the History of the Ancient Olympic Games. Modern Olympia has some good hotel options, but for many visitors, staying closer to Katakolo Beach is more ideal for a vacation.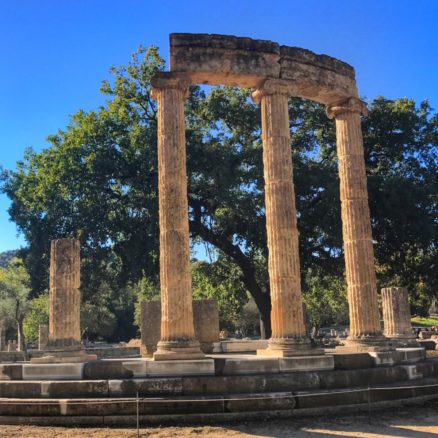 Olympia Hotels
Hotel Europa Olympia is one of the best hotels to stay near the archeological site of Olympia. 80 spacious guest rooms are appointed with marble floors, and a balcony. Set among the enchanting landscape of ancient Olympia, rooms have great views of the Arcadian Mountains and the Alfios Valley. Amenities include a pool, on-site restaurant and 3 bars (one pool side).
Bacchus is a good place to stay just outside Olympia, in the picturesque village of Ancient Pissa. Its swimming pool, garden and large terraces are ideal for relaxing. Housed in a traditional stone mansion, it offers lovely views of the surrounding area.
Katakolo (Katakolon)
The October, 2017 day we visited Katakolo, we were stunned to find four cruise ships docked in the harbor. This is a testament to just how booming tourism in Greece is, and how much the area has to offer visitors. Near the cruise dock, Katakolo's harbor is lined with restaurants and cafes. And with that many cruise passengers, the area is frequently bustling, even on a Tuesday in October.
Olympia to Katakolon by Train
Katakolon is 20 miles (33km) west of Olympia. From Katakolo you can take the train to Olympia, which takes around 45 minutes each way. There is then the opportunity to tour Olympia at your leisure. You should consider a guided tour of Olympia though, as you'll get a much better understanding of the site that way. Stop in Pyrgos for lunch or dinner, to get a taste of a medium-sized Greek town that is not flooded with tourists.
Katakolon Beaches
Katakolon is also a popular place for Greeks to vacation because there are sandy beaches in an area that covers around 40 km. Plakes Beach is right in Katakolo and will suffice if you're short on time. But if you want to visit a better beach, head 3 km northwest to the beach at Agios Andreas, which was the natural harbor of ancient Olympia. Read more about the Katakolo area beach scene here.
Katakalon Hotels
If you travel to Olympia independently, you can base yourself on the beach close to Katakolo. This makes for a relaxing vacation, near a lot of restaurants and cafes to spend afternoons or evenings.
Orizontes View Hotel is a fantastic place to stay in Katakalo. All of its elegant and modern rooms have views of the Ionian Sea. It is also a short walk from Katakalo village, which is filled with restaurants and cafes.
Families and groups of friends will often find the best value booking short term apartment and house rentals. You can find these listings on websites like booking, in addition to others. Book listings with consistently great reviews for the best experience.
Katakalon and Ancient Olympia Tour
If you disembark in Katakalon on a cruise ship, you will have limited time. So it's a great idea to book this 4.5 hour guided tour of Katakalon and Ancient Olympia. In addition to the Archeological Site of Olympia, you will also be guided through the Archeological Museum of Olympia. The cost is $51.41 USD.
Pyrgos, Ilias
Pyrgos is home to around 48,000 people. It's located around 15 miles (24 kilometers) from Olympia and 6 miles (10 kilometers) from Katakolo. You can take the train from Pyrgos to Olympia, as well as Katakolo. Since my father was born in Pyrgos, we stayed two nights there on our recent visit. Pyrgos does not offer visitors a wealth of attractions, but it does present an opportunity to experience authentic Greek life while visiting the area.
St Nicholas Church
St. Nicholas Church, built in 1906, is a beautiful church in Karagorgia Square in Pyrgos-Ilias that has battled occasional earthquakes for over 100 years. My father was baptized in that church in 1928. St. Nicholas recently reopened after major renovations following serious damage from a 2015 earthquake. On a side note, Alex Kallimanis Sr. was one of 1,200 Greek soldiers who served as part of NATO forces during the Korean War. Read his story in this Odyssey of a Korean War Veteran.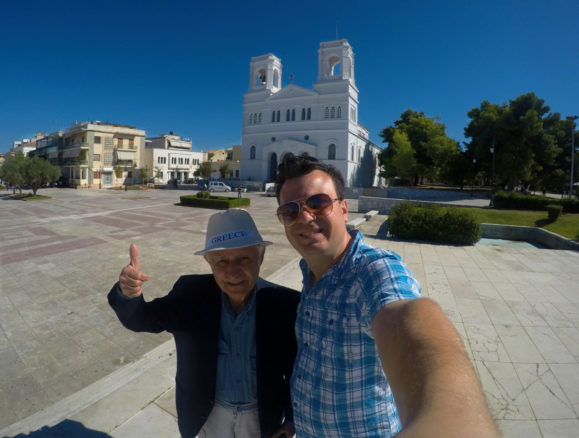 Karagorgia Square
Karagorgia Square is the spacious central square and heart of Pygros' nightlife. There are some wonderful and inexpensive restaurants in Pyrgos. Piatsa Makaroni, on the main square, is a charming restaurant with delicious high-quality pasta and house wine, at great prices. Some may consider it Italian food, but pasta is also common in Greece. Mediterranean cultures have influenced each other for thousands of years.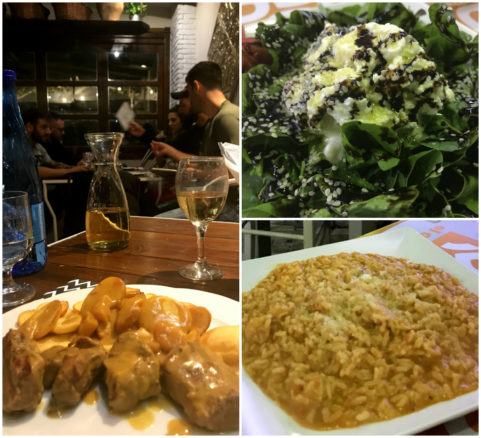 Pyrgos Hotels
We can personally recommend Hotel Olympos as a comfortable place to base yourself. It is centrally located in Pyrgos and the beds are comfortable. That is where we stayed since our family lives in Athens now.
More Tips on Travel Around Olympia and Greece in General
Our recent trip to Olympia was part of my 89-year-old father's final planned trip to Greece. Read more of our tips, based on this trip, and years of experience traveling to Greece. Check out 5 Great Tips for Visiting Athens in 2018. Naxos is one of Greece's best all-around islands, read about it in Tips for Visiting Naxos. Chania, Crete is one of the foodie capitals of Greece, and there are a host of other reasons Chania is a fantastic place to visit!
While in the area, I visited my grandparents grave in Strefi for the first time, which is just a few miles from Olympia. We organized a taxi to take us from the ancient site to Strefi and then back to Pyrgos. It was an emotional visit with my dad and a story for a future article. Read his article on a previous journey home to Olympia.
Planning to visit Olympia and have questions?
If you have questions about travel to Olympia, email me at [email protected] or leave a comment below and I can assist. As a dual Greek and American citizen, I've visited Greece many times, and I'm happy to assist with your travel plans.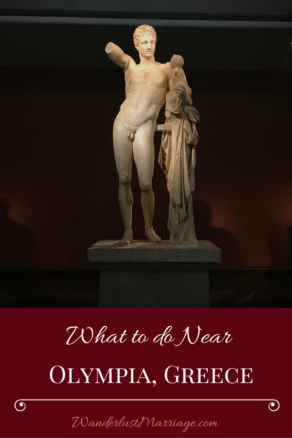 Disclosure: This article contains affiliate links. We receive a small commission when you book or sign up through these links and it costs you nothing extra. When it suits you, please use them, as it helps us help you!