Lübeck, Germany is a beautiful UNESCO World Heritage Site surrounded by the Trave and Wakenitz rivers. It's located 42 miles (67 km) northeast of Hamburg, and 12 miles (19 km) from the Baltic Sea beach town of Travemünde.
Founded in 1143, Lübeck (Luebeck) was nicknamed "the Queen of the Hanseatic League" during the 14th century. The Hanseatic League was a trade network of Northern European towns. Its impressive gothic brick architecture towers into the sky, along with nestling alongside its waterways.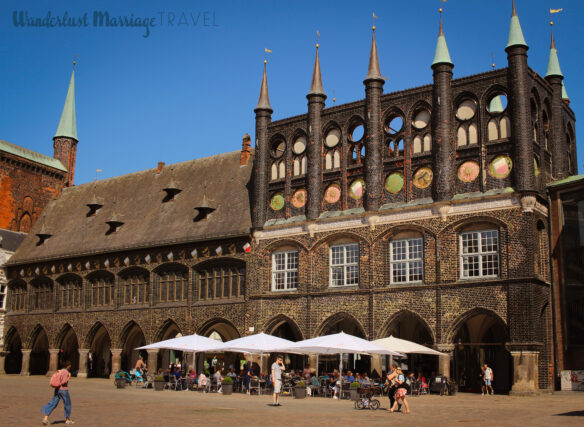 Lübeck's symbol is the Holstentor, a red-brick city gate that rests along the Trave River. It's an impressive gateway into the charming town's historic center. The Holstentor helped defend the Altstadt (old town), which is completely surrounded by water.
Built between 1265 and 1352, Lübeck's Marienkirche (St. Mary's Church) widely influenced Northern European church design. It was reconstructed after World War II. It stands as one of Germany's most significant churches.
Home to around 216,000 inhabitants, Lübeck is reminiscent of a smaller version of Amsterdam or Hamburg. An abundance of charming and quirky guild houses that line its waterways make it a pleasure to explore.
On beautiful summer days, with warm, yet mild temperatures, it's lovely for dining al fresco. The energy among many locals, enjoying canal-side picnics with their friends and partners is fantastic. Lübeck is also a very bicycle-friendly city, which is great for staying active.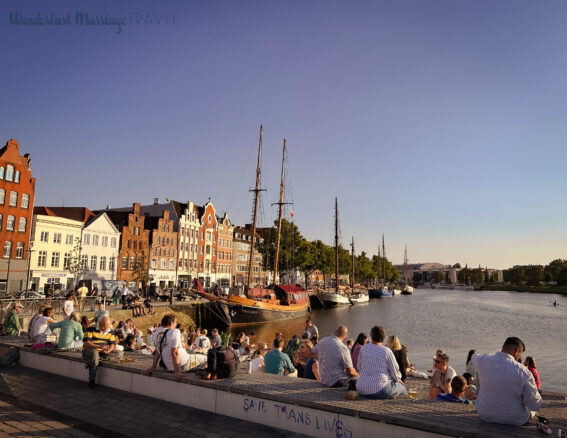 Many Lübeck locals speak English, making it relatively easy for English speakers to visit the city independently of a tour. Sometimes restaurant menus are only in German – but staff can assist with questions as most locals speak conversational English. Also, consider downloading a translation app or use Google Translate on your phone to assist with the language on your travels. Often times, the restaurants that don't have an English menu are the best restaurants!
Getting to Lübeck from Hamburg, Germany
Lübeck is a 44 minute train ride from Hamburg Hauptbahnhof (Central Station). German trains are efficient and comfortable, with regular service departing every 30 minutes. Hamburg is Germany's second largest city, so it has one of the larger airports in Germany. Though most international non-EU flights connect to Hamburg via Frankfurt or Munich.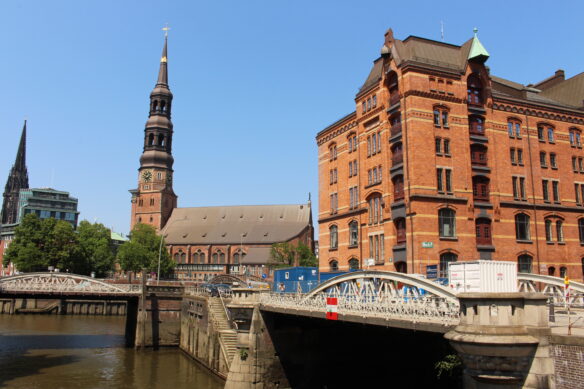 Fun fact: Hamburg has more bridges than any other city in the world. Its 2,500 bridges are surprisingly more than Amsterdam, Venice and London combined! A great itinerary for a trip to Germany is to combine Hamburg, Lübeck and the Baltic seaside resort town of Travemünde – especially during the warmer months between May through September.
Best Time to Visit Lübeck and Northern Germany?
The best time to visit Lübeck is between May and September, or in December for the Christmas markets. In summer, temperatures in northern Germany are generally warm, but cooler compared to southern regions like Bavaria. Hamburg used to be rainier and cooler, but their weather has generally been drier and warmer in recent years due to climate change. This was a subject brought up during the German National Tourism Board's 3rd annual sustainability summit in Lübeck.
A bonus of visiting Lübeck in summer are long days of natural light. Sunset in Lubeck during summer solstice occurs at 9:52pm (21:52). So between mid-May through July there is light in the sky well past 10pm. Sunrise is 4:50am, so early risers can explore the city with plenty of light during the relative quiet of the early hours. Visitors that like to have action packed schedules can plan to see a lot, and even take a break to relax in the middle of the day.
Getting Around Lübeck, Germany
Luebeck is a very walkable town, with most attractions within a 20 minute walk throughout the Altstadt (old town). It's also a very bicycle friendly city, like many towns in northern Europe. You don't need a car in Lübeck, as visitors can also utilize the city bus, order an Uber or hop in a taxi for a short ride. German trains also conveniently connect the city with an efficient timetable to destinations like Hamburg, Travemünde and beyond.
Read my article on 7 days in North Germany, covering highlights of Hamburg, Lübeck and Travemünde. Here are some of the many highlights to discover in beautiful Lübeck!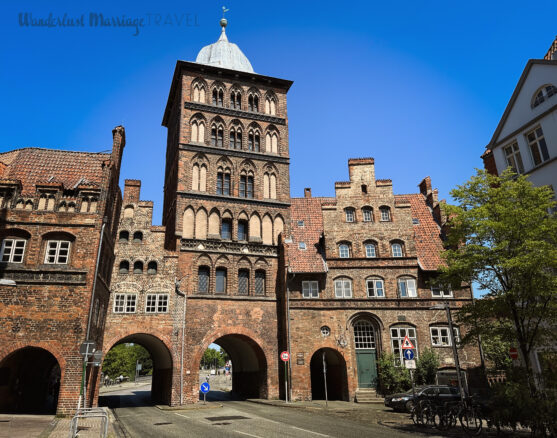 Great Things to Do in Lübeck, Germany
Visit Marienkirche (St. Mary's Church)
The construction of Marienkirche (St. Marien zu Lübeck) was a massive endeavor, as it was built between 1277 to 1351. The towering gothic cathedral symbolized the economic and political power of the city. Today, St. Mary's Church is Germany's third largest church, representing the city's storied history as a former member of the Hanseatic League.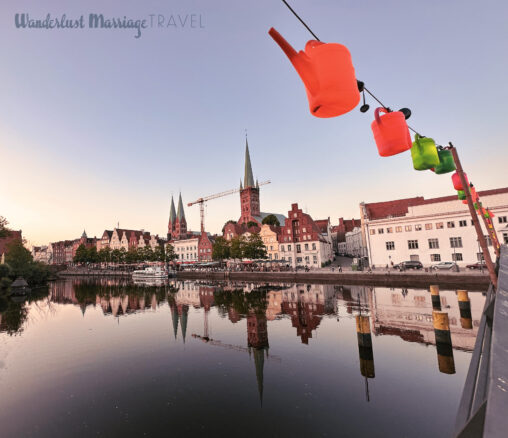 Take a Boat Tour
Lübeck is a wonderful town to stroll, but you may want to give your feet a break. Another wonderful way to experience Lübeck is to view its towering Gothic architecture from its waterways.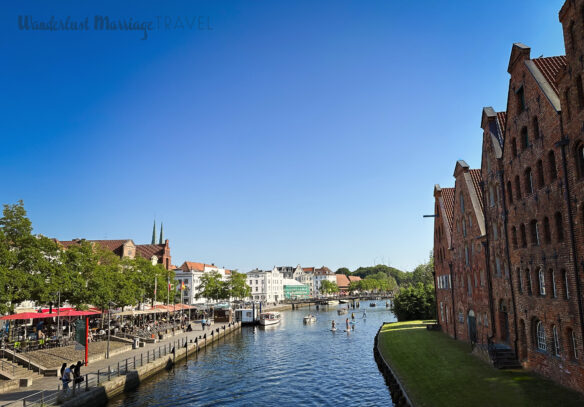 Visitors can view the historic town and the harbor area on a 1-hour Lübeck scenic boat ride. Admire the magnificent skyline of the Hanse city, while listing to informative commentary on its rich history from the ship's captain. Note that the commentary on this tour is only in German.
Visitors can also rent an electric boat, canoe or SUP to explore Lubeck from the Trave River. Paddle your way around Lubeck's waterways to take in a duck's eye view of town. The Trave River is a calm, so it offers a tranquil aquatic exploration.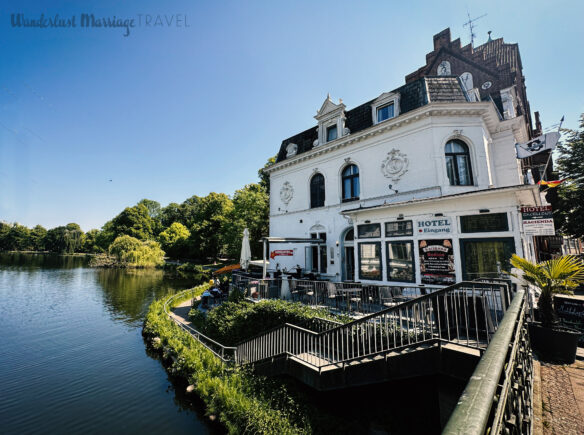 Have a Drink or Meal in Lübeck's Market Square
The history of Lübeck's impressive Town Hall (Rathaus) and Market Square dates to 1230. The Town Hall was expanded in nearly every subsequent century. So the present day version showcases itself as a cornucopia of architectural styles from different periods. The Rathaus is the headquarters of Lüebeck's city parliament, where regular meetings are held. Additionally, couples can get married in the historic premises. While not a museum, visitors are welcome to tour the Town Hall.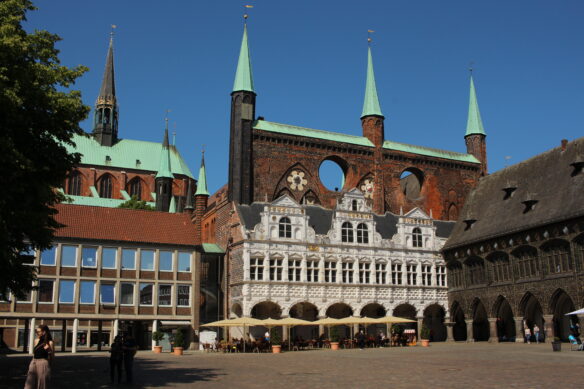 There are several cafes that line Lübeck's town square. They're fantastic to sit outside on a sunny day, to chat with family or friends, or to simply marvel at centuries of beautiful architecture.
I really enjoyed sitting at Cafe Erdapfel for a coffee. Their charming terrace has a wonderful view of Lübeck's Rathuis, along the Market Square. It's a nice place to have a quick lunch too – as they specialize in potatoes with a wide variety of toppings.
Indulge in Marzipan
Visitors to Lübeck will quickly notice that marzipan reigns as the town's confectionary royalty. Traditional marzipan is simple and natural – made with crushed almonds, powdered sugar and typically rose water. In many of the town's patisseries, a wide variety of chocolate covered and flavored marzipan can also be found.
As the capital of the Hanseatic League, Lübeck was an important trading hub, which ensured a steady supply of almonds during periods when they were scarce. As a result, the marzipan produced in Lübeck during the 18th century became well known for high quality, thanks to a higher than average almond content.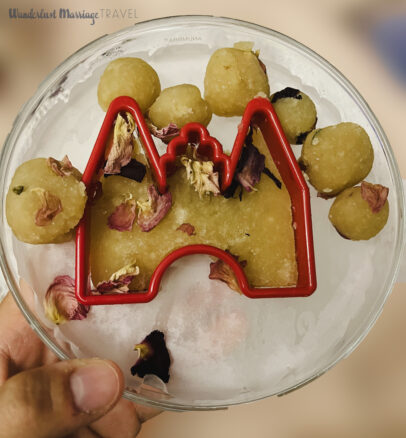 In Past Centuries, only Lübeck Pharmacies could sell Marzipan
In the 1800's, almonds were especially expensive, so Lübeck's municipality ruled then that only pharmacies could sell marzipan. One of the most historic pharmacies in town is Loewen Manufactur, a family-owned business passed down since the late 1800's. Their interesting pharmacist and proprietor, Marcus Niendorf, is also a distiller and artist. Marcus distills great tasting gin that can be purchased in the store – and he even designs the quirky labels himself!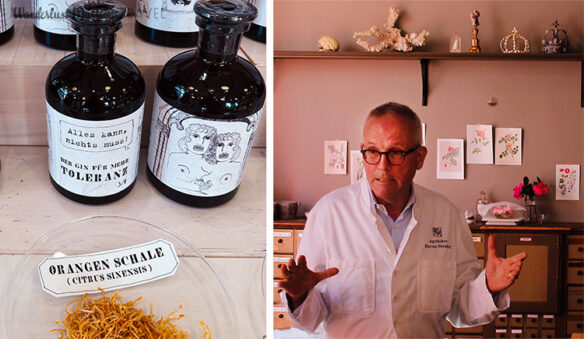 I had the pleasure of chatting with Marcus and learning more about the history of marzipan in Lübeck, as well as a variety of other topics including the role of universal healthcare since the reign of Otto von Bismarck in the 1800's. As Prime Minister of Prussia from 1862 to 1890, Bismarck was primarily responsible for uniting many independent German countries into the new German Empire.
Lübeck Marzipan
Since 1996, Lübeck marzipan has been labeled a Protected Geographical Indication (PGI) by the European Union Council Directive. The quality requirements of Lübeck Marzipan are set higher than those of typical marzipan. Lübeck marzipan cannot contain more than 30% sugar. It's a refreshing change of pace from many overly sweetened desserts found in the United States and elsewhere.
Visitors can learn more at the Cafe Niederegger Marzipan Museum. It's located on the second floor, above a bustling marzipan shop. It's also one of the best places in Lübeck to purchase a wide variety of marzipan, including gift boxes featuring an assortment of flavors like caramel and chocolate.
Lübeck Museums
Lübeck is home to 13 museums, further enriching the UNESCO World Heritage Site. They're dotted throughout the charming town. These are a few of the most popular Lübeck museums. Especially on a rainy day, it's a great idea to visit a museum to take a deeper dive into Lübeck's rich history.
Holstentor Museum
Built in 1464, The Holstentor is Lübeck's symbol. It proudly stands as a relic of the town's important mercantile past as head of the Hanseatic League. The Gothic red-brick city gate, nestled near the Trave River, protected the historic town for centuries. The popular Holstentor Museum features exhibits covering the history of Lübeck, dating to Medieval times.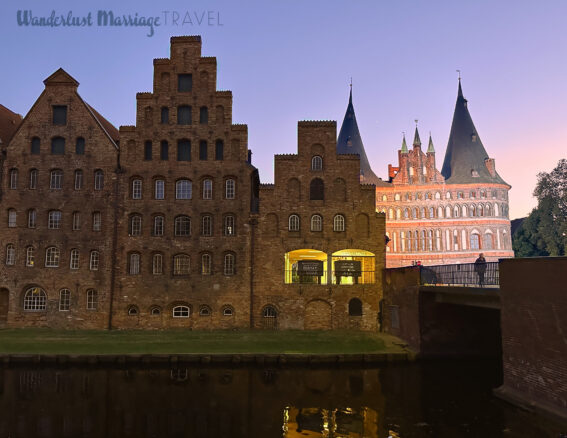 Museum Holstentor
Holstentorplatz23552 Lübeck
Phone +49 451 1224129
email: [email protected]
European Hansemuseum
The European Hansemuseum (Europäisches Hansemuseum) is a museum dedicated to the history of the Hanseatic League. It's the largest museum in the world covering the history of the Hanse. Staged historical scenes and cabinets with valuable original objects tell tales of a bygone era. Modern museum technology and interactive features enable the European Hansemuseum to express an informative and fascinating experience.
Kunsthalle St. Annen Museum
The Museum of Kunsthalle Saint Annen is housed within an old monastery that dates to the 15th century. It's a museum and gallery featuring medieval paintings and sculptures from Lübeck and its surrounding vicinity. Most of the high quality pieces have a religious theme and are intricately detailed.
Enjoying Fresh Seafood
Lübeck is close to the Baltic Sea, so it's an excellent destination for fresh seafood. A variety of great options include salmon, haddock and the ubiquitous herring among others. The cuisine in northern Germany is quite different to destinations like Bavaria, which tend to be more meat centric. Of course, visitors can still enjoy great meat dishes in Lübeck.
There are a variety of delicious seafood restaurants in Lübeck. Visitors can also pop into Hans-Peter Krutzfeld for a quick and delicious fresh fish sandwich. It's one of the best places in town to try a variety of marinated herring filets, which can also be enjoyed as a sandwich. I was impressed with the mild sweetness of the fresh-tasting herring, as I typically associate herring with being quite salty.
Visit the Hospital of the Holy Spirit (Heiligen Geist)
The Hospital of the Holy Spirit (Heiligen Geist Hospital) is one of Europe's first hospitals and social institutions. It was established in the 13th century by wealthy Hanseatic League merchants and served as a shelter for people experiencing homelessness. There are four slender spires, an impressive church hall and the long house. Visitors can also tour the interior, which features beautiful art, as well as the former sleeping quarters of residents. Heiligen Geist Hospital is a proud testament to charity and civic pride.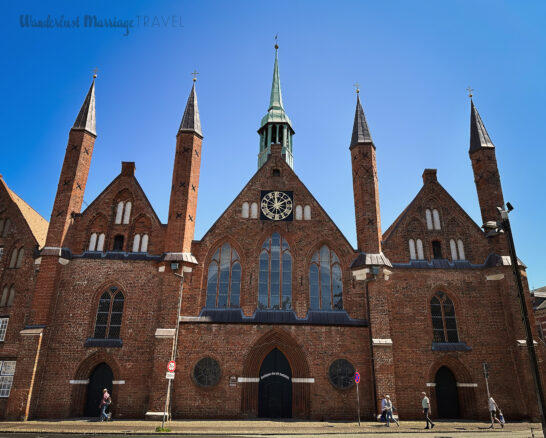 Heiligen Geist Hospital also hosts some of Lübeck's Christmas markets in December. If you've never visited Germany for the Christmas markets, it's another fantastic season to go! Nuremberg is home to one of the oldest Christmas markets in the world. But great Christmas markets can be found all over Germany, including Lübeck.
Germany has a centuries-old belief in the importance of looking out for its poorer citizens. As a wealthy country, the vast majority of Germans feel it's a social obligation. For this reason, Germany doesn't have significant problems with rampant homelessness compared to some other wealthy Western nation peers.
On a side note: I walked around the center of Hamburg, Germany's second largest city for a few days. During that time, it was nearly impossible to find a homeless person on the streets. Hamburg is also Germany's wealthiest city per capita, packed with fantastic restaurants, luxury hotels and high-end shopping. Destinations in northern Germany, as well as neighboring European Union countries showcase that it's possible to balance prosperity with human decency, by looking out for the basic needs of their residents.
Great Lübeck Restaurants
Lübeck has wonderful restaurants catering to all types of diners. Sometimes restaurant menus are only in German – but staff can assist with questions. Also, consider downloading a translation app or use Google Translate on your phone to assist with the language. In many cases, restaurants that don't have an English menu are the best restaurants featuring fresh local ingredients!
Fangfrisch Luebeck
Fangfrisch Luebeck is one of the best seafood restaurants in Lübeck. They serve a variety of excellent fresh seafood dishes, well presented with fresh sides like crispy roast potatoes. Freshly grilled and fried fish dishes include salmon, cod, plaice, mackerel, shrimp and more. Their canal-side terrace is lovely to sit outside on a pleasant summer's day.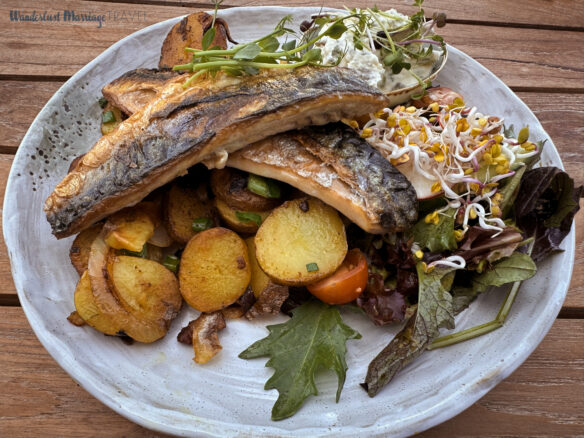 The Newport Restaurant and Marina
The Newport Restaurant & Marina is a Baltic harborfront restaurant featuring an open kitchen. They specialize in serving seasonal regional cuisine covering meat, seafood, pasta and vegan dishes. Highlights include ossobuco, sea bass filet, octopus, vegan coconut chili risotto and steak tartare.
Newport's terrace offers a lovely view of Lübeck across the canal, so it's a wonderful place to sit outside when the weather is nice. This is the perfect restaurant for an upscale romantic couples meal, with a diverse menu that has something to please everyone.
Lübeck Hotels
Lübeck has a variety of great hotels in and around its charming historic center (Altstadt). Some hotels feature sauna facilities and indoor pools, to relax even on a cold and rainy day. Families and groups of friends may find the best value booking a short term apartment rental. But that depends on personal preferences.
Holiday Inn Lübeck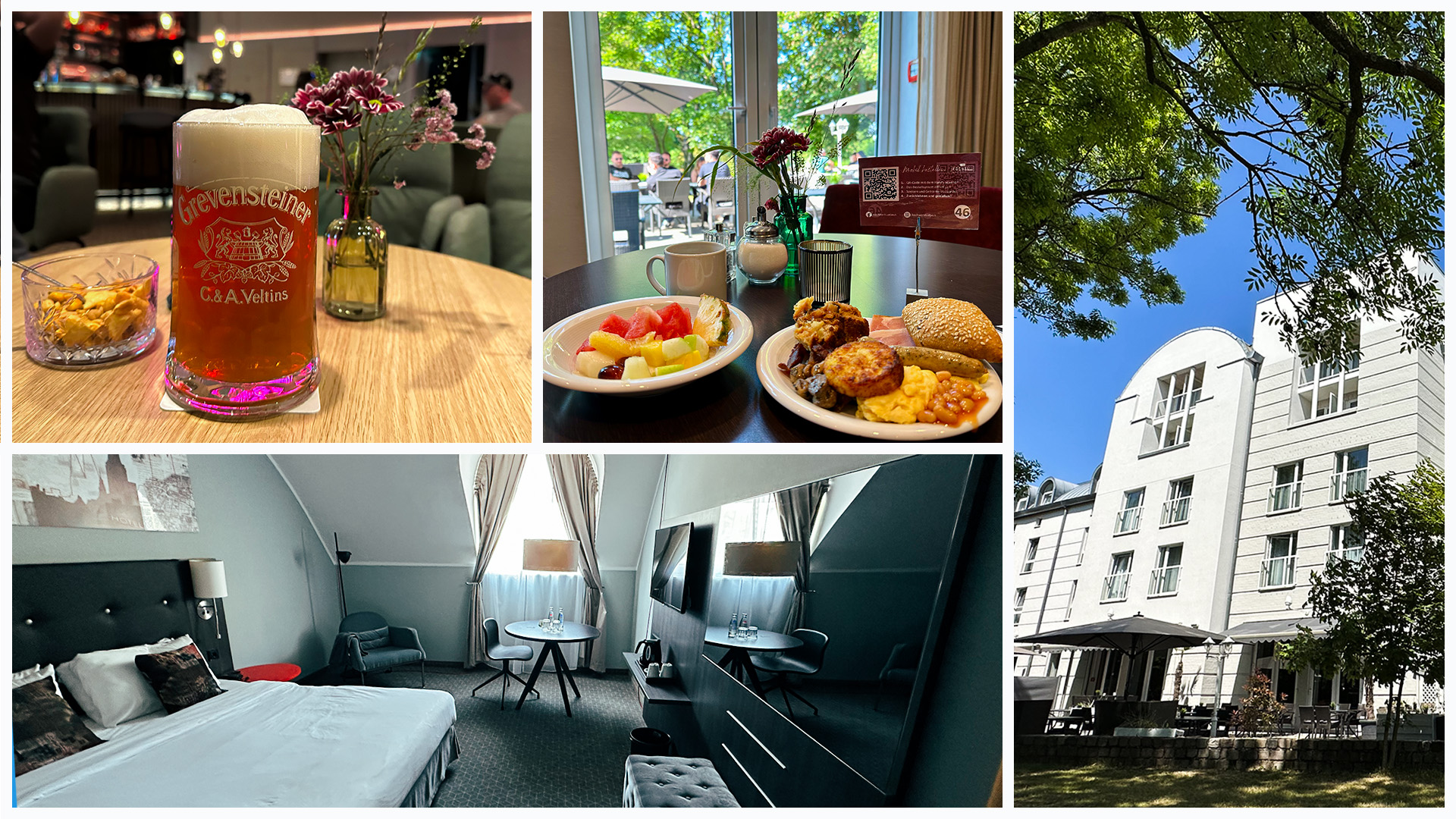 During my recent visit, for Germany's 3rd annual sustainability summit, I stayed at the Holiday Inn Lubeck. Silver Elite members, which you can automatically attain through the Chase IHG rewards credit card like we did, also receive complimentary room upgrades at IHG hotels when available!
Lübeck Recap
Lübeck is a beautiful city lined with canals, and packed with impressive gothic architecture. Indulge in the history of marzipan, while soaking in the town's charming ambiance. There's a lot to experience in Lübeck, and this article only scratches the surface. Consider a German getaway combing Hamburg, Lübeck and Travemünde – especially between May and September, when the weather is generally warm!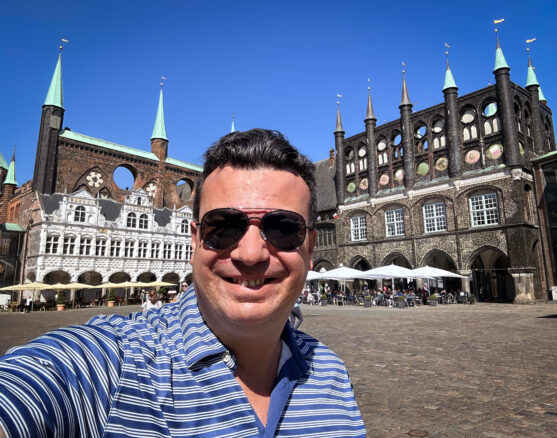 If you have questions on visiting beautiful Lübeck, leave a comment below. You can also reach the Lübeck tourism office at:
Tel +49 451 8899700
[email protected]
Holstentorplatz 1
23552 Lübeck
Disclosure: I visited Lübeck for Germany's 3rd annual sustainable travel summit. I was an invited travel journalist of the German National Tourism Board and Visit Lubeck. All opinions and photos are my own.