Picturesque island hopping amid storied ancient sites leave indelible memories for visitors to Greece. Athens is the oldest European capital and the birthplace of democracy. The Greek islands are a fun playground for everyone from celebrities to backpackers. Olympia was the birthplace of the ancient Olympic Games in 776 BC. That's just a sample of what the storied sun soaked Mediterranean country has to offer travelers. Here are 10 places in Greece you should visit!
Athens
Greece's capital is the entry point for many international travelers visiting Greece. Some European travelers skip Athens as there are many direct flights to the islands. But Athens has a lot to offer visitors and it's well worth spending a few days there. It is one of the few European cities where you can catch a coastal tram that connects the center of the city with lovely beach towns like Glyfada and Voula. There are many reasons why Athens is still one of Europe's greatest cities.
The Parthenon sits majestically above a bustling city proud of its ancient past. Constructed in 447 BCE, at the height of the Athenian empire, the site offers majestic views over Athens, surrounding mountains and the Aegean Sea. The Acropolis is one of the world's greatest archeological sites and should be on every traveler's bucket list. And the adjacent Acropolis Museum and National Archeological Museum are two of the world's best archeological museums.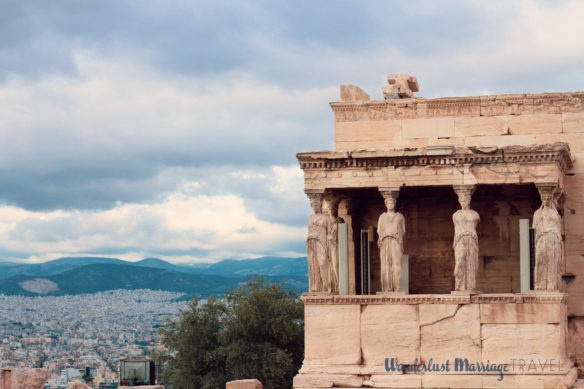 Adjacent to the Acropolis, spend time browsing the shops of the Monastiraki flea market. It lines the ancient agora and other archeological sites like Hadrian's Library. It is a great place to pick up souvenirs and gifts – like miniature statues of Greek gods, artisan soaps, olive oil and trinkets.
The Plaka neighborhood buzzes with lively tavernas featuring live music and tasty food. Find a rooftop bar or terrace with a great view of the Acropolis and sit for a drink. Centrally located Psiri is my favorite neighborhood for delicious tavernas featuring live rembekito music (Greek folk music). Dine at Orizontes atop Mount Lycabettus with the most breathtaking views of the Parthenon and all over Athens, including the Aegean Sea across the horizon.
Panathenaic Stadium was built for the 1896 Athens Summer Olympics, the first modern Olympic games. It is the world's largest all marble stadium. Visit today and run around a track that many generations of athletes have ran.
Great Athens Hotels
Especially during the busy summer months, book your hotel well in advance. Booking offers many rooms with free cancellation, so if plans change you can cancel without obligation. The cancellation policies are often more flexibility than what Airbnb offers.
Luxury Stay in Athens
Luxury travelers should plan to stay at the historic 5-star Grand Bretagne. Built in 1874 and centrally located across from Athens' Parliament, it is where all the visiting world leaders stay. Rooms have marble bathrooms and some have balconies facing the Acropolis and the daily changing of the guard at the Parliament. Their Roof Garden Restaurant offers sweeping views of the Acropolis and the all marble Panathenaic Stadium built for the 1896 Athens Summer Olympics.
Boutique Athens Hotel
Mid-range travelers will enjoy a comfortable stay at the centrally located The Artist Athens. Recently opened in 2018, rooms are modern and the beds are comfortable. Their made to order complimentary breakfasts, like Greek omelets and croque madames, served with gourmet coffees, fresh squeezed orange juice and croissant and bread baskets with delicious honey are absolutely divine. Some rooms have lovely views of a 17th century Orthodox church across the street. It is also very close to lively tavernas in Psiri and within walking distance from the Acropolis.
Athens Budget Hostel
City Circus Athens is a great choice for backpackers and solo travelers on a budget. They offer dorm rooms and private rooms. Their on-site restaurant, Zampano, is a charming place to eat and caters well to vegetarians.
Read more about the Best Hotels in Athens in my previous article. And this article has more in depth tips for visiting Athens!
Santorini
Santorini is one of the most iconic destinations in Greece. A volcanic eruption in the 16th century BC, helped create its unique rugged landscape. With breathtaking views, black sand beaches and unique architecture built into the cliffs, Santorini embodies a perfectly romantic island. It's best accessed via a flight from Athens or a ferry from a nearby Cyclades island.
Don't miss watching the sunset in Amoudi Bay in Oia. Be sure to get there early at around 5pm to get a nice spot as it is busy during warmer months. Another great city to hangout in Santorini is Thira. Filled with trendy restaurants, bars and amazing hotels, Thira is the perfect hangout place in Santorini.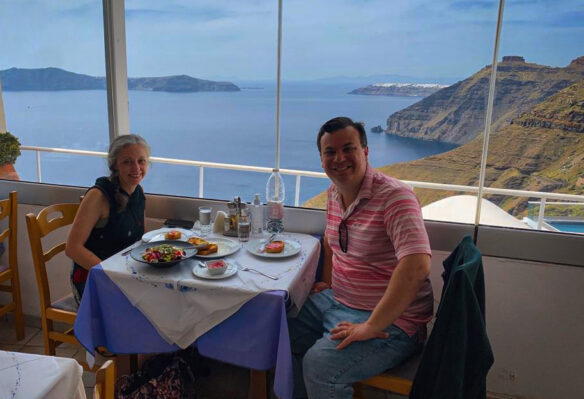 With around 14 wineries on the island, Santorini wines are gaining an international reputation for quality. Visit wineries like Santos and Venetsanos, which offer fantastic views of the cliffs and caldera. Plan to book a Santorini winery tour that includes hotel pickup and drop-off!
Santorini has a range of accommodation options luxurious five-star hotels to budget options. A fantastic hotel to stay in the village of Oia is Charisma Suites. Santorini is certainly one of the world's most romantic destinations.
This Greek islands guide covers a combination of popular and hidden gems according to popular travel bloggers. These are some additional great places to visit in Greece. Whether you're looking for a quiet beach getaway, a hopping party or something in between, our guide covers various recommendations for you.
Olympia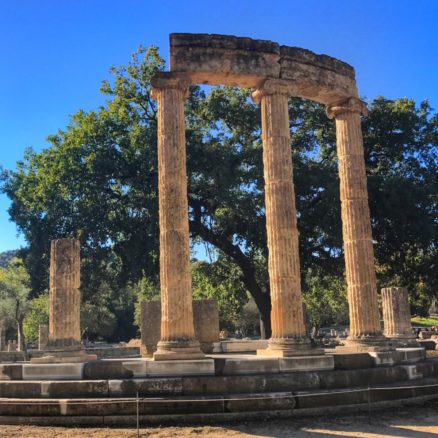 Olympia is arguably the second most important archeological site in Greece, after the Acropolis in Athens (where western democracy originated). The ancient games were held in Olympia every four years between 776 BCE and 393 CE. During the three month Pan-Hellenic truce, athletes and upwards of 40,000 spectators came from all over Greece to participate in the ancient Olympics.
Olympia is an impressive site for its ancient temples and two museums: the Archeological Museum of Olympia, as well as the separate Museum of the History of the Ancient Olympic Games. Modern Olympia has some good hotel options, but for most, staying closer to the beach is more ideal. Read my previous article on great things to do in Olympia and the beach town of Katakolon.
Olympia is among the highlights of the beautiful Peloponnese region of Greece.
Meteora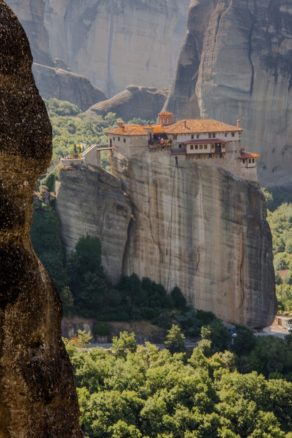 The Byzantine monasteries of Meteora, whose name translates to "suspended in the air," is one of Greece's most dramatically beautiful sites. The UNESCO World Heritage Site sits atop tall monolith rock formations. Six monasteries remain, and the monastery of the Holy Trinity dates back to 1475.
Centuries ago, the only way to reach the monasteries were via basket attached to a very long rope, deliberately hard to access to be protected from Ottoman occupiers. Unless you're a huge buff of ancient Greek history, Meteora is possibly even more worthwhile to visit than Delphi because of its unique beauty.
Consider a 2 day trip to Meteora and Delphi from Athens, for $226 per person including accommodation in a 4-star hotel. You can also rent a car and drive to Delphi or Meteora. Plan to spend a night in Kalambaka, the town adjacent to Meteora. If you do not want to drive in Greece – you can catch the train to Larissa and take a taxi to Meteroa or bus to Kalambaka.
It's been quite a few years since I visited Delphi and Meteora. When I visited, I traveled there independently, combining train travel, bus and taxis.
Chania, Crete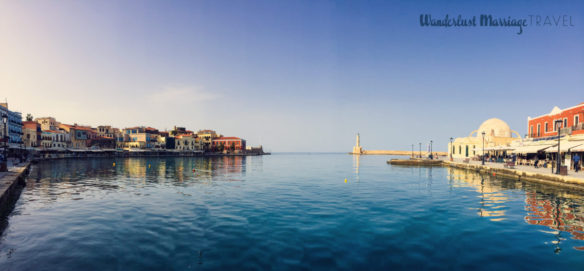 Chania is located on the northwest coast of Crete, the largest island in Greece. Its 14th-century Venetian harbor, narrow streets and lively waterfront restaurants are a wonderful backdrop to spend a few days. The harbor entrance features a 16th-century lighthouse with Venetian, Egyptian and Ottoman influences.
The former Venetian colony's old town is dotted with pastel colored buildings and charming architecture. Lively tavernas feature some of the best food in Greece, with warm hospitality. It's customary to receive complimentary dessert and a small carafe of raki (a distilled spirit made from grapes). The fusion of Venetian, Turkish, Egyptian and Greek influences makes it heaven for artists and foodies.
Use Chania as a base to visit some of the highlights of the western half of Crete. The Samariá Gorge is Europe's longest gorge, and a World Biosphere Reserve. Hikers should give themselves time as it takes around seven hours to hike the 16 kilometers from the Xyloskalo trailhead to Agia Roumeli. Elafonissi Beach is a lovely pink sand beach 73 km from Chania. Rethymnon is another lovely walled town, with a Venetian harbor and 16th century citadel.
Knossos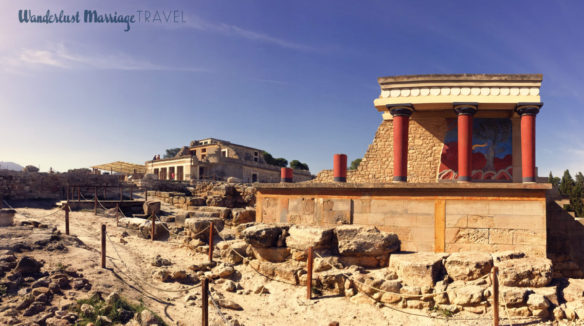 The Palace of Knossos was home to the Minoan civilization, the oldest advanced civilization in the western world. The second palace dates back to around 1,700 BCE and it remains a mystery as to how the Minoans were wiped out. The most commonly held beliefs are that the civilization was either destroyed by fire or tsunami, from a major earthquake that erupted on the nearby island of Santorini.
Just outside the biggest city on Greece's largest island, Heraklion, Crete, the Palace of Knossos is both unique and controversial. Originally discovered by the Cretan merchant Minos Kalokairinos in 1877, English aristocrat Sir. Arthur Evans' team did the majority of excavations beginning in 1900. With minimal archaeological training, many colorful pillars and frescoes at Knossos have been re-painted the way Sir. Evans believed they looked almost 4,000 years ago. The Palace of Knossos is associated with the minotaur in Greek mythology, who was half man and half bull. The history of Knossos makes it one of the best places to visit in Greece.
Heraklion is not as charming of a town as Chania or nearby Rethymnon. But there are some other worthwhile sites around the old port, notably Koules Fortress. Koules Fortress was built by the Venetians in the 16th century. The historic center of Heraklion has great cafes and tavernas to enjoy drinks and meals. Spend a few hours before venturing out to explore more of beautiful Crete.
Naxos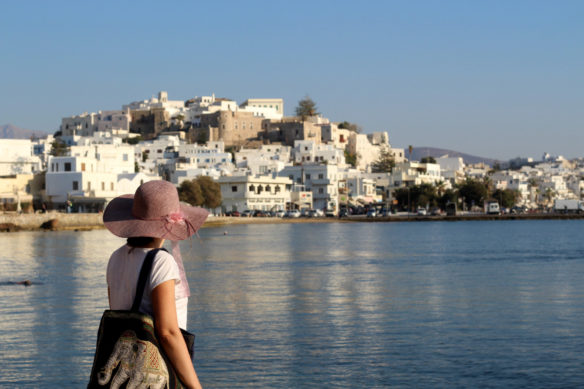 Naxos is one of the best all-around islands in Greece. Its main town of Naxos Chora features charming pedestrian-only laneways and has a picturesque harbor lined with great restaurants, cafes and artisan shops. There are distinct similarities to Mykonos, but Naxos generally offers better value. Unlike some islands that largely abandoned farming for tourism jobs, Naxos did not. So much of its fantastic culinary scene is locally grown. Rent a car and visit authentic villages in the mountains like Halki and Filoti.
The main town of Naxos Chora is an idyllic spot on the Aegean Sea. Get lost in the narrow laneways and climb to the top of town at sunset. The Temple of Apollo dates back 2,500 years, but only the door remains (the Portara). It is particularly fantastic at sunset as you can watch the sun and moon through the doorway, depending on which way you look. In season, you can take day trips to islands like Santorini, Mykonos, Delos (known for ancient sites) and nearby Paros, which is just 30 minutes by boat.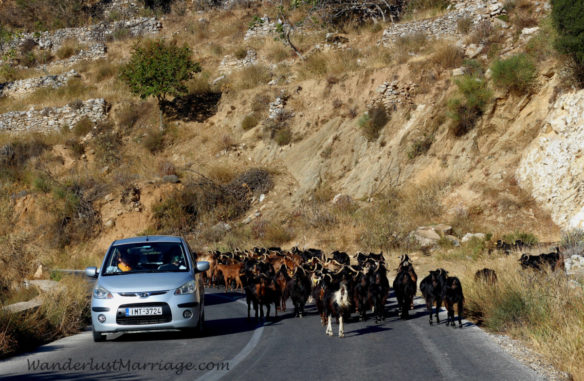 Delicious food, great beaches, wonderful villages, hospitable locals and ancient sites make Naxos a destination in Greece you should visit. Read more great tips for visiting Naxos, Greece!
Monemvasia

Monemvasia is like the Rock of Gibraltar in the Peloponnese region of southern Greece. It features a unique well preserved walled medieval town built into a large freestanding rock formation on the sea. A massive earthquake in 375 AD separated the large grey rock from the mainland.
The walled medieval town was built to be hidden from view on the mainland to offer additional protection from potential invaders. The only way in and out is by a 200m in length causeway. Today Monemvasia is one of the most unique destinations to visit in Greece.
A significant highlight is the 6th century Christos Elkomenos church. It features the heavily guarded icon of the Crucifixion. Its considered one of the most impressive relics of the Palaiologian Renaissance. The Aghia Sofia Church and Lighthouse of 1896 are a couple other noteworthy highlights.
It's wonderful to walk along the cobblestone streets of Monemvasia and hike around the rock. Sit at a taverna and enjoy the popular local wine, Malvazia. Only around 15 people reside in Monemvasia year round, but it is open to tourists throughout the year. It is a romantic destination popular for couples visits and weddings.
Delphi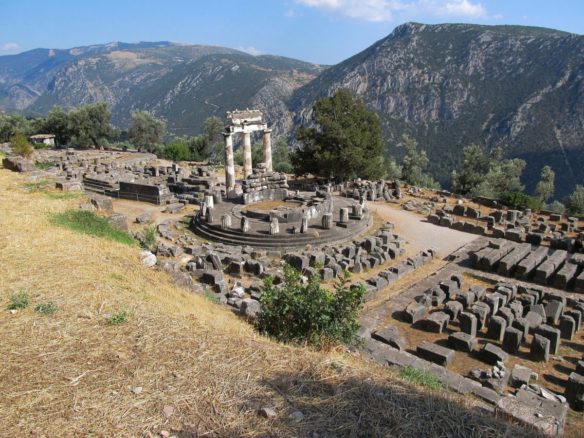 Atop Mount Parnassus, Delphi is the most visited archeological site in Greece outside the Acropolis. The important mountainside archaeological complex dates back to the 4th century BC and contains the remains of the temples of Apollo and Athena Pronaia, as well as an ancient theater and stadium.
The ancient Greeks considered Delphi the navel of Earth, because it is equally 121 km in distance to the Acropolis of Athens and the Aphaia Temple in Aegina.
The views of the surrounding mountains from the ancient site are fantastic. You can take a Delphi day trip from Athens from $115 US per person.
Mykonos
Mykonos is one of the most iconic destinations in Greece. Its picturesque whitewashed architecture features "Little Venice," a charming seaside area for dining. Another iconic landmark is a row of 16th century windmills that overlook the town. Mykonos is also popular for having some of the sandiest beaches in the Cyclades island chain.
Mykonos offers one of the biggest party atmospheres in summer, as world renown DJ's perform in dance clubs. It is very popular with the LGTBQ community.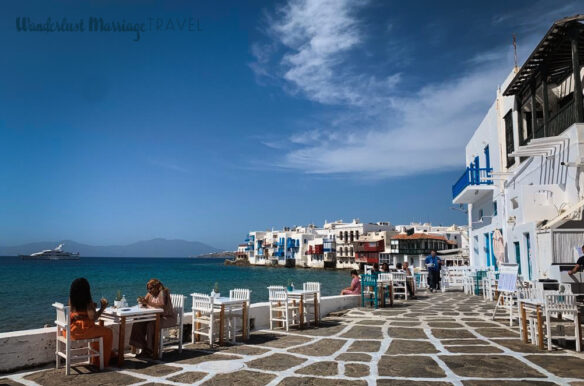 Try some dishes unique to Mykonos, including kopanisti, a spicy cheese with an aromatic flavor. louza is made from thin slices of spicy cooked pork. Mykonos has some great restaurants, but expect prices to be higher compared to less famous islands.
Mykonos is crowded and pricier in summer. So if you are not looking to party, this is a destination to visit in the off-season, when it is significantly quieter. If you visit in winter like we did, you'll practically have the island to yourself. You can also use Mykonos as a base to explore other Cycladic islands, including the ancient site of Delos (during the tourist season when tours are running).
A great place to stay during your stay in Mykonos is Semeli Hotel. The sophisticated hotel is located in Mykonos town, 1,650 feet from Megali Ammos beach. Tastefully decorated accommodations have sea, town or garden views. There is a heated pool with sun beds and a spa, perfect for pampering.
Nafplio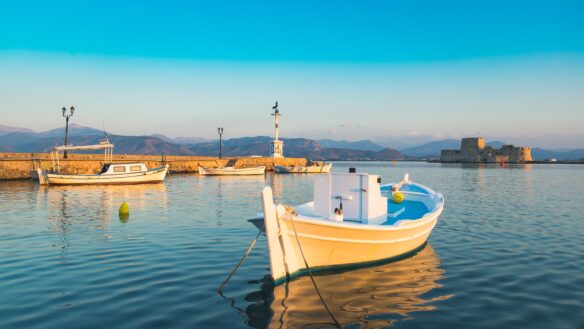 Nafplio is a seaside town in the Peloponnese region of Greece that expanded up the hillsides along the north end of the Argolic Gulf. Fun fact: Following the Greek uprising against Ottoman occupation, Nafplio was the capital of Greece from 1821-1834. And Greece just celebrated the bicentennial of the historic uprising that occurred 200 years ago on March 21st, 1821!
A significant highlight of Nafplio is Palamidi Fortress. Perched atop a 216-meter high hill, the fortress was built by the Venetians during their second occupation of the area. The fortress offers majestic views overlooking one of Greece's loveliest towns. Another highlight is Bourtzi Castle, a medieval fortress that dots the harbor on an island inlet. Akronauplía features Roman ruins and is the oldest part of Naplfio. Arvanitia Beach is a pebble-stone beach perfect for soaking up the sun and swimming in the crystal clear turquoise water.
The Venetians also influenced the architecture of Nafplio. The town is dotted with charming pastel colored buildings. Grab a seat on a terrace and enjoy delicious seafood, wine, wonderful Greek eats, and the seaside air and ambiance.
Athens to Nafplio is 137km (85 miles). You can drive there in around two hours, or visit as part of a tour. Nafplio is one of the most romantic and historic places to visit in Greece!
Recap on Places in Greece You Should Visit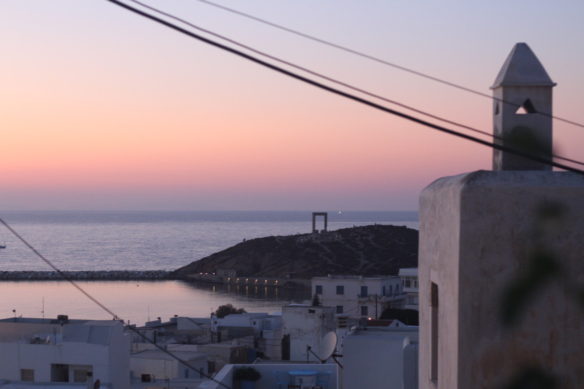 Greece has a wide variety of appealing destinations for visitors. First time travelers from abroad should plan to spend 2-3 days in Athens to see the highlights. There are a wide range of fantastic Greek islands scattered around the Aegean and Ionian Seas that will captivate visitors. But some of the most unique destinations, like Monemvasia, Meteora, Olympia, Delphi and Nafplion are located on the mainland. So if you travel to Greece for a two week vacation, consider an itinerary that includes some of the best islands and mainland highlights.
Read my article on How to Spend the Perfect Week in Greece! If you have questions on traveling to Greece, leave a comment below or email me at alex(at)wanderlustmarriage.com. Happy travels!
About the Writer and this Website
Alex Kallimanis is a UCF graduate who grew up in the Orlando, Florida area before living in destinations like Australia, the Netherlands and Ireland. I'm also a Greek citizen that has made 10+ trips to Greece. As a travel journalist and travel consultant, I enjoy assisting readers with getting amazing experiences and value from their trips. I've visited 58 countries and counting.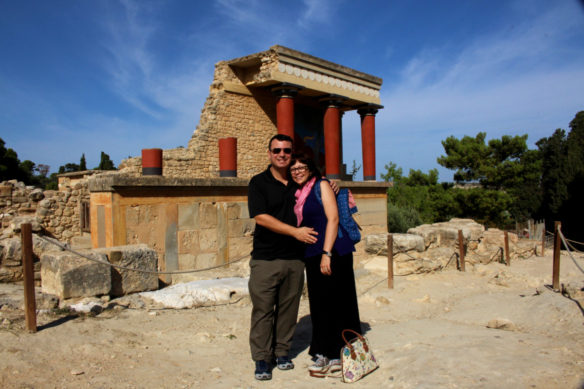 My wife of 18 years, Bell, is an Australian scientist working in cancer research. We first met in a hostel in Brugge, Belgium while backing Europe solo after finishing college. You can read more on that story on our about page if you're interested.
I encourage you to browse some of the other destinations we've covered for helpful tips. I also share advice in our resources page that could save you thousands on travel costs!
Disclosure: This article contains affiliate links. We receive a small commission when you book or sign up through these links and it costs you nothing extra. When it suits you, please use them, as it helps us help you!