One of the best things about traveling, no matter where you are, is a stunning view of your surroundings. An awesome way to achieve this is by finding the tallest hotel, or one of the tallest, and hit a hotel bar in a high place. Pretty much every high rise hotel has one, and you hardly ever have to be a guest to venture up there. There are some exceptions and sometimes you need a reservation, but often times you can just rock up and grab a table like we've done several times.
This may seem obvious to some, but even Bell and I occasionally forget this new mantra of ours. The drinks might be a little bit more expensive, but you don't have to go crazy, and those extra few dollars are completely worthwhile for a sunset view of wherever you happen to be. Also, it's usually free to take the elevator up to a high rise hotel bar. You usually have to pay a pretty penny and wait in line to go up to an observation tower, that might not be that much higher anyways.
Rooftop Drinks and Dining Atop the World's Tallest Hotels
Some of our most memorable moments atop hotels bars would have to be the view of the acropolis, lit up at night, hovering above Athens; downtown London at night from the Hilton in the Paddington area; sunset over Riga, Latvia; and viewing frenetic Bangkok from the 6th tallest hotel in the world, the Baiyoke Sky. Interestingly, the top 5 tallest hotels in the world are now all in Dubai.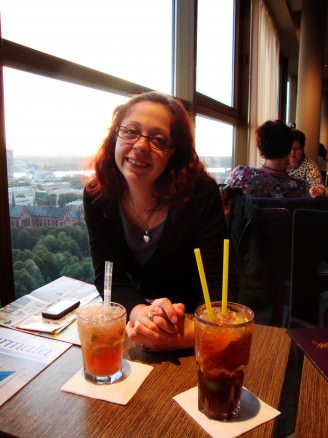 Delicious cocktails atop the Radisson Blu, overlooking Riga, Latvia. 
Probably my favorite memory at a hotel bar was at the Baiyoke in Bangkok. Bell and I had recently gotten engaged on a beach on the island of Ko Phangan and for once, we were actual guests at the hotel. Their buffet breakfast wrapped around the entire inside of the floor, about 80 stories in the air and featured popular breakfast choices from all over the world. The hotel bar was located on the floor just above. It was a spectacle to watch all the mechanised tuk tuk's buzz around, like little ants.
Watch the Sunset from a Rooftop Hotel
If you want to watch the sunset from a window seat at a popular hotel bar, make sure to arrive early and take your time. You may feel obligated to buy another drink, but it's usually worth it. And if you don't pay to go up to an observation deck, quite a few drinks are basically free anyways.