Just a stone's throw north of Dublin lies the wonderful sea side town of Howth. There are loads of great things to do in the Howth area, like hiking Howth summit and having a fantastic view of Dublin Bay, but the focus of this post is on their wonderful seaside Sunday Farmers Market that is open from 10am to 5pm.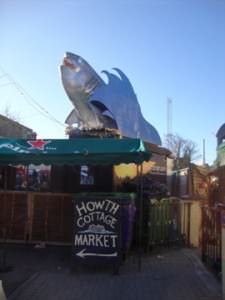 To get to Howth you can hop on the DART (Dublin Area Rapid Transit), which is the commuter train that you can conveniently catch from Connolly, Pearse or Tara St. stations. All 3 stations are centrally located in Dublin and a return ticket will cost under €5 return and takes about 20 minutes each way.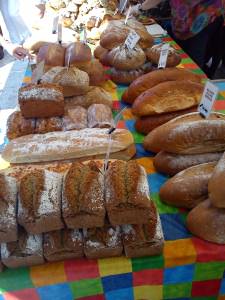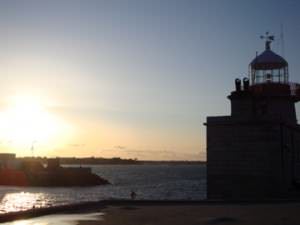 When you get off the train you will see the market, it is just opposite Howth Harbour, so it is easy to find. There are over 40 stalls, including a fantastic baked goods stand (our favourite) and a variety of fresh produce and craft stands. We enjoyed a rhubarb pie, chocolates, farmers eggs (ok not so handy when traveling), but the eggs were so delicious (when cooked) that they are worth mentioning. The mouth watering roast pork from a spit is a must, which can be taken away in either a sandwich or a box with roast potatoes, grilled onions and stuffing (it's like a holiday meal in an Asian take away box!). You can enjoy all this just across the street, with a view of the sea and possibly have a random friendly puppy stare longingly at your bounty!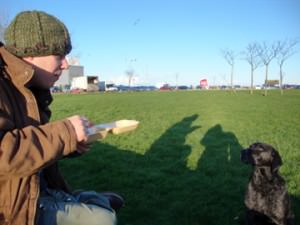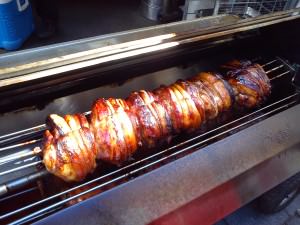 There are also stalls with handmade jewelry and knitted goods, so some lovely gifts can also be purchased. It is a wonderful way to get out of Dublin for an afternoon and enjoy the coast and some yummy high quality food. You can also say you saw more of Ireland than just Temple Bar.
Where to Stay in Dublin?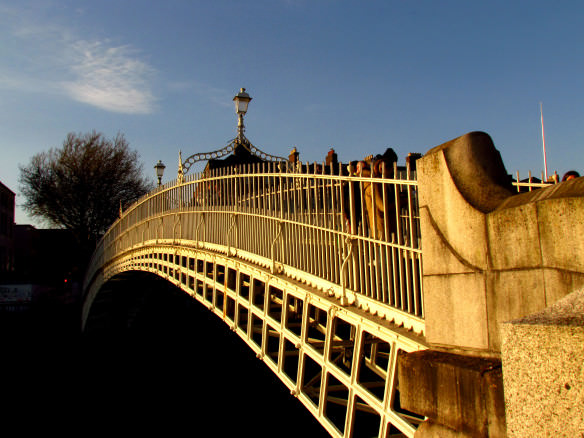 First you need a place to stay, and it's a good idea to book a hotel with free cancellation in advance. Later if prices change and you find a better deal, you can easily cancel your reservation and book another one. Here are hotel and bed and breakfast recommendations for Dublin:
Luxury:
Shelbourne Hotel is Dublin's most historic luxury hotel, as several US Presidents and many foreign dignitaries have stayed there. They have a wonderful cocktail lounge and fantastic dining options. Even if you're not a guest, swing in for high tea and enjoy a lovely view of St. Stephen's Green.
The Merrion Hotel is another excellent luxury choice. This 5 star hotel offers an old world luxury experience in a great location.
Mid Range:
O'Callaghan is a small chain of centrally located, comfortable hotels with good breakfasts. Trinity College often puts job applicants and guests up in these hotels. We stayed at O'Callaghan St. Stephens Green when Bell interviewed for her post doctoral position at Trinity College and highly recommend it.
Budget:
ABC House Dublin and Egans House are quintessentially Irish bed and breakfasts a little outside the center of Dublin. They both offer reasonable comfort for those that don't want to spend a lot to sleep. We spent a week at ABC House Dublin while searching for our apartment when we first moved to Dublin. We stayed at Egans House on a visit to Ireland.
Backpacker: 
Generator Hostel is conveniently located right next to the Jameson Distillery (fun!) and is part of a reputable chain of hostels in Europe that are known for being clean and having a fun atmosphere.
Families especially will find the best deals on short term apartment rentals. If you've never used Airbnb, sign up here for freeand receive $40 credit off your first stay!
Want to travel to Ireland for Free?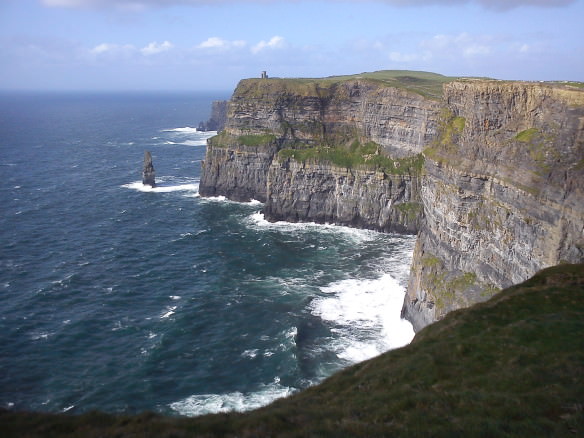 Play the credit card points game and use bonus point sign ups for free plane tickets! The most popular card among travel hackers is the Chase Sapphire Reserve. The card also includes complimentary priority pass lounge access with free food, drinks and wifi. The annual fee seems steep at $450, but it includes $300 in travel credits. The 50,000 bonus point sign up is good for $750 in travel credit, enough for a free plane ticket to Ireland! They'll also compensate you $100 for free Global Entry and TSA pre-check to skip airport lines.
If you don't travel very frequently, the Delta Skymiles American Express Gold Card is free the first year and just $95 each year after. They give a 40,000 point bonus after you charge just $1,000, so this is a great card. You'll typically need around 60,000+ miles for a free flight to Ireland, but you can earn these miles with everyday purchases. There are other perks to having the Delta SkyMiles AMEX Gold Card, like free checked bags on Delta flights.
Disclaimer: This article contains affiliate links. We receive a small commission when you book or sign up through these links and it costs you nothing extra. When it suits you, please use them, as it helps us help you!