Just north of Dublin is the wonderful seaside town of Howth. There are loads of great things to do in the Howth area, like hiking Howth summit and having a fantastic view of Dublin Bay, but the focus of this post is on the wonderful Howth Market that takes place from 10am to 5pm on Sundays.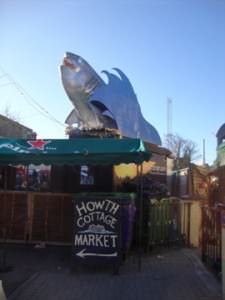 How to Get to the Howth Market from Dublin
To get to Howth you can hop on the DART (Dublin Area Rapid Transit), which is the commuter train that you can conveniently catch from Connolly, Pearse or Tara St. stations. All 3 stations are centrally located in Dublin and a return ticket will cost under €5 return and takes about 20 minutes each way. When you get off the train you will see Howth Market, just opposite Howth Harbour.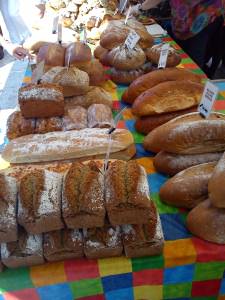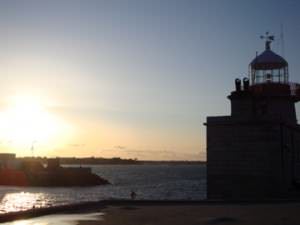 Howth Market
Howth Market has over 40 stalls, including a fantastic baked goods stand (our favorite) and a variety of fresh produce and craft stands. We enjoyed a rhubarb pie, chocolates, farmers eggs (ok not so handy when traveling), but the eggs were so delicious (when cooked) that they are worth mentioning. The mouth watering roast pork from a spit is a must, which can be taken away in either a sandwich or a box with roast potatoes, grilled onions and stuffing (it's like a holiday meal in an Asian take away box!). You can enjoy all this just across the street, with a view of the sea and possibly have a random friendly puppy stare longingly at your bounty!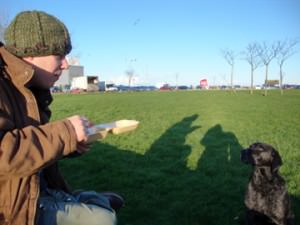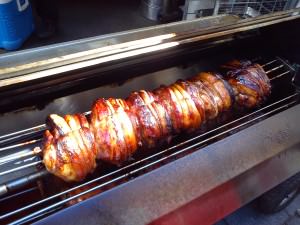 There are also stalls with handmade jewelry and knitted goods, so some lovely gifts can also be purchased. It is a wonderful way to get out of Dublin for an afternoon and enjoy the coast and some yummy high quality food. You can also say you saw more of Ireland than just Temple Bar.
Howth Market Hours
Stalls are open:
Saturday, Sunday and Bank Holidays
9am – 6pm
Howth Market Info:
Howth Market
3A Harbour Road
Howth
Co Dublin
Ireland
Tel. 01 839 4141
More Great Day Trips from Dublin
Utilize the DART to take great day trips from Dublin. Some of other favorites asides from Howth include Bray, Malahide and Dún Laoghaire. If you're planning a vacation, read our article on how to spend a week in Ireland. We also cover many Ireland travel tips to get the most from your trip!