If you find yourself heading between Amsterdam from Paris, it's worth stopping in Antwerp, Belgium. One of the best pubs in Europe can be found there. Also, I believe "We're on the way" is Belgium's official travel slogan. Antwerp, like other Flemish towns, is kinda like a cross between the Netherlands and France culturally. But people speak Dutch as their primary language. The southern Wallonia region of Belgium is French speaking.
Appearance wise, Antwerp looks like you're still in the Netherlands. But go out for a meal or a beer and you'll see that Antwerp residents generally take these things more seriously compared to the Dutch, who are often Calvinist. The Belgian lifestyle is more similar to France.
Kulminator in Antwerp, Belgium
While wine rules most of France, beer is king in most of Belgium. Residents of Antwerp love to sit on cafe terraces while enjoying a great glass of beer. And one of the best places to enjoy an awesome beer is Kulminator. Particularly if you have a hankering to try an aged Trappist beer as they have a huge menu highlighting over 600 beers on offer from their vast beer cellar.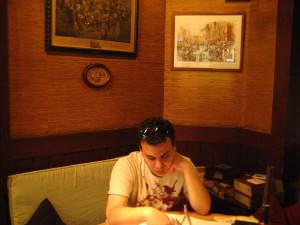 Aged Trappist Beers
Most strong beers age well, and many mature after a few years to achieve more complex flavors, similar to a good wine. Most Trappist beers are good for a solid 5 years. But when kept in cellar like conditions, the Kulminator believes strong beers can be consumed long after their "expiry" date (debatable, but worth a try!).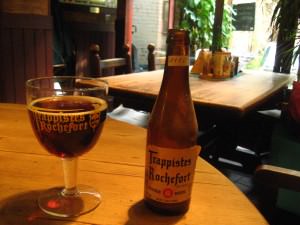 Rochefort
On separate occasions, I tried 2 aged beers. The first was a 1996 Rochefort 6, complete with loads of cellar dust on the bottle. It was priced well on the menu for a quality beer that was well over a decade old. I'll be honest, that was a little too aged for me and perhaps it was the psychological aspect of drinking such an old beer, but I felt a smidge ill for just a bit afterwards. Nothing serious, but my aged beer endevour was over for the evening. Only fresh beers from then on, but no worries, Kulminator has you covered with an excellent selection of fresh beers too.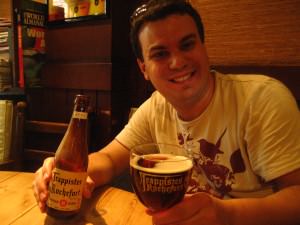 Chimay
On the 2nd occasion, I decided to try a 2004 Chimay Blue, diving just a few years past the expiry date. In recent years, Chimay has begun overproducing and exporting more of their beer. Subsequently, the quality of their beers has begun to decline. Fortunately, you can go back in time at the Kulminator and enjoy some matured Chimay's from the good old days. I definitely thought that was a worthwhile beer.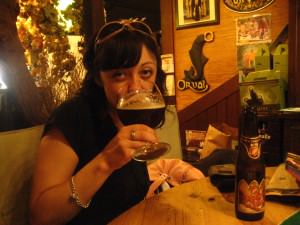 Rare Beers from Closed Breweries
If you're even more adventurous, and have a fatter wallet than us, you can even try Russian imperial stouts from the 1980's, that stem from popular old breweries that have since closed their doors for business.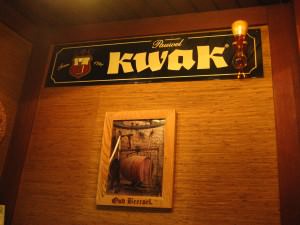 The Kulminator is also a lovely and quaint pub to grab a beer, and has been voted best bar in the
world
on several recent occasions by
ratebeer
. It earns a perfect score of 100 from both them and 
beeradvocate
so it's definitely worth a stop off the train. Check out lovely Antwerp while you're at it. It's on the way to the Kulminator.
Kulminator
Hours: Monday 8pm-12am, Tuesday-Saturday 4pm-12am, Sunday closed
Vleminckveld 32
Antwerpen, 2000
Belgium
phone: +32 (0) 32 32 45 38     (Though, why call? Just go in for a beer!)