New York City is a huge melting pot of cultures, with co-existing communities from all over the world. As various immigrants have moved into the city over the past few centuries, they've shaped the culture and cuisine. New York City has fantastic food, but can also be a bipolar city, with many comically overpriced and lousy eateries. Food and history enthusiasts should consider a tour when visiting the Big Apple and Ahoy New York Food Tours offers a great one. Here is what you can expect on their Chinatown and Little Italy Food Fest Tour.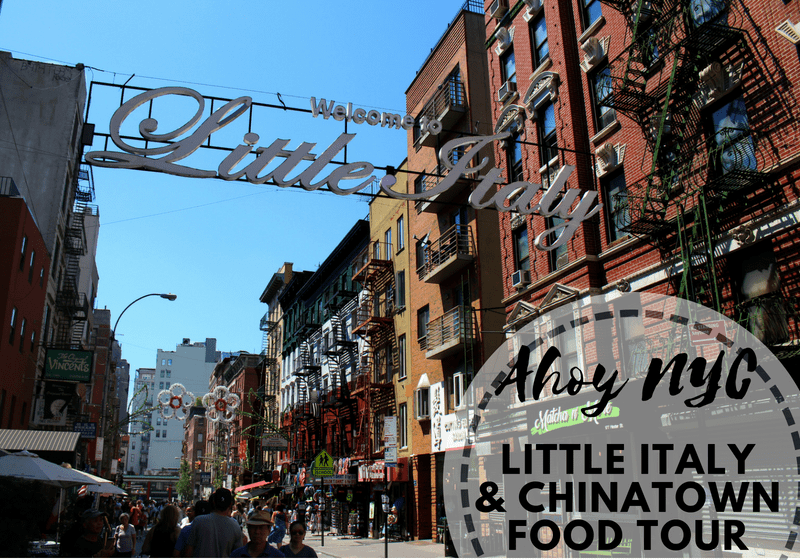 Chinatown and Little Italy Food Fest Tour
Ahoy states on their website "Our goal with each tour is to serve delicious food with a taste of history." Our guide, Mike, who also works as an actor is a fantastic guide. He's extremely knowledgeable about the food and history of not only Little Italy and Chinatown but also Italy itself.
Ahoy's tours also cater to food allergies. Bell has a gluten allergy and she was accommodated at all the stops with quality alternatives when regular items included gluten.
Ferrara Bakery & Cafe
Ferrara Bakery & Cafe was the first stop on our tour. Dating back to 1892, it's an icon in Little Italy. The bakery was previously a gentlemen's club, but in the old school sense where guys would drink coffee and eat sweets after attending the opera.
At Ferrara Bakery we ate American style cannolis while learning about the immigration history of Little Italy. Bell was given Amaretti cookies as a gluten-free option. Amaretti cookies are typically made with almond flour instead of wheat flour. Ferrera's Bakery is very popular and several food tours stop here.
Alleva Dairy
The country's oldest Italian American cheese shop, Alleva Dairy, has been in business since 1892. They make fresh mozzarella and ricotta daily. It pairs wonderfully with prosciutto imported from Italy. Mike told us that Prosciutto is traditionally from the Parma or Emilia-Romagna regions of Italy. Fun fact: the actor Tony Danza, famous for being on the TV sitcom Who's the Boss is a co-owner of Alleva Dairy and can sometimes be found working there. Unfortunately, he wasn't there during our visit.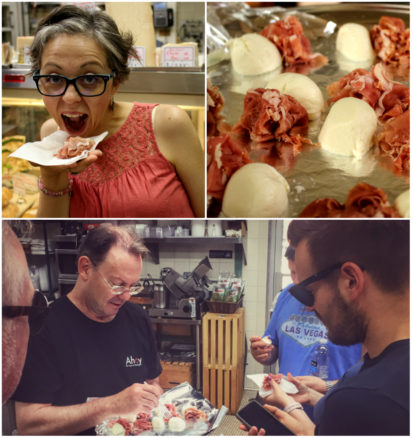 Piemonte Ravioli Co.
We made a brief stop at Piemonte Ravioli to try fresh gnocchi (potato pasta) topped with a delicious fresh marinara sauce. As there is flour in the gnocchi, Bell was given a delicious and generous portion of caponata. Caponata is a Sicilian sweet and sour sauce eggplant dish with sweetened vinegar and capers. Here Mike explained that northern Italy is known for fresh pasta and southern Italy for dried pasta. As it's much hotter in southern Italy, fresh pasta does not hold up as well in regions like Sicily.
Di Palo's Fine Foods
Di Palo's is a wonderful shop for olives, cured meats, cheeses and fresh bread. We sampled piave and moliterno (pecorino) cheeses from Italy, along with some imported green olives. Piave is an aged cow cheese and moliterno is aged sheep cheese.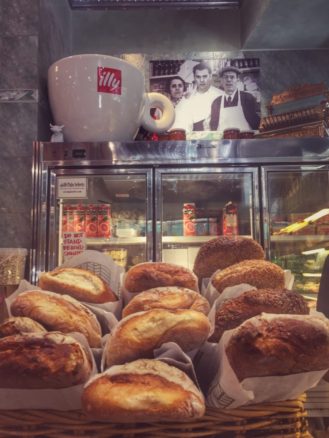 Afterward, we stepped out onto the streets of Little Italy for area recommendations and some interesting NYC gangster stories. Up to the 1970's, there were serious rivalries among area families that saw many in the community get gunned down. At 129 Mulberry Street, Crazy Joe Gallo "went out for clams one evening, but got slugs instead." The plight of Italian immigrants and their ordeals with the mafia can be read about in books like Elizabeth Street and 97 Orchard.
Margherita NYC
At the halfway point of the tour we sat down at Margerita NYC for delicious wood-fired pizza. Little Italy can be hit or miss for food, but this is a great restaurant. The pizza here is as good as New York pizza comes – a perfectly crispy crust with quality mozzarella and marina sauce. Here we had more of an opportunity to get to know other people in our group, like an interesting couple visiting from Birmingham, England who were taking the tour with their son who works in Boston. Bell was given a salad here, but was sad to not be able to enjoy a slice.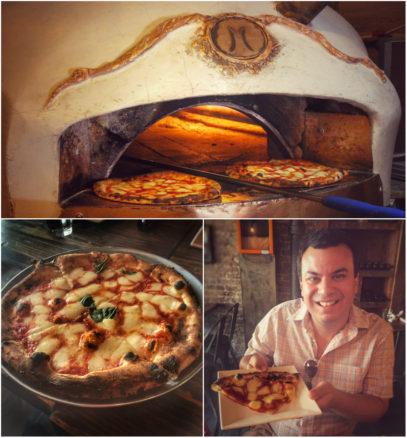 Nom Wah Tea Parlor
Nom Wah Tea Parlor is a vintage tea parlor dating back to 1920. We ate two things from Nom Wah: a steamed pork dumpling and later a sweet gluten-free rice ball for dessert. Several of us on the tour found the pork dumpling to be too doughy and the weak point of everything we tried that day. The sweet rice balls, however, were popular among the group. In lieu of the pork dumpling, which has gluten, Bell was given a rice roll with vegetables, also the low-light for her.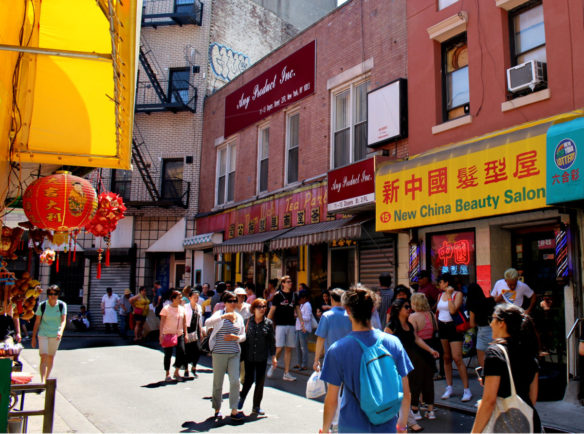 This was also the only establishment that we were unable to eat inside. Mike brought the food outside and we ate as he told us stories of the area and Chinese immigration. New York is now home to the largest population of ethnic Chinese outside China. Chinatown in Manhattan is home to around 125,000 Chinese, and it's not even the biggest Chinatown in the city. A Chinatown has developed in Sunset Park in Brooklyn that is home to around 150,000 Chinese people.
Tasty Dumpling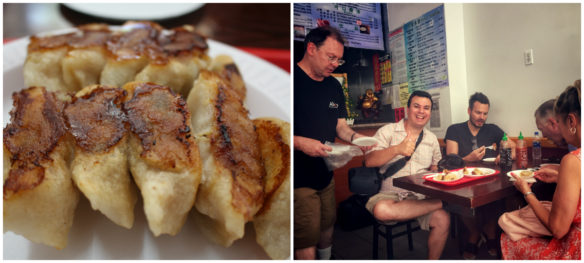 We sat down at Tasty Dumpling to try their fried dumplings. This is one of the best budget eats in New York City outside the occasionally good $1 pizza slices around the city. $1.25 buys you an order of 5 delicious fried dumplings. Talking to some others in the group, we preferred these dumplings to the steamed ones from Nom Wah Tea. In lieu of the fried dumpling at Tasty Dumpling, Bell was given rambutan fruit, a popular Asian fruit that tastes a little like a cross between a grape and plum.
Highlights of Ahoy's Chinatown and Little Italy Food Fest Tour:
1) Mike is a fantastic guide. He's extremely knowledgeable about food and history and shares insights with a great sense of humor.
2) Ahoy's tours cater to food allergies. Bell has a gluten allergy and she was accommodated at the stops with quality alternatives.
3) At the beginning of the tour, Ahoy provides a booklet telling you everywhere you will be visiting and what you'll be eating. This isn't something that you usually receive on food or drink tours. We know because we've taken many.
4) It was a sweltering day and Mike did a great job of making sure we weren't outside too long and kept us in the shade when we were.
5) At $55 the tour is well priced for 3 hours of entertainment in an expensive city. Their taste of Mulberry Street tour costs $75 and includes a glass of wine.
Ahoy is a small company, in business since 2008 that runs just two food tours. Both cover Little Italy. As their guides aren't running all over NYC giving various tours, they're experts at what they're doing.
Cons of Ahoy's Chinatown and Little Italy Food Fest Tour:
The only lowlight was several of us didn't love the dumpling from Nom Wah Tea. But we did really enjoy the rice ball from Nom Wah Tea.
Where to Stay in New York City?
Hotel prices can vary wildly in New York City. During busy periods like summer and holidays, hotels are especially pricey. During off-peak times in winter, hotel prices are significantly cheaper. We visit NYC often, including several times for the NY Times Show. Here are some recommendations to suit all budgets. Consider booking a well-reviewed hotel in advance that offers free cancellation.
Luxury:
The Plaza is an iconic 5 star hotel at the base of Central Park. Spacious rooms include iPads and are gilded with 24-carat gold plating. There's an on-site elegant Champagne Bar, the famous Rose Club and Guerlain Spa.
The Mark is located in New York's upscale upper east side, a block from Central Park and a short walk from the Metropolitan Museum of Art. Spacious marble bathrooms feature a large soaking tub and mini flat-screen TV. Each room is decorated in ebony and sycamore furnishings.
Mid Range:
CitizenM New York Times Square is great for a comfortable stay with modern amenities, at a price that's easier on the wallet. Rooms feature a centralized digital system that controls lighting, music and electronics.
W New York – Times Square is great if you want to stay in the heart of the city, in a modern hotel. A plasma TV, terry cloth bathrobes and Bliss bath amenities are included in all rooms. Rooms are equipped with a stocked mini-bar and light snacks.
Budget:
The Pod Hotels are a good deal in New York City, though more so in winter. Pod 39 has a rooftop bar and the newest edition is Pod Times Square which just opened in January, 2018.
The Jane is a historic and fun budget option with a rooftop bar and adjoining club. Rooms can be small, but it's hard to beat the price in NYC, especially since they have a great location in Greenwich Village near the Hudson River and High Line.
New York cracked down on short term rentals, so you can no longer rent private apartments in Manhattan. There are still good private options in Brooklyn and Queens though.
Disclosure: Ahoy New York Food Tours invited us on a tour to review it – all photos and opinions expressed here are ours. Also, hotel links are affiliate links.