Milwaukee rests 90 miles north of Chicago. Wisconsin's largest city offers picturesque views of Lake Michigan and a hopping brew scene. Many German immigrants settled in Milwaukee in the mid 1800's and the city reflects much of their influence. Milwaukee has been home to several of the nations biggest breweries throughout its history, earning the nickname "Brew City."
I took a 90 minute Amtrak train from Chicago to Milwaukee to explore the city. I left impressed with the Milwaukee's architecture, food and how friendly its residents are. Here's 10 great things to do in Milwaukee!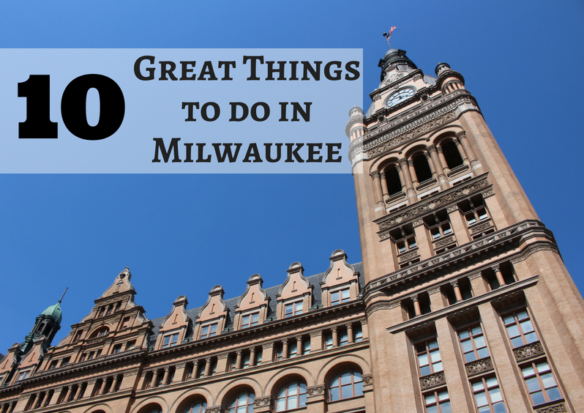 Milwaukee Art Museum
The Milwaukee Art Museum is a gorgeous example of modern art. The sailboat like design and harborfront location bares some comparison to the Sydney Opera House. The Milwaukee Art Museum contains 25,000 pieces of art and is one of the largest museums in the United States. Inside you'll find a wealth of great pieces from antiquity to the present. Or you can just marvel at this beautiful structure as you stroll along Milwaukee's harbor.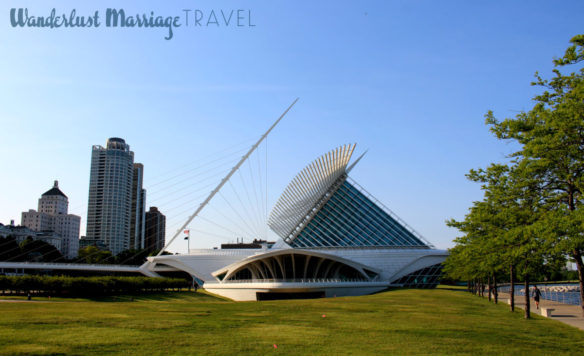 Pabst Manion
From the late 1800's until 1946, the Pabst Brewery was the largest in the United States. At the time, Captain Frederick Pabst, who was originally from Germany, was the fifth richest man in the United States. The Pabst Mansion is a throwback to old-world opulence, with very Germanic architecture. Asides from the lavish furniture and art, there's a touching copy of Frederick Pabst's will to his five children, telling them to be nice to each other and behave with honor.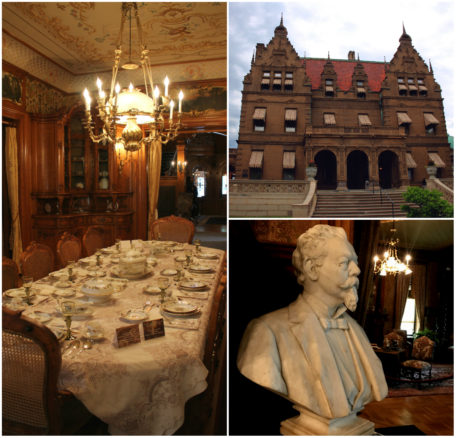 Harley Davidson Museum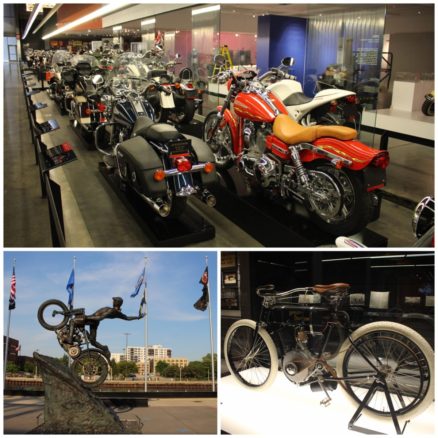 Harley Davidson is one of the most iconic American companies with a history dating to 1904, and the museum houses the world's oldest known Harley dating to that time. There are hundreds of beautiful motorcycles from over a century of production, and the museum discusses the history of the United States through its bikes and other artifacts. You can even jump on some Harley's for photo ops both inside and outside the museum. I'm not a big motorcycle guy, but I enjoyed visiting the Harley Davidson Museum.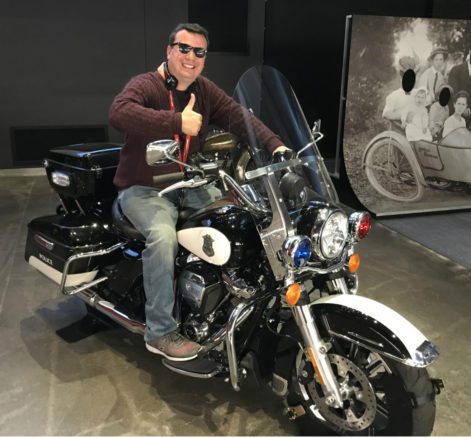 Milwaukee Food and City's Old World 3rd Street Tour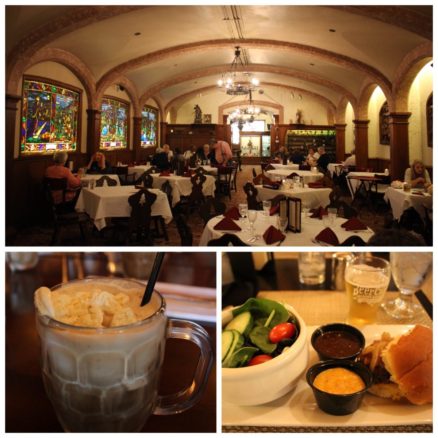 If you enjoy good food and drinks, it's a great idea to take a food tour. You'll not only try some of a city's most quintessential eats, you'll also learn a lot about its history. Milwaukee Food and City Tours Old World 3rd Street Tour is a fun time. We ate at several beautiful and historic Milwaukee restaurants including The Brown Bottle, Mader's Restaurant and The Rumpus Room.
The medieval art collection at Mader's Restaurant, in business since 1902, is worth $5 million. We tried Usinger's sausage and cheese fudge (which is better than it sounds). Over lunch at the Brown Bottle, we were served some Shlitz beer, and discovered they've gone back to brewing with the old German style recipe, so it actually tasted surprisingly good! Shlitz used to be one of the most popular beers in the USA.
The TV show Happy Days was set in Milwaukee. Our guide Barbara pointed out the "Bronze Fonze" statue that's dedicated to Henry Winkler, the star of the popular 1970's show. Unfortunately, some Riverwalk construction prevented me from snapping a good photo of it.
Among other tours, Milwaukee Food and City Tours also offers a Brady Street Lunch tour, covering Milwaukee's Italian district. The Old World 3rd Street Tour includes a generous amount of food and drinks. The tour costs $67 and lasts around 2.5 – 3 hours.
Best Place at the Historic Pabst Brewery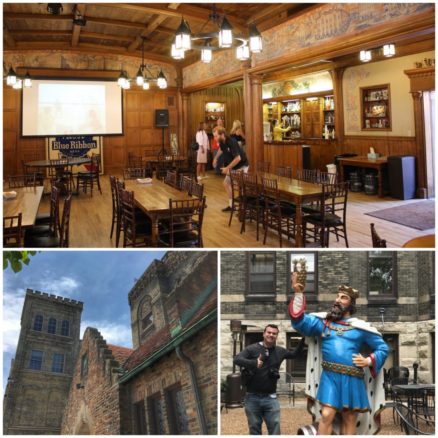 Pabst Brewery was originally founded by German immigrant Jacob Best in 1844. It was his son-in-law, Captain Frederick Pabst that helped the company become the United States' biggest beer producer from the late 1800's until 1946. Pabst actually ceased production from 1996-2001 but have been back in business under new ownership since.
Today the "Best Place at the Historic Pabst Brewery" is a great place to tour over beers in Milwaukee. Their tour isn't about the beer production but enjoying a history lesson and old world style venue over some brews. Our guide was enjoying some beer while giving the tour, something I noticed to be common on Milwaukee beer tours. His previous job said he was welcome back when he left. His reply was "if I can drink beer at lunch I'll consider returning… but they haven't called yet."
Lakefront Brewery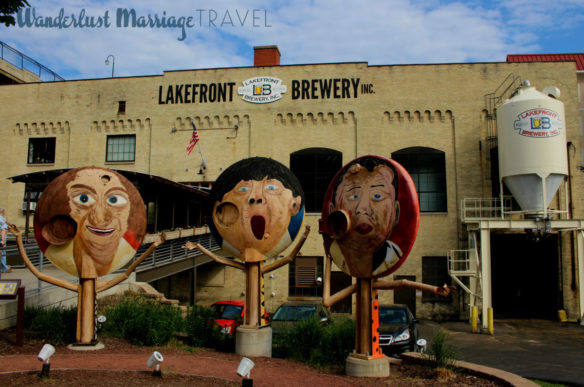 Three kettle murals of the Three Stooges are a good indicator of what's to come inside at Lakefront Brewery. I enjoy good beer tours, and their brewery tour is the funniest I've been on. The tours are run like a stand-up comedy routine and laughs come even easier since you're drinking delicious beers while touring the brewing facilities. Lakefront Brewery's beers are also some of my favorites in Milwaukee.
Visit Lakefront Brewery on a Friday night for their fish fry and live music in the beer hall. Try the fried cheese curds too, which are really popular in Wisconsin and very tasty. Brewery tours are a great deal at $9 and include 4 small beers and a pint glass to take home.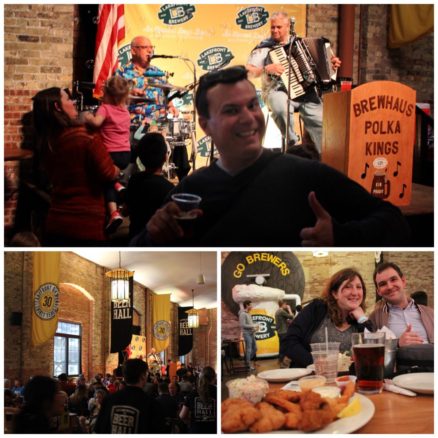 MKE Boat Line Tour: 10 Great Things to Do in Milwaukee
You always gain a different perspective of a city on a boat tour. And between Lake Michigan and the Milwaukee River, there's a lot of water surrounding the city. Board the MKE Boat Line along the riverwalk and enjoy great views of Milwaukee's historic Third Ward before sailing out into the inner harbor of Lake Michigan.
A guide discusses highlights and history of the city. Passengers get a unique view of many Milwaukee landmarks on the tour, including the Milwaukee Art Museum and PierHead Lighthouse. Beer and brats are available for purchase on the boat.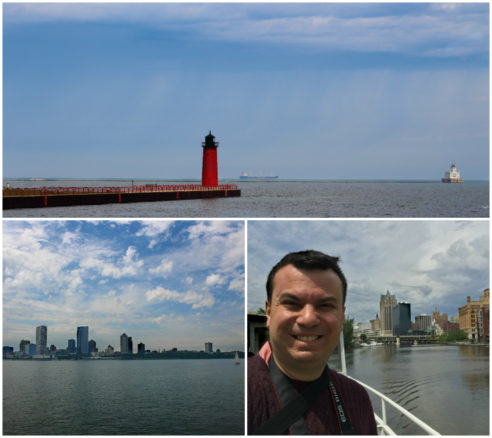 Sobelmans Bloody Beast
Sobelmans Pub and Grill takes Bloody Marys to another level. So I had to try their Bloody Beast, which has previously been featured by many major publications including USA Today Travel, Thrillist, The Huffington Post and The Daily Mail. The Bloody Beast is a 32 ounce Bloody Mary pitcher packed with a whole fried chicken, burger, sausages, bacon wrapped chicken sliders, shrimp skewers and more.
There is so much food in their Bloody Mary that it comes with a tray to deconstruct everything. It also comes with a pitcher of beer, because it's standard to receive a beer chaser with a Bloody Mary in Wisconsin. I appreciate my friend Chris and her boyfriend Andrew's assistance in helping me tackle the Bloody Beast!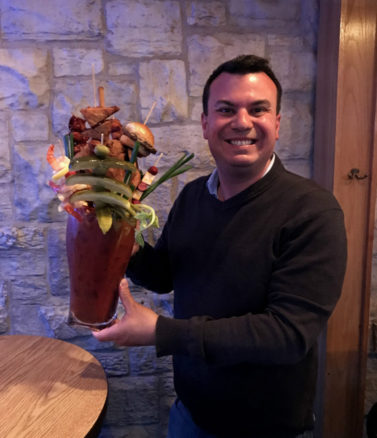 SafeHouse: A Spy Themed Restaurant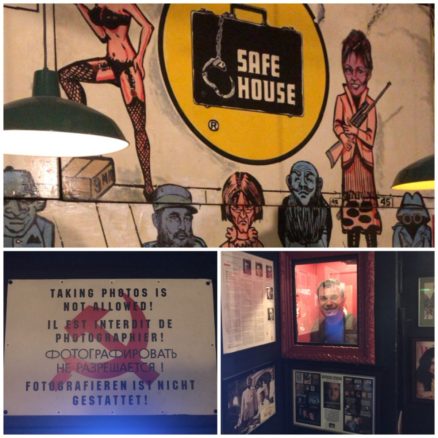 I've never eaten anywhere quite like SafeHouse, a spy-themed restaurant and bar in business since 1966. You enter through a non-descript alleyway door to a small room where someone asks if you know the password. You'll then be asked to do something slightly embarrassing, which is televised in the restaurant. There are all kinds of interesting memorabilia and art plastered throughout, from remnants of the Berlin Wall to Soviet Era posters. Wait staff stays in character throughout the meal and there's no additional charge for the experience of dining there.
While not the best food in Milwaukee, it's good, and the fried cheese curds are excellent. The Safe House reminded me a little of a communist themed bar we drank at in Riga, Latvia that was packed with young local hipsters. A lot of families eat at Safe House because the ambiance is fun for kids too. There is also a SafeHouse in Chicago.
Potawatomi Hotel and Casino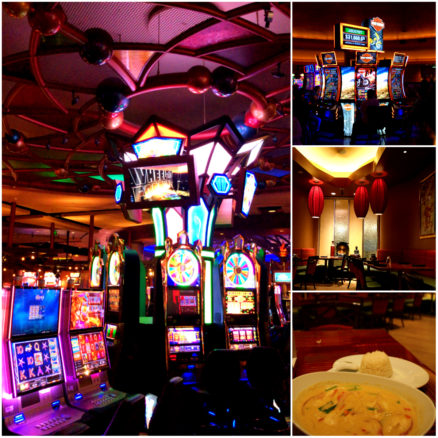 I spent two nights at the Potawatomi Hotel and Casino during my stay in Milwaukee. Rooms are spacious and well appointed with comfortable mattresses. The hotel features seven restaurants on the property with options like American, Italian and Asian.
If you enjoy gaming, consider a stay at Potawatomi Hotel to be close to the action. The property also offers a free hotel shuttle service in the evenings to transport people from other Milwaukee hotels to the casino. According to the Milwaukee tourism board's website, this is the most visited tourist attraction in Wisconsin.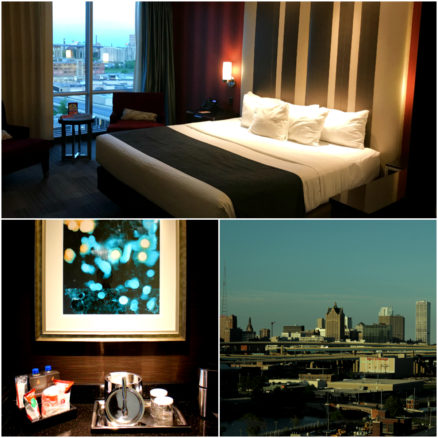 Milwaukee Recap
Consider adding a trip to Milwaukee when you visit Chicago. It is a short Amtrak train ride to the Windy City. Here are several great things to do in Chicago!
The above is just a taste of great things to do in Milwaukee. It does not even include everything I enjoyed on my first visit to the city. I also really liked the Milwaukee Public Market as there's a lot of delicious food and drink options under one roof. I also highly recommend cocktails at Bryant's Lounge, which dates to 1938 and is the oldest cocktail lounge in Milwaukee. I didn't make it to the Miller Brewery, but there's also a rich history there, as the company was founded in 1855. Have a favorite spot in Milwaukee? Share it in the comments below!
Disclosure: I was hosted by Visit Milwaukee and the Potawatomi Hotel and Casino during my stay in Milwaukee. But all photos, experiences and opinions published here are my own.