North Germany features an abundance of cultural, architectural and culinary highlights. 7 days in Hamburg, Lübeck and Travemünde offers a wonderful weeklong German getaway, especially during warmer months. Summer is the ideal season to visit a Baltic Sea beach, enjoy delicious fresh seafood on a picturesque restaurant terrace and marvel at unique Germanic architecture.
Home to around 2.5 million residents, Hamburg is Germany's second largest city. A staggering 2,500 bridges dot the metropolis, more than any other city in the world. Surprisingly, that's more bridges than Amsterdam, Venice and London combined! Cultural enthusiasts, foodies and party goers alike, will find plenty to do in and around bustling Hamburg.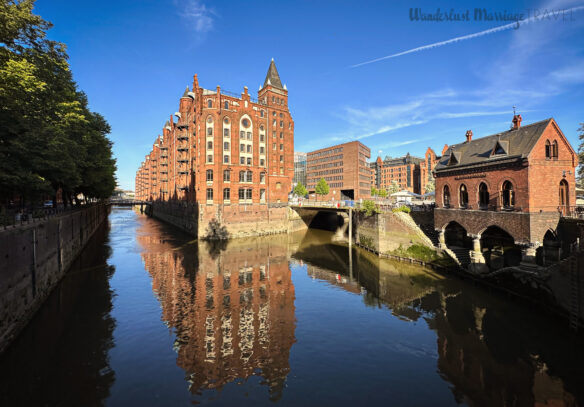 Lübeck, Germany is a beautiful UNESCO World Heritage Site completely surrounded by the Trave and Wakenitz rivers. It's located 42 miles (67 km) northeast of Hamburg, and 12 miles (19 km) from the Baltic Sea beach town of Travemünde. Lübeck is a 44 minute train ride from Hamburg Hauptbahnhof (Central Station), with frequent and comfortable train service every 30 minutes.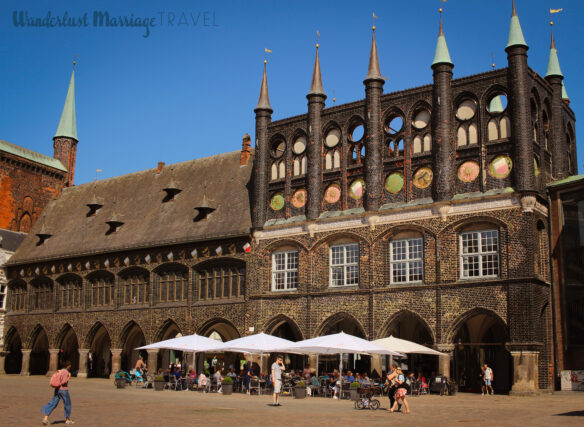 Travemünde's beaches are just 21km (13 miles) from Lübeck, Germany – which are well connected with efficient and comfortable train service. The resort town is lovely for lounging on the beach in summer and enjoying delicious fresh seafood. It's an idyllic Baltic Sea destination to work on a summer tan while chatting with company or reading a book.
Getting to Hamburg and Northern Germany
Hamburg Airport is one of Germany's largest. So if you're flying from outside Germany, that's the best gateway to northern Germany. Traveling within Europe, you can also arrive by train or car. Germany's train network and public transportation are efficient. So if you plan a trip to Hamburg, Lübeck and Travemünde, you don't need a rental car.
Hamburg Airport is smaller than Munich International Airport and Frankfurt Airport. So if you fly with Lufthansa or its subsidiary, Eurowings Discover, there's a good chance you'll be connecting in Munich or Frankfurt, Germany en route to Hamburg.
During my recent trip to the region, I flew Lufthansa from Lyon, France and had a short connection in Frankfurt. But from Hamburg to Paris, Euro Wings Discover offers a direct flight.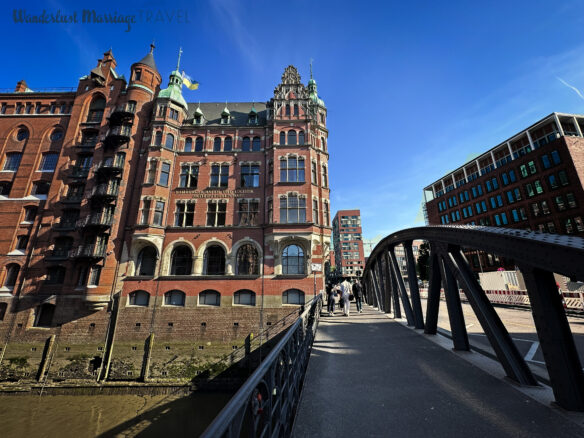 Like many European airports in summer, Hamburg Airport is busy. When I departed, the line to go through security was almost an hour wait. So allow for ample time, even when flying to another European Union destination with no immigration check-point. If you're flying to a non-EU destination allow even more time to depart European Union immigration. So plan to be at the airport at least 2.5 hours early for European flights and 3 hours early for non-EU flights during the summer.
Getting Around Northern Germany
Deutsche Bahn train service efficiently connects German towns, as well as neighboring European countries. Comfortable and modern trains from Hamburg to Lübeck depart every 30 minutes, with travel time taking around 44 minutes. Trains also quickly and conveniently connect Lübeck with Travemünde, and its Baltic Sea beaches.
Public transportation in Hamburg is excellent. Its efficient metro system connects the city well, and runs late, especially on weekends. The UNESCO historic center of Lübeck is very walkable and bike friendly, as is Travemünde.
Also for the sake of sustainability, I can't stress enough that you don't need a rental car for getting around cities and towns in Northern Germany. The vast majority of visitors have a far better experience exploring by foot and getting around by public transportation. An added bonus is that you'll save money on car rental fees and parking.
If you rent transportation in a German city or town, it's better to rent a bicycle or electric scooter. I personally love exploring beautiful European cities by bicycle. Bicycle paths are often wide, and bikes and electric scooters can be even faster to get around a city if there is heavy traffic.
You may want to consider renting a car for a day or two to explore the German countryside, but I don't recommend a rental car beyond that. It's also important to think about our impact on the planet, and doing our part to maintain cleaner air, water and soil for the present and future. Germany is a leader in making its cities sustainable for future generations, and it's one of the things I love about the country.
Hamburg, Germany: 3 Days
Hamburg has more bridges than any other city in the world. Its 2,500 bridges are surprisingly more than Amsterdam, Venice and London combined! Hamburg even has a small beach, though it's certainly not a beach destination. Given Hamburg's size, 3 days is an ideal length of time to see many of the cities highlights.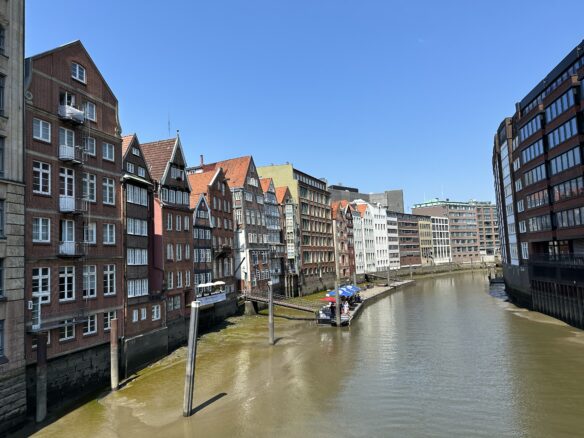 Hamburg HafenCity
Harborside HafenCity is one of several significant highlights of Hamburg. Trendy restaurants and cafes line the waterways, mingling with modern apartments. Elbphilharmonie Hamburg concert hall features cutting-edge acoustics and a striking facade. HafenCity is near the Port of Hamburg, one of the busiest in the world.
The red brick warehouses of the Speicherstadt complex date to 1883. Speicherstadt is the largest continuous warehouse district in the world and a UNESCO World Heritage Site. It's home to the Spice Museum, featuring traditional antique equipment, where spices can be touched, smelled and tasted. Miniatur Wunderland model railway, the world's largest model railway.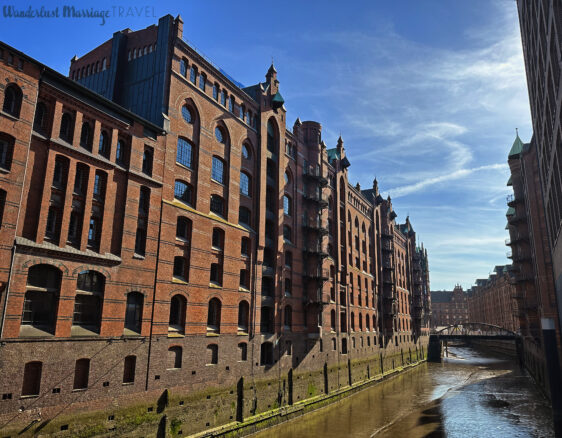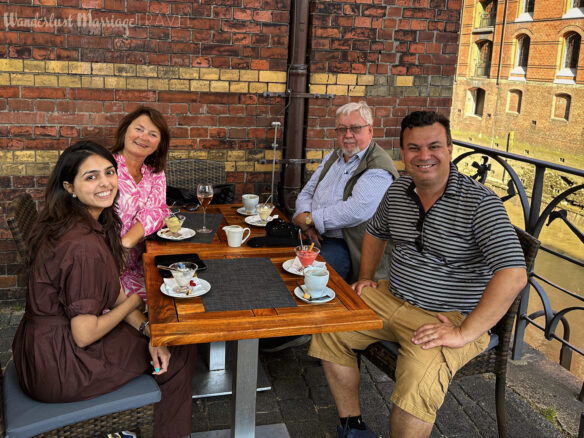 Dialogue in the Dark
For a unique experience, visit DIALOGHAUS in Hamburg's beautiful Speicherstadt. Small groups are led through pitch-black darkness by a visually-impaired guide. They assist guests through normal everyday activities like crossing a busy street, visiting a street market, navigating a kitchen and having dinner with friends.
In total darkness, everyday activities are a challenge for untrained visitors. As someone who is claustrophobic, I was extremely humbled by the experience. I became quiet and the guide often had to ask where I was, because it is through sound that visually impaired people navigate. The experience ends with a drink and snack in total darkness, chatting amongst the group. It's a unique and important experience because nobody knows what the future holds for ourselves, and we should all consider accessibility for others.
Hamburg Town Hall (Hamburger Rathaus)
Built in 1897, Hamburg's Town Hall is an exquisite example of Renaissance revival architecture. It is the seat of Hamburg's government, and houses one of 16 state parliaments in Germany. The town hall's courtyard is highlighted by a bronze statue of Hygeia standing atop a bronze basin, holding up a small shell. This is one of the many great photo opportunities in Hamburg!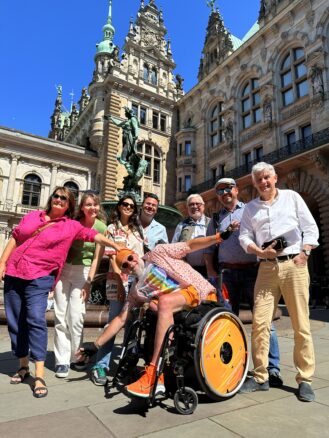 Great Hamburg Restaurants
Hamburg has a wonderful variety of restaurants to suit all tastes and varying budgets. There's a fantastic assortment of fine dining restaurants, including ones that focus on fresh local ingredients. Menus are diverse, ranging from great seafood, meat and vegetarian options.
There's also a great selection of casual restaurants, fast food dining and great bakeries and patisseries. German bakeries tend to be fantastic, with a great variety of fresh baked breads, rolls, croissants, sandwiches and more. And a warm freshly baked pretzel is ideal for a great snack on the go.
Here are a couple great restaurants in Hamburg that I personally enjoyed and recommend.
Goldbach Restaurant
Goldbach is a charming restaurant in the heart of Hamburg, along the Rathausmarkt. It's housed in the the oldest stock exchange in Germany, the historic building of the Hanseatic Stock Exchange. Its beautiful interior pays homage to the golden twenties. Gorgeous art is the perfect backdrop to enjoy a delicious meal with great company.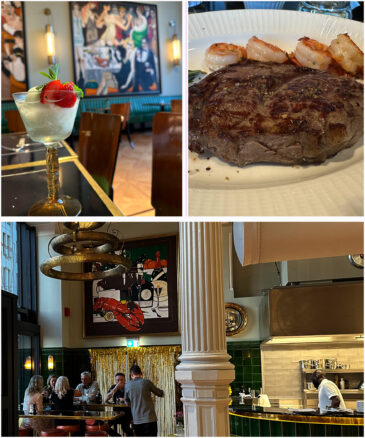 Hanseatic specialties fuse with surf n' turf choices at Goldbach. I enjoyed a delicious steak and shrimp dish, with a side of seasonal white asparagus. When visiting Germany during asparagus season, the large white asparagus is fantastic, and not typically found in many places in the USA. For dessert I enjoyed a refreshing and alcoholic "Coupe Colonel" – lemon sorbet served swimming in vodka. It's the perfect way to cap off a fun evening at Goldbach.
Strauchs Falco
Located next to the Maritime Museum in HafenCity, Strauchs Falco is a polished restaurant recommend by the Michelin Guide. They specialize in grilled meat & seafood dishes. Guests can enjoy their meal on their relaxed terrace, with a view of the HafenCity district, or inside their chic dining room, set to a tranquil ambiance. I especially enjoyed Strauchs Falco's steak tartare as a starter, before indulging in an ample sized fresh grilled whole sea bass.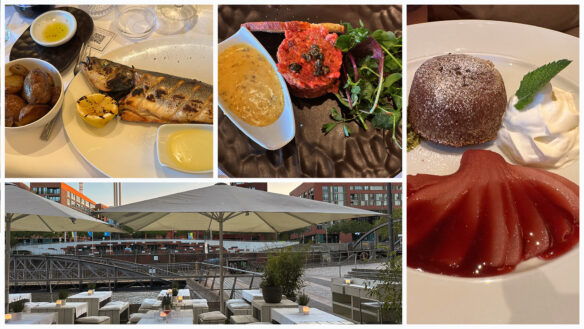 Explore Nature During a Day Trip Outside Hamburg: Heide Himmel Observation Tower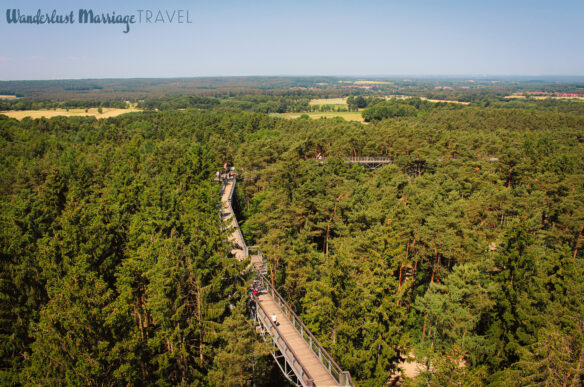 For a bird's eye view of a sweeping forest of pine trees, Heide Himmel Observation Tower is the place to visit. Located in the Lüneburg Heath Nature Park, the Heide Himmel treetop walkway sits adjacent to the wildlife park- which is fantastic for kids to pet animals. Heide Himmel is an ideal destination for fresh air in a tranquil setting, with interesting information on wildlife and conservation. It's a great place to include in a family itinerary of northern Germany.
Grillhus zum Hirsch'n
After a visit to Heide Himmel, plan for a delicious steak lunch at Grillhus zum Hirsch'n. On a warm summer day, it's ideal to eat on their terrace, in the peaceful German countryside, with a view of a thatched straw roof house across the street. The ribeye steak I ate there was fantastic, and it pairs wonderfully with perfectly roasted potatoes. Grillhus zum Hirsch'n is an ideal destination for hungry carnivores to sink their teeth into some steak tartare as well.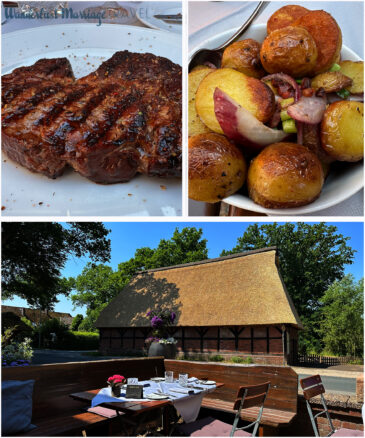 Reeperbahn
Reeperbahn is a haven for partygoers in Hamburg. Reeperbahn street and entertainment district is located in the city's St. Pauli district, which is packed with bars and clubs. It's one of Hamburg's main nightlife hubs and also the city's major red-light district.
The Reeperbahn Festival is among the largest club festivals in the world, which occurs over 4 days in late September each year. This year it's happening September 20th through September 23, 2023.
The Beatles were born and bred in Liverpool, England, but in their early days, they also played a significant amount of their shows in Hamburg's Reeperbahn. That helped put the band on the map outside Liverpool, launching a global music phenomenon.
For many more great recommendations for visiting Hamburg, check out the official Hamburg tourism website!
Lübeck, Germany: 2 Days
Home to around 216,000 inhabitants, Lübeck is reminiscent of a smaller version of Amsterdam or Hamburg. An abundance of charming and quirky guild houses line its waterways, making it a pleasure to explore, especially during warmer months.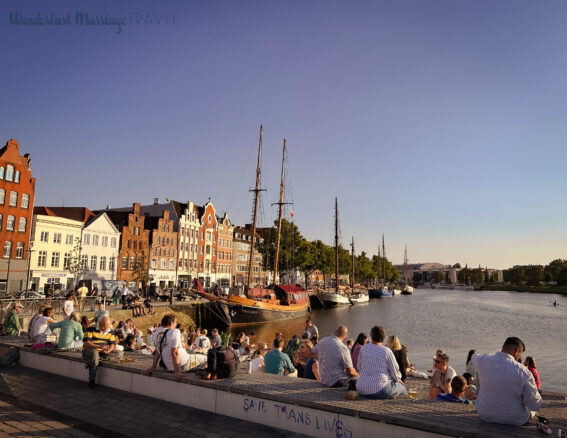 Founded in 1143, Lübeck, Germany (Luebeck) was nicknamed "the Queen of the Hanseatic League" during the 14th century. The Hanseatic League was a powerful trade network of Northern European towns predominantly located around the Baltic Sea. Impressive gothic brick architecture, like Marienkirche, towers into the sky. It offers an impressive backdrop up close or from a distance, along the Trave River.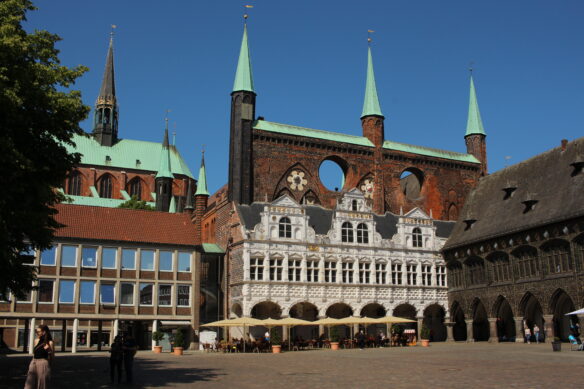 Indulge in Lübeck Marzipan
Visitors to Lübeck will quickly notice that marzipan reigns as the town's confectionary royalty. Traditional marzipan is simple and natural – made with crushed almonds, powdered sugar and typically rose water. In many of the town's patisseries, a wide variety of chocolate covered and flavored marzipan can also be found.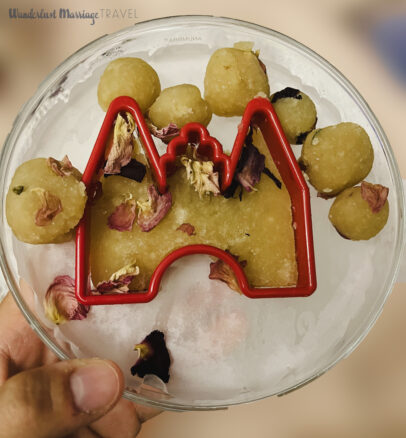 As the capital of the Hanseatic League, Lübeck was an important trading hub, which ensured a steady supply of almonds during periods when they were scarce. As a result, the marzipan produced in Lübeck during the 18th century became well known for high quality, thanks to a higher than average almond content.
Visitors to Lübeck can learn more at the Cafe Niederegger Marzipan Museum. It's located on the second floor, above a bustling marzipan shop, showcasing elaborate marzipan displays. Cafe Niederegger is also one of the best places in Lübeck to purchase a wide variety of marzipan, including gift boxes featuring an assortment of flavors like caramel and chocolate.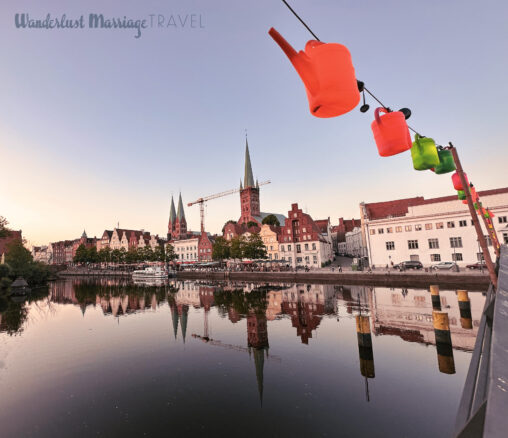 Lübeck Museums
Lübeck is home to 13 museums, further enriching the UNESCO World Heritage Site. They're dotted throughout the charming town. These are a few of the most popular Lübeck museums. Especially on a rainy day, it's a great idea to visit a museum to take a deeper dive into Lübeck's rich history.
Holstentor Museum
Built in 1464, The Holstentor is Lübeck's symbol. It proudly stands as a relic of the town's important mercantile past as head of the Hanseatic League. The Gothic red-brick city gate lines the historic center's outer canal. The popular Holstentor Museum features exhibits covering the history of Lübeck, dating to Medieval times.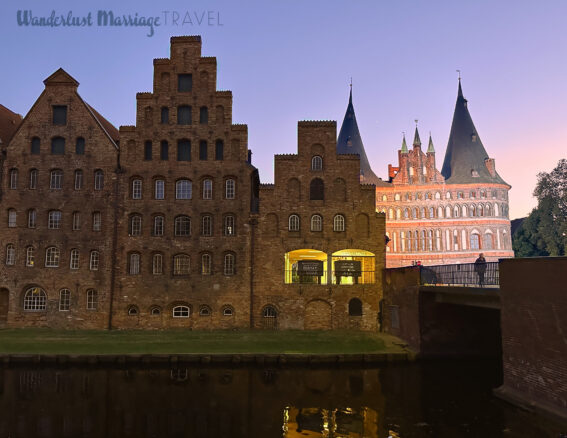 Museum Holstentor
Holstentorplatz23552 Lübeck
Phone +49 451 1224129
email: [email protected]
European Hansemuseum
The European Hansemuseum (Europäisches Hansemuseum) is a museum dedicated to the history of the Hanseatic League. It's the largest museum in the world covering the history of the Hanse. Staged historical scenes and cabinets with valuable original objects tell tales of a bygone era. Modern museum technology and interactive features enable the European Hansemuseum to express an informative and fascinating experience.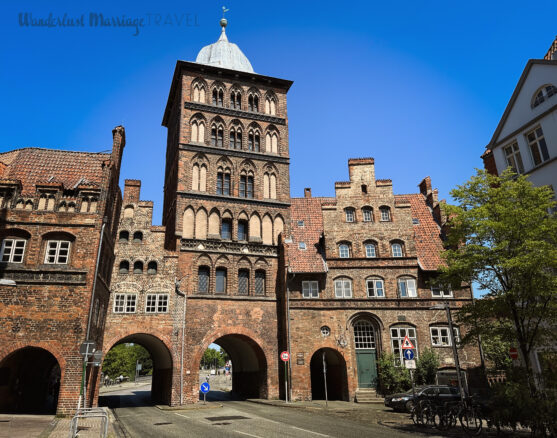 Kunsthalle St. Annen Museum
The Museum of Kunsthalle Saint Annen is housed within an old monastery that dates to the 15th century. It's a museum and gallery featuring medieval paintings and sculptures from Lübeck and its surrounding vicinity. Most of the high quality pieces have a religious theme and are intricately detailed.
Take a Lubeck Boat Tour
Lübeck is a wonderful town to stroll, but you may want to give your feet a break. Another wonderful way to experience Lübeck is to view its towering Gothic architecture from its waterways.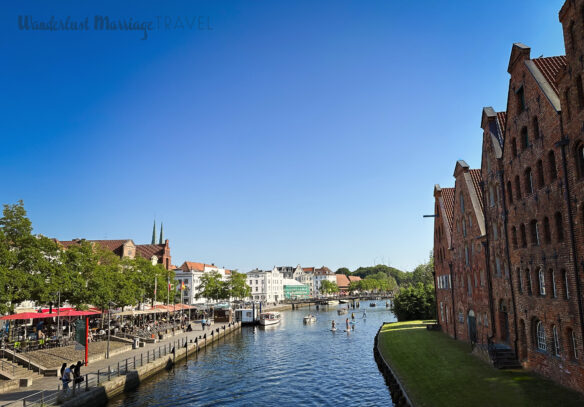 Visitors can view the historic town and the harbor area on a 1-hour Lübeck scenic boat ride. Admire the magnificent skyline of the Hanse city, while listing to informative commentary on its rich history from the ship's captain. Note that the commentary on this tour is only in German.
There are so many highlights of Lübeck, Germany, that I've previously covered in a dedicated article on the UNESCO World Heritage Site town.
For more great recommendations, check out the official Visit Lubeck tourism website!
Travemünde, Germany: 2 Days
Travemünde is a laid back Baltic Sea beach town, featuring elegant resorts. Its an idyllic spot for both lounging and an active getaway swimming, bicycling and hiking. Seafood restaurants and cafes line Travemünde Beach, the Trave River and the Bay of Lübeck. Its port connects the town with Scandinavian countries via ferry service.
Travemünde has been a seaside resort haven since 1802. Its history dates to the 12th century, when a fortress was commissioned by Henry the Lion, Duke of Saxony, to protect the mouth of the Trave River. Germany's largest Baltic Sea ferry port offers connections to Sweden, Finland, Latvia, Estonia and Russia (prior to the Ukraine War).
Travemünde offers a lovely beach getaway in summer. So if you want to relax on the beach and work on a tan, you can add additional days for a Baltic seaside getaway. Expect a healthy dose of sun, seawater and a cool breeze to freshen the day.
Passat
The historic Passat sailing ship, moored along Travemünde's harbour, is among the highlights of a stroll along the town's charming promenade. The Passat set sail in 1911 as one of the legendary "Flying P-Liners," navigating the world until 1957, including 39 circumnavigations of Cape Horn.
The Passat was purchased in 1959 by the Baltic Sea municipality of Lübeck. It now houses a museum, youth hostel, event venue and is one of Travemünde's notable landmarks. Visitors can take a guided tour of the 4-masted Passat.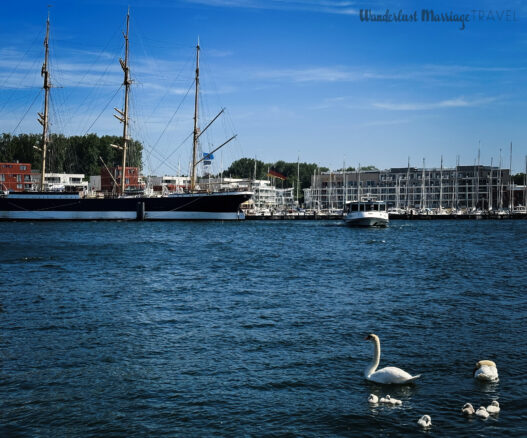 Address: Passathafen
23570 Lübeck – Travemünde
Germany
Operating hours: Monday – Sunday 11:00 – 17:00
Alter Leuchtturm
Alter Leuchtturm dates to 1539, making it the oldest lighthouse in Germany. After nearly 450 years of uninterrupted service, the Alter Leuchtturm in Travemünde was retired in 1972. The Maritim Strandhotel took over guiding ships, with a 115 meter light beacon atop its roof, making it one of the highest light beacons in the world. Travemünde's historic Alter Leuchtturm brick lighthouse now houses a maritime museum.
Address: Old Lighthouse
Am Leuchtenfeld 1
23570 Lübeck – Travemünde
Deutschland
Hours: Monday – Sunday 11:00 – 16:00.
Sandskulpturen Travemünde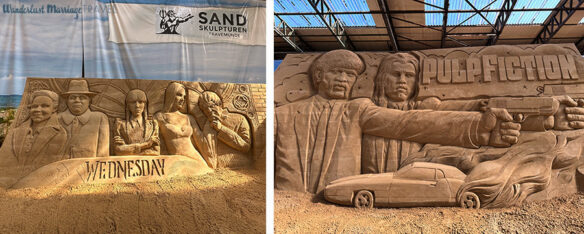 One of the highlights of a summer visit to Travemünde is the Sandskulpturen exhibition. Every year talented sculptors from around the world visit Travemünde to create impressive works. Recurring exhibitions feature large sand sculptures depicting figures from nature, history & mythology. For 2023, the theme of Sandskulpturen Travemünde is movies, and the exhibition wows visitors with the grandeur and intricacies of its movie depictions.
"A sculpture is the art of humps and cavities,
the art of depicting forms in the play of light and shadow." – Auguste Rodin
Sandskulpturen Travemünde Operating Hours
March 25 – November 04, 2023
Monday to Sunday 10.00 a.m. – 6.00 p.m.
Last entry 5.30 p.m
Sandskulpturen Travemünde tickets cost €11 for adults and €7.50 for children.
Enjoy Fresh Seafood in Travemünde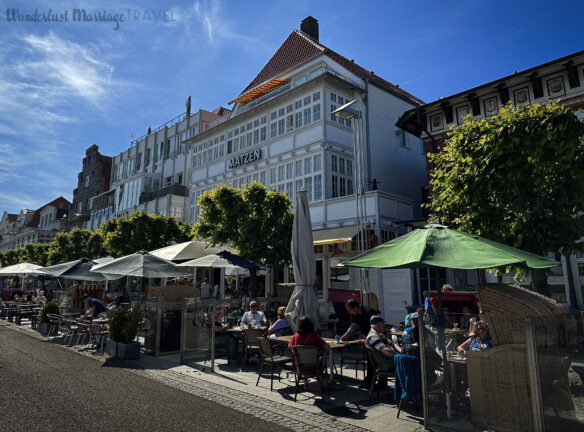 Nestled along the Baltic Sea, Travemünde is an excellent destination for fresh seafood. A variety of tasty and healthy options include salmon, haddock, cod and herring among others. The cuisine in northern Germany is quite different to regions like Bavaria, which tend to be more meat centric. Of course, visitors can still enjoy great meat dishes in Travemünde.
A fun restaurant to enjoy tasty seafood in Travemünde is Ahoi Steffen Henssler. A festive nautical decor surrounds patrons to the famous German chef's restaurant. Fish & chips, sushi bowls, burgers & schnitzel pair well with a delicious selection of German draft beers, wines and cocktails.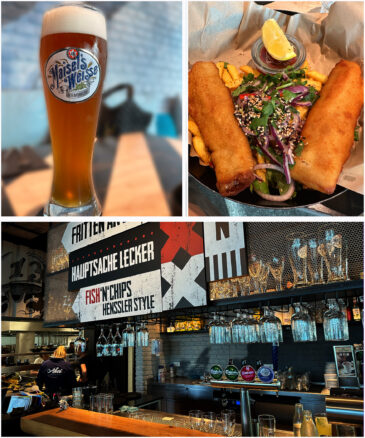 For more great recommendations, check out the official Travemünde tourism website!
Hamburg, Lübeck and Travemünd Recap
North Germany is an idyllic destination for a variety of travelers in summer. Culture and food enthusiasts will find an abundance of beauty and history in Lübeck. Hamburg has more bridges than any other city in the world, with world class museums, fantastic restaurants and bustling nightlife. Travelers can soak up beach life along the Baltic Sea in beautiful Travemünde.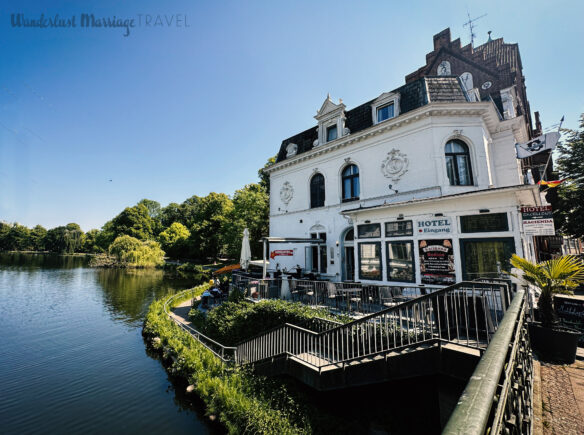 Have questions on traveling to North Germany? Leave a comment below, and I'll get back to you!
Disclosure: I visited Lübeck for Germany's 3rd annual brand and sustainable travel summit and had the opportunity to travel to Travemünde and Hamburg on a hosted media trip. I was an invited travel journalist of the German National Tourism Board. All opinions and photos are my own.