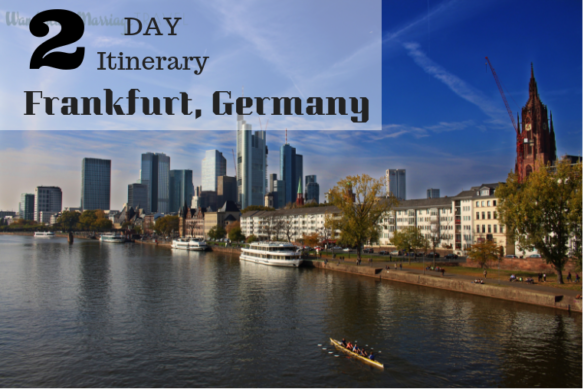 Frankfurt welcomes visitors with a great culinary scene, world class museums and an interesting contrast between centuries old traditions and its modern skyline. The city has world class public transportation, and a smart focus on sustainability. Frankfurt draws around 40 million visitors a year for conferences. Tourism is an emerging sector and 2 days in Frankfurt allows you to take in many of the sites.
Main Tower
There is no better place to get a great view of Frankfurt's skyline than the observatory on the 55th floor of the
Main Tower
, Frankfurt's highest vantage point. The observation deck is well suited to take great selfies of Frankfurt's impressive skyline as there is a deck below, so there's no need for a big fence to obstruct your view. Visitors get wonderful views of Romerberg (Frankfurt's historic center), the skyline, Main River, Frankfurt Hauptbahnhof and more.
Typically I would advise people to visit an observation deck just before sunset to take in the scenery as daylight transitions to night. But be advised that if you want to do this expect to wait so allow an hour to be on the safe side. If you don't want to potentially wait in line, visit when Main Tower opens at 10 am. You can also enjoy lunch, dinner or cocktails at
Main Tower Restaurant and Lounge
, a great date idea. It is excellent value to visit Main Tower too!
Admission Prices for Main Tower
Admission Prices
| | |
| --- | --- |
| Adults: | EUR 9,00 |
| Concessions: | EUR 6,00* |
| Family ticket: | EUR 20,00 (2 adults, up to 3 children aged 6 to 12 years) EUR 2,00 (for each additional child) |
| Group ticket: | EUR 6,00 per person (from groups of 30) |
| School pupils: | EUR 5,00 per person (from groups of 30) |
*
Reduced price concession tickets can be purchased directly at Main Tower ticket counter. The concessionary price applies to school pupils, students, senior citizens and persons with severe disabilities. Be sure to bring a valid ID for reduced price tickets.
Frankfurt River Cruise Along the Main River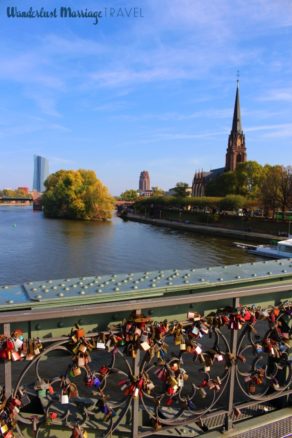 Another great way to enjoy 2 days in Frankfurt is embarking on a river cruise down the Main River. Boats depart from multiple docks near Eisener Steg (Iron Bridge) regularly, with options of 50, 60 and
100-minute cruises
. The 100-minute cruise is just $16.35 USD. Especially when the weather is good, a river cruise is picturesque and relaxing to enjoy Frankfurt. Gab a drink at the bar and sit on the ship's outdoor deck. If you go towards Gerbermühle, you have the option to get off the boat and spend an hour there. In summer you might want to purchase tickets in advance to be on the safe side, but I just rocked up 15 minutes before a 1pm cruise departed and bought my ticket.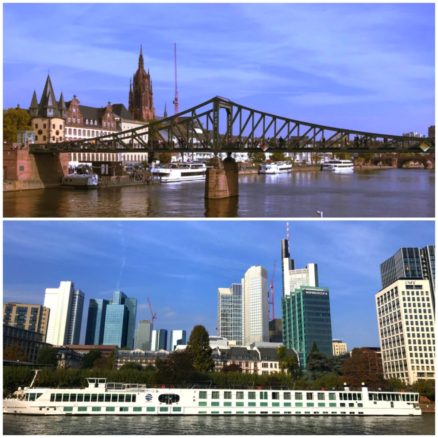 A great idea for romantic night is a Frankfurt dinner cruise on the River Main. Soak up the city's striking skyline over a 4-course dinner that features seasonal ingredients. Enjoy a live performance from the Riversight Dinner Duo as you cruise. The Frankfurt dinner cruise costs from $85.49 USD per person.
Römerberg
Römerberg
is the historic center of Frankfurt that was re-built in 1986, as much of the center of Frankfurt was destroyed during World War II. A highlight of Römerberg is the traditional half-timbered architectural style. Recently, the second part of the historic city center was rebuilt, with 15 out of 28 houses built as original reconstructions.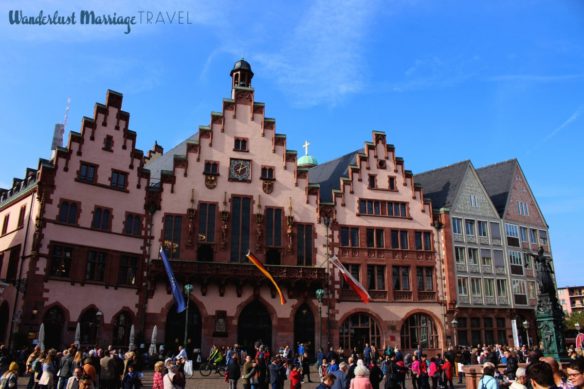 Romerberg is a great place to have lunch, dinner, or a drink outside when the weather is good. If all the outside tables are full, another popular place in the area with a nice view from the terrace is
Paulaner Dom
, next to Frankfurter Dom. It's a must when spending 2 days in Frankfurt.
Sachsenhausen
Sachsenhausen is a historic neighborhood just across the Main River from Romerberg. This neighborhood wasn't bombed as heavily during the war and features many buildings that have been around for centuries. Sachsenhausen is also where some of Frankfurt's hippest bars and most traditional restaurants are located. Walk across the Eisener Steg (Iron Bridge) around sunset for dramatic views of the sun setting over Frankfurt.
Enjoy Apple Wine (Apfelwein) and Green Sauce (Grüne Soße) in a Traditional Restaurant
Apple wine has been a popular drink in Frankfurt for over 250 years. If you have a small group, consider ordering apple wine the traditional way, from a bembel. A traditional bembel is a large ceramic jug decorated in blue and white colors.
Daheim Lorsbacher Thal
in the Sachsenhausen neighborhood is an excellent place to enjoy apfelwein and delicious food. They serve over 200 varieties of apple wine. You can also choose a sample menu that pairs four traditional small dishes with four small apple wines.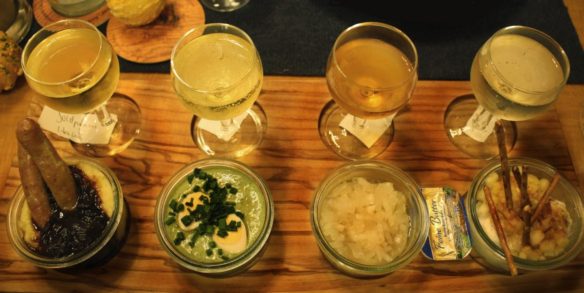 Frankfurt's Traditional Green Sauce
Frankfurt's Grüne Soße (green sauce) is a typical local dish not found elsewhere in Germany. It's a tasty vitamin rich probiotic blend of 7 herbs mixed with sour cream, vinegar, mustard, salt and topped with hard boiled eggs and chives. It's typically served cold and sometimes even paired with schnitzel on Frankfurt menus.
Kleinemarkethalle
The
Kleinemarkethalle
is a great place to grab a quick lunch or snack. This historic indoor market is the place to go for fresh produce, nuts, spices, meats and more. Also popular at the Kleinemarkethalle are Frankfurters, sausages traditionally made with pork meat and enjoyed in Frankfurt since the 13th century. Consider joining the queue at
Metzgerei Schreiber
, an iconic sausage stall that hasn't changed the way they operate since 1954. But avoid going during lunch hours as the line is very long. My guide Jens informed me that the sausages from the quieter stall just across are equally good. So if the line looks longer than 10-15 minutes at Metzgerei Schreiber, go elsewhere if you want a quick takeaway sausage, especially if you just have 2 days in Frankfurt.
Frankfurt Cathedral (Frankfurter Dom)
Many emperors and kings were once crowned inside Frankfurt Cathedral. Buried in the vast chapels and cloisters are many royals and members of important families of the Middle Ages. Like much of Frankfurt, Frankfurt Cathedral was re-built following World War II.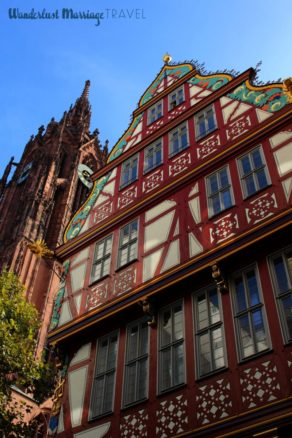 Frankfurt Museums
Frankfurt is packed with great museums, and the choice of which ones you should visit comes down to personal preference. Most people should pick one or two museums to visit on a 2-day visit to Frankfurt. Here are several of the most famous to choose from.
Goethe House
The
Goethe House
 is one of the most popular museums in Frankfurt. The museum is the re-built house where famous writer Johann Wolfgang Goethe was born in 1749. This is a great place to visit for those interested in literary history, art and antiques.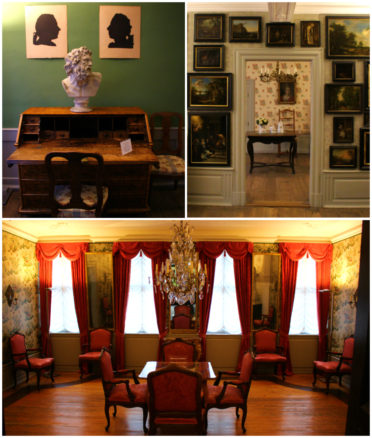 Städel Museum
The
Städel Museum
is one of the oldest and most significant museums in Germany. The Städel's collections include masterpieces spanning several centuries of art.
Historisches Museum
The newly re-opened 
Historisches Museum
 is right on the doorstep of Römerberg. If you want to learn about the history of Frankfurt in an interactive way, this is the place to go.
Liebieghaus Skulpturensammlung
The
Liebieghaus Skulpturensammlung
 (sculpture collection) features a picturesque garden in Frankfurt's Museum Embankment. The museum offers a unique overview of the evolution of sculpture, with masterpieces representing 5,000 years of works.
MMK Museum of Modern Art (für Moderne Kunst)
The
MMK Museum
of Modern Art houses one of Europe's leading modern art collections in an impressive example of post-modern architecture. The collection includes fantastic works of European and American art from the 1960s to current pieces of international contemporary art.
German Film Museum (Deutsches Filmmuseum)
The
German Film Museum
is among seven film museums in Germany. Interesting exhibits, historical equipment, interactive stations and large film projections invite you to experience the fascination of film.
Frankfurt Opera
The "Old Opera" dates back to 1880. The building was destroyed during bombings on March 23rd, 1944. It reopened after extensive reconstruction on August 28th, 1981.
Alte Oper
is a great place to enjoy a concert so check the schedule on their website. There's great fine dining with outdoor terraces next to the Opera House as well. It's worth at least strolling by to admire the architecture.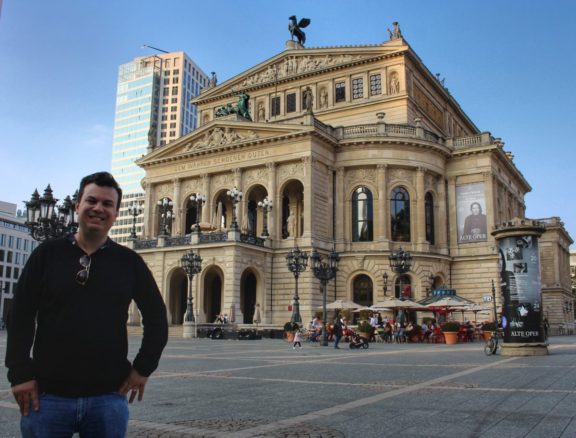 Where to Stay For Your 2 Days in Frankfurt
I stayed at
25hours Hotel the Trip
. Each floor of 25hours Hotel The Trip is themed with adventurous journeys and legendary expeditions. This stylish hotel is packed with modern amenities and a comfortable bed. You can make use of a fashionable day bag hanging in the room to carry belongings around town. Amenities include a rooftop igloo sauna, cinema, reading room and a psychedelic meeting room. Rooms start at around $95 per night. They also have multiple suites, including the 61 sq meter Macchu Picchu Suite with a kitchenette.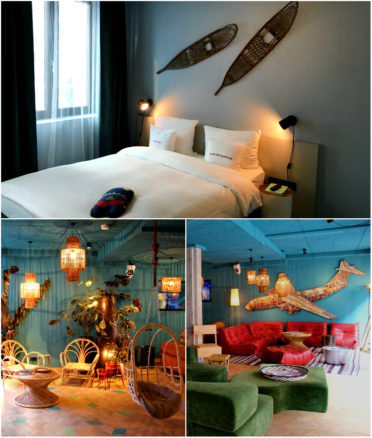 Buffet breakfasts at the adjoining restaurant, Bar Shuka, where "Israel meets Palestine" are one of the best I've come across. Items like freshly carved prosciutto and parma ham, smoked salmon, artisan breads and shakshuka (eggs poached in tomatoes, chili peppers and garlic, spiced with cumin, paprika, cayenne pepper and nutmeg) are among the highlights. There's also a press to make fresh squeezed orange juice, along with fresh mint and spices. Breakfasts are definitely worthwhile, as it's superior to some luxury hotels I've stayed in.
Luxury Hotels in Frankfurt
Jumeriah Frankfurt
For a luxury stay, the
Jumeriah Frankfurt
is an excellent choice. The spacious rooms and suites at Jumeirah Frankfurt offer fantastic views of Frankfurt's skyline and the Taunus hills. All rooms feature a 42-inch TV, Nespresso coffee machine, efficient climate control system and a large painting by the contemporary artist Hartwig Ebersbach. Tropical rain showers and 2 saunas can be found in the Jumeirah's spa area The Römer Square is 2,300 feet away. Hauptwache Underground and S-Bahn Train Station is only 350 feet from the Frankfurt Jumeirah Hotel.
Steigenberger Hotel Metropolitan
The 4-star
Steigenberger Hotel Metropolitan
offers spacious rooms with iPod station, a stylish health club, and free WiFi. Rooms also include a flat-screen TV with satellite channels, mini-bar, and a granite décor bathroom. The hotel is next to Frankfurt Central Station, a 10-minute walk from the Frankfurt Messe Exhibition Center. The Metropolitan Health Club features a sauna, steam room, and gym. A range of massages can also be booked here. The Steigenberger's Brasserie M restaurant offers an international menu.
Frankfurt Tips: The Frankfurt Card
Consider buying a Frankfurt card to easily jump on and off Frankfurt's excellent public transportation system. The Frankfurt Card allows you to use the city's public transport system free of charge and also offers discounts on admission to museums, sightseeing tours and many other attractions. A free glass of apple wine is included too! Frankfurt Cards are available as single or group tickets and are available at tourist information offices, located at Main Train Station and Römerberg. 1 day individual Frankfurt card: €11 2 day individual Frankfurt card: €16 1 day group ticket (up to 5 people): €23 2 day group ticket (up to 5 people): €33 All the specifics of the Frank Card can be found on the
Frankfurt tourism website
.
Private Frankfurt Tours
I received a private tour from local guide Jens-Peter Meyer at
City Tours Frankfurt
. Jens has a background in political science and frequently gives tours to media and business professionals. The website is only in German, but he offers private tours in English and French as well. My private tour covered Frankfurt's business district, the financial district, Romerberg and Sachsenhausen. A private tour offers an opportunity to tailor and maximize 2 days in Frankfurt!
Day Trips from Frankfurt
There is a lot to experience near Frankfurt, including visiting the nearby spa town of
Bad Vilbel
. I did not visit Bad Vilbel and instead visited Mainz, which is just over 30 minutes by train from Frankfurt. Mainz is the capital and largest city in Rhineland-Palatinate. Johannes Gutenberg, the founder of the printing press, ran his business from Mainz, which is also where he was born. I visited the
Gutenberg Museum
and enjoyed the centuries old rare books and printing presses. Among the highlights are two first edition Gutenberg printing press bibles. Mainz also has an impressive and historic old town, as archbishops became chancellors and electors of the Holy Roman Empire there in the 14th century.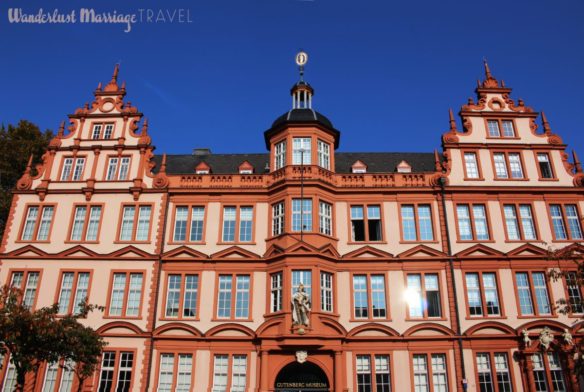 I also spent a couple days in Heidelberg, one of Germany's most beautiful cities. It's especially picturesque with the autumn foliage. Heidelberg is just an hour south of Frankfurt by train. It's a university town, with a fun bar scene to pair with the charming surroundings.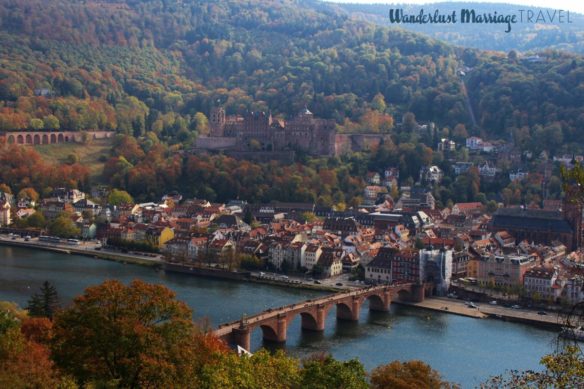 You can also book a
half day Heidelberg tour from Frankfurt
. Travel in an air conditioned coach from Frankfurt to Heidelberg. The tour covers Heidelberg Castle and the beautiful Renaissance architecture in the Old Town. You will see the Karl Theodor Bridge, Church of the Holy Spirit and the world's largest wine barrel. The tour costs $119.97 per person.
Disclosure: I was hosted by the Frankfurt Tourism office and 25 Hours Hotel the Trip for the Frankfurt portion of my trip, but all photos and opinions expressed here are my own. Also, this article contains some affiliate links.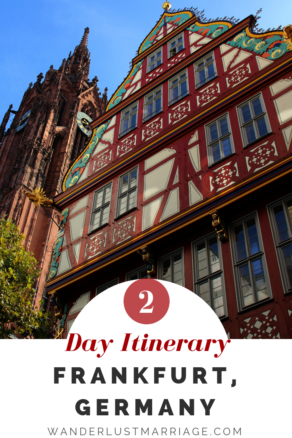 About the Writer and this Website
Alex Kallimanis is a UCF graduate who grew up in the Orlando, Florida area before living in destinations like Australia, the Netherlands and Ireland. As a travel journalist and travel consultant, I enjoy assisting readers with getting amazing experiences and value from their trips. I've visited 58 countries and counting. I'm also a Greek citizen that has made 10+ trips to Greece. My wife of nearly 17 years, Bell, is an Australian scientist working in cancer research. We first met in a hostel in Brugge, Belgium while backpacking Europe solo after college. You can read more on that story in our
about
page if you're interested. Browse some of the other destinations we've covered for helpful tips elsewhere. I also share advice in our
resources
page that could save you thousands on travel costs through travel hacks!