We spent six years of our lives divided between Amsterdam and Dublin and were afforded the opportunity to travel around Europe extensively. Bell calls me a "hopeless maximizer" because I have a hard time overpaying for things and strive for the optimum experience for our money. This means we often don't take international trips during major holidays or during peak travel periods. We've had many amazing experiences around the continent. So here's some tips on maximizing travels in Europe. This advice is especially helpful for mid-range travelers who occasionally like to splurge!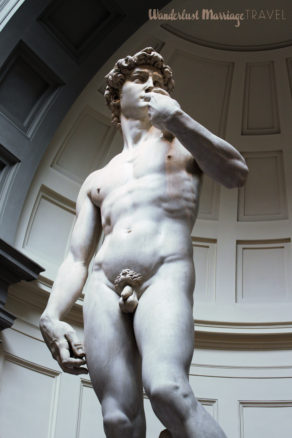 1) Consider Europe Travels Outside Summer
Before we lived in Europe, we never traveled to Europe in summer. Not only is it generally the most expensive time to visit in terms of airfare and hotels, it's also the most crowded period. And air conditioning is often non-existant or doesn't work well. We once spent a week in the Bordeaux region of France in July for business and leisure ("bleisure" as some marketing people have coined it).
We stayed at an Ibis hotel that had the wonderful amenity of barely functional air conditioning in all rooms (still better than no air conditioning in summer). It was also too swelteringly hot to rent bicycles in the beautiful wine town of Saint Emilion or visit some of the biggest sand dunes in the world in Archachon. While we still had a great time, it would have been cheaper and definitely more enjoyable to visit Bordeaux in May or September.
If you visit western Europe in August, Brussels is awesome for value travelers because the European Parliament is on vacation so quality hotels are much cheaper than they otherwise would be. It's also generally not too hot there.
2) Know Which Cities to Visit on Weekends
Brussels is a great city to visit on weekends because it's busier during the week with business travelers and government officials. Brussels' Grand Place is one of the grandest squares in Europe and the city offers some of the best food and drink on the continent. If you visit you'll generally maximize your money staying Friday and Saturday night in Brussels. An excellent travel itinerary is Paris, Brussels and Amsterdam via train- spending some weekdays in Paris, the weekend in Brussels and subsequent weekdays in Amsterdam. Paris and Amsterdam draw more tourists than Brussels and are generally more expensive on weekends.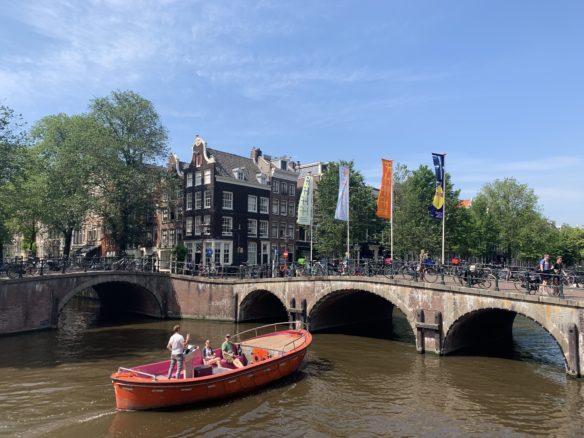 3) Avoid Restaurants in Touristy Areas
If you visit Barcelona, don't eat on La Ramblas, unless you enjoy overpriced microwave meals. If you see "tourist menu" anywhere (which is actually very popular in Amsterdam) head in the other direction. Do a little research on restaurant recommendations because there are usually some exceptions to this rule. The only thing worse than a lousy meal is overpaying for it. When reading reviews on TripAdvisor or Yelp, asides from paying closest attention to the most recent reviews, you should also look at the worst review. Is the problem with the restaurant or is the reviewer just a jerk?
If you didn't do your research, avoid the restaurant with hoards of other tourists, and instead find a restaurant busy with locals. If they don't have an English menu you may have hit the jackpot. Don't be intimidated, there's a good chance your server will speak English anyway and if they don't, they'll find someone else who does. And definitely avoid stalls that look like this…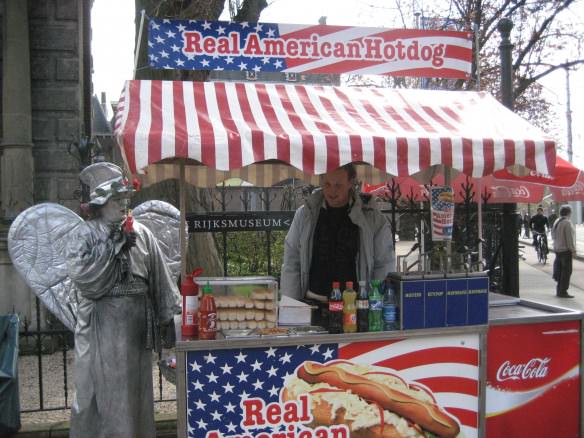 4) European Capitals that Offer Best Value for Money
Madrid, Berlin and Lisbon offer better value for your money than London, Paris or Amsterdam because hotel rooms, restaurants and drinks are generally significantly cheaper in the former over the latter. While Germany has Europe's most robust economy, Munich is generally more expensive than Berlin, which is a huge city with lots of affordable mid range hotel rooms. Scandinavia is generally very expensive for mid range travelers, especially if you enjoy having some drinks out because taxes on alcohol in those countries are extremely high. Oslo is especially expensive for just about everything because the Norwegian kroner is so strong.
In Southern Europe, your money will go much further in Athens over Rome because hotel rooms are significantly cheaper. Read our article on why
Athens is still one of Europe's greatest cities to visit
. This is especially true for bang for buck and hospitable people.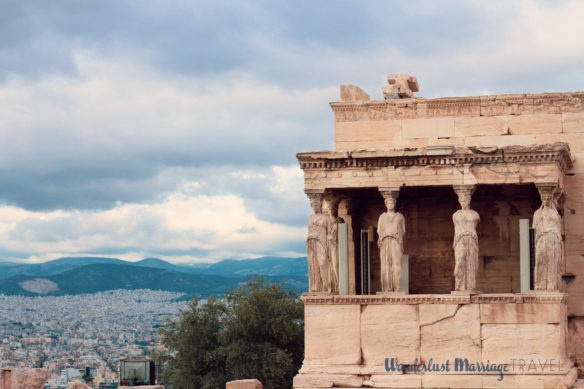 5) Visit Eastern Europe
Prague and Budapest are especially popular and offer good value compared to western Europe. We also  experienced wonderful value travel in picturesque towns like Krakow, Riga, Vilnius, Wroclaw and elsewhere in the region. During a 10 day trip in Lithuania and Latvia we traveled between Vilnius and Riga via a super comfortable bus company called Lux Express. The bus featured air conditioning, free wifi, clean toilet and a huge multi option COFFEE MACHINE! We've been on a lot of buses around the world and we've never seen this anywhere else, certainly not in the US, where the coffee machine would be a law suit waiting to happen.
Lux Express also connects the Baltic countries with Saint Petersburg, Russia, which would be an amazing trip, but you need to to organize a visa well in advance to visit Russia. There's no visa cost to visit Latvia, a former Soviet Republic with a lot of Russian influence and Russian speaking populace. Visit Latvia if you don't want to pay over $100 for the Russian visa and deal with bureaucratic paperwork to visit Russia.
In Krakow, Poland you can have a nice meal and a beer in one of the most beautiful squares in Europe for the equivalent of around $10. Normally we don't recommend eating in touristy squares, but Krakow is an exception!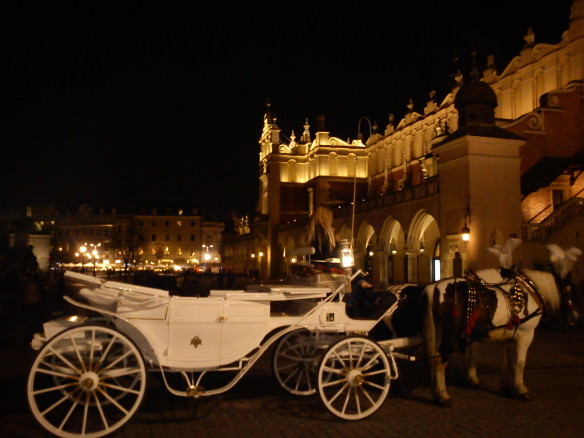 6) Consider Renting Apartments over Hotels
Families and groups of friends especially will often find the best value booking short term apartment rentals over hotels. You can rent private apartments, houses or just a room. And you can use websites like booking, in addition to apartment rental sites. Book listings with consistently great reviews for the best experience!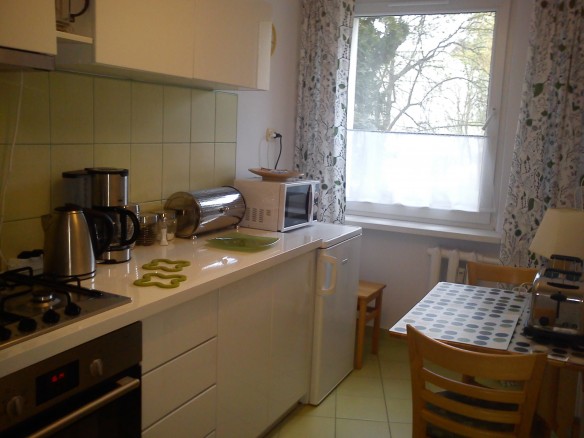 7) Know When to Fly Over Taking the Train, Bus or Ferry
Discount carriers like Ryanair, Easyjet, Norwegian and many others have been all the rage for years now. Book in advance and you can sometimes fly somewhere for €10 ($11 USD)! Last year, on a 'bleisure' trip from Dublin to Manchester, England we were able to score €10 plane tickets each way and then split a checked bag and maximized the free carry on allowance. A ferry across the Irish Sea and a subsequent train would have not only have been far more time consuming, but also more costly.
On a side-note, if you're flying into one of the out of the way London airports on a discount carrier, like Stansted or Luton Airport, buy your train tickets connecting the city center online rather than at the train station. You can save around £12 ($19 US) per person each way!
Train prices vary depending on amenities. We frequently caught trains between Amsterdam and Belgium, but instead of using Thalys, which is much more expensive, we bought tickets on the international NS trains. The savings is substantial if you're not travelling for business. If you're in a European train station and didn't research ahead, sometimes the agent will try and sell you the most expensive train ticket. Ask about cheaper options, if they say they're English isn't good, ask to speak with another representative. Also, if you're in a loud crowded car on a train, find the dining car if there is one, as sometimes you can get a first class experience for the price of a second class ticket just for buying a beer! How nice does the below photo look? This is the dining car on a DB Bahn train from Cologne to Amsterdam.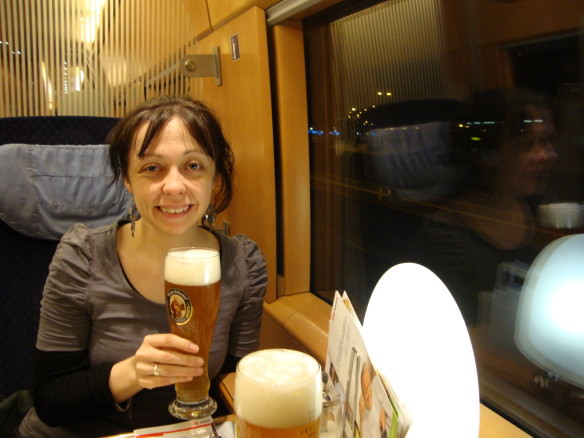 8) Tips for Saving on Plane Tickets
Skyscanner is one of our favorite websites for booking plane tickets. You should always check multiple sites on specific routes but one of the things we love about sky scanner is that you can set your destination to "everywhere" on specific dates and see what cities come up cheapest. If you're not fussed about where you're going this is awesome and we once enjoyed a great 10 day vacation in Lithuania and Latvia because we found very cheap plane tickets on Wizz Air using this exact method. Lithuania and Latvia also offer excellent value on food and accommodation so the whole vacation was exactly what we were looking for- excellent bang for buck!
Momondo and is another site we really like for pulling up the cheapest airfares because they scour a lot of other booking sites and they're almost always cheaper than Expedia (compare yourself). During off peak travel times, 6-10 weeks in advance is generally when you'll find the best deals on plane tickets. But if you're travelling to Europe in summer, plan to book further in advance because airlines will not be desperate to unload seats in the last couple months before departing!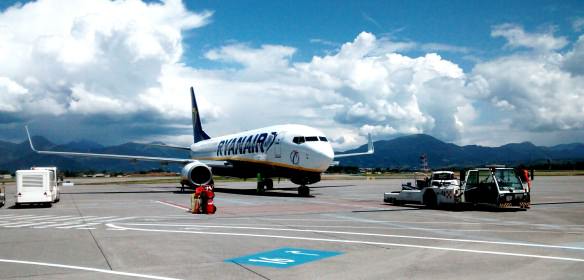 9) Saving on Hotel Bookings
Always check multiple hotel booking sites because different sites have different deals at different times! It's also worth checking directly on a hotel's website (if they have one), or call or email them, because they may have some rooms that they aren't listing online. If you email or call you can try and negotiate a rate directly with them since they don't have to pay the commission to major hotel booking sites like Expedia, Booking.com and Hotels.com.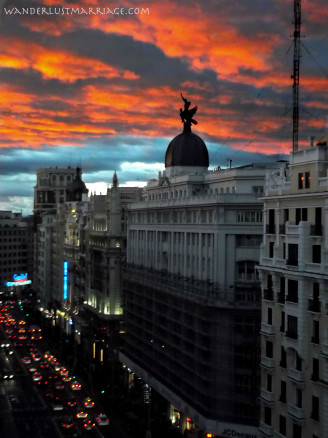 10) Make Your Europe Travels Slower
It's tempting to go everywhere, and once you start traveling you'll probably want to, but the more you move around the more it will cost you. Asides from transportation costs adding up, you'll also cost yourself time and the ability to gain a deeper understanding of the cities and cultures you're experiencing. We usually find it takes a minimum of 3 days to begin to start getting a good feel for a city.
Sometimes we don't even like a city on the first day we visit because we're busy trying to navigate the metro and figure out what the hell is going on. This happened to us in Milan, outside the beautiful Duomo we though the city was just OK, partly because a huge storm came through and while we found a restaurant that was busy with locals- for some reason we were still served a meal that tasted like microwaved frozen food.
On our second day in Milan, we began to appreciate it more because we understood the metro and had experienced more great sites, nicer weather (and non-microwaved meals). And on the third day, it was unfortunately time to leave, before we were able to fully appreciate it.
Traveling slower isn't just about saving money, it's about savoring the experience. So when planning your travels, it's important to consider how much time you want to waste in airports and acclimating to new cities if you truly want to maximize your travels.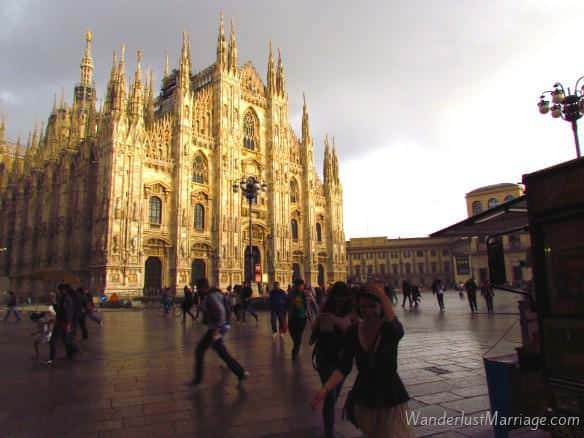 11) Travel Light to Maximize Your Europe Travels
Pack your essentials in an economic way. If you over pack you'll wind up spending more money on checked luggage on discount carriers because they often have different prices depending on weight. Ryanair and some of the other major discount airlines have checked baggage prices starting at 15kg (33 lbs) and increase in 5kg increments. You're allowed to bring 10 kg in a carry on bag free, plus a personal item.
Try not to travel with more than the allowable weight because you'll not only pay more, but you'll also be bogged down lugging around too many things. That makes it more difficult to utilize subways, trains and other forms of transport. Plus, you may want to leave some space to pick up a few great mementos, gifts and treats to remember, savor and share your travels with friends and family later. Being a travel maximizer, means less equals more!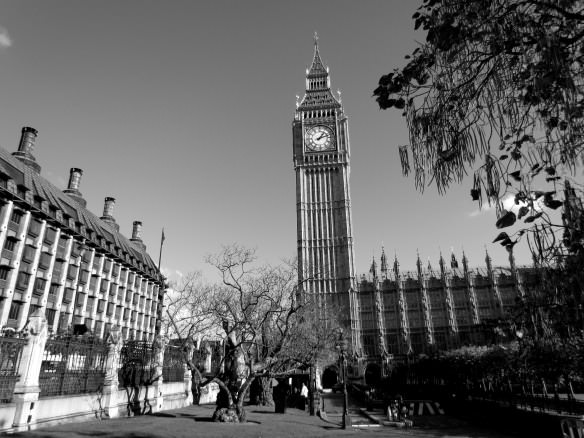 12) Free to low cost are some of the BEST Aspects of Europe Travels
We're always baffled by the queue of people lined up to pay over $20 for admission into Madame Tussaud's wax museum in (insert every city here). If you're in London, there's literally a treasure trove of incredible free museums. You can see the Rosetta Stone, tons of masterpieces from the Renaissance, ancient Egypt, Greece, huge T-Rex fossils and so much more all for free! There's always some great free or low cost things to do in a city, find out what they are, rather than just walking into a tourist trap because you're bored. Let's all strive to do better with our Europe travels.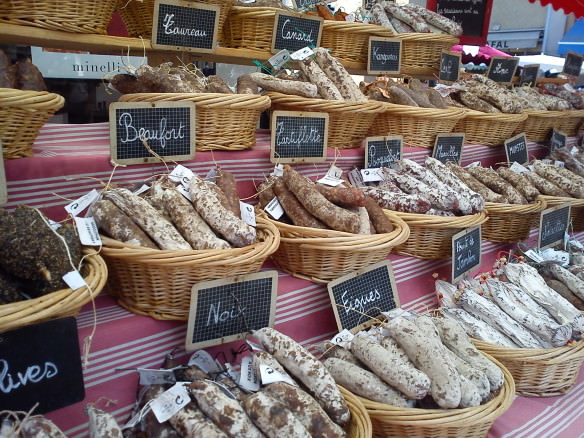 And while lunches and dinners in countries like France, Italy, Spain and Greece can be great, some of your best meals can be picnics in beautiful parks and squares. Grocery shopping in France is incredible- the selection of quality cheeses, sausages, baguettes and delicious wines make for a wonderful meal paired with great company. And you can legally drink in the gorgeous piazzas of Rome and Florence, so why spend your money dining and drinking in restaurants and pubs for every single meal?
Cost to view this priceless sunset over Athens? Free! So eat your heart out Mastercard…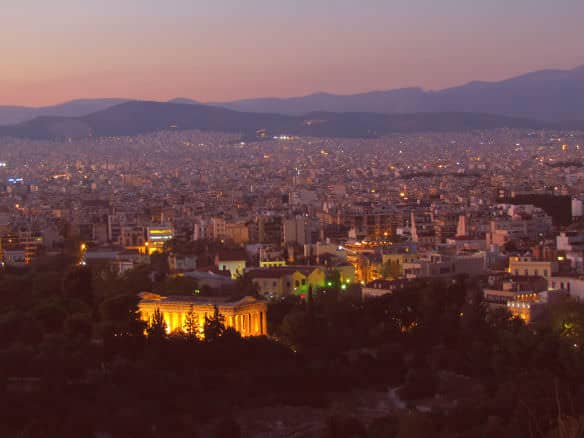 Have additional tips and thoughts to share on this subject? We know you do! So please leave them in the comments!