Legendary myths and history collide at the oldest advanced civilization in the western world. The Palace of Knossos, just outside the largest city on Greece's biggest island, Heraklion, Crete is both unique and controversial. Originally discovered by the Cretan merchant Minos Kalokairinos in 1877, English aristocrat Sir. Arthur Evans' team did the majority of excavations beginning in 1900. With minimal archaeological training, many colorful pillars and frescoes at Knosos have been re-painted the way Sir. Evans believed they looked almost 4,000 years ago. While this doesn't sit well with some scholars, it's more aesthetically pleasing than staring at piles of rubble, like Troy, in modern day Turkey.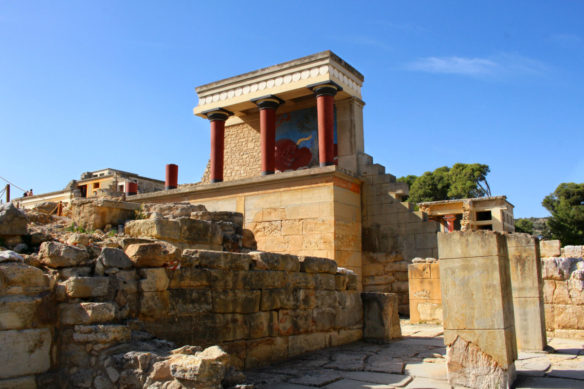 Minoan Civilization
The Palace of Knossos was home to King Minos, of the Minoan civilization. The second palace dates back to around 1,700 BCE and it remains a mystery as to how the Minoans were wiped out. The most commonly held beliefs are that the civilization was either destroyed by fire or tsunami, from a major earthquake that erupted on the nearby island of Santorini.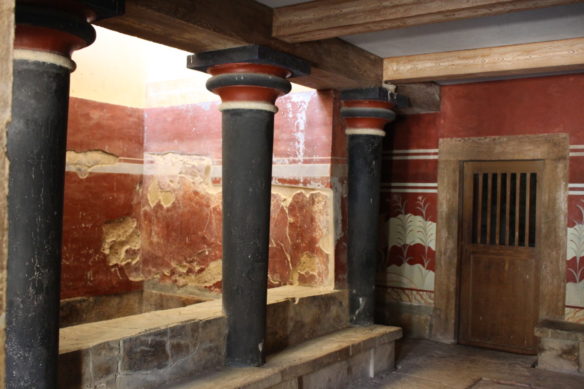 Legend of the Minotaur at the Palace of Knossos
The Palace of Knossos is associated with the legendary Greek myth of the minotaur, who was half man and half bull. According to legend, King Minos forced Athens to send seven Athenian youths and maidens every nine years. In return for sacrificing these people to the minotaur, Athens was spared of further sanctions. This went on until Theseus, son of Aegean (the ruler of Attica), was able to successfully slay the minotaur and escape his labyrinth. Happy days, except Theseus' men left the black flag atop their sail boat upon returning to Athens. When Aegean saw this from Sounion, he thought the mission had failed and jumped in the sea committing suicide. So the Athenians named the sea Aegean.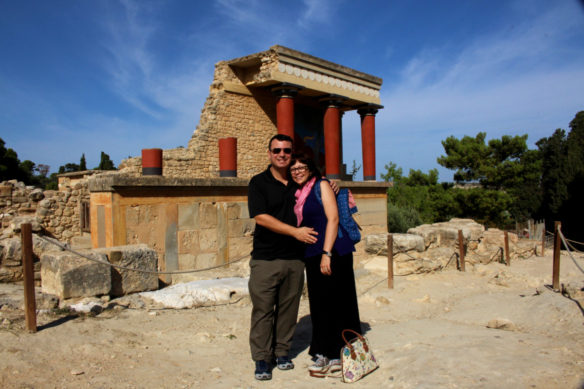 Frescoes at the Palace of Knossos
The famous myths surrounding legendary King Minos often contradict that he was a king of wisdom who presided over an advanced civilization. From frescoes found at the Palace of Knossos it's clear that bull fighting was popular with the Minoans. This explains why Athenians could contrive a story about the terrible minotaur, and the Athenian heroes who saved the day.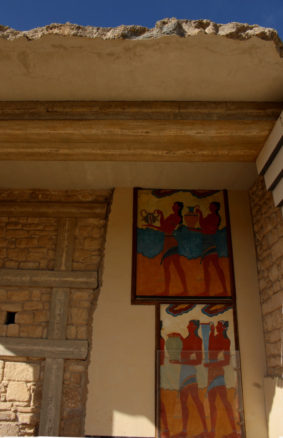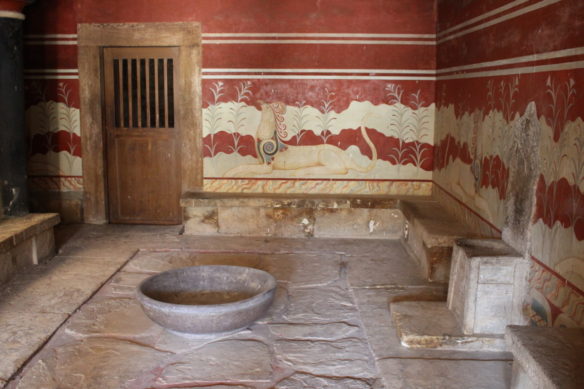 Our visit to the Palace of Knossos coincided with a family visit to Heraklion. My lovely cousin Maria, her husband Miron and son Nicolas, were the most gracious of hosts. Greeks are famous for their hospitality and despite our best efforts, they made it virtually impossible to pay for things when we went out. In fact, many Greek employees would not take our money even when we tried to foot a bill. Apparently, part of employees job descriptions is to ensure that Greek hospitality remains alive, despite tough economic times in the country.
Modern Crete is a wonderful island, filled with warm and hospitable people. It's worth making a visit to the Palace of Knosos part of your itinerary in Crete. Enjoy delicious souvlaki, Cretan salad, beautiful beaches, and dramatic mountains. Everything brought to you by the descendants of western Europe's oldest civilization.
Admission to the Palace of Knossos:
Entry to the Palace of Knosos costs €15 ($17.40 USD) in 2020.
Can you visit the Palace of Knossos in Winter?
Yes, you can visit the Palace of Knossos in winter. It is open year round!
Palace of Knossos Operating Hours
In summer, the palace is open daily from 8am to 8pm.
In winter, the palace of Knossos is open from 8am to 5 pm.
Heraklion Hotels
Lato Boutique Hotel is one of the best hotels to stay in Heraklion. Located across from the old city harbor, Lato Boutique Hotel has a rooftop restaurant and bar overlooking Heraklion's Venetian Fortress, Koules Fortress.
Stella Island Resort and Spa is a popular adults only hotel just outside Heraklion. This is a great choice for couples, featuring a lagoon-style pool stretching along the resort.
Petousis Hotel and Suites is another great choice. It offers a comfortable stay with modern amenities at an affordable price. Located in Amoudara Herakliou, it just a 4-minute walk to Amoudara Beach. They have an on-site restaurant, bar, seasonal outdoor swimming pool and free private parking.
Travel to Crete from Athens and Europe
There are a lot of ways to reach Heraklion and subsequently the Palace of Knosos, especially during the warmer months. From May through October, Ryanair and other carriers have flights connecting many European cities directly with Heraklion and Chania (the second biggest city in Crete). You can also fly from Athens or Thessaloniki to Heraklion or Chania. Tickets are often under €20 ($22 US) each way on Ryanair when booked ahead. That excludes checked baggage, but includes a small carry on and shopping bag. In summer, you can catch a high speed ferry from the picturesque island of Santorini to Heraklion in under 2 hours. Blue Star Ferries runs overnight ferries connecting Athens and Heraklion, the trip takes 9 hours and you can reserve a bed on the boat.
Is Crete Worth Visiting in Winter?
Samaria Gorge National Park, Europe's longest gorge, is closed in winter. It is also not beach weather. But if you want to escape bitterly cold areas, Crete is a good place to do so. Heraklion and Chania are large towns that do not mostly shut down in winter like other touristy islands. In winter, there's more to keep you entertained in Crete compared to Mykonos.
More on Crete
Chania is a fantastic town, dotted with gastronomic delights. Read our article on why the pastel colored former Venetian colony is one of our favorite destinations in Greece.
Crete offers a wealth of delights to explore. With a week you cannot see everything. In our opinion, pick the western half of the island for your first trip. Use Chania as a base to explore the Samaria Gorge, the longest gorge in Europe. You can also visit the popular pink beach of Elafonisi.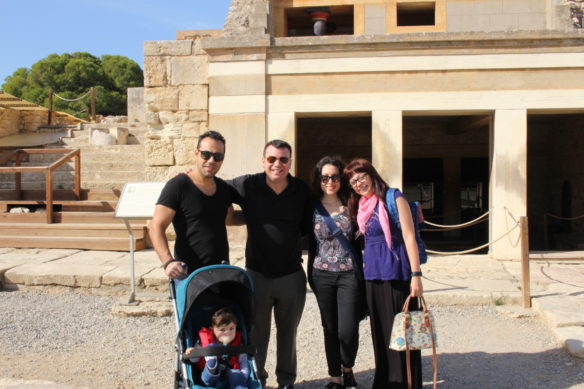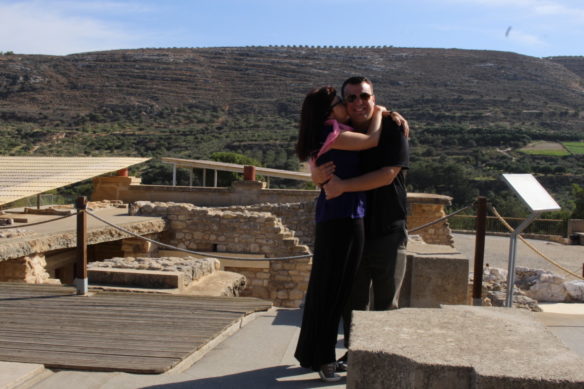 Planning a trip to Crete and the Palace of Knossos and have questions? Leave a comment below or email me at [email protected] and I can assist you!
Disclosure: This article contains affiliate links. We receive a small commission when you book or sign up through these links and it costs you nothing extra. When it suits you, please use them, as it helps us help you!